Imagine if the desert had AC. 
The 4000-square-foot exhibit shrinks you down to the size of a packrat, so your kids can explore the desert in a big way. It opens Saturday, April 14, 2018.
It's the air-conditioned rest stop you need when sweat drips down your back and dehydration flares. At the Packrat Playhouse, your squirmy explorers can squirm all they want. It's a kid's wonderland and a parent's salvation. 
A toddler area (infant to 3-ish) has an enormous rattlesnake to crawl through, a giant mama scorpion with babies on her back 😧 and a Gila-monster slide. The bigger kids can scale a towering prickly pear cactus (with rope netting suspending them high in the air) and scamper down the cholla skeleton slide. And oh, there are tunnels galore.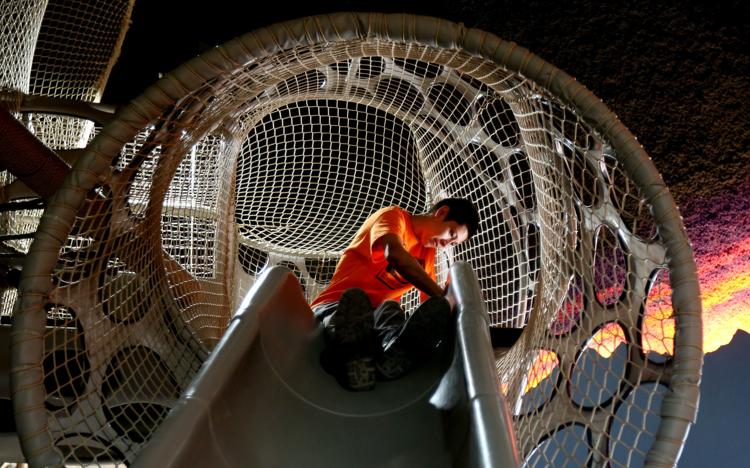 "You're just a packrat running around like crazy," says Kat Rumbley, the museum's marketing and group sales manager. 
Murals by Joe Pagac set the scene — the desert at dusk. You'll also see oversized glasses, pencils and dice, all trophies now stashed safely in the packrat's midden, or nest.  The metal work was done by Oracle-based Adventure Gear with much of the other design work done by museum staff. Planning for the playground began in August 2016 and construction started a year later. 
Climb through one tunnel and crawl into the packrat's little bedroom, with a bulletin board decorated with report cards, snapshots and a to-chew list. 
"We wanted to have this oversized experience where kids could see through the eyes of a packrat," says Nancy Serensky, the graphic design manager for the museum. "We also wanted an outcome of attracting summer families and moms and giving them AC and an awesome place to burn off steam and have a good time."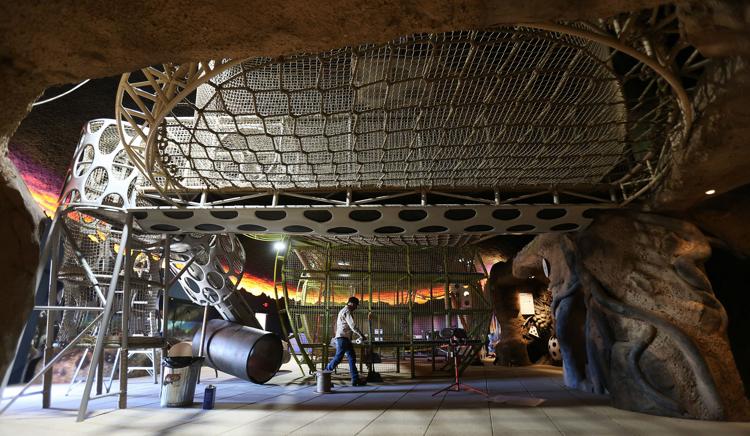 The exhibit also has an education component to help combat negative experiences with packrats. 
"We do live in their land, and even though they can sometimes be troubling with the monetary value lost, they were the desert's first curator, and a lot of what we know about the desert is because of packrats," Rumbley says. 
You won't find any real-life packrats in this midden. They're in an exhibit next door. 
The playhouse is free with museum admission ($16.95 for Arizona residents, $8.95 for kids 3-12 and free for kids younger than 3).
The museum will also be offering educational programs at the playhouse that start in May. Those cost an extra $15 per child for non-members and and extra $12 for members. 
Focused on science, art, languages and movement, the 30-minute education session is followed by 30 minutes of play before the playhouse opens to everyone else.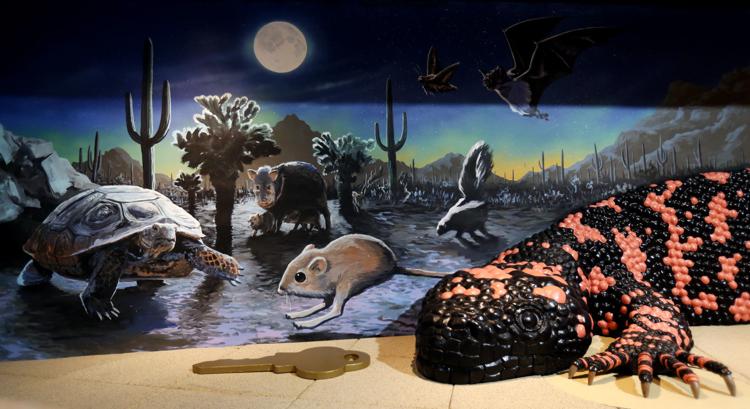 There's also a cafe and gift shop inside the building, so you can soak up as much of that cool air as possible. There may also be future opportunities for adults to play. 
"We're excited because we have animals and sting rays, but this is really our first exclusively kid-friendly exhibit and area," Rumbley says. 
---
If you go
What: Grand opening of the Packrat Playhouse includes magicians, jugglers, a photo booth and other activities. 
When: Saturday, April 14, 10 a.m. to 4 p.m. Those are also the regular hours for the playhouse. 
Cost: Free with museum admission. More information on membership here. Museum admission for non-members is $16.95 for Arizona residents, $8.95 for kids ages 3-12 and free for kids younger than three.