From art tiny enough to fit in the eye of a needle to installations big enough to carry a whole family, Tucson museums are bringing a wide range of timely, classic and whimsical art exhibitions and installations to their spaces this year. 
While some museums remain open to visitors, with timed admission and other pandemic safety measures in place, others are hosting virtual exhibitions allowing you to experience the art from anywhere. 
See what these five Tucson places are bringing to gallery walls and virtual spaces in 2021. 
---
Tucson Museum of Art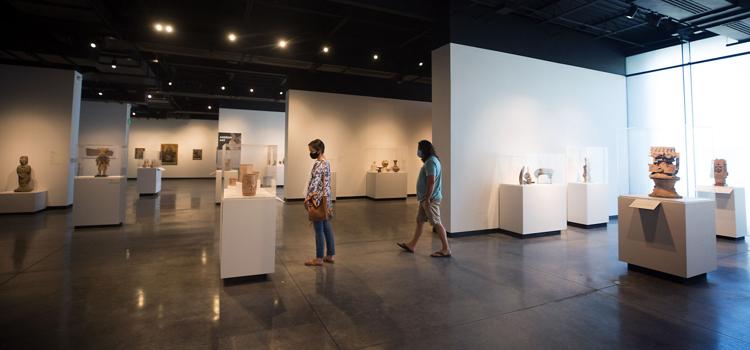 If it's been a while since your last Tucson Museum of Art visit, not only are there brand new exhibitions to enjoy, there's an entirely new wing to explore. 
The Kasser Family Wing, which opened to the public in late July, is 6,000-square feet of exhibit space "highlighting pre-Columbian works, from Mesoamerica, West Mexico and Andean cultures, Spanish Colonial art and modern and contemporary Latin American and Latinx pieces," according to an Arizona Daily Star story about the wing and how the museum has adapted its operations amid the pandemic. 
The museum's latest featured exhibition "The Wyeths: Three Generations" just opened on Jan. 21 and features more than 60 paintings, drawings and illustrations by Newell Convers (N.C.) Wyeth, who illustrated more than 112 classic books including "Treasure Island," and his son Andrew and grandson Jamie. Their art spans the years from the early 1900s to the early 2000s, according to the museum's website. The exhibition is on display until May 9. 
The upcoming "4x4" exhibition on display from May 22 to Oct. 3, is one exhibition comprised of four solo shows by Southern Arizona-based artists Willie J. Bonner, Nazafarin Lotfi, Alejandro Macias and Anh-Thuy Nguyen. Their art is "influenced by their personal experiences, politics of space, and social issues of our time, these artists contribute to the region's unique artistic landscape," according to the TMA website. 
"Patrick Martinez: Falling Empire" will be on display from Nov. 4 through April 24 and includes works by the California-based artists whose graffiti, paintings and sculptures are inspired by Hip Hop and urban culture. 
An exhibition of paintings spanning the career of internationally-renowned artist Olivier Mosset from the 1970s, 80s and 2000s, will be featured from Oct. 14, 2021 through Feb. 27, 2022. 
---
Louis Carlos Bernal Gallery
The Louis Carlos Bernal Gallery at Pima Community College West Campus has two upcoming virtual exhibitions featuring works by Tucson professional and student artists planned for spring with some pieces on display at the Tucson International Airport.
The "Rethinking Social Justice" exhibit runs from Feb. 12 through April 2 and features art by Tucson painter and University of Arizona Professor Emeritus Alfred Quiroz and muralist and award-winning artist Allison Miller. "Both artists are from minority backgrounds with art that focuses awareness on social justice issues," according to the gallery.
The Spring 2021 Juried Student Award Exhibition will be on display from April 9 through Sept. 10 and will feature student artwork from all PCC campuses in a variety of mediums including: photography, ceramics, video, drawing and painting. 
---
University of Arizona Museum of Art
The University of Arizona Museum of Art has several new exhibitions scheduled for spring showcasing the work of youth, high school students, Master of Fine Arts students and professional artists. The museum is still closed for in-person visits, but is presenting its exhibitions on its website, in one of two formats: virtual exhibitions which allow viewers to take a virtual tour and see the art hanging in the gallery, and online exhibitions that feature a collection of images of the artwork. 
Mapping Q: 2020, an annual exhibition of art created by LGBTQ+ youth from all across Arizona, opened on Jan. 20 and will be on display until May 2. "These works reflect the issues and experiences impacting LGBTQ+ youth, as well as the incredible resilience and creative imagination each artist holds," says the museum's website. 
Our Stories: High School Artists, features the art of Pima County high school students selected and submitted by their teachers. "Some of the artists addressed direct prompts from their studio teachers or used their artistic vocabulary to speak to social issues, while others gathered inspiration from materials, literature, friends and family, or the uniquely challenging events our society continues to face," according to the exhibition's website." The online exhibition runs from May 15 to Aug. 29. 
"We also have a very cool portfolio exhibition called 'A Book Like Hundred Flower Garden: Walasse Ting's 1¢ Life' slated for this summer and a massive, amazing food-themed exhibition featuring some big names (e.g., Warhol) coming up in the fall," the museum's marketing specialist Chris Weir said via email. If conditions permit, the museum is hoping to be open again to visitors in time for both exhibitions. 
---
Mini Time Machine Museum of Miniatures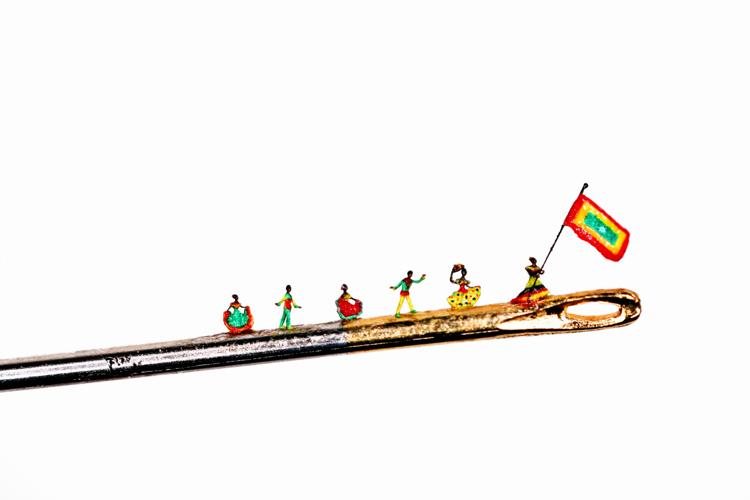 The Mini Time Machine Museum's 2021 season includes impossibly tiny and impressively detailed collections of art from Tucson-based and international artists spanning themes from Greek mythology and legends to mid-century modern furniture. 
The museum is open with timed entry so you can view all of the exhibits in person. 
Pictured above is a piece from Colombian artist Flor Carval's exhibit "In the Eye of a Needle: Micro Miniatures," whose works celebrating her culture are tiny enough to fit on the head of a pin or in the eye of a needle. The exhibit runs from Feb. 24 through June 27. 
Other featured exhibits this season are: 
"Tom Del Giorno: Itty Bitty Backlots of the Boroughs" - On display through May 2. 
"Favored by the Gods: Figures from Greek Myths and Legends" - Feb. 17 through Aug. 22
"Ric's Renovations: The Dollhouse and Vehicle Redo" - Feb. 23 through June 27
"Leaders of Mesopotamia" - Aug. 24 through Feb. 13
"Tori West: A Medley of Miniatures in Creative Paperclay" - Aug. 25 through Jan. 10, 2022
"Atomic Miniatures: Michael Yurkovic's Modern Musings" - Oct. 14, 2021 through Jan. 16, 2022
"Holidays Around the World and Through Time" - Nov. 23, 2021 through Jan. 9, 2022
---
Tucson Botanical Gardens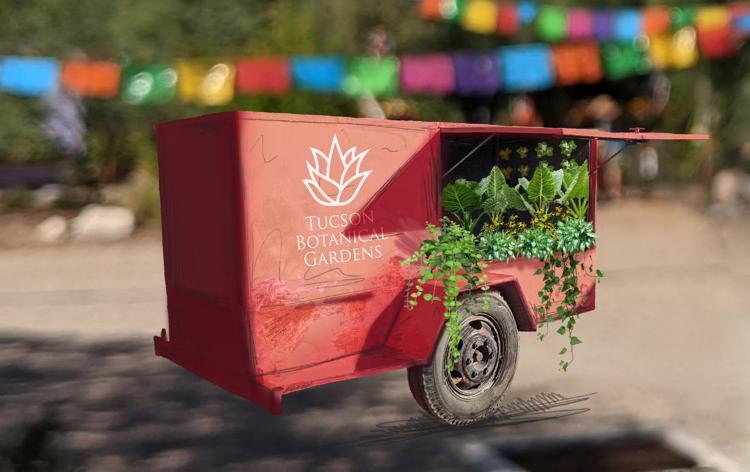 We like to think of the Tucson Botanical Gardens as a museum of nature, and each year the garden brings a variety of creative installations and exhibits highlighting the beauty and diversity of plants. 
For its upcoming installation the gardens is transforming two vehicles into living works of art and vessels for edible and dessert plants. 
The Red Trailer Farm installation pays tribute to Tucson's rich food history and culture by filling a food trailer with fruit trees, herbs and edible vines. A bright yellow VW Beetle will become a Cactus Car full of a wide range of cacti and succulents. 
The installations will be on display from Feb. 6 through Aug. 6.