It was 1961 when Anna Fisher realized she wanted to be an astronaut.
She was 12 years old, huddled around a transistor radio with her PE class listening to Alan Sheperd, the first American to travel into space, communicate with mission control. 
"I said to myself, 'I want to do that one day,' but of course that didn't seem like a realistic goal," Fisher recalled. "But, the seed was planted that day." 
It seemed like a lofty dream and it was something girls didn't do back then. So, she kept it to herself. 
"I never told anybody. I was too shy," Fisher said. "That sounded really presumptuous, like 'you really want to be an astronaut?'"
But that day would lead her to be in America's first-ever group of women astronauts, as well as the first mother to ever go into space.
And, you can meet her this weekend.
She, along with other astronauts, cosmonauts and moon walkers will be in Tucson for Spacefest, an annual celebration of all things outer space. (More on that when we're done fan-girling) 
The first group of women astronauts
Many years later, Fisher told her future husband about her dream. A dream he shared as well. Both of them loved space, but didn't know how to get involved since neither of them were pilots.
So, they went into medicine as a second choice. But in Fisher's mind it was a way into the space program since they'd need doctors for the astronauts. 
On a chance conversation between her husband and a medical intern, she found out NASA was looking for astronauts. And you didn't need to be a pilot to apply.
Six weeks later, in August of 1977, Fisher found herself in the first-ever group of women to be interviewed by NASA.
Three of the six women in her group, including Fisher, were selected and became part of the first class of women astronauts, which also included Sally Ride, Shannon Lucid, Margaret Seddon, Kathryn Sullivan and Judith Resnik.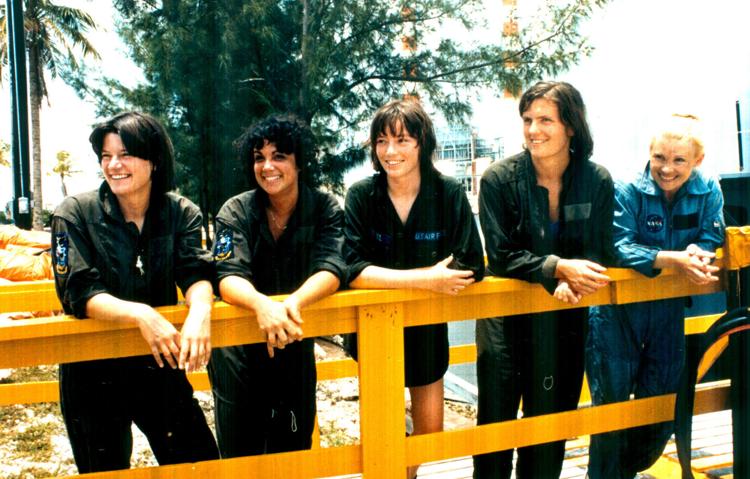 Fisher said she was not used to working with women at that time.
"We were used to working with men," Fisher said. "I was used to being the only woman in a math class or in medical school. When you go through clinicals you were often the only woman on a team, so I think we were all used to it. What we found difficult is when the six of us came together, we weren't used to working with women."
Fisher's then husband was accepted into the program two years later, making them the first couple hired as astronauts.
The first mom in outer space
Two weeks before she delivered her first daughter, Fisher was assigned to the crew she would go into space with aboard the space shuttle Discovery. 
Despite the fact that she was about to have her baby, she made the decision that she was going. 
"I didn't even think about it," Fisher said. "I made my commitment to be an astronaut. This was the flight they offered me, I had to make it work...I was the first mom to go into space."
During the one-year training period, Fisher was also working on mission control communicating with crews in space.
"My commander didn't want me to do that. He thought I was biting off too much, having a new baby, training for flight and working in mission control," Fisher recalled. "I told him I would work as hard as required. I think it's important working in mission control because I need to understand how it works and to see it so when I'm in orbit I understand how it works. So, I was able to convince them...I think it makes you a better crew person."
Lift-off
On Nov. 8, 1984, Fisher and a crew of four men boarded space shuttle Discovery with the mission to deploy two satellites and to retrieve two satellites to bring them back to Earth. 
Leading up to that day, Fisher was both excited and scared. 
"When you launch into space, you know that day you might die," Fisher said. "Plus, I'm a new mom and wanting my daughter to remember me, so we took lots of videos. But, when that day comes to launch, you're both excited and scared. When you're riding in that little Air Stream trailer that takes you to the pad, in the space program when the shuttle is on the pad, there's hundreds of people working but, on that day nobody is there. It's like a science fiction movie. There's nobody there but the five people that are gonna strap you into the seat. Then they close the hatch and have to get five miles away because you don't know what's gonna happen. It's exciting because it's something you've worked for for years and it's also scary. It's both."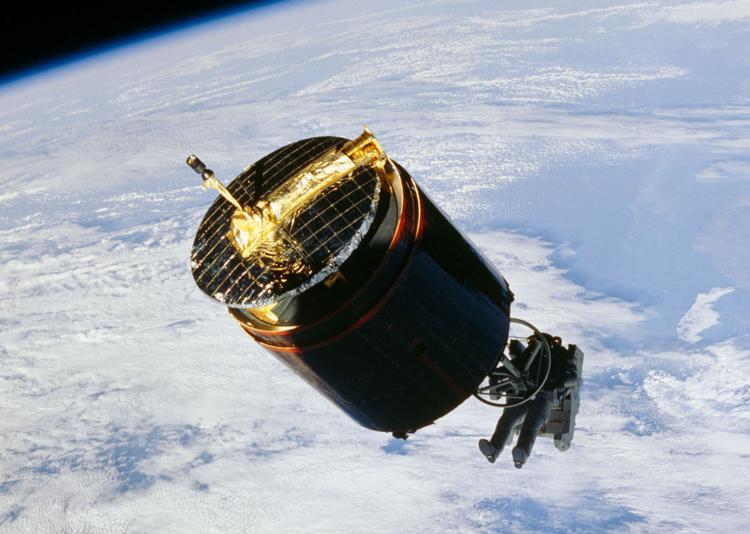 As the flight engineer, Fisher sat slightly back and was busy for several hours, so she didn't get to enjoy the view right away.
But, when she did, it was unbelievable.
"It's magical," Fisher said. "You look at this beautiful planet and you don't see borders. When you first get up there, you're excited when you go over Los Angeles or Houston. But, as the days go by, you start looking at the world, not as the country or city that we came from, but you look at it as a citizen of the world and the longer you're up there, I think the feeling gets even stronger."
They were in orbit for eight days, which wasn't long enough to miss Earth too much, but was long enough to enjoy the view and float.
"I think going in space for like a month would be really fun," Fisher said. "It would give you enough time to really adapt and enjoy, but it's not so long that you're going 'I want to go home.'"
Back on Earth
Fisher was assigned to be a mission specialist for a planned mission aboard Columbia in June of 1986, but it was cancelled after the shuttle Challenger exploded, so she worked in the Astronaut Office and the Space Station Operations branch until 1989 when she took leave to spend with her daughters (she had two by then).
She returned in 1996 and served as the chief of the Space Station Branch. 
"We were beginning to work with Russian colleagues and in the Astronaut Office, we trade jobs a lot because when you assign people to a crew others fill in," Fisher said. "The Russians don't like that. They forge relationships and do business. So I said I will stay here till we get the first elements of the space station up and get the first one or two crews up."
After that, and until she retired last year, Fisher worked on display development for the Orion Multi-Purpose Crew Vehicle as a management astronaut.
"I didn't become an astronaut just to go into space," Fisher said. "I got to work on the shuttle, the space station and Orion. Being an astronaut and part of the space program was the meaning I was looking for in my life."
Spacefest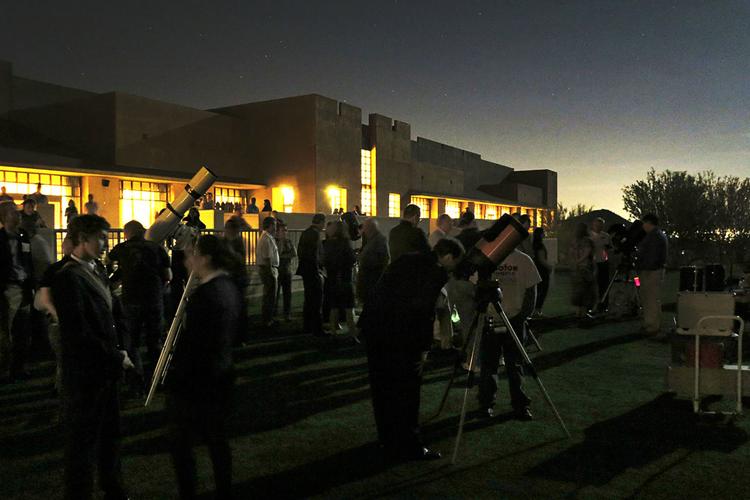 Fisher may have retired last year, but says she's busier than ever, speaking, meeting people and attending events.
One of those events is Spacefest, where you can meet Fisher and other astronauts, and learn all about space travel and exploration this weekend at the JW Marriott Starr Pass Resort.
With astronauts, moon walkers, artists, movies and guest speakers, you're sure to have an experience that's out of this world.  
The festival was started in 2007 by the late Kim Poor, a nationally known space artist who also co-founded the International Association of Astronomical Artists.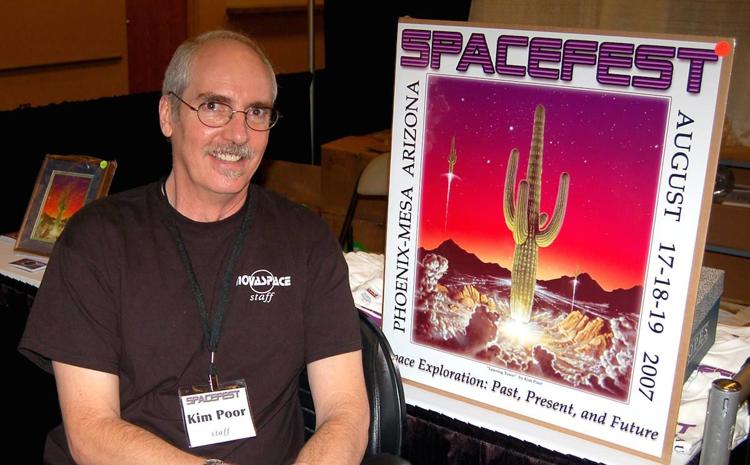 There's always something going on at the festival, which is just what Poor envisioned. It's a vision that his daughter Kelsey Poor hopes to continue.
"When my dad first started it, he wanted to put on a three-ring circus so something was always happening everywhere," Kelsey said. "My father passed away last year and I'm just trying to take over his legacy...I never took it seriously until after he passed away. I realized I have something here and I should probably keep it going."
The family friendly event runs from Thursday through Sunday, but Friday and Saturday are the big days, Kelsey said.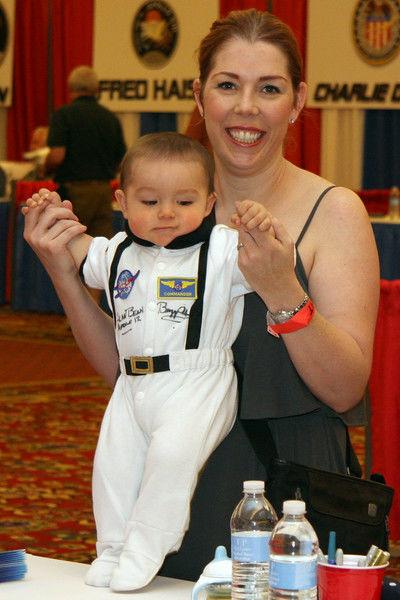 This year's event includes a STEAM (science, technology, engineering, art, mathematics) area for kids where there will be a host of activities, a face painter and guest speaker, Everyday Astronaut, a YouTuber who tries to communicate science through humor and imagination. 
On Friday night, The Loft Cinema will be there screening the movie "Apollo 13" outside on an inflatable screen. Before the film, there will be a Q&A with astronaut Fred Haise, as well as Gerry Griffin and Jerry Bostick from the Apollo program. 
There will also be a star party, a sip-and-paint event and more movies.
If you go
When: July 5-8 (Friday and Saturday are the big days)
Cost: $30 daily Thursday through Saturday; $12 Sunday; Children 12-and-under free every day. Includes all free talks and admission to the main event hall. STEAM events are free and open to the public. Some talks, panels and movies have separate admission prices.
Info: Click here for a schedule of events