Floor Polish, the Fourth Avenue studio that's home to fun and funky dance fitness classes is moving into a larger space later this month. 
This is the second time the studio, which opened in 2016, has upgraded to a bigger space.
Floor Polish founder Marina Cornelius first opened the studio in a small space on Hoff Avenue in 2016, then moved to a larger and more visible location right on Fourth Avenue in 2018. Cornelius has continued to manage both spaces with smaller and private classes happening in the Hoff location and the full range of Floor Polish offerings on Fourth. 
In the new space at 930 N. Stone Ave., just south of Speedway, there's enough room to bring everyone from the two studios under the same roof, plus a dedicated parking lot, an ADA compliant restroom and central air and heating. 
"I wasn't planning on moving, but I found this space and I just got really excited about it" Cornelius says. "It was kind of the perfect layout for moving everything over there."
The studio is known for its unique, affordable classes taught by several different instructors for people of all fitness and dance levels including those with no experience at all. Some of the most popular offerings include Cardio Party-O developed and taught by Cornelius which is a high-energy mix of different music styles and easy to follow dance moves, Burlesque Fitness, Rhythm Blast, Bollywood Fitness and Femme.
Floor Polish fans can be assured that the studio's signature disco ball and its entire lineup of classes is coming too. 
"Whatever favorite class you have, it will be there for you," says Cornelius.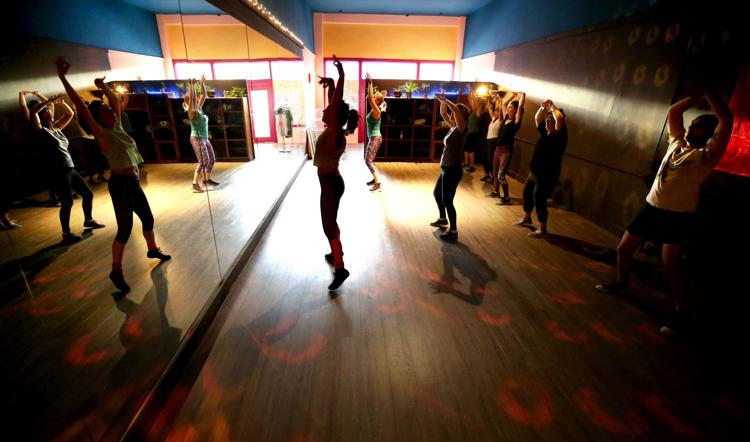 But now with the larger space that has two dance studios (one of which is double the space of the Fourth Avenue spot), there's more opportunity to add new classes to the schedule, more time slots and more room for dancers to move around or have bigger classes. 
Some new classes that will be added to the mix at the new location include gymnastics, flamenco, barre, a day-time yoga class and some new Bollywood options. 
In the new space, instructors will have more ability to add different classes and workshops. Class prices will remain mostly consistent with the current $7 drop-in price, but instructors will have the flexibility to charge a little more or less and offer different promotions, Cornelius says. 
"It's gonna feel more community-oriented where you're going to be able to connect with your teachers more because they're going to be more in charge and more engaged," she says. "There's going to be more people to get to know and fall in love with their class and be a part of what they're doing."
If all goes according to plan, the last class at the Fourth Avenue studio is Saturday, Jan. 25 and after a quick move of the floors, mirrors and disco ball the Stone Avenue space will be ready to open with a bang (literally) the following evening for Doom Yoga, a weekly yin-based yoga class set to loud doom metal music.