Determined to make sure her 2-and-a-half-year-old son was getting enough outside playtime, Hillary Blankinship started looking for groups to take him to. 
That's when she found Tinkergarten, a series of classes where children learn through outdoor play and open ended scenarios, and it was exactly what she was looking for. 
"It's all nature-based," says Blankinship, a 37-year old mother of one. "I think kids don't get outside to play enough. That was something I was not gonna have for my son...They explore, pick flowers, play with rocks and look at animals. It's just awesome."
It was built around the idea of using the outdoors as a classroom and giving kids the chance to explore in a safe environment, said Amanda Adams, a local Tinkergarten leader.
"Our focus is building all of the different kinds of brain connections they need to learn as they get older," says Adams, a mother of two. "Our lessons are designed around brain schema, which are the ways they make brain connections."
Examples of brain schema include transferring things from one place to another, rotating around things or finding things, Adams said. 
Lessons are created to help children ages 18 months to 8-years-old develop empathy, collaboration, creativity, persistence and problem solving. 
A lesson Adams is going to implement in the spring session, which starts March 28, is creating potions out of natural objects.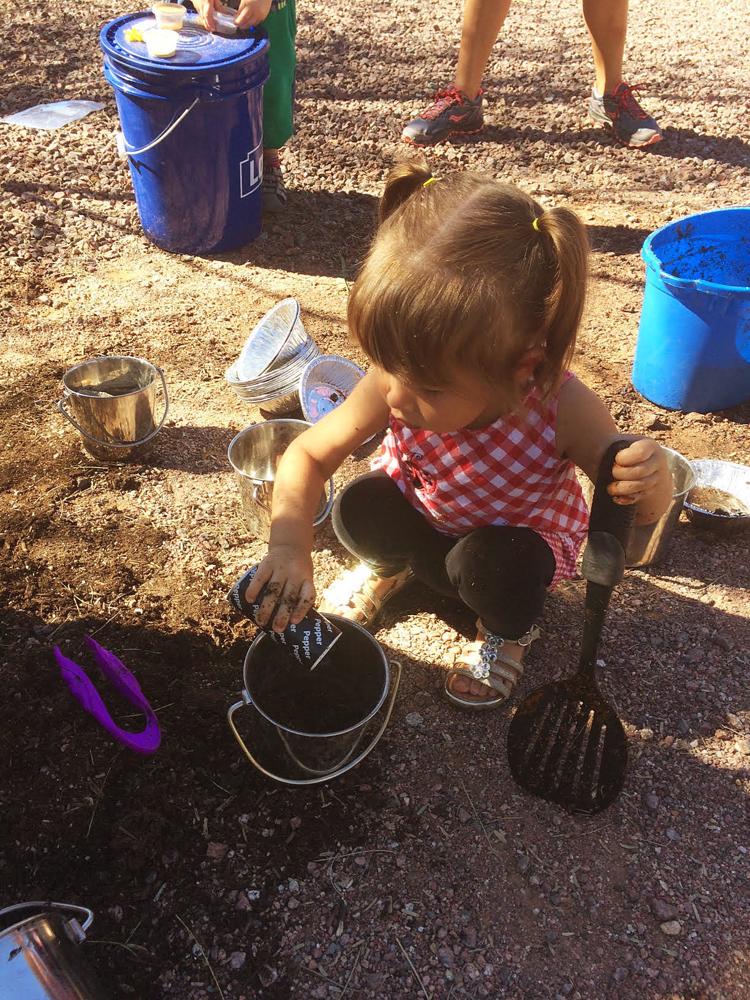 She will tell a story using the classic characters Jack and Jill, in which they come across fairies in the desert that are creating potions to help the plants grow.
As the kids get involved in the story, Adams will tell them the desert fairies left something for them to find to create potions. 
"So we find jars and I have lavender petals and they collect rocks, leaves, flowers and anything around us to put in the jars," Adams said. "And they add water and mix it up. And we add packets of fizzy stuff to get that magical effect. Then we pour it on a plant somewhere to help it grow."
During the exercise, parents act as their child's nature guide as they pick the items they want to use. 
Playing outdoors reconnects kids with the earth, Blankinship said.
"There's just a lack of respect for nature and earth and it's because we're not in it enough and also, they learn," Blankinship said. "They're learning with nature."
About Tinkergarten
Tinkergarten was started a few years ago in New York City and has expanded into 43 states. 
Instructors work as independent contractors after a rigorous interview and training process. 
So far, there are three instructors in Tucson and Oro Valley.
Sessions run once a week for eight weeks and cost $140. 
To find a class that works for your family, click here.
If you want to be a Tinkergarten leader, you can get info here.