Wandering a pumpkin patch on the hunt for your perfect pumpkin is one of the few, quintessential fall experiences that we still get here in the desert. 
Never mind that you'll probably be sweating in your flannel.
Whether you're looking for the largest pumpkin you can carry or a Pinterest-perfect Cinderella pumpkin, we have pumpkin patch options for you. 
Pro tip: You'll have more options the earlier you go.
Marana Pumpkin Patch and Farm Festival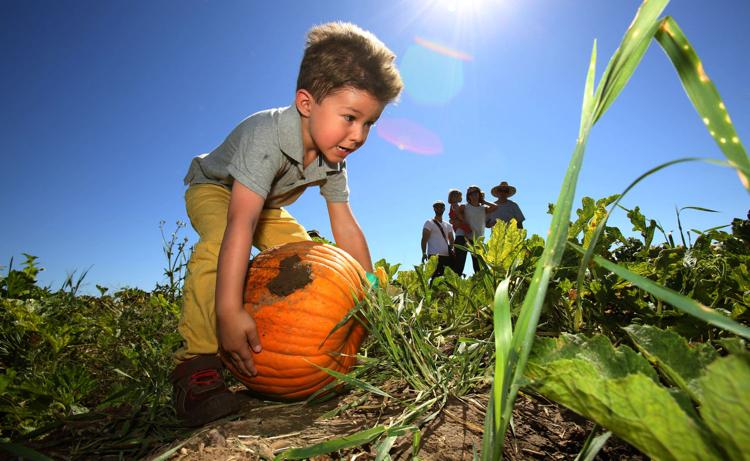 What: Take a wagon ride to a 50-acre pumpkin patch to find your perfect pumpkin. Admission gets you access to two corn mazes, a train ride, a petting zoo and more. 
When: Saturday, Oct. 5 through Wednesday, Oct. 30; 3-7 p.m. Monday-Thursday and 9 a.m. to 7 p.m. Friday-Sunday.
Cost: $11 Monday-Thursday, $13 Friday-Sunday, $15 Oct. 19-20 and Oct. 26-27. Kids 34 inches and under get in free. Pumpkins are priced at 50 cents per pound.
Apple Annie's Fall Pumpkin Celebration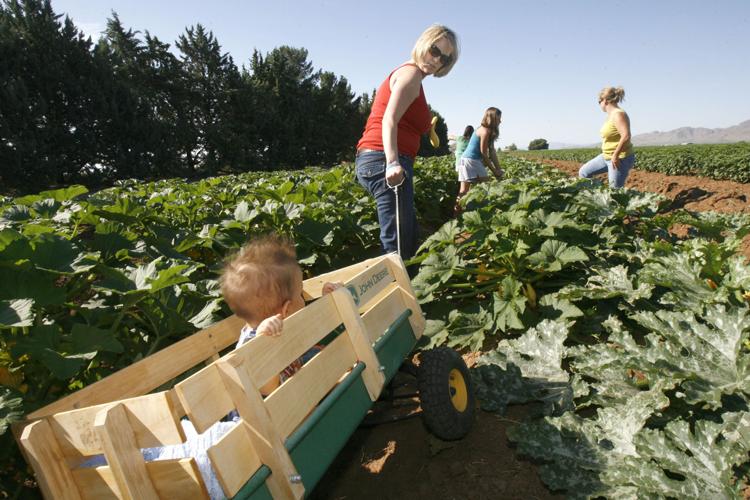 What: Head over to Apple Annie's pumpkin and produce farm in Willcox. There are more than 40 acres of pumpkin patch and 25 to 30 different varieties, according to Apple Annie's website. You can pick pumpkins and veggies, explore the corn maze, take a hay ride and more. During the pumpkin celebration, there are also plenty of pumpkin treats including pancakes, pies, ice cream and more. 
When: The Fall Pumpkin Celebration runs every weekend of October (Oct. 5-6, 12-13, 19-20 and 26-27), 9 a.m. to 5 p.m. You can pick pumpkins daily through Oct. 31. 
Cost: Free to explore; hayrides cost $4 per person; corn maze costs $6 to $8. Pumpkins range in price from $3 to $25, with specialty pumpkins costing 69 cents per pound.  
Brian and Kelly's Pumpkins and Trees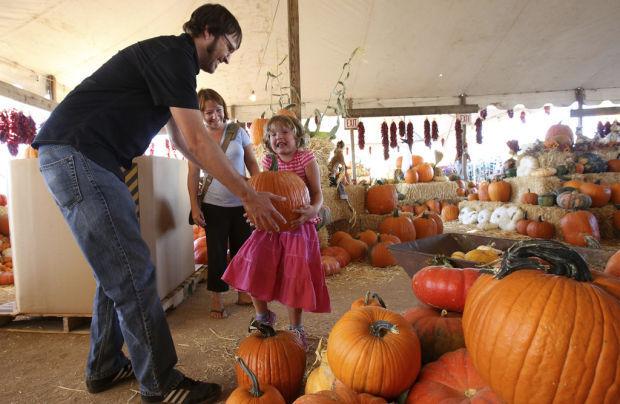 What: Go here for dangling strings of chiles and hay bales piled with pre-picked pumpkins. The giant tent on Broadway has become a Tucson tradition. 
When: Through Halloween; 10 a.m to 6 p.m. and then starting on Friday, Oct. 11, 9 a.m. to 9 p.m. 
Cost: Pumpkins priced by size, mostly between $1 and $20. Example: A basketball-size pumpkin costs $6
Tucson Petting Zoo and Funny Foot Farm
What: This petting zoo has your typical goats and donkeys, but it also has some more exotic residents, including capybaras and kangaroos. The pumpkin patch (pre-picked pumpkins) includes some fun activities for kids, a Creepy Crawlies night on Oct. 19 and pumpkin decorating on Oct. 26. 
When: Open Saturday, Oct. 5 until Thursday, Oct. 31, 9 a.m. to 6 p.m. Sunday through Thursday and 9 a.m. to 7 p.m. Friday and Saturday. 
Cost: Pumpkin patch is included with $8 admission. Kids 1 and under get in free. Pumpkins range in cost from $2 to $15.