Since April is National Volunteer Month, why not take a day (or an hour or two) to give back to Tucson. 
It's a great way to spend time together and teach your kids about empathy and gratitude. 
Here are some ideas on where your family can volunteer:
Diaper Bank of Southern Arizona
The organization provides diapers and incontinence supplies to children and adults through community partners. 
It currently needs volunteers to help package diapers into ten packs for distribution. 
Volunteers must be at least 14-years old and can work one-, two- or three-hour sessions as often as they'd like. 
Click here for more volunteer info or call 325-1400.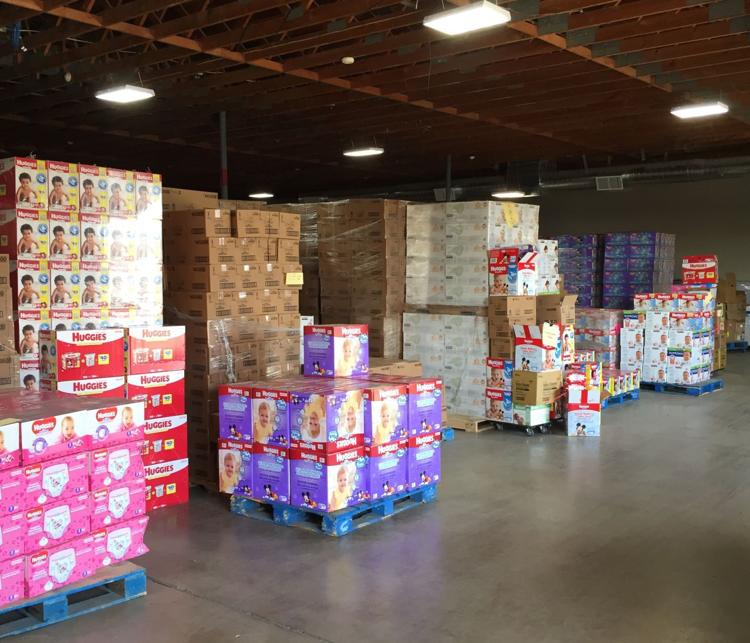 Children's Museum Tucson
The museum has a variety of tasks for youth volunteers. It needs help prepping hands-on arts and crafts. Youth volunteers also help facilitate activities and interact with visitors. 
Volunteers must be at least age 15.
Click here for more info.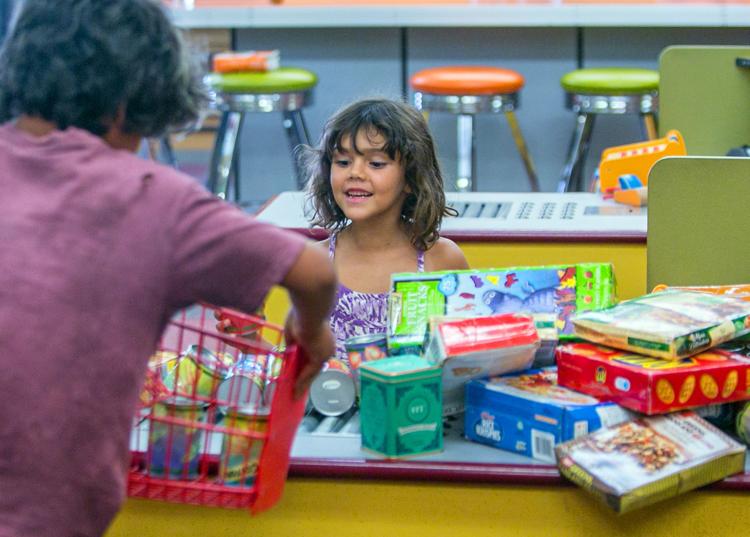 The organization creates bells out of clay that are then hung randomly around the community for people to find and take home as a reminder to practice intentional kindness.
Anyone can volunteer, but kids under the age of 18 must be with an adult. Kids as young as 2 or 3 have been known to drop in with their families to paint or sculpt the beads and centerpieces of the bells that the organization distributes.
Felicia's Farm
The farm grows organic fruits and veggies, collects eggs from its chickens and donates 100 percent of it to Casa Maria Soup Kitchen, which distributes lunches and grocery bags to Tucson's needy families.
Families are welcome to volunteer as long as the kids are supervised. The work varies from weeding to turning compost and planting.
"It's important to give back, but it's also good for people to know where food comes from and the work that goes into it and what a luxury it is to have that kind of food," said Sofia Montes, farm manager. "To be able to share it with somebody else is an important experience."
During the summer, families can drop in any time between 8 a.m. and 1 p.m. at 3761 E. River Road. Hours will change to 8 a.m. to 5 p.m. when the weather cools down.
Click here for more info about the farm. 
Primavera Foundation
This organization provides transitional housing, workforce development and meals for Tucson's homeless.
Families can volunteer to be on meal teams, where they cook and serve meals, at the men's shelter or Primavera's transitional housing facility, called Five Points. Meal teams serve meals every night, about 360 days of the year.
Another option for families is to make sack lunches at home for the people in Primavera's job training programs.
Community Food Bank of Southern Arizona
The food bank provides food and food-related services throughout southern Arizona.
Normally, you have to be at least 16 to volunteer at the food bank, but because there was lots of interest, it added a monthly Youth & Family Volunteer Day, which allows younger people a chance to help out and learn what the food bank does. 
Advance registration is required. Click here for more information.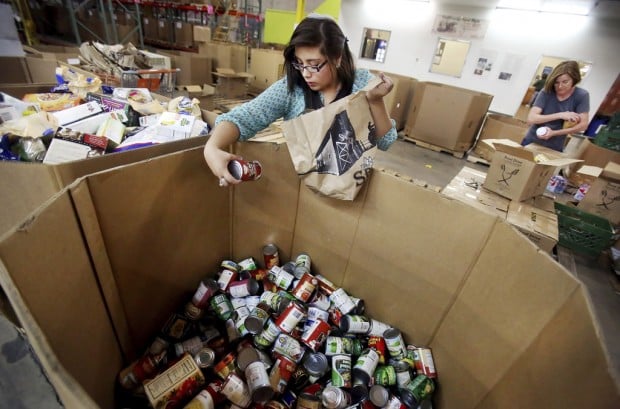 Humane Society of Southern Arizona
The Humane Society is a full-service animal welfare organization that takes in homeless pets and finds them new homes. It is also known for its spay and neuter program to prevent more homeless pets from being born.
Families with children ages 10 and older can volunteer at the shelter together, but kids under the age of 15 cannot directly handle the animals.
Volunteer opportunities for families include dog walking, cat care and canine college, a six-week enrichment program for dogs.
Fostering a dog or cat is another option, then children can directly care for the animals.
Helping animals at a young age helps children learn to be more responsible pet owners and develops a sense of empathy in the role they play in an animal's life.
Click here for more information.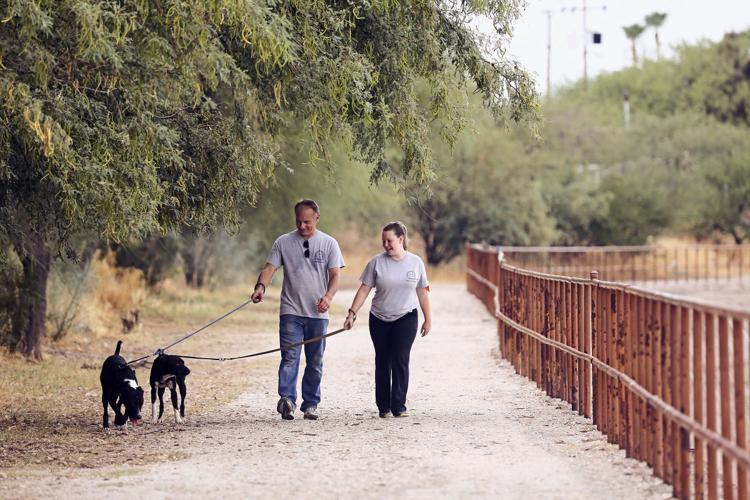 Interfaith Community Services
The ICS mission is to help seniors and disabled individuals lead stable, independent and healthy lives in their own homes.
Families can volunteer by organizing and executing a food drive in their community then delivering the food to the ICS Food Bank.
Kids ages 10 and up can go along with parents to deliver Mobile Meals. It gives recipients the chance to interact with children. 
You can also get the kids together to make greeting cards for Mobile Meal recipients.
"Our senior and disabled clients are very happy to receive handcrafted greeting cards with a friendly encouraging message delivered with their Mobile Meals," said Tori Carlson-Foscz, volunteer resource manager. "This is something families or groups can do any time of the year, including holiday and special occasions."
Click here for more information about ICS. 
Read Between the Bars
Read Between the Bars is a local, grassroots organization that mails donated books, upon request, to men incarcerated in Arizona's state and federal prisons.
Volunteer opportunities include donating books or money or attending a "book packing party," in which volunteers open prisoner request letters, fulfill the orders from the donated library and package them for mailing to the inmates.
Families are welcome, as long as kids are supervised. 
Packing parties are held twice monthly. No registration is required. Families can just show up. 
Follow the organization's Facebook page for book packing party dates.
Reid Park Zoo
Teens ages 13-17 can volunteer at the zoo, but must commit to at least six hours per month for at least one year after training. Volunteers help with engaging zoo guests in conversations, facilitate a craft or activity table for kids, patrol the zoo to answer guest questions or assist with special events. Applications are accepted January through March each year. Click here for information.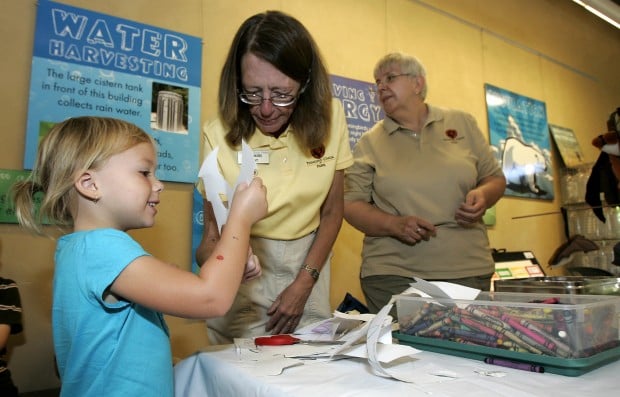 Hermitage No-Kill Cat Shelter
Volunteers under the age of 16 must be accompanied by an adult or parent. You'll be able to help clean up the shelter, socialize cats, go to events, do administrative work and transport donations. 
Click here to fill out a volunteer application.