From the welcoming green courtyard to the prestigious historic building, you know you're somewhere special before you even walk through the doors of the Children's Museum Tucson.
It's come a long way since its humble beginnings 30 years ago in a one-room building in Fort Lowell Park as the Southwest Children's Discovery Center.  
The museum is the oldest in the state, said Teresa Truelsen, its director of marketing. 
"We are happy to have been here 30 years and we hope to be here 30 more," Truelsen said. 
During its 30 years, it has moved, renovated, rebranded and embraced new technology and exhibits, as well as hosted countless events.
"We offer a lot for families. Our goal is play based learning. Even if the kids don't realize they're learning," Truelsen said. "The important thing about us is that we are educators." 
Staying fresh
The board and staff are especially proud of the continued improvements to the exhibits and the expansion of its educational programming said Michael Luria, executive director of the museum.
"The museum is a relatively small organization, with respects to our budget and the number of staff we have, and what we have collectively been able to achieve on behalf of the children and families we serve is gratifying," Luria said. 
 A new exhibit will make its way to the "Techtopia" room in the near future, where kids will be able to jump and dance above a pattern as it's recorded. They'll be able to replay it and put it in slow motion to compare their tricks with their friends, Truelsen said.
A "Build It" area boasts stuff to build with and a rocket station where the kids turn a crank until enough pressure builds to launch the rocket made from a plastic bottle through a tube. 
Two new exhibits have been added to the "Investigation Station" area — one on the distribution of weight and mass and the other on balance. 
At one time, filled with animatronic dinosaurs, the area now hosts a slew of hands-on STEM based exhibits to get kids investigating in the categories of science, technology, engineering and mathematics.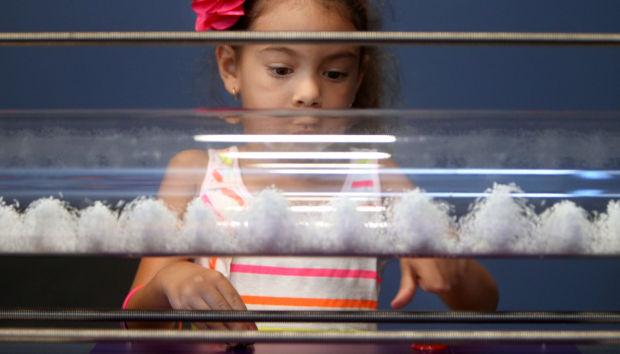 "You always have to come up with new exhibits to stay fresh for families who come back regularly," Truelsen said.
Choosing a favorite exhibit is like being asked to pick a favorite child for Luria. But, he says the Imaginarium Art Studio and Wee World make the top of his list.
"The creativity that comes from the kids in the art studio always amazes me and I love seeing our youngest visitors — 4 and under — explore and discover in Wee world," Luria said. "You can literally see the wonderment and excitement in their eyes."
Anniversary celebration
The museum is hosting an event to celebrate its 30th anniversary with $3 admission all day, hands-on activities and free ice cream — while supplies last — on September 30. Plus, Mr. Nature will be there with his instrument petting zoo from 10:30 a.m. to 1:30 p.m.
Click the link below to add the celebration event to your calendar:
30th anniversary celebration with free ice cream and Mr. Nature's instrument petting zoo. 
10 things didn't know about the museum
While you may be familiar with the museum's many exhibits — especially the newer ones — you might not know everything about its history or what else it has to offer. 
1. Historic building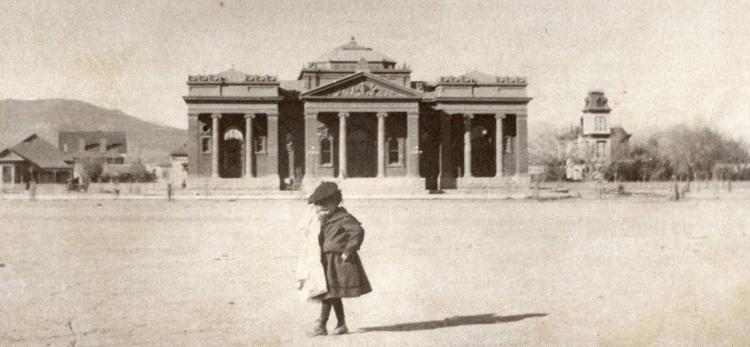 When we say this building is historic, we mean it. Here are some highlights: 
In 1889, Andrew Carnegie donated $25,000 for a new library to be built with the stipulation that the city fund furnishings, books and maintenance. Accepting the funds had the caveat that if the library moved, the building could only be used by another nonprofit. 
Designed by architect Henry Trost, the initial part of the building — which consisted of 4,000 square feet — was built in 1901. 
The Bufano Bench, a 22-foot marble arced bench you see when you walk up to the outer entrance of the museum, was put there in 1920. It was sculpted by Beniamino Bufano to commemorate Arizona's pioneers. It is believed to be Tucson's oldest piece of public art. 
In 1938 two wings, two walled patios and new stacks were added to the building, which added 8,000 square feet. 
A fire destroyed the rotunda in 1941. It was not replaced.
In 1960, rooms were built to replace the patios in the back and side wings and the courtyard wall were added.
The building was added to the National Historic Register in 1976.  
In May 1990, the library moved to a new building, so in November, the City Council selected the Children's Museum Tucson to occupy the building.
In September 1991, CMT opened in the historic Carnegie Library building.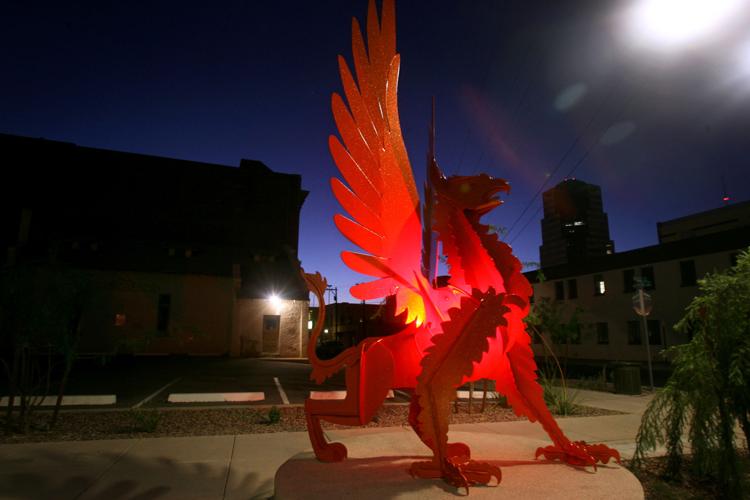 If haven't noticed, there are footprints in the sidewalk, walking away from the museum to the Griffin sculpture, aka Toby, on Scott Ave. They represent a griffin that escaped and walked away during renovations in 1938, when the griffins that were originally perched on the corners of the Carnegie Library were removed.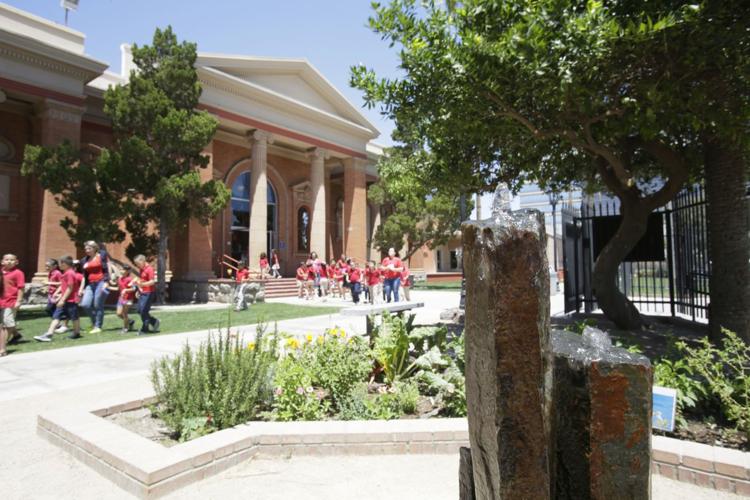 2. Veggie garden
Andra's Garden grows fresh vegetables that Janos Wilder uses at Downtown Kitchen + Cocktails. It includes a fountain and a bench. It is dedicated to Andra Dalrynple, who died of a heart condition when she was 12.
3. Wind chimes scavenger hunt
Hanging in the trees of the courtyard are wind chimes made of various recycled items, like kitchen utensils and pots and pans. There's a scavenger hunt that challenges you to find items within the chimes. Find the scavenger hunt sheet in the hallway by the train room. 
4. Music Garden
A newly constructed music garden with drums, xylophones and a contra bass are also outside in the courtyard. Anyone is welcome to play the instruments. 
"I have heard people out here who know how to play music," Truelsen said. 
It's shaded, so don't worry about the sun. 
5. Butterfly Garden
Done in conjunction with Ben's Bells, the Butterfly Garden is an installation of tile butterflies and beads. It serves as a memorial to children who died during the Holocaust. 
Each butterfly carries a child's name and were painted by the children and families who visit the museum, as well as Holocaust survivors in our community. It's part of the Butterfly Project, a global program that uses the Holocaust to teach tolerance. 
It's dedicated to Kelsey Luria, who died of cancer in 2015 at the age of 18. 
6. You can volunteer there
Teens ages 15 and up and adults can volunteer at the museum. Volunteers help behind the scenes, prep hands-on arts and crafts and clean exhibits and museum spaces, as well as help facilitate activities, interact with visitors and help with guided tours and birthday party activities.
Students can use the experience for their required community service hours. The museum will work around school or work schedules. Click here for available volunteer positions and to fill out an application.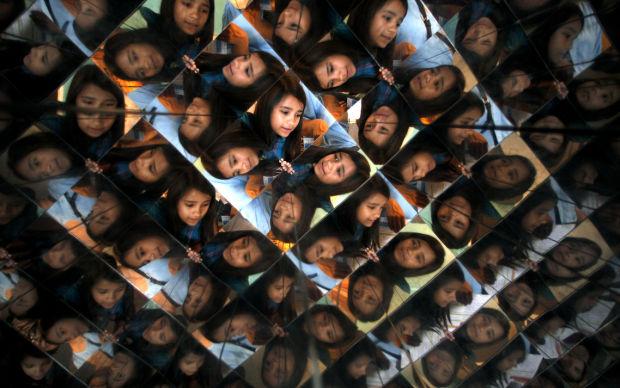 7. Weekly family programming
Wee Explore Wednesday Experiments
At 1:30 p.m. every Wednesday, there are experiments designed for the little ones. There's a different science based activity every week. On a recent week, the kids got to make "exploding paints." It's not as scary as it sounds. When you put paint and alka seltzer in an old film canister and seal it, it eventually explodes onto the paper, creating a fun painting. 
Family Brain Boost
Every Saturday at 1 p.m., the museum does a science project with families. "It encourages families to come together and see that science is every where," Truelsen said. 
Past events include making robots and building roller coasters. It's done in a "very accessible level so everyone can learn something," Truelsen said.
Roll Out Science
Each Tuesday, Thursday and Sunday at 1 p.m. a "discovery guide" brings a science cart out for hands-on science experiments with the kids. 
8. Free events and discount days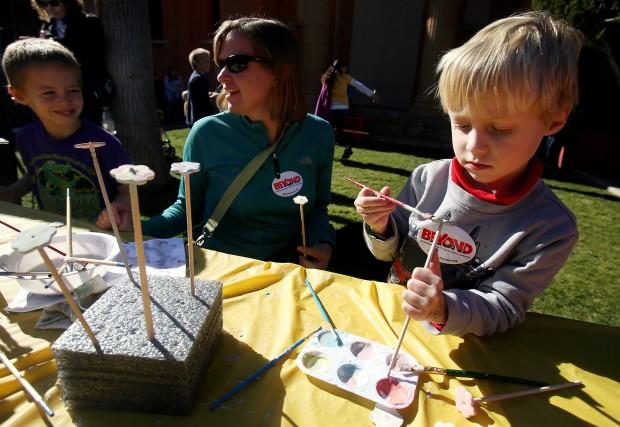 Part of the museum's focus is to be accessible to everyone. So, it offers free programs and discount days to help families who might not otherwise be able to go. 
Current discounts are $3 admission on the 30th of every month for the rest of the year and $3 admission every Sunday through Sept. 4. 
It also has free days for the community, such as the Love of Literacy day September 17 and Family SciFest February 4.
9. You can have your child's birthday party there
Who wouldn't love a birthday party at the children's museum? Packages start at $225 for non-members.
The basic package includes two hours in the birthday room, 20 guests included, an activity led by a discovery guide, balloons and table covers. 
Click here for more info. 
10. There's an Oro Valley extension
The Children's Museum Oro Valley opened May 1, 2015 at 11015 N. Oracle Road.
It features 3,300 square feet of interactive exhibits that focus on early childhood education and school readiness, geared toward little kids ages five and under. 
Exhibits are: Art studio, Literacy Corner, Farmer's Market, Peek-A-Boo Palace, Toddler Town and Lullaby Lounge. 
There are daily activities planned, such as storytime and Wee Play, which includes a story, sensory activity and a craft. 
Admission is $6. Children ages one and under get in free. 
Click here for a daily calendar and more information.