For one month in 2014, author Lori Alexander brainstormed a new picture book idea every day.
One of those became "Famously Phoebe." 
It's Alexander's second children's book, published Tuesday, Oct. 3 by Sterling Publishing. 
The story centers on Phoebe, an only child never far from a camera. With her parents and extended family constantly snapping photos of her, Phoebe thinks she must be famous. 
That is, until a little sister enters the family. 
Over time, Phoebe learns to share the spotlight with her new sister — but not without a bit of pouting. 
"It's a little bit of a sharing message," Alexander says. "It's a sibling rivalry, but there's enough love to go around, and she ends up loving her sibling." 
For about four years, Alexander, 45, has participated in the month-long picture book idea challenge, a concept derived from NaNoWriMo, National Novel Writing Month in November. 
"Us picture book authors don't need that challenge to write a complete novel in a month," Alexander says. "So there's this picture book author, Tara Lazar, who on her blog set up a challenge for picture book authors to come up with 30 ideas for books in 30 days — so just one idea a day." 
Not everything is gold, but Alexander's agent liked the premise of "Famously Phoebe." 
The book sold the summer of 2015. 
Alexander's first picture book, "Backhoe Joe," was published September 2014 and inspired by her son's love of construction zones and vehicles. 
She wedges writing in with mothering — a task easier now that her two kids, ages 11 and 12, are in school.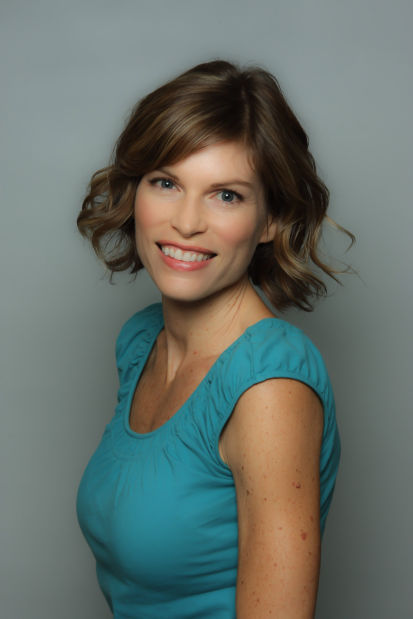 Alexander, who has a master's degree in human resources and previously worked at Ventana Medical Systems before staying home with her kids, says writing grew out of the reading and storytelling she did when she had young children. 
Even though her kids have graduated to longer books, Alexander still borrows stacks of picture books from the library to keep up with trends, styles and stories. 
"We always used them as a nice routine at bedtime..." she says. "There are a lot of important things you can cover in the 32 pages of a picture book. Some stories are funny, some are about learning the alphabet or numbers or seasons, and then there are the more serious books about family members that are sick, the loss of a pet or other things that can be hard to tackle as a parent." 
She realized she could write one herself when she learned picture book authors aren't always responsible for the illustrations. French illustrator Aurélie Blard-Quintard did the artwork "Famously Phoebe." 
"I wanted to stay home with the kids, but going to school all those years, you get feedback, and then you get performance reviews at your job," she says. "But once you start staying home, no one is like, 'Great laundry. Great job on those dishes.' So even when I first started getting rejections, it felt good to just put myself out there and know it was part of the process, and someone was looking at my work and giving it feedback." 
Alexander already has her next book in the works, this one a full-color, nonfiction chapter book for fifth and sixth graders. Called "All in a Drop," the book is a biography of Antoni van Leeuwenhoek, a Dutch draper who lived during the late 1600s and early 1700s and is known as a father of microbiology. 
"He was the first person to extensively use a microscope, even though he had no education in science,"she says. "He sold fabric." 
The book should be published in the spring of 2019 by Houghton Mifflin Harcourt. With the emphasis on STEM curriculum (science, technology, engineering and math) and the scientist's propensity to slide lice or gunk from his teeth under a microscope, Alexander knew she had something middle schoolers could appreciate. 
She got that idea from a conversation with her husband, a cancer biologist at Ventana Medical Systems. 
"He just mentioned how much better pathology has gotten since the invention of the microscope," she says. 
And that got her wondering. 
Story ideas can come from anything. 
With "Famously Phoebe," she thought of the camera-ready culture and constant social media posts many children grow up in — stars of their parents' Instagram and Facebook feeds. 
To celebrate the launch of the book, Mildred and Dildred will host a story time with Alexander plus crafts and games. The book will be available for purchase at the store, or you can find it online at Amazon or Barnes and Noble. The list price is $16.95. 
If you go
What: "Famously Phoebe" story time, crafts and author meet-and-greet. 
When: Saturday, Oct. 14, 11:30 a.m.  
Lori Alexander will celebrate the publication of "Famously Phoebe with a story time, crafts and games.