Tucson is gonna party like the Notorious RBG on Friday.
Ruth Bader Ginsburg's 86th birthday will be celebrated in front of Old Main at the University of Arizona with cupcakes, a cardboard standee of RBG to take pictures with, posters and planks.
So, for her 86th birthday, people will be planking. Not just here, either. Hundreds of people are expected to plank on the steps outside the United States Supreme Court building on her birthday, March 15. 
The Tucson party is a collaborative one, which means attendees are encouraged to be creative and put their own spin on the celebration, whether that means wearing a dissent collar, making their own poster or just showing up to hang out with friends. 
Lori Adkison, a 53-year-old retired HR director, is hosting the party as a celebration of "support for an icon of gender equality and civil rights."
"I'm inspired by RBG's approach to equal citizenship, her groundbreaking journey from law school all the way to the Supreme Court and her current cult status," Adkison says. "She is a true hero of our time."
The party is an inclusive one and planking is not mandatory. But if you do choose to plank, take pictures, post them on social media and tag them #planklikeRBG. There will be several planking sessions. Participants will receive a RBG plank button made by the Gloo Factory in Tucson (picture below).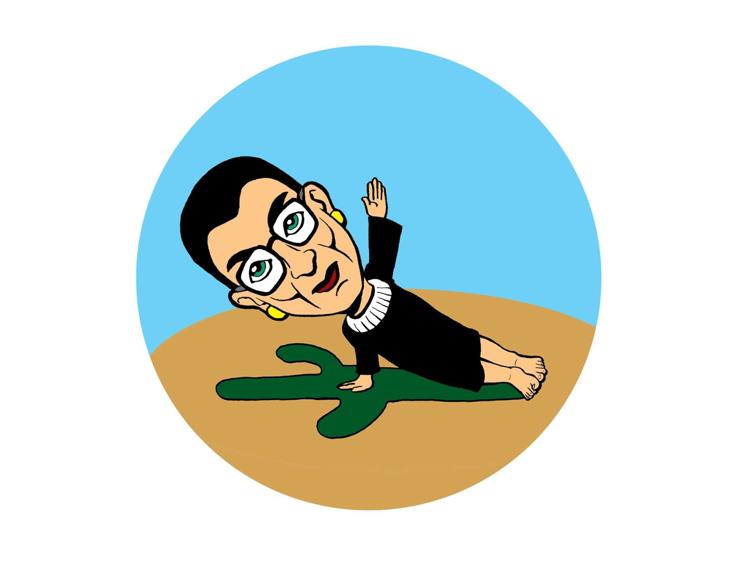 If you can't make it to the event, you can still be part of the party by planking on your own and posting it on social media with the same hashtag.
A Ruth Bader Ginsburg Birthday Celebration!
What: Celebrate the Notorious RBG's 86th birthday with cupcakes, posters and planks. 
When: Friday, March 15, noon to 1 p.m.