The Arizona Commission on the Arts awarded 34 artists $5,000 research and development grants, 10 of them from Tucson.
The annual grants, awarded Jan. 27 after a highly competitive review and interview process, allow artists to pursue new horizons and methods to enhance the impact of their work.
We caught up with three of the Tucson winners to see what they planned to do with the grant.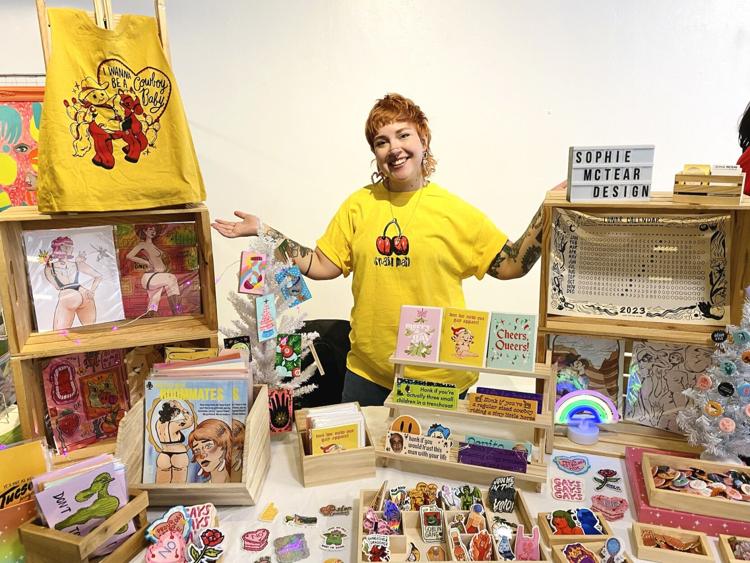 Sophie McTear
As a disabled digital illustrator and graphic designer, Sophie McTear uses their identity, personal experiences and beliefs for inspiration. Originally from the East Coast, they moved to Tucson in 2017.
McTear tends to work with bright colors and does a lot of what they describe as quirky, bold, loud and punky art. Most of their work focuses on representation of the LGBTQ+ community, as well as emphasizing individuals of all shapes, sizes, races and abilities.
"I want to make sure that when I create art, people that don't usually feel seen get to feel seen through my artwork," McTear said.
With this grant, McTear will focus specifically on digital illustration — their primary form of expression. They said that the project they plan to create is something they've had in mind for years.
"I just haven't had the opportunity to do it because I haven't had the income or the space to be able to create it," McTear said.
McTear wants to create a tarot deck that will represent people of all different backgrounds that you don't typically see in a traditional tarot deck. McTear has been studying the mid-15th century cartomancy cards for four to five years now, and all things mysterious is one of their niches.
Last year, McTear said they tried to put time into this project, but was forced to prioritize paid work.
"This has always felt like something, I guess, bigger than me," said McTear, adding that the grant money will allow them to focus on the project uninterrupted.
"It will be wonderful to up my game and feel like I'm functioning and creating at the same level as other artists in my field," McTear said. "I just feel so blessed for this opportunity."
Lex Gjurasic
A self-taught visual artist, Lex Gjurasic, originally from the Pacific Northwest, has lived in Tucson for more than 10 years. Gjurasic uses her art as a coping mechanism; when she is working, she said she is actually processing things.
"It really helps ground me," Gjurasic said. "The fact that people like what I do is just an added bonus."
The COVID-19 pandemic was a highly productive time for Gjurasic. She was able to concentrate and build a body of work dubbed "Flower Mounds" that is displayed at the Tucson Botanical Gardens until June 11. Gjurasic said the series was an "expression of her exuberance for life, and a love letter to the natural world."
"People really responded to it during the pandemic," she said. "I've always had people say to me, you should make this into a fabric."
Botanical Gardens Executive Director Michelle Conklin gave Gjurasic advice on art that is one with the environment, and that resonated with her. From there, she decided to begin silk painting. Outside of her comfort zone, Gjurasic took an introductory class last summer that forced her to use unfamiliar materials.
That experience inspired Gjurasic to apply for the state grant to expand her silk painting with the hope of creating garments out of her artwork.
"It's more than just painting on silk to be used as cloth for a garment," Gjurasic said. "For me, it just takes these paintings to the next level."
Gjurasic's ideas include decorating trees with her fabrics as well as creating scarves and other garments based off of her paintings.
She said she plans to use the grant money to take classes and learn more about silk painting.
Gjurasic has done a lot of public art and larger projects in the past with strict timelines. The grant has no time limit, which allows her to be in the moment with her art.
While holding onto some loose ideas and pieces that she can take in new directions, she said her goal is to make silk cloth work.
"My end game is just to paint the world with flowers," Gjurasic said.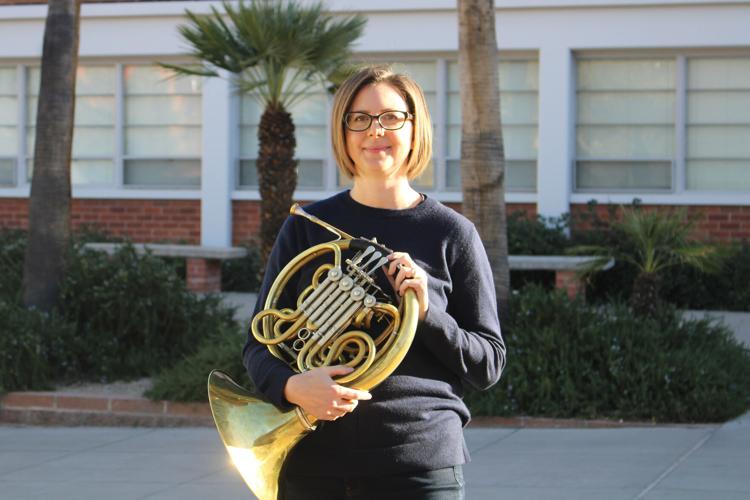 Johanna Lundy
Johanna Lundy, who was principal horn of the Tucson Symphony Orchestra for 15 years before leaving last summer, has taught at the University of Arizona Fred Fox School of Music for five years. During her transition from the TSO stage to the classroom, she realized she wanted to do something more and began working on independent music projects.
She wound up working a solo project that led her to create Borderlands Ensemble.
Formed in 2017, Borderlands Ensemble is a classical music group of strings, horn and guitar. Lundy said she will use the grant to support the ensemble, which performs classical music guided by the history and identities of Southern Arizona, recognizing the region's history including its relationship to Mexican and Indigenous people.
"That type of music doesn't already really exist in the classical music world," Lundy said.
By connecting the community through musical concerts, they gravitate to make their concerts unexpected. Borderlands Ensemble pushes to break through the preconceived notions about classical music.
Lundy's goal is to create new music, including commissioned works.
"There's a real cost involved with that," Lundy said. "Having grant support really just helps make it possible."
Lundy is using the $5,000 grant to commission works for Borderlands Ensemble from composers Nubia Jaime Donjuan, Jorge Sosa and Edwin Guevara.
"Primarily, what our mission is as a group is to create classical music concerts that are fun and relevant to the place we call home," Lundy said, saying the grant is giving her a big jump on the ensemble's mission.
The group plays at unique venues like bars and art museums, which they believe provides a more casual setting, allowing the audience to see performers as people, not just classical musicians.
"With these grants, you can really leverage the money to do big things," Lundy said, adding that the money will support a season's worth of work.
Other Tucson artists awarded with this grant include Katie Baird, Susanna Battin, Derrais Carter, Amber Doe, Flor de Nopal, Isadora Hale and Bin Hu.