A committee of seven, subject experts picked the titles for this year's 43rd "Southwest Books of the Year" list. On it you'll find stories about the U.S. Army's Arizona camel experiment, conservation, Sandra Day O'Connor, the border and more. Genres span poetry, history, fiction and beyond. 
We've listed below the 11 books from the committee's Top Picks list — essentially the best of the best. Go here to place holds on them. If you want more book lists, go here.
Images and reviews were taken from the Pima County Public Library catalog. 
Inland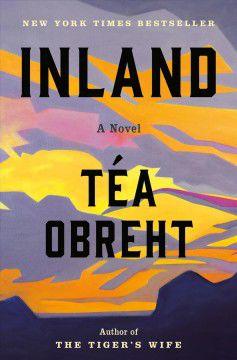 "On the parched high desert of the Arizona Territory, Nora measures her days by drops. Lured to the mining settlement by her restless husband and dried to flint, Nora shapes a life out of little as she fights to stay on ground long played out. When Emmett fails to return from a search for water, their oldest boys light out to chase whispers of ambush and murder, leaving Nora with her youngest son, her clairvoyant, simple-minded niece and her aged mother-in-law. And always, the voice of her long-dead daughter. After a lifetime mired in misadventure among shady companions, Lurie accompanies a camel caravan west as part of an ill-conceived experiment powered by the US Army. Haunted by his past, Lurie breaks from the caravan on his favorite camel and the pair crisscross the West in their 'suffering journey' before colliding with Nora. Obreht crafts a mystical mirage of gritty realism that deserves to be read and reread for its sheer beauty."
— Panelist Vicki Ann Duraine 
A Desert Harvest: New and Selected Essays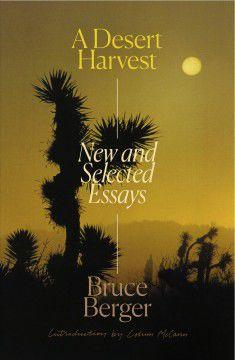 "There's a fugue-like quality to these luminous pieces by environmentalist, essayist, poet—and classical pianist—Bruce Berger. They open as with a single voice—with a particular image, observation, or situation—and build in intensity and elaboration. The essays close as if back to the single voice, in a thoughtful, often lyrical, reflection. And Berger does that in topics as varied as nuns slaughtering goats, cacti dying, and dinner with Stephen Hawking. Berger's interests are expansive; the essays are informative, speculative, meditative. Many concern the fragility and beauty of wildernesses, particularly the desert, but he also writes of living and playing music in La Paz, Baja; and a crazy coot in Florence. Berger's descriptions of desert landscapes and animals are meticulous and vivid, and his prose can soar. 'The spent pincushion [cactus] is a strange jewel,' he writes, 'a crucible of woven stars... delicate as a doll's negligee.'"
— Panelist Christine Wald-Hopkins
The Wild Bunch: Sam Peckinpah, a Revolution in Hollywood, and the Making of a Legendary Film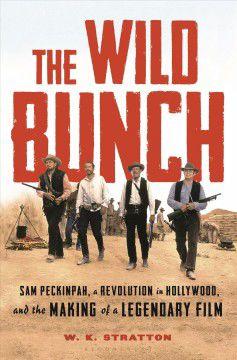 "Sam Peckinpah's revisionist western movie 'The Wild Bunch' appeared in 1969, half a century ago. Audiences immediately understood that its spasms of extreme violence were not just a commentary on the Wild West, but also on what was going on at the time: Vietnam, the assassinations of Robert Kennedy and Martin Luther King, Chicago. Peckinpah's film occasions Kip Stratton's excellent book by the same name, a book that explores the making of the film and its continuing legacy, explaining why it remains important in both the canon of American film and in the annals of the Southwest. Stratton, once a writer for the 'Dallas Morning News' and a skilled interviewer, tracked down surviving cast members, dug deep into the archives, and went through the film frame by frame, delivering fresh interpretations that will help even the most devoted fan of Peckinpah's epochal western to see the movie with new eyes."
— Panelist Gregory McNamee
First: Sandra Day O'Connor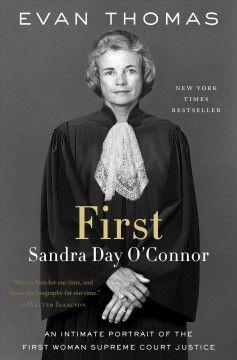 "Growing up on an Arizona cattle ranch was the making of Sandra Day O'Connor, says Evan Thomas. In his authoritative biography of the Supreme Court's first female justice he often credits the life skills, grit and grace under fire developed on the Lazy B as the foundation upon which she built her career. With full access to her private papers, Thomas traces O'Connor's path to the Supreme Court in a richly-detailed narrative, recounting the discrimination she faced as a young lawyer, her ascent in the Arizona State House and her selection by Ronald Reagan when he wanted to appoint a woman to the High Court. Never dry, Thomas offers an insightful, even-handed view of her judicial record as the critical swing vote in a divided court that delivered affirmative action and abortion rights but also iced the consequential outcome of Bush v. Gore. With his portrait of a loving wife and gifted jurist, Thomas does Arizona's favorite daughter proud."
— Panelist Helene Woodhams
Big Wonderful Thing: A History of Texas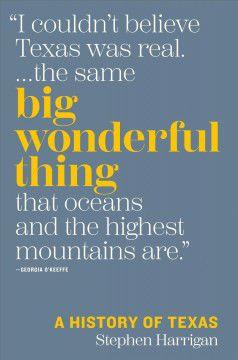 "History is about stories. In a book as big and wonderful as the land he describes, Harrigan tells the stories of successive generations of men and women who shaped the Lone Star State, from prehistoric dwellers to Native American, Spanish, Mexican, African American, and Anglo newcomers, each of whom contributed to the diverse, and yet distinctive, politics and culture of modern-day Texas. At once objective and intensely personal, this expansive history exposes the reality beneath the myth of Texas exceptionalism and, in the process, gives overdue credit to people who fought in the shadows to forge a multi-cultural society where, today, Vietnamese refugees stand arm in arm with Alamo descendants. Harrigan has done a remarkable thing: In 900-plus pages, he vividly reimagines the endlessly fascinating saga of a state and its citizens. 
America's Most Alarming Writer: Essays on the Life and Work of Charles Bowden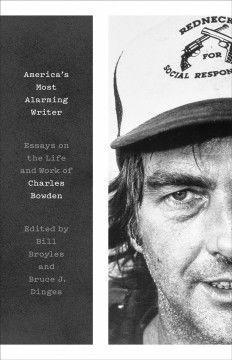 Editors: Bill Broyles and Bruce Dinges
"In a prize-winning career that spanned 40 years, Charles Bowden gained national fame and some notoriety for his chronicles of the Southwest and his hard-hitting investigative journalism that celebrated the stark landscape he loved while exposing the human-caused fault lines undermining it. When he died in 2014, Bowden's riveting prose and relentless pursuit of the truth became a literary legacy that continues to inform our thinking about the fragile environment, borderland violence and the possibility for redemption in the face of it all. His life and work are celebrated in this essential collection of 50 reflections and appraisals contributed by writers, collaborators and fellow desert rats whose lives were changed when they intersected with his. Editors Broyles and Dinges, who assembled this tribute, provide a revealing and insightful introduction. Dip in anywhere, at your leisure; you cannot fail but to come away inspired."
— Panelist Helene Woodhams
Retablos: Stories from a Life Lived Along the Border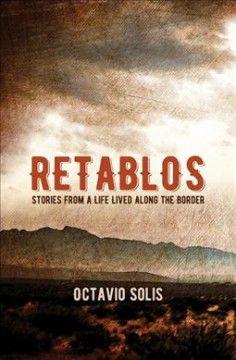 "In a lyrical memoir that is as much storytelling as it is autobiography, Solis shares his experiences growing up as a brown person on the US/Mexico border in El Paso in a series of tightly-written essays he calls 'retablos,' a reference to the devotional paintings that depict a dire event which one has survived. Our memories, he says, are faded by time, place and invention, but his vivid accounts and lively imagery that exist beyond politics and rhetoric belie this sentiment. Solis, one of America's most prominent Latino playwrights, evokes the drama of his own life, each chapter functioning as an act in the narrative arc that is his coming of age. This book, which tells a story everyone should hear, will have a special resonance for Latina readers like myself, who will recognize and relate to many of the people who moved in and out of his eventful early days."  
The Girl in the Iron Box: How an Arizona Kidnapping Stumped Hoover's FBI
"On April 25, 1934, in downtown Tucson, a six-year-old girl named June Robles stepped into a Ford sedan and disappeared. A ransom demand followed. With the Lindbergh kidnapping still fresh in memory, the FBI went to work, staging a manhunt that extended far beyond the city. After nearly three weeks, June was discovered, having been imprisoned in an iron box buried in the desert. The identity of the culprit was never proven—an embarrassing failure for the FBI. Paul Cool, who passed away before he could see the publication of this fine historical study, examines every bit of the available evidence, including internal law-enforcement documents, and he searches out clues on who carried out the Robles abduction. Was it an inside job by a publicity-seeking relative? The work of a stranger? In this excellent true-crime investigation, Cool offers answers to questions that have hung in the air for more than three-quarters of a century."
— Panelist Gregory McNamee
The Death and Life of Aida Hernandez: A Border Story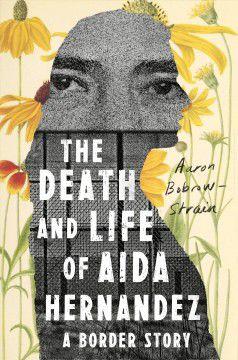 Author: Aaron Bobrow-Strain
 "'Look at this,' Aida Hernandez would say to visitors, lifting her shirt to reveal knife scars crisscrossing her belly. 'I died, and I lived.' However miraculous she might find it, nothing in life is that simple, as this compelling account proves. Aaron Bobrow-Strain chronicles the efforts of this Mexican-born, US-raised mother to reconnect with her young American son. Aida is a border casualty. Her family split between Agua Prieta, Sonora and Douglas, Arizona, she was reared amid poverty and domestic abuse. She had a child at sixteen, was deported to Mexico, nearly murdered, incarcerated in the US, and crippled by PTSD. Extensively researched, 'The Death and Life of Aida Hernandez' illustrates the challenges of historic cross-border relations and economic realities, domestic violence, questionably punitive US policies for undocumented entrants, plus humanitarian efforts to assist along the militarized border. It's unforgettable."
— Panelist Christine Wald-Hopkins
Powerhouse: The Life and Work of Judith Chafee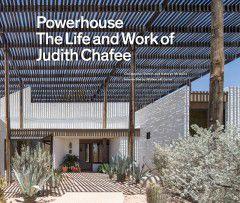 Author: Christopher Domin
"She smoked, earning her a gravelly bark. She drank, putting her in a testy mood. She wasn't above intimidating a client who didn't see things her way. Yet Judith Chafee (1932–1998), too often overlooked, made significant contributions to the architecture of Tucson—which, as University of Arizona professor Domin and Chafee associate McGuire note, is 'haunted' by one house in particular, a futuristic block that sat in the hills below Gates Pass before being unceremoniously demolished, its foundation now 'hidden by rubble and desert sand.' In this richly illustrated book, Domin and McGuire make a strong case for Chafee's importance, arguing that being a woman in a profession dominated by ego-ridden men certainly didn't help her in her time. This is an essential addition to the library devoted to architecture in the Southwest, and Tucson in particular."
— Panelist Gregory McNamee
The Light Years: A Memoir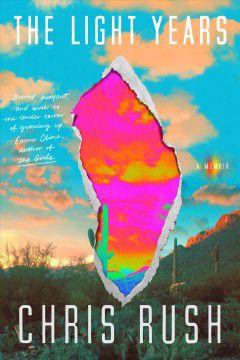 "The desert Southwest is healing ground in this powerful memoir of an artist's drug-filled teenage years in search of escape and enlightenment. Fleeing his troubled home life in New Jersey, Rush roams the West dealing drugs and pursuing the next high until he bottoms out as a homeless youth living a feral existence on Mount Lemmon near Tucson. A near-overdose and caring friends put him on the path toward sobriety and an artistic career, although that result is still uncertain as the book closes. Rush is a compelling writer, capturing the angst of adolescence and the anxiety of coming to terms with his sexuality, even if the lessons to be learned from this unusual coming-of-age story seem less obvious."