There are still several days of time to fill between Christmas and school starting back up again. 
This winter break kids and parents have never been more in need of a break from screen-time. 
If you need a few analog ideas to fill your time after the gifts are opened, here are a few options for getting outdoors or creating things from home. 
Hold on to the holiday magic a little longer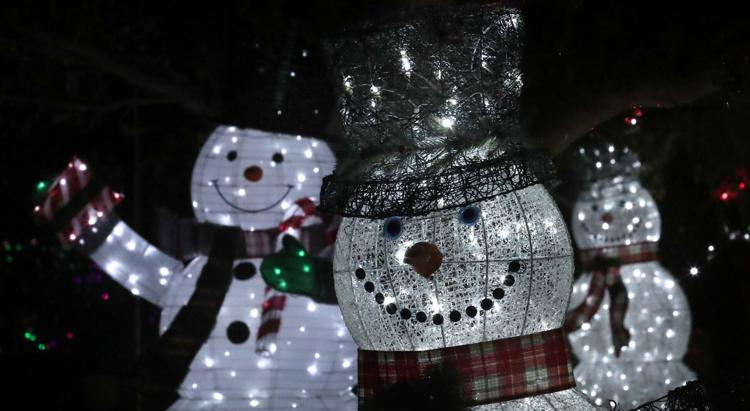 Take a trip to visit some of Tucson's most impressive light displays before they're stored away until next year.
ZooLights at Reid Park Zoo happens Dec. 22-23 and returns for encore nights Dec. 26-30, where you can talk a walk through thousands of twinkle lights and see animal sculptures and lanterns. Just don't expect to find Santa there, he will already have headed back to the North Pole by then.
The lights at the Tucson Botanical Gardens' holiday exhibit Wanderland stay up a bit longer, until Jan. 3. Your family can enjoy a peaceful stroll through the gardens set aglow with thousands of luminarias, a dozen Korean lanterns and beautiful illuminated art.
Both Reid Park Zoo and Tucson Botanical Gardens are using timed admission to limit the amount of guests visiting at one time and require reservations. 
Buildings and trees in Downtown Tucson will be lit up for the rest of December, be sure to stop by Jácome Plaza for a selfie inside the giant walk-through ornament.
Or check out some of Tucson's most Griswold-y homes in neighborhoods all throughout the city. The Arizona Daily Star put together this helpful gallery of photos and addresses so you know where to find the best of the best. 
Take your new set of wheels for a spin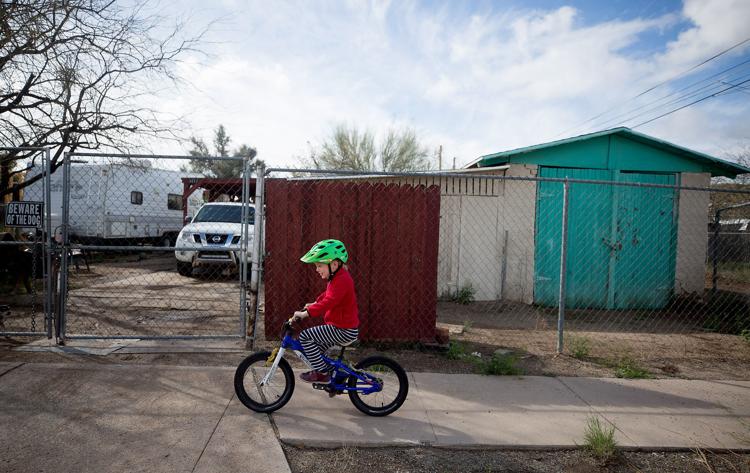 If Santa left a new bike or scooter under the tree this year, take it for a spin on one of Tucson's car-free pathways. 
The most obvious choice for a relaxing ride is on The Loop, 130 miles of paved walking paths and bike lanes that you can access easily no matter what part of the city you live in. But, because it's the obvious choice it's known to be pretty crowded. The most heavily trafficked part of The Loop is the area starting near Rillito River Park, a Pima County spokesperson shared with us earlier in the year. Areas that usually see less traffic are near the Santa Cruz River Park, Harrison Greenway and Julian Wash Greenway. Check out this interactive map to see all your options. Still, wherever you decide to get on if the parking lot is full or there are lots of pedestrians and cyclists, it's a good idea to find a less busy place to start your ride.
The University of Arizona Mall, normally buzzing with activity when classes are in session, is pretty empty during winter break. You can ride the long stretch of paved road alongside the mall's grassy area from Old Main to Campbell Avenue and then back again.
You could also hit up your neighborhood park, or a new-to-you park. Kylie Walzak, the director of Open Streets for Living Streets Alliance, says she and her family have been enjoying rides around the paved loop at Limberlost Family Park. She also suggests a ride along the 2.2. mile loop surrounding the Kino Environmental Restoration Project, a water retention basin near Ajo Way and Forgeus Avenue across from Kino Sports Complex. Along that route you'll be surrounded by trees and vegetation and might even get to see birds and other wildlife. 
Enjoy some time outside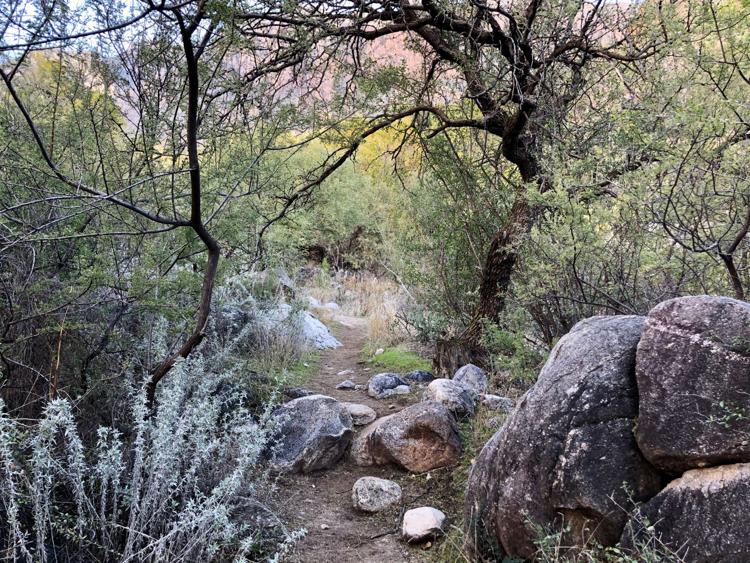 Normally, we'd have a pretty lengthy list of hikes to re-cap at the end of the year through our "Helpful Hiker" monthly series. But we only made it out on a couple hikes this year before we had to put that series on hiatus. Still, those we did set out on are pretty family-friendly, easy to get to and have beautiful desert views.
The Painted Hills Trail, is a short drive west of downtown and is an easy hike full of towering saguaros. It's also close to the popular Tumamoc Hill so it's a nice alternative if you get to the hill and find it's too crowded. We also explored the Pima Canyon Trail, which my colleague, Johanna Willett described as having "Narnia-level magic" thanks to all the cottonwood trees, moss, and a tiny trickling waterfall we found. It is a little rocky and steep in some places, but you can turn around before you hit the challenging parts and still have a nice outing if you're exploring with littles.
Make someone smile
Take some time to send a thoughtful note to someone who can't be with their family or say 'thank you' to a healthcare worker. 
Three Tucson groups have programs where you can send an uplifiting message to residents and staff in assisted living facilities and healthcare workers or anyone who needs a bit of encouragement. 
The Southern Arizona Arts and Cultural Alliance is hoping to collect 400 cards and letters through its Letters of Hope campaign. Drop off your completed notes in the creatively painted mailbox in front of the Christmas tree at Oro Valley Marketplace and SAACA will deliver them to the staff and residents of assisted living facilities and hospitals. The mailbox will definitely be set up through Dec. 23, but there is a chance it could be out a few days longer.
You can also send a note or card directly to an assisted living facility of your choice through the Pima Love Notes project which started in the summer to help connect with isolated seniors and share some encouragement with staff.
Why I Love Where I Live has created free, downloadable cards you can print and send to anyone you'd like to express gratitude, or if you drop them off at their store in the MSA Annex they will deliver them to healthcare workers. 
Put new art supplies to use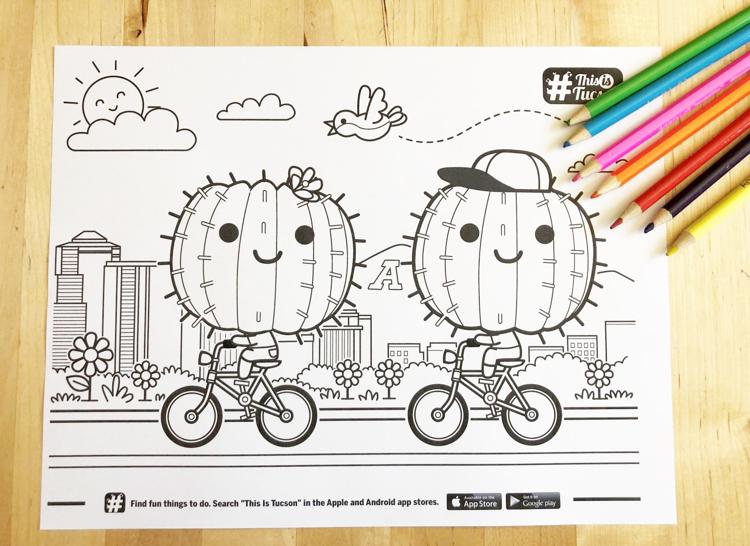 The designs range from simple to extremely intricate, so there are pages both kids and adults will enjoy working on.