---
While lots of things have slowed down in the last few months, Tucson's mural game is still going strong. Artists have been hard at work creating murals that provoke thought, celebrate Tucson and inspire hope and imagination.
You can easily visit all seven of these new murals during a quick drive, providing a nice change of scenery and a mood booster. Many of them are near local restaurants and businesses so you can also easily grab some food or an ice cold drink to-go while you're out. 
Hope. Pass it On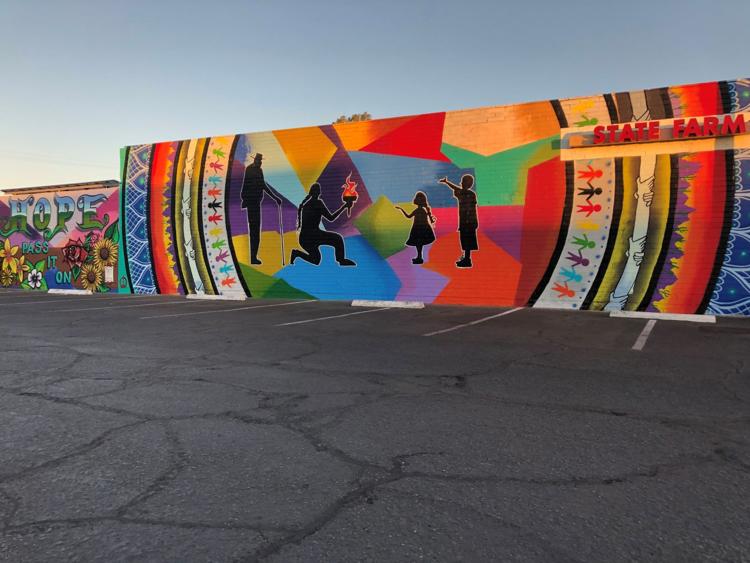 In early June local insurance agent, Dan Kalm offered the blank wall on his office building to artists to create a message of peace and hope. And, a group of local artists answered the call all contributing to the creation of this large, vibrant mural that was finished over the course of a week. The artists are: Tommy Ohlrich, Sketch71, KT Held, Mel 'Melo' Dominguez, Lourdes Escalante, Sawaki, Koraima Lupian and Araceli G. and was organized by Wagon Burner Arts. "The mural is a message to the community during an age we are all collectively living in and experiencing," Wagon Burner Arts said in an Instagram post. 
Where to find it: On the north wall of the Dan Kalm State Farm Insurance office, 2654 N. Campbell Ave. Park in the Prep and Pastry parking lot. 
Black Lives Matter Mural Project
In early June following the police killing of George Floyd in Minneapolis and the wave of protests across the country, Tucson artists Robbie Lee Harris, Adia Jamille and To-Ree-Nee Wolf painted murals focusing on hope and love as part of the Black Lives Mural Project in collaboration with muralist Joe Pagac. These murals are temporary so be sure to experience them sooner than later.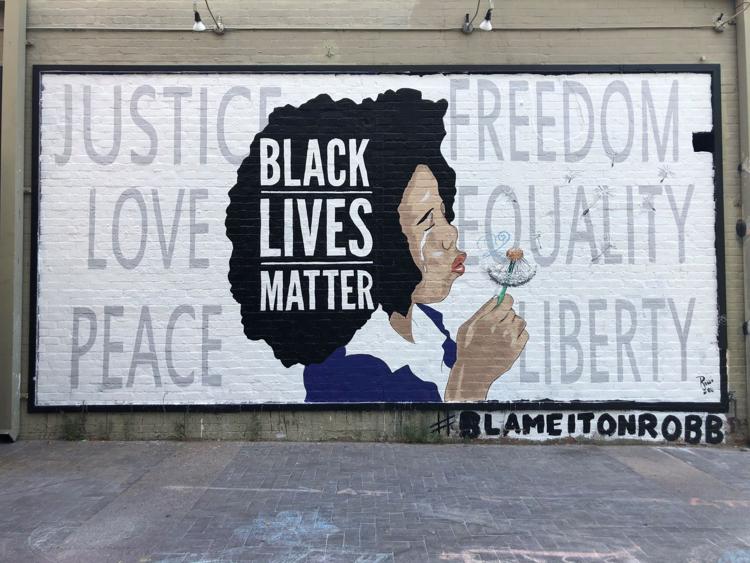 Robbie Lee Harris used the Rialto Theatre's east wall to create a mural that was uplifting and hopeful but would also help start conversations about the treatment of people of color, he told the Arizona Daily Star. 
"When you see a big art piece, you get lost in that moment," he said. "It hones you into whatever the message is. My idea is when someone turns the corner and sees the mural, they see that it portrays the innocence that the girl is wishing for. At the end of the day, I hope it triggers the conversation that needs to happen amongst everyone."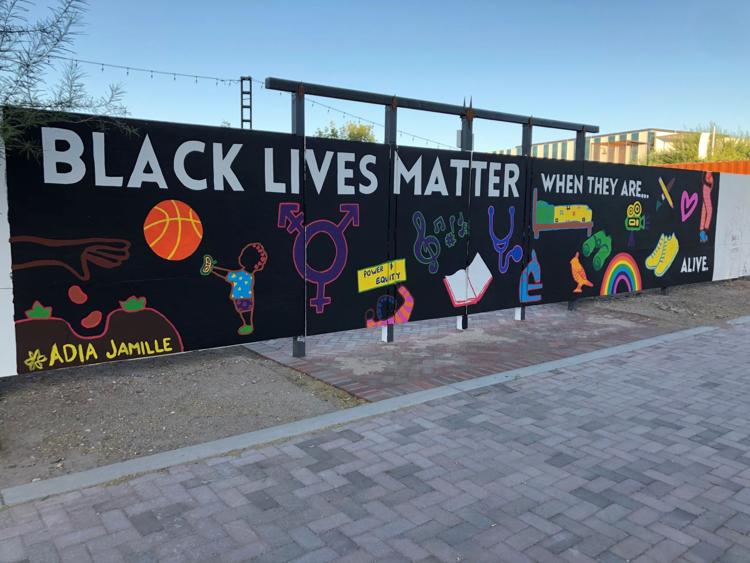 Adia Jamille's design is vibrant and colorful and shows African Americans experiencing the everyday joys of life.
"I am focusing on the hope and the love I feel for black people," she told the Arizona Daily Star. "It will have imagery that touches on our history while looking to the future, ready to move forward."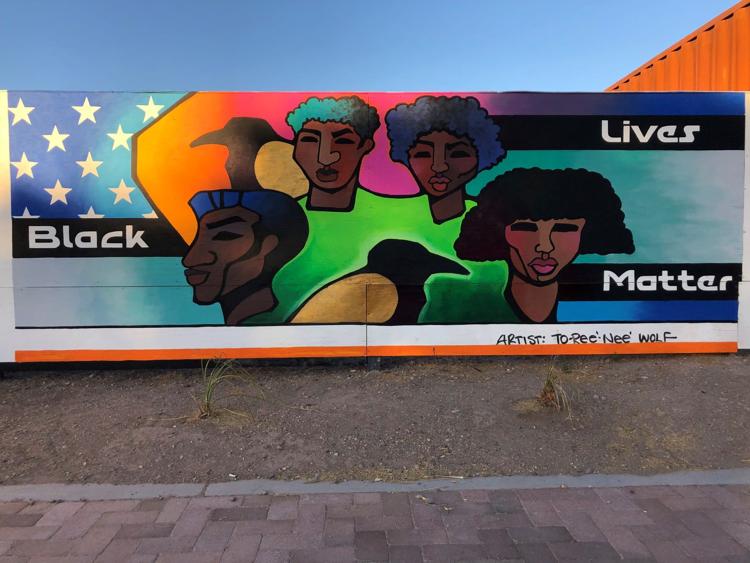 To-Ree-Nee Wolf's bold mural (adjacent to Jamille's) is of four black people and also incorporates ravens, often found in her work. 
"They represent the flight of imagination that we need in order to think and dream of a different place. Ravens are symbols of wisdom, and delving into the imagination," Wolf told the Arizona Daily Star.
Imagination Navigation: Sonoran Sea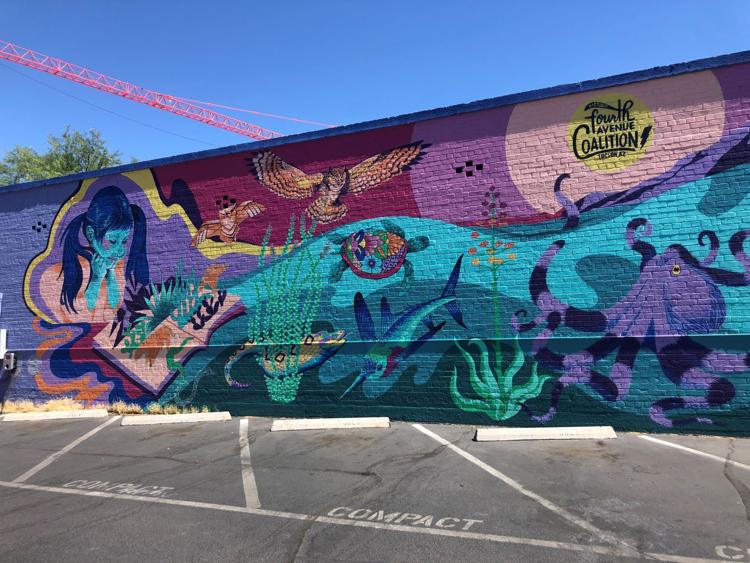 About: Jessica Gonzales created this delightful mural with assistance from Dakin Martin and it's the Historic Fourth Avenue Coalition's first permanent art project. The mural shows the world of imagination unlocked by a book and is appropriately located on the wall of Antigone Books. This mural is best enjoyed with someone who loves details. 
Tucson Together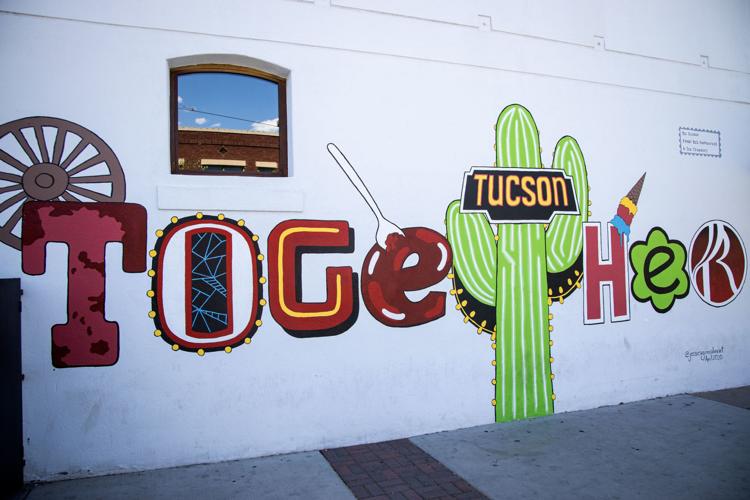 Jessica Gonzales painted this mural in mid-April and each letter in the word 'together' is done in the style of the logos of iconic local Tucson establishments. See if you can identify them all (or, find the answers in the caption.) 
Black Lives Matter Mural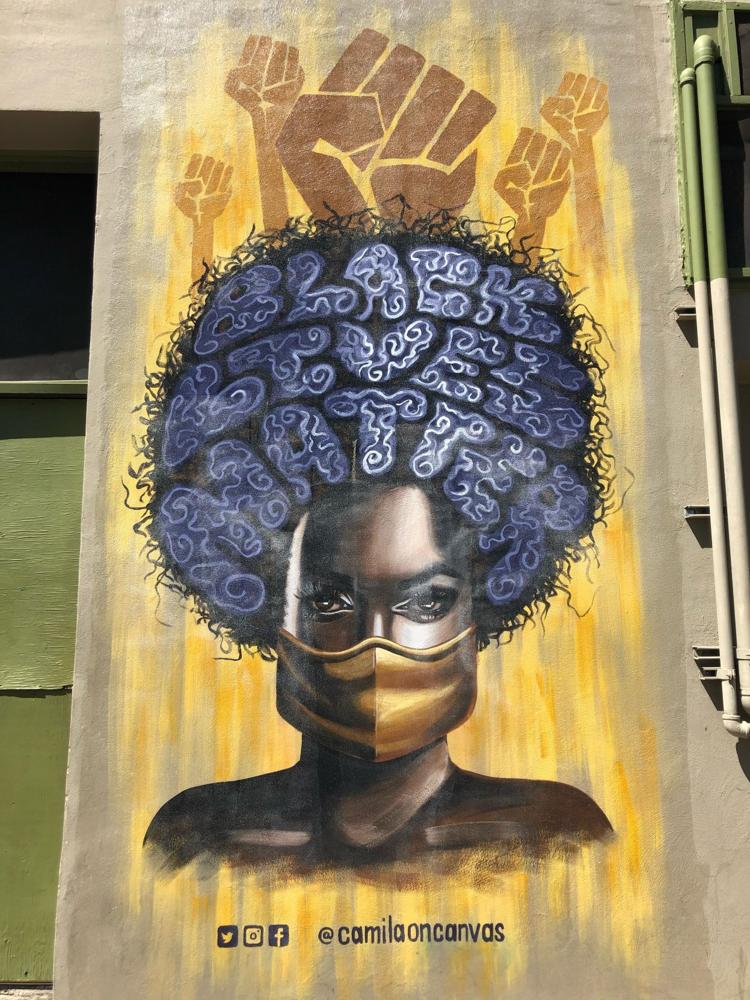 Camila Ibarra created this Black Lives Matter mural to support the movement. 
"It didn't feel right to sit back knowing I could do so much more," she told the Arizona Daily Star. "I wanted to impact as many people as possible." She is selling prints and t-shirts with the image and donating 75% of the profits to scholarship funds for students of color and bail out funds for Tucsonans. 
---