Spread sunscreen everywhere and, if you can, stay inside or in the shade as much as possible this coming weekend into the middle of next week, weather experts say.
A dangerous heat wave is expected to hit the Tucson area from Saturday to Wednesday with sizzling temperatures that will possibly break record highs, said Chris Rasmussen, a National Weather Service meteorologist in Tucson.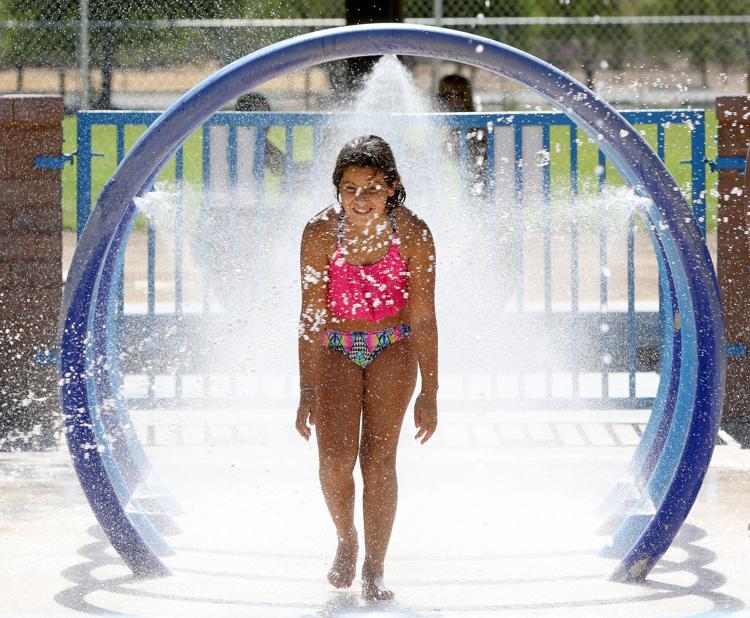 "If you must be outside, you want to limit your exposure. Staying in the shade does matter to avoid sunburn. Stay hydrated and don't wait until you're thirsty. Drink, drink, drink," advised Rasmussen.
An excessive-heat warning is in effect for the area until Wednesday night.
Possible record highs
Record highs could be broken, including on Father's Day.
Here are the forecast highs:
• 108 degrees, Saturday. Record: 113 degrees, set June 18, 1989.
• 114 degrees, Sunday. Record: 112 degrees, set June 19, 1989.
• 112 degrees, Monday. Record: 110 degrees, set June 20, 2005.
• 110 degrees, Tuesday. Record: 112 degrees, set June 21, 1990.
• 109 degrees, Wednesday. Record: 114 degrees, set June 22, 1988.
Western desert areas could see high temps hit 120 degrees during this stretch, the weather service said.
No rain in sight
The monsoon season began June 15 and runs through Sept. 30. However, no rains are expected this weekend through Wednesday.
"This is our second run at extreme high temperatures. We went through a heat wave a couple weeks ago," Rasmussen said. "We usually get excessive heat once or twice a year before the monsoon season."
"But what is uncommon is that we are looking at hitting record temperatures," Rasmussen said.
Officials of the Pima County Health Department, along with the Sheriff's Department and the weather service, recommend that hiking and other outdoor activities be done in the early morning and completed by 10 a.m.
Between June 2-4, area temperatures reached 108 to 114 degrees. During that time, Sheriff's Department personnel rescued three hikers with heat illnesses, and one remains in critical condition, said Deputy Courtney Rodriguez. She also said multiple golfers went to hospitals for heat illnesses during that weekend.