Weird stuff. Small stuff. Everything.
It all inspires Tucson artist, Lex Gjurasic.
But usually she finds a muse in the natural world, or a memory or feeling she had while out in nature. 
"I do a lot of painting from memory," Gjurasic said. "Like experiencing the natural world or dreams or unusual events. There will be a little seed of a saguaro or seed of a hike and I'll just kind of build on that memory or the feeling within me."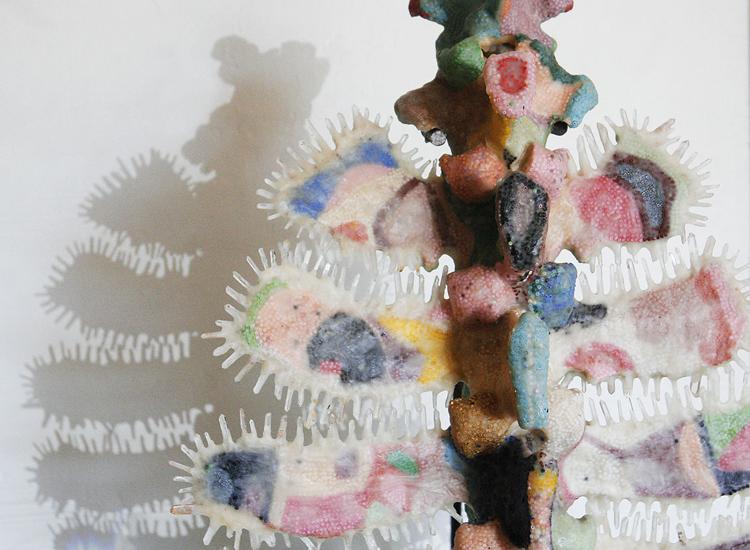 Originally from Seattle, Gjurasic made her way to Tucson about four years ago with her husband and now 10-year-old daughter. 
"I love it," she said. "I like that the community is so vibrant. I like that the college brings in a diverse population of people. I like how the city expands and contracts throughout the year and I like being so close to the border. It's such a weird and unusual position in life to experience."
Working with unconventional and found materials Gjurasic creates vibrant mixed media pieces in the midtown home she shares with her family.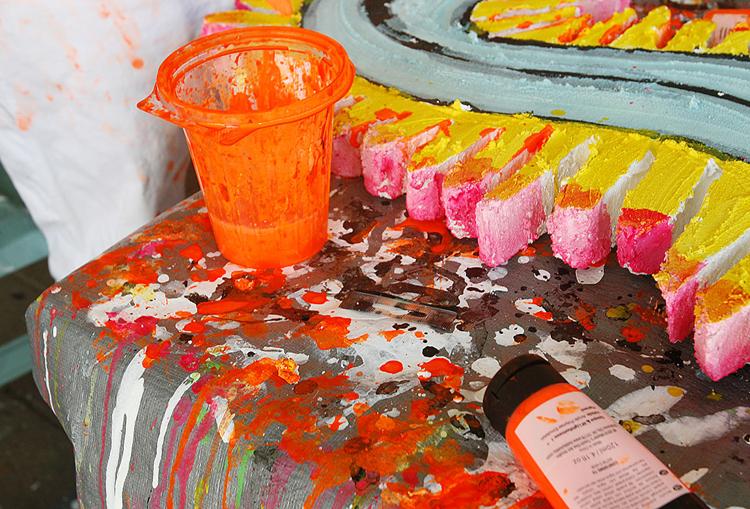 "Everything ends up getting painted at some point, but I like to work with found objects and unconventional materials," Gjurasic said. "Just things that inspire me. I'll acquire it and set it aside and see where it fits in."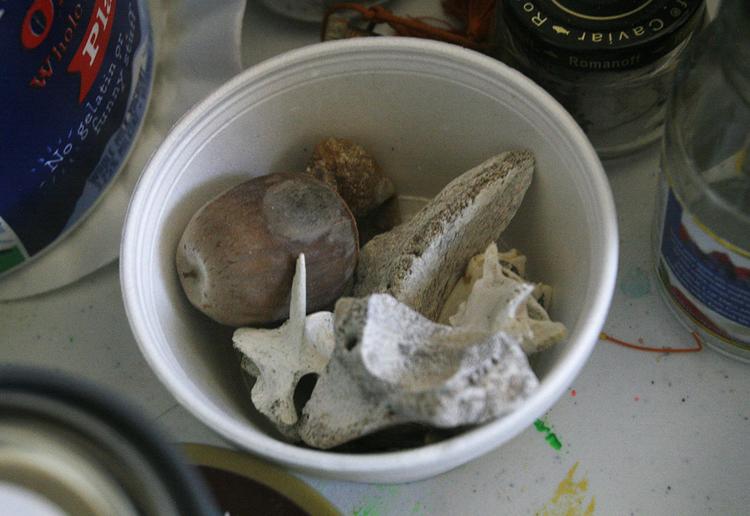 That could include seeds, skulls, bones, minerals, cactus or anything else that can be found in the desert or while out and about. Plastic cups and containers filled with porcupine quills, rocks and skulls currently adorn Gjurasic's studio table.
Another source for Gjurasic's inspiration is synesthesia, a perceptual phenomenon in which stimulation of one sensory or cognitive pathway leads to automatic, involuntary experiences in a second sensory or cognitive pathway.
In other words, Gjurasic tastes colors. Gesso is yogurt. Orange paint is oranges. Rainbow colors, sherbet.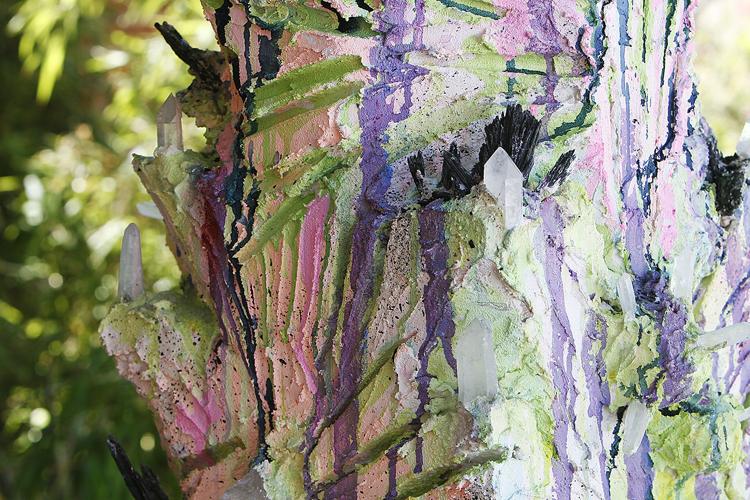 Rather than treating that as a side effect of creating art, she used it to inspire a series of botanical sculptural wall hangings, paintings and wearable art that will be on display at the Museum Store at Tucson Museum of Art and Historic Block for the month of April. The show is called Soft Spring.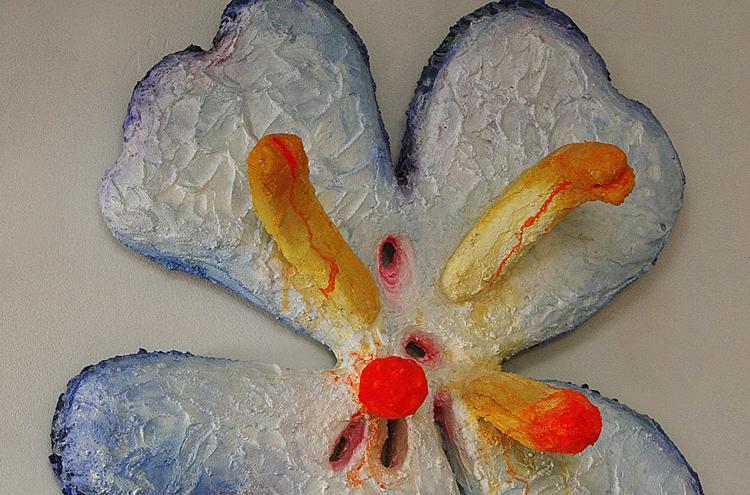 The sculptures are created with styrofoam coated with mortar and then painted and embellished, giving the finished product the look of frosting and spongy sweet desserts.  
"When spring comes, I always feel crazy and super inspired," Gjurasic said. "So, it's a bunch of botanicals that are wall hanging sculptures so it will be a blooming field of flowers...With Soft Spring I really looked at the experience I was having in creating where I would taste color...So as I made these flowers, as I experienced their flavors and taste working with styrofoam and mortar they became more like cake and they are definitely inspired by pastries and cakes."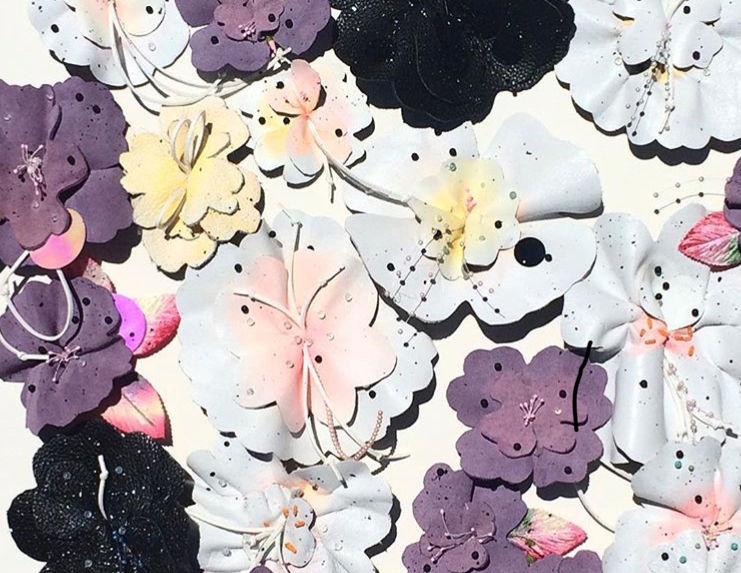 Building on that same process, Gjurasic is currently working on a set of mixed media sculptures for a temporary public art installment that will be on display at the Scottsdale Public Library during the summer.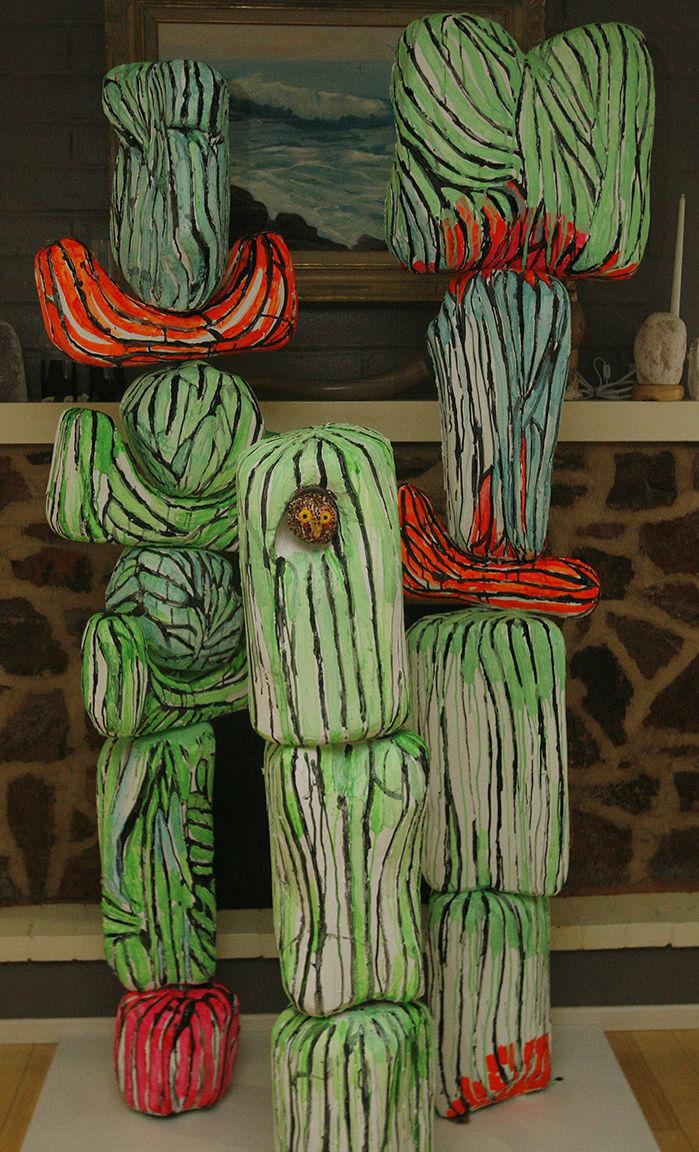 The installation is called DEEP TIME and is an imagining of the ancient ocean that was Arizona before the desert. 
The sculptures were created with styrofoam coated in mortar, then painted and embellished with gems and pulverized minerals. 
"I would describe it as monumental. They're inspired by corals, but the initial inspiration was from a visit to a cave and seeing stalactites and stalagmites," Gjurasic said. "Of course coral and stalactites are kinda the same, but not. They're the same idea. And I've been working with pulverized gems and minerals, so that's something I added in because it creates kind of a fake natural element like styrofoam and minerals, mortar and paint."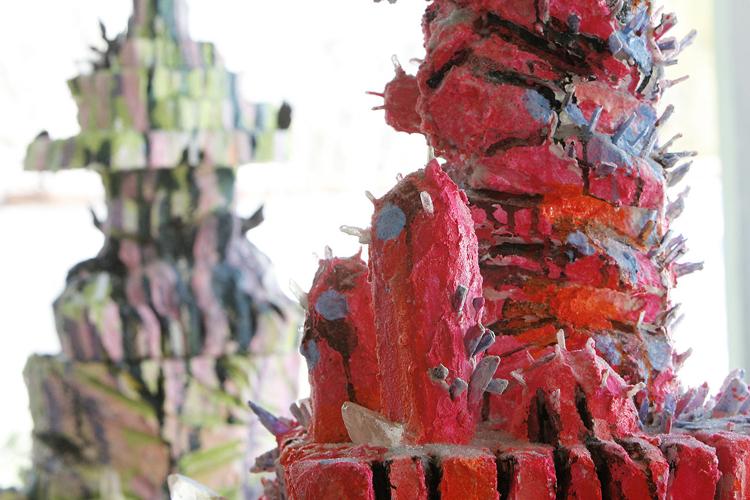 Gjurasic usually works from recycled or reclaimed styrofoam. She tries not to purchase it, but has done so when necessary.
For the giant corals, she created sketches and loosely used them to sculpt.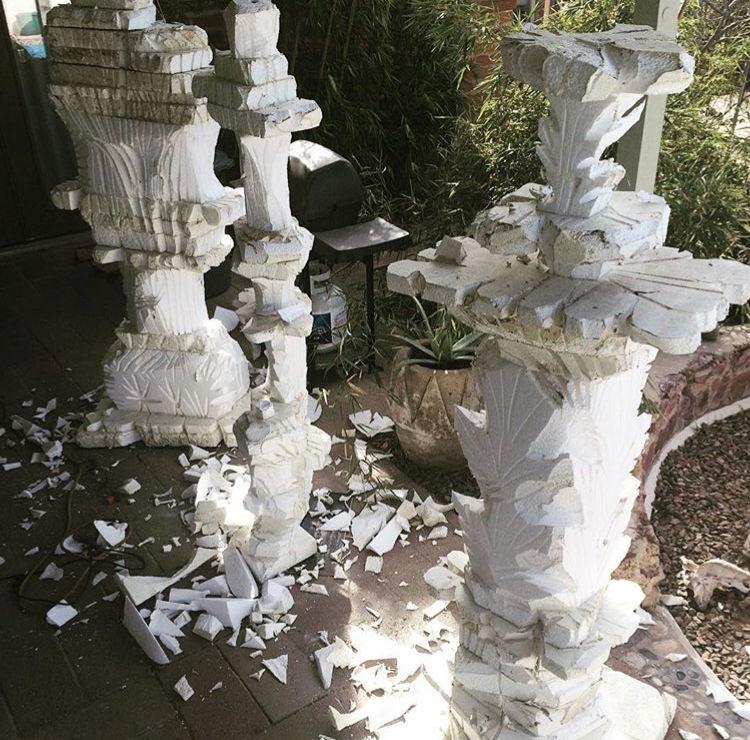 "I just hacked away," Gjurasic said. "I drilled holes in it and put it on a base and then carved away with a hot knife. It's fun."
When she had the shape she liked, she coated them in mortar, then gesso, then paint.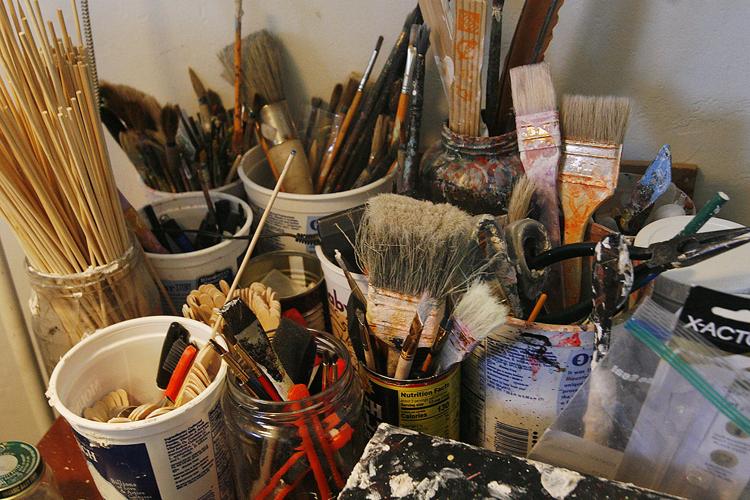 Using her coffee grinder, Gjurasic pulverized minerals to create a sparkly effect to embellish the corals.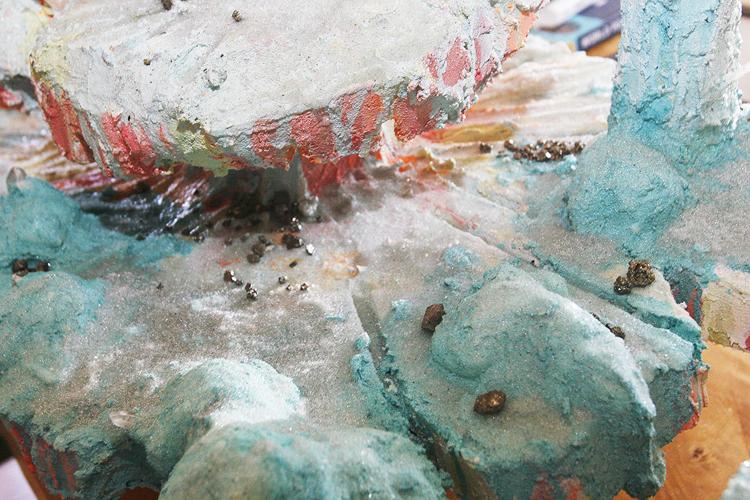 Creating public art is a recent venture for Gjurasic. But, she's always creating. Even if it's not for a project. 
"I'll always make stuff if it's for a project or not because I just can't not," she said. "I feel uneasy when I'm not working."
For artists wanting to focus more on their craft, Gjurasic says to have a job that doesn't stress you out.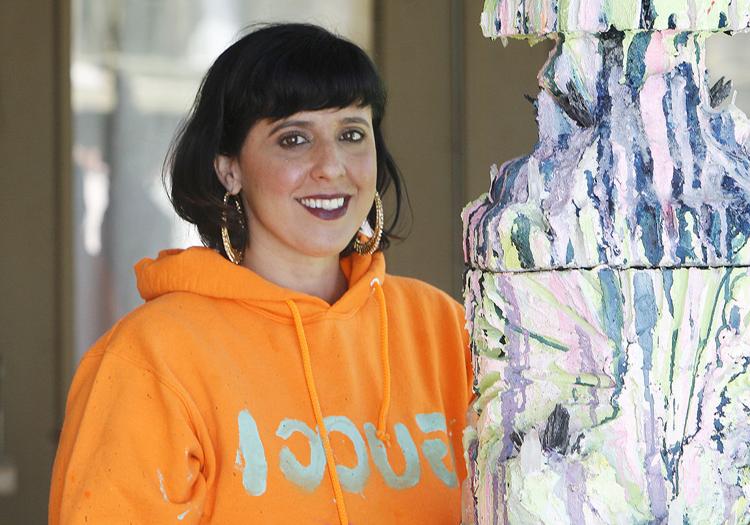 "Even if you go and you're just paying your bills, so you don't have to work from a state of stress," she said. "So you can work and focus on your vision when you do have time."
Soft Spring details