There are so many hiking trails to explore in and around Tucson. But having so many options also makes it kinda hard to decide where to go, especially for the casual weekend hiker.
That's where we come in. (Hi!) Johanna is an occasional weekend hiker who thinks all hikes should end in water. Veronica brought a fanny pack on this hike and left her reusable water bottle on her kitchen counter at home so had to pick up one at Circle K — if that's any indication of her hiking abilities.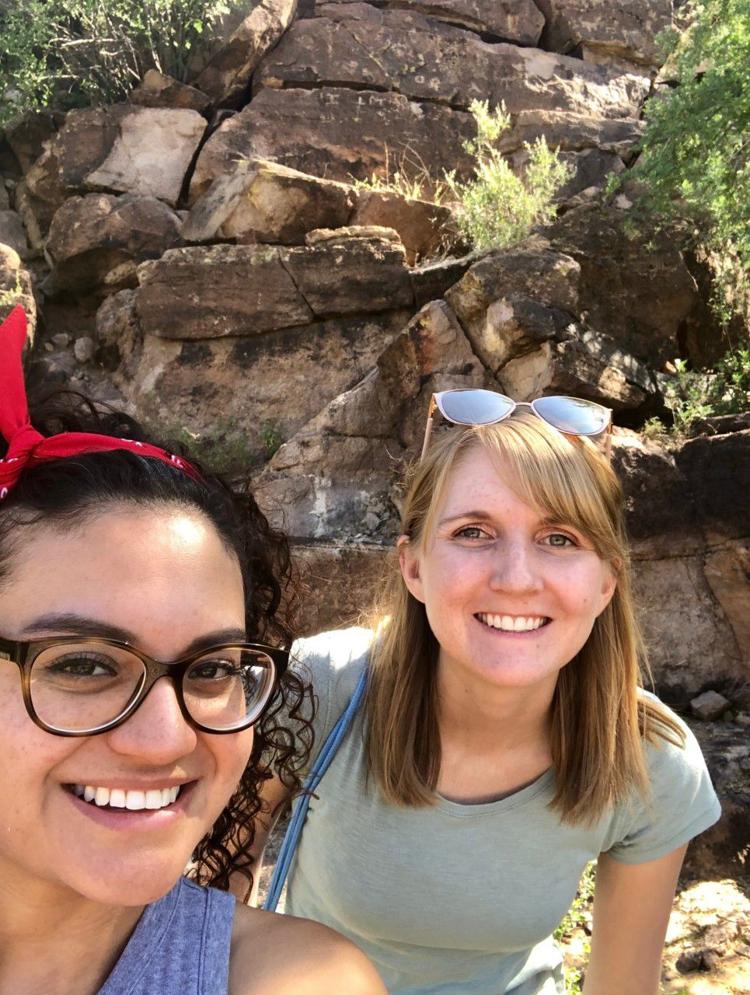 We'll hike some of these trails and tell you what they're really like. We'll tell you how hard a trail is, if it's kid-friendly or too creepy to do alone, where to park and what the bathrooms and water situation is like. Happy trails! 
---
When we set out to hike to the Picture Rocks petroglyphs, we imagined a leisurely trail through the desert ending at an outdoor art gallery. 
We didn't realize just HOW leisurely the trail would be. 
After just a short (and we mean short!) walk from the parking lot, you'll find yourself peering up at a mound of rocks with more than 140 petroglyphs carved by the Hohokam, likely between the years 800 and 1300. Which means some of these images could be more than 1,000 years old. Mind. Blown.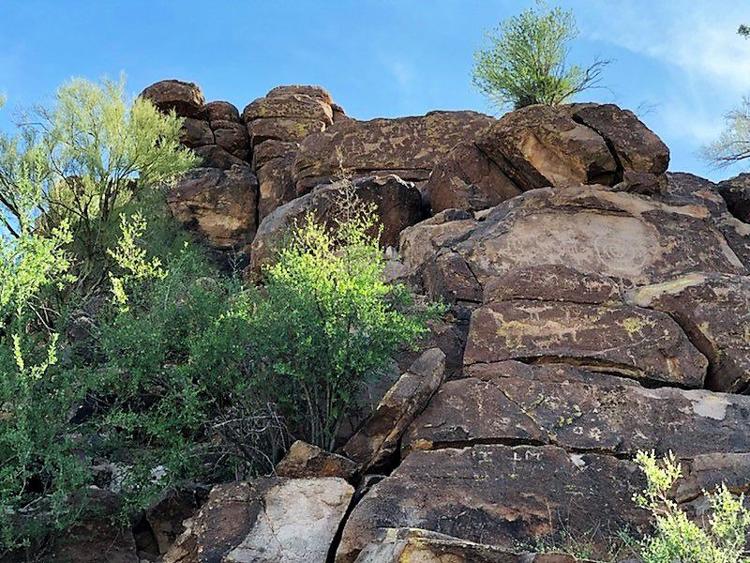 Stop in the Redemptorist Renewal Center office before you begin your adventure to pick up a pamphlet with some information about the petroglyphs and how to find them. 
Because the petroglyphs are on the campus of a spiritual retreat center on the edge of Saguaro National Park's west district, we're looking at this hike as more of a nature walk with a choose-your-own-adventure component. You could just marvel at the petroglyphs. Or you could add a visit to the contemplative Stations of the Cross across the wash from the petroglyphs site. Or you could follow the wash further into the national park for some more intense hiking. Or you could do all three. The adventure is yours for the making. 
The route
Johanna: Truth be told, we struggled with this. After parking at the Redemptorist Renewal Center, we wandered around the campus for about 20 minutes trying to find the trail head. Turns out, the directions were on the back of a brochure we picked up in the office. 🤦‍♀️ Learn from our mistakes. 
After you park, cross the service road west of the center and head toward the hill topped with a cross. The trail is right here. You're looking for the one labeled "Way of the Cross." 
Once we finally found the trail head, it was literally a two-minute walk (maybe less) to the petroglyphs (compared to our 20 minute parking lot exploration). We had a good laugh about that. This is hiking lite. Just across the wash from the petroglyphs, a desert trail meanders through the Stations of the Cross.
You can also head south in the wash as far as you want. We went for about half a mile before turning around. If you're looking to extend your hiking experience (we were not), the wash eventually connects with the Ringtail Trail, a trail that intersects with other trails in Saguaro National Park. 
Veronica: The staff at the visitor's center will give you detailed directions to find the spot, but admittedly we weren't the most attentive listeners. So we got turned completely around and had to ask a staff member driving in a golf cart to point us in the right direction. She was kind enough to give us a lift there. What's the glam version of hiking? Because I think we did that. 
The trail
Johanna: The petrogylphs are relatively accessible, with a paved pathway for part of the walk. If you have strollers or wheelchairs, be aware that the paved part does have several shallow steps. The petroglyphs site also has some great tree cover so you can admire in the shade. 
If you opt to wander the Stations of the Cross, it's a short climb up another hill to a mostly-flat desert pathway that offers sprawling views of the desert and city beyond. The trail winds past crosses recounting different moments and prayers in the life of Jesus before his death, and there are some benches here where you could spend a peaceful moment taking in the views. Just keep in mind that this is a place of prayer, so be respectful of those who come for that purpose.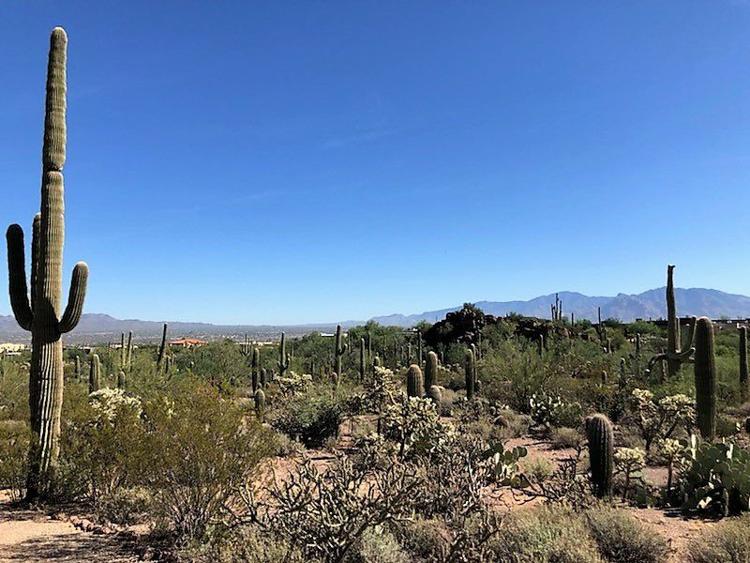 We rounded out our visit with a walk up the wash. And my calves feel it today. You'll walk through sandy dirt, so expect it in your shoes. There's not much shade here; lather on the sunscreen. On our walk, we passed sky-high saguaros and even an old, rusty truck.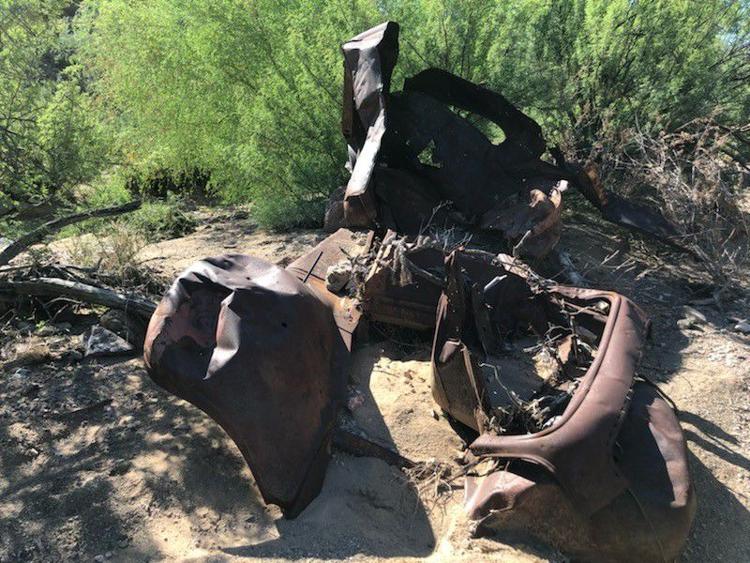 Veronica: The nice thing about this site is you can spend as little or as much time as you'd like out here. Minimal effort yields maximum rewards as you don't have to do much walking before you arrive at the petroglyphs, spend a bit of time there and then call it a day if you want.
The wash also connects to some other trails like the Ringtail Trail, but we didn't venture that far.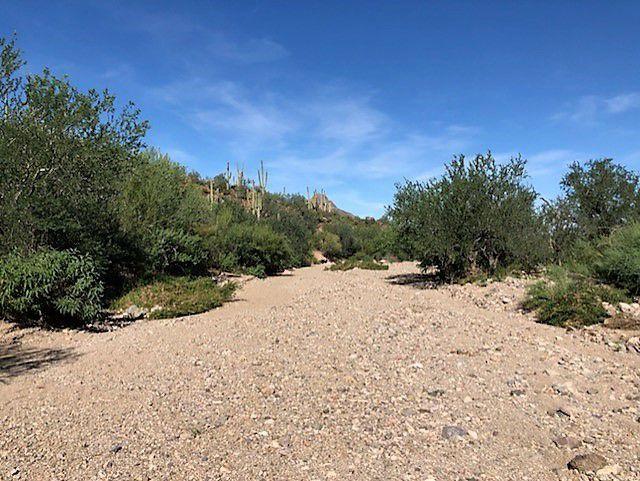 Difficulty
Johanna: The adventure we chose was easy, with a bit of workout thrown in as we walked the sandy wash. Getting to the petroglyphs is a breeze, and depending on if you have kids with energy to burn or just want to explore a bit more, you can head into the wash and extend your visit. Just make sure to take lots of water!
Veronica: This walk is so easy, that even the most novice hiker *cough* me *cough* can manage it. Remember there are a few steps you have to walk down to get to the rock mound, but there is a sturdy hand rail and they aren't steep.
Favorite part
Johanna: The petroglyphs. I didn't expect to see them up close like you do. As you stand under that hill looking up at these images of animals and human-like figures, you imagine their creators etching them into the stone hundreds of years ago. The entire place feels meditative and serene. 
Veronica: Yassss, Johanna! I've never seen petroglyphs in person before, and was so surprised they were so accessible. It was pretty special to see something that's existed for hundreds, and possibly thousands of years that I've only read about in books or learned about in school. 
Does it feel safe to go alone? 
Johanna: I think so, since you're on a retreat campus. Heading to the petroglyphs, we encountered a number of people working on and visiting the property. Once we headed out into the desert, though, we didn't see anyone else in the wash, so I would probably would take a buddy if I wanted to do more extensive exploring. 
Veronica: Agreed. There weren't many people out on the route when we visited, but it's so close to the center and the road that even though you feel completely immersed in the desert it's not too far from humanity. The staff at the center is friendly and helpful and seem to be zipping by on golf carts on the service road pretty often so you're never really alone. But, everything is better with a friend, so bring one along!
Family call
Veronica: You could easily take small children on this walk since it's a short distance and easy walk to the petroglyphs. We saw a family with small children and a stroller venturing out to explore the area. I'm looking forward to taking my 7-year-old daughter back out there soon. 
Facilities
You can use the bathroom in the office of the Redemptorist Renewal Center office, which is open Monday through Saturday 8 a.m. to 4:30 p.m. and Sunday from 8 a.m. to 3 p.m. You should bring your own water and lots of it, but if you forget it or need more, the visitor's center also has a fridge stocked with chilled water that you can buy for a buck. 
Parking
We'd suggest parking immediately in front of the center office to check in and then walk up the road you drove in on to get to the petroglyphs. If you'd rather park directly in front of the trail entrance, follow the road you entered on behind the office and church and park in the available spots.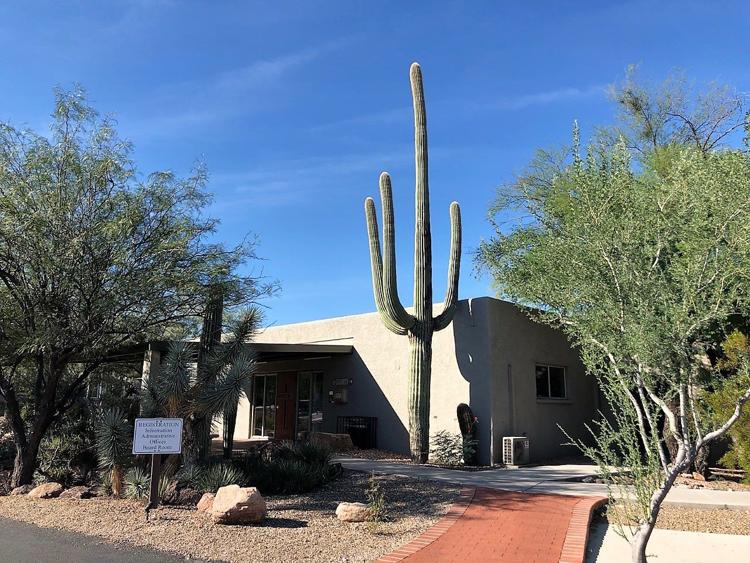 Location
To get to the Redemptorist Renewal Center, 7101 W. Picture Rocks Road, take Ina Road west across Interstate 10 and turn left on Wade Road and follow it south to Picture Rocks Road. 
Other helpful tips
Mind the signs posted around the rock mound and don't climb the rocks or touch the petroglyphs. This is such a special place and a record of ancient history that should be respected for optimal preservation for the next thousand years. 
More info about the Redemptorist Renewal Center can be found here.