There are so many hiking trails to explore in and around Tucson.
We're surrounded by mountain ranges, national parks and beautiful desert, all beckoning us to get outside for some adventure.
But having so many options also makes it kinda hard to decide where to go, especially for the casual weekend hiker.
That's where I come in. (Hi!)
I'm going to hike some of these trails and tell you what they're really like, from the perspective of a fit-ish mom who loves to get outdoors.
I'll let you know how hard a trail is, if it's kid-friendly, too creepy to do alone, where to park and if there are bathrooms and water.
---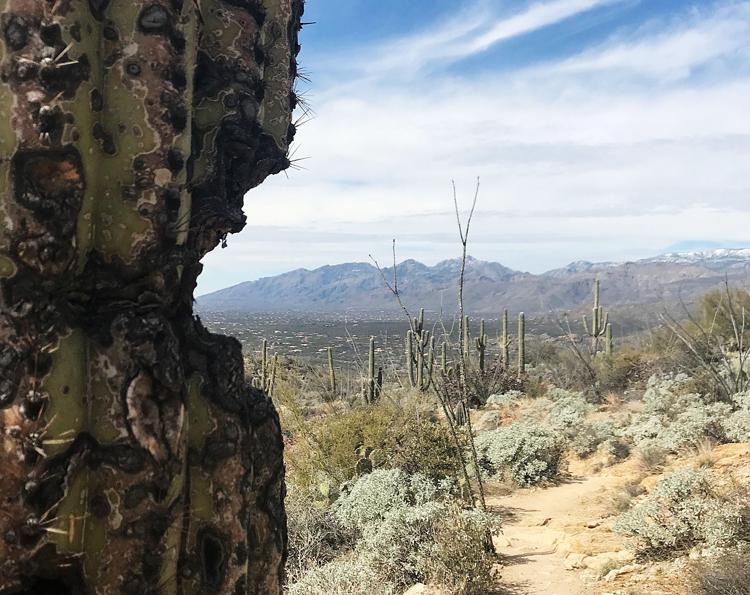 When you read this article, keep in mind I'm still a novice hiker.
I'm learning as I go and sometimes that means making a few mistakes, which I will then openly share with you in the hopes that we can all learn a thing or two on our journeys to become better hikers. 
Just promise to laugh WITH me, not AT me. 😉
For this month's hike my intention was to get to Bridal Wreath Falls in the Rincon Mountains via the Douglas Spring Trail at the east end of Speedway. 
There's something glorious about hiking TO something. For us, it was the prospect of a roaring waterfall that kept us going up those hills Wednesday afternoon. 
Unfortunately, we (my husband and I) didn't quite make it to the falls for reasons I'll get into later, so this article will include some lessons I learned this time around. 
The route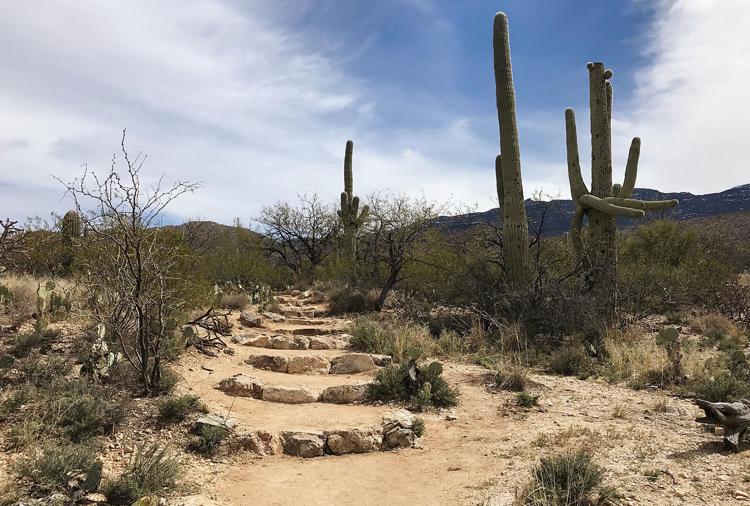 The Douglas Spring Trail is a 16.6-mile out-and-back trail inside Saguaro National Park East, but you can turn around wherever you want to make it shorter. It connects with other trails such as Three Tank, Carrillo and Wildhorse. 
A popular end point of this hike is Bridal Wreath Falls, which ends up being a 5.6-mile round trip. To get there, stay left on the Douglas Spring Trail until you see a trail marker telling you to turn right for the falls. 
The trail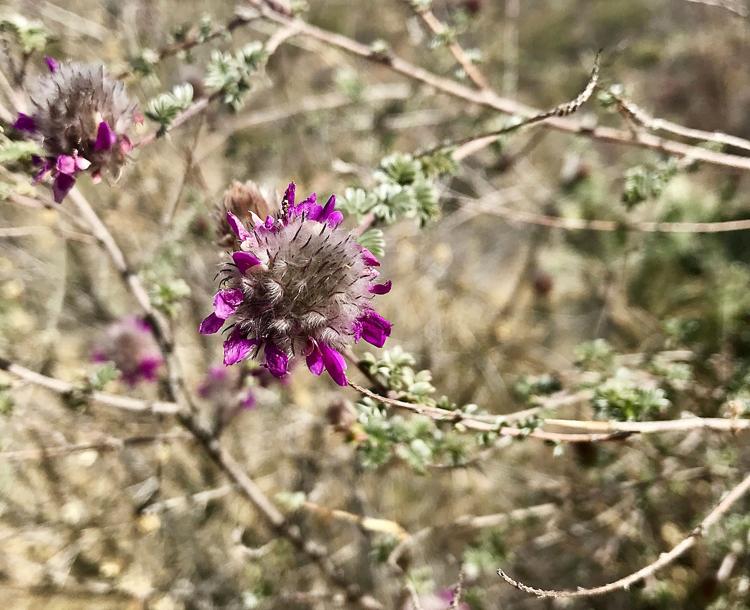 Make sure and sign the trail register on your way out. I felt like Cheryl Strayed when I did it. 
This trail is beautifully maintained and clearly marked. And it's wide enough so it doesn't get lost when vegetation gets crazy.
It takes you through the flat desert and then up, up, up (did I mention it goes UP?) into the Rincon Mountains and then into a flat grassland before getting to the falls. 
The trail was pretty populated, but not in a way that was loud or obnoxious. In fact, it was nice.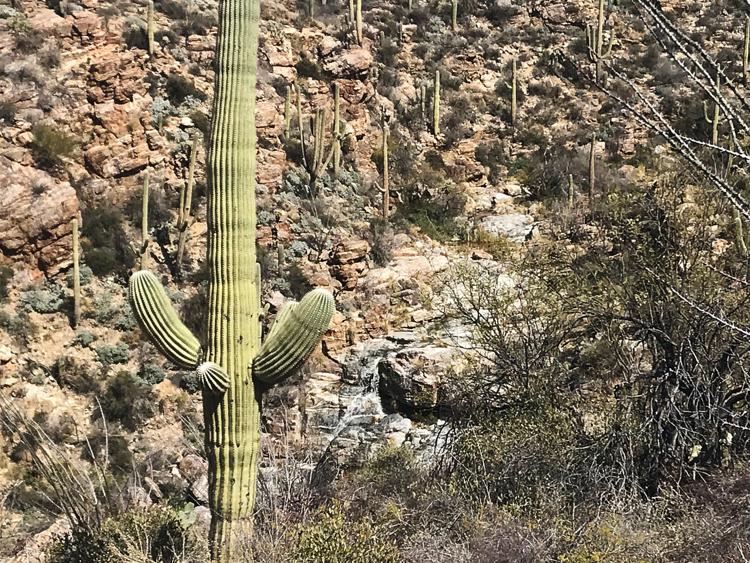 Make sure to pause and take in the view. We saw a creek flowing through the valley of mountains at one point. At others, you could see across Tucson. It's glorious. 
You'll see saguaro galore, a variety of other cacti, a few wildflowers here and there and wildlife. On a different visit here, I saw a huge jackrabbit. 
Oh yeah. There's also a lot of horse poop. So, watch for that. 
Difficulty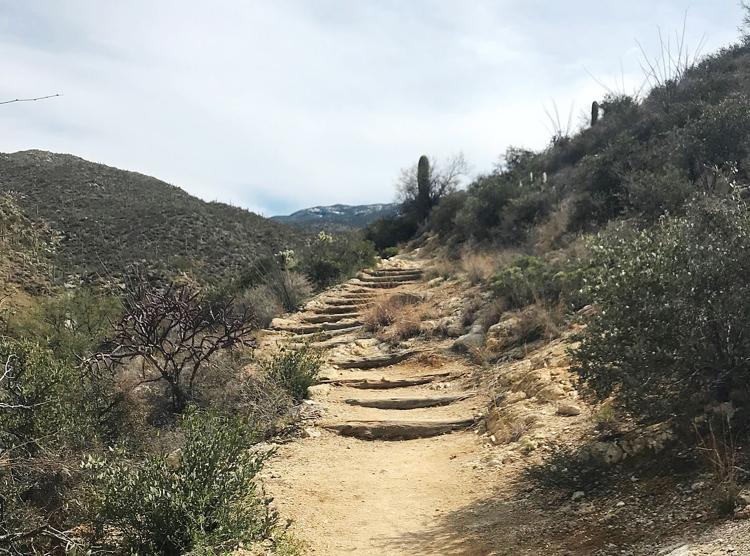 I've seen this trail described as easy, moderate and challenging, as far as difficulty goes on various websites. I'd say it's moderate to difficult. Only because of all the up. 
There's about a 1,000-foot elevation gain in the 2.6 miles before you hit the grasslands. 
The trail isn't difficult to navigate. It's beautiful and well maintained and marked. Parts where you're going up the mountain (which is almost the entire way out), the trail has been dug out to resemble stairs. So you're basically climbing stairs for 2.6 miles with small breaks between. 
Pro tip: Keep an eye on the weather. It was warm — 70 degrees doesn't sound like it would be a problem, but when you're climbing up in the desert sun, it gets hot. We took lots of water, so we were okay on that. 
We didn't make it to the falls, but heard it was amazing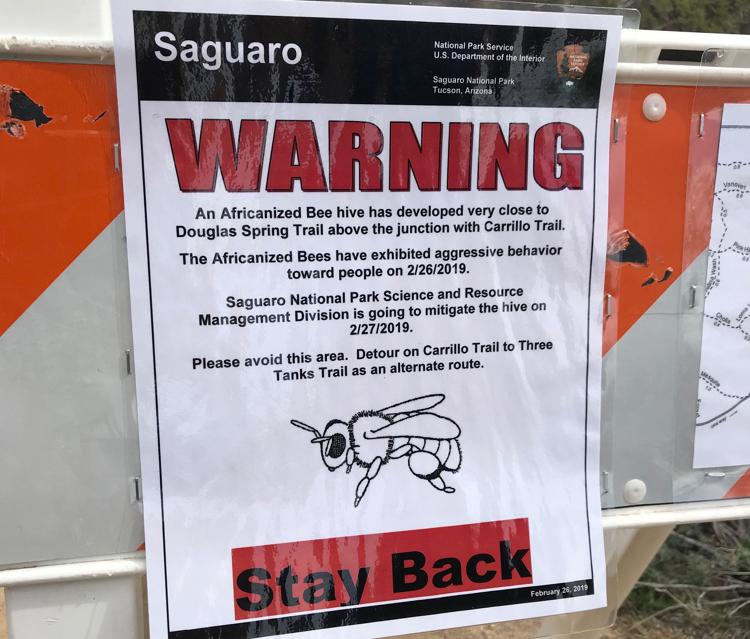 As I  mentioned up at the top, we didn't make it to the falls. 
We had an unfortunate run-in with angry Africanized bees about 2 miles in.
When we first got there, we noticed a sign at the trailhead warning of a hive that was being mitigated. I misread the sign to say it was on the Carillo Trail and to detour onto the Three Tank Trail.
However, it ACTUALLY said the bees were on the Douglas Spring Trail NEAR the junction with Carillo. 
So, yeah. We found them and they wouldn't leave us alone. 
My husband tried to shoo them away with his shirt, killing one (not on purpose). 
Well, that pissed them off more. Only, they came at me. So, naturally I did what you're NOT supposed to do and flailed about like a lunatic. I have an unreasonable fear of bees, not because of allergies or anything like that. Just because they fly with stingers. 
Anyway, it started with a couple bees and suddenly I've got more than a dozen (maybe like 20) of them coming at me. They are persistent and would not stop coming at me no matter what I did.
Long story short, I ended up with two bee stings. I was lucky. We ended up going back down to the creek to put my hand in the cold water, then went home, shaken but okay.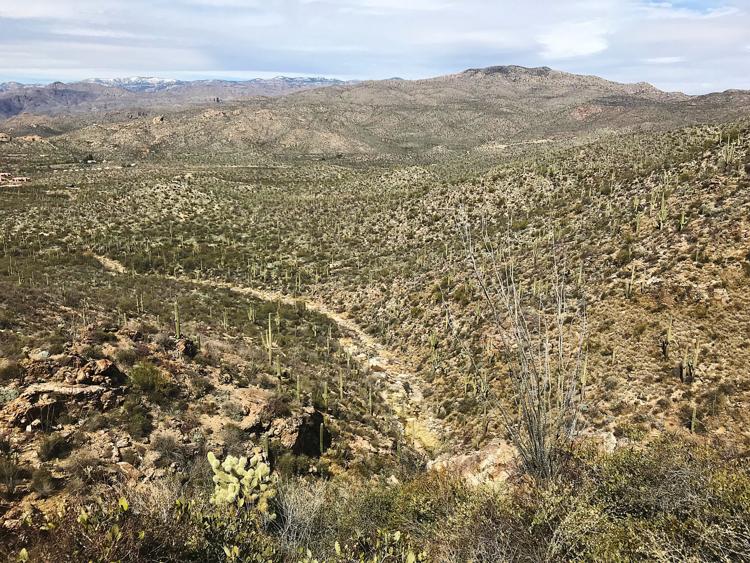 We made sure to warn hikers going up as we headed down. One guy thanked us because he has bee allergies. I heard someone else say another girl got stung on the cheek. A lot of hikers hadn't read those signs. 
Later I found out the two bright pink ties we saw on a couple trees were to mark where the bees were. I didn't realize this, especially since I thought the bees were on another trail and I saw several other hikers pass them. 
As we drove home, I was researching these bees and found out they are triggered by dark colors. Both of us were wearing black running clothes. Loud noises and strong perfume also aggravate them. Neither of us were guilty of that, at least. 
What I learned
What's most annoying about this is it's completely my fault. I could have avoided this whole situation had I only read the sign more carefully. If I had, you can bet I'd have steered clear. 
So, first and foremost, I'll never skim one of those signs again. I will read it three times until I know I have it right. 
I will also wear light colors on hikes. 
I'm sad we didn't get to the falls. Hikers coming down said the waterfall was amazing. We'll go back again though, now that they took care of the hive. 
All in all we hiked about 4.5 miles, so we still got a great workout in. 
Favorite part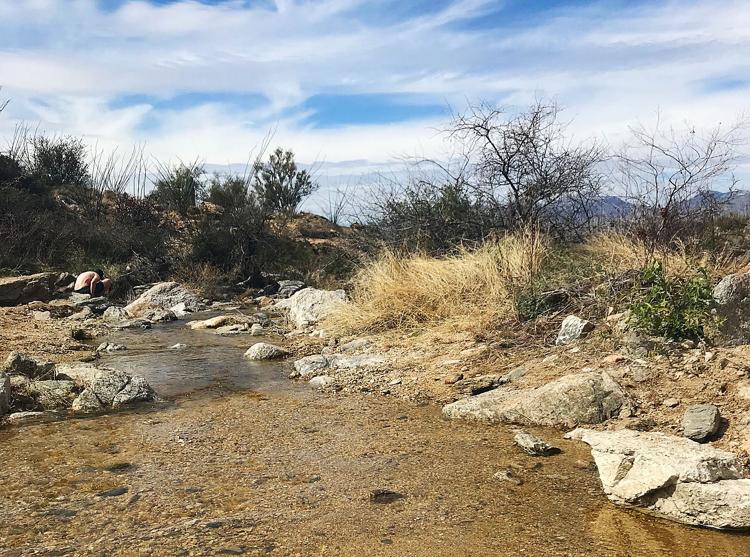 From my previous experience on this trail, my favorite part was the grassland area. It's so cool how the landscape changes so dramatically. But, this time, I'd have to say it was the lovely people we met along the trail. 
Getting to the creek to feel that refreshingly cold water came in at a close second. 
Family call
Okay, I looked at reviews of this trail and people were saying it would be a good family hike. I don't agree in an overall sense.
I think kids over the age of 8 would probably be fine if they're already active and hike often. But, if not, I'd say maybe do a short version and work up to it. Real talk: I just think you're going to hear a lot of complaining and that's not enjoyable for anybody. 
Also, don't bring your dogs. They're not allowed. 
Does it feel safe?
There were a lot of people there when we went, so it felt pretty safe, although I was REALLY grateful I had my husband there. I have read that since you can access this trail 24-hours break-ins tend to happen in the parking lot at night. 
Bathrooms and water
There are no facilities or water fountains here. So, go prepared. Bring plenty of water and hit the bathroom before you get there. 
Parking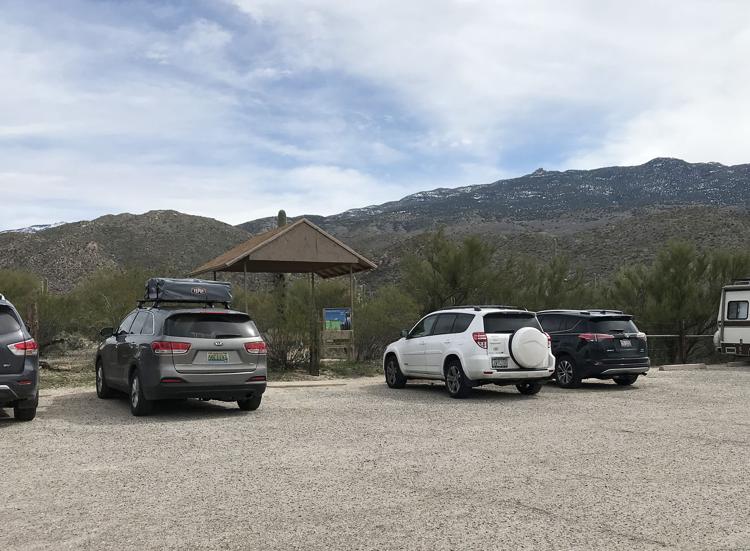 There's a very small parking lot at the trail head. It fills up fast, but there's a wide shoulder on Speedway leading up to the parking lot that's fine to park on. 
Location
Drive east on Speedway until it dead ends. On the right you'll see the trail head and on the left you'll see the entrance to the Tanque Verde Guest Ranch.