There are so many hiking trails to explore in and around Tucson. But having so many options also makes it kinda hard to decide where to go, especially for the casual weekend hiker.
That's where I come in. (Hi!)
I'm going to hike some of these trails and tell you what they're really like, from the perspective of a fit-ish mom who loves to get outdoors. I'll let you know how hard a trail is, if it's kid-friendly, too creepy to do alone, where to park and if there are bathrooms and water.
---
When I set out to hike the Sycamore Reservoir Trail on Mt. Lemmon earlier this week, I didn't expect to find magic.
But this trail definitely put a spell on me.  
I decided to find hikes on the mountain that I hadn't done before, since I generally stick to the Marshall Gulch area.
And, since it isn't terrible outside yet, I thought I'd start toward the bottom of the mountain and work my way up as Tucson slowly melts in the triple digits this summer. 
So, for this month's adventure we (my hubby, Clint, and I) decided to tackle the Sycamore Reservoir Trail, which is part of the Arizona Trail and can be accessed in the Prison Camp area, aka, Gordon Hirabayashi Campground. 
While you're here explore the ruins and learn some history. There are plaques that explain about the camp.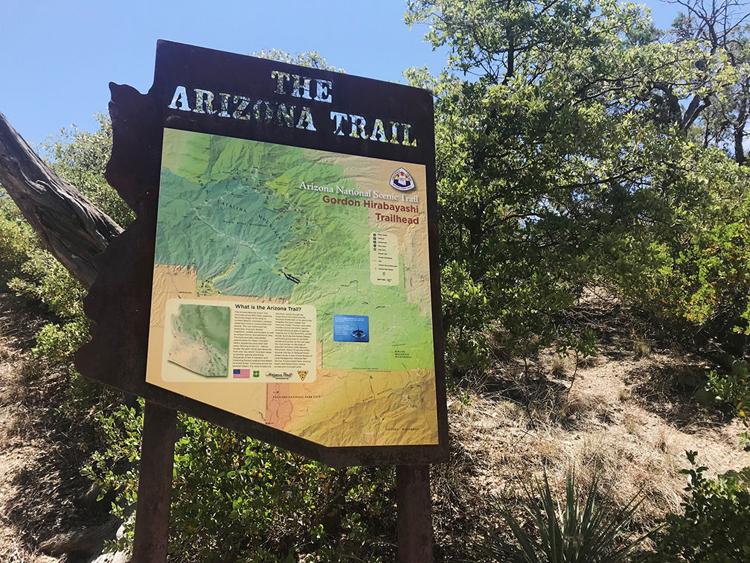 I was excited by the thought of hiking part of the Arizona Trail and finding the reservoir. Fun fact: The reservoir was originally constructed to provide water to the prison camp. 
I have to say I wasn't really sure what to expect, but I was not disappointed. From the changing landscape to the views from the high points, it was beautiful and I can't wait to go back. 
The route
The hike to the reservoir and back from the parking lot outside the Gordon Hirabayashi Campground was about 6.5 miles. So, give yourself about three hours. 
At the back side of the recreation site you'll see an Arizona Trail sign and an indicator letting you know the Sycamore Trail is to your right. 
It starts out on a regular narrow trail that often runs through a sandy wash.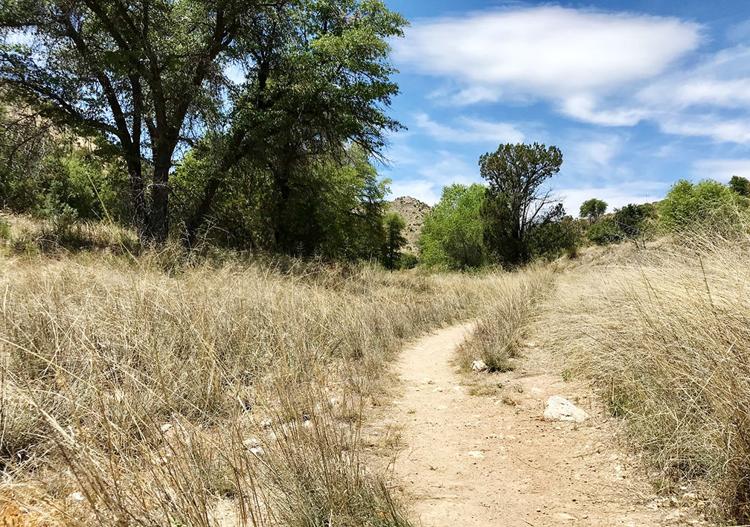 You're flanked on both sides by meadow-like areas of dry grass, majestic trees and wildflowers. 
You'll eventually come to a fork in the road, where you'll go right. It starts out pretty flat but don't be fooled by that. You'll be climbing soon. Very soon. 
But, right when you're super sweaty, you'll be at the top of the hill taking in the view of a gorgeous canyon and peaks in the distance.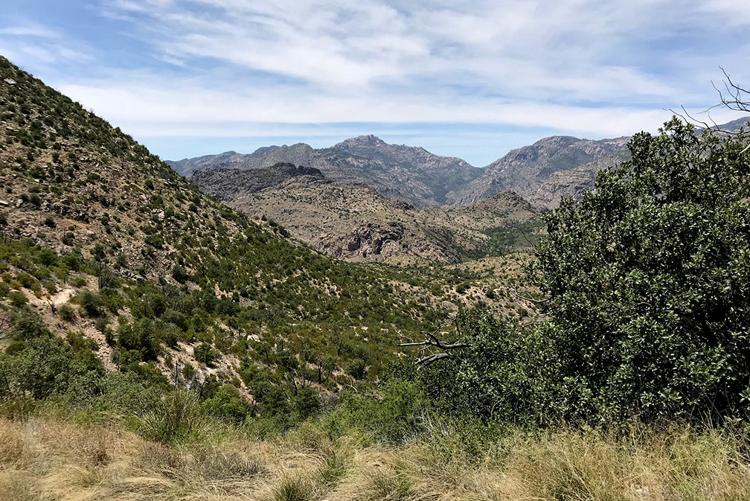 From here, you'll start to descend into the canyon. The landscape is beautiful with rocks, an occasional cactus, trees, and shrubs. You'll also see some stone structures beside the trail mixed in with dense vegetation. I'm not sure what they are, but they reminded me of chimneys. (They're not cairns, FYI)
And then you're climbing again (for a short time). When you get to the top, you'll notice a glorious green patch of trees, and you'll know that's where you're headed.
It's magical and breathtaking.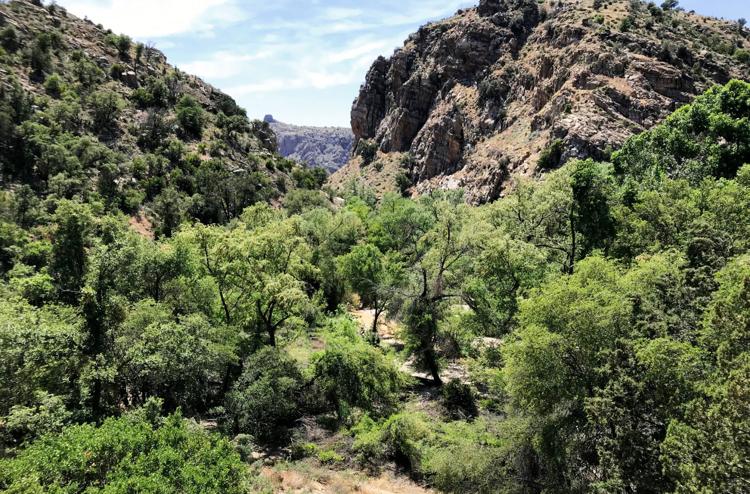 When you get to the bottom, it's a totally different world. It's green, shady and beautiful.
If you go straight you'll end up at an open concrete area overlooking a dam, reservoir and a valley. You can see the small trail, but there's tall grass covering part of it. Go right and you'll be exploring the riparian area. We did both.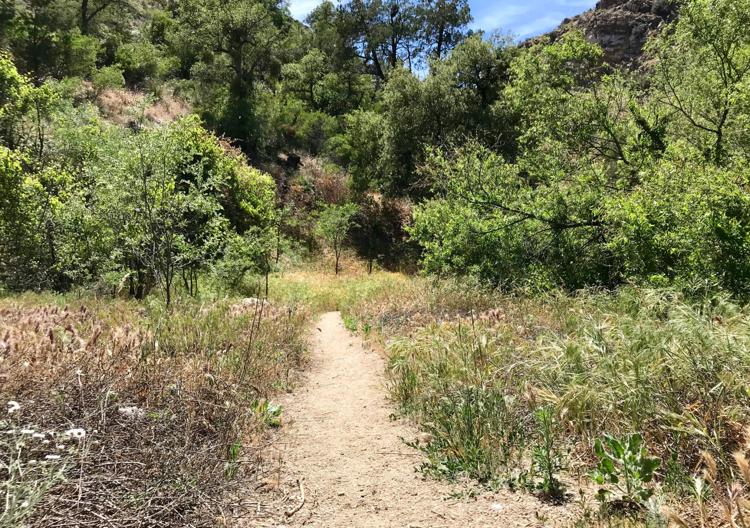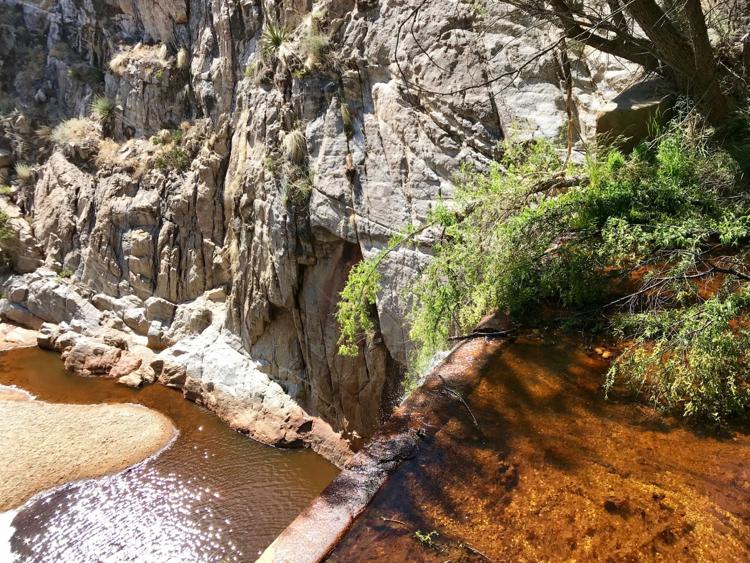 The view from the dam is magnificent. The water did smell kinda funky, though, like a swamp.
The riparian area is shaded with giant sycamores. It was truly glorious. If you follow the sandy creek area, you'll come to a flat grassy space. We saw some deer across the field on another hill. It was so cool. 
The trail
It's easy to follow and clearly marked with signs.
That being said, there are a lot of rocks on the trail and vegetation right on the edges. Both would be perfect hiding spaces for snakes, so watch where you're going.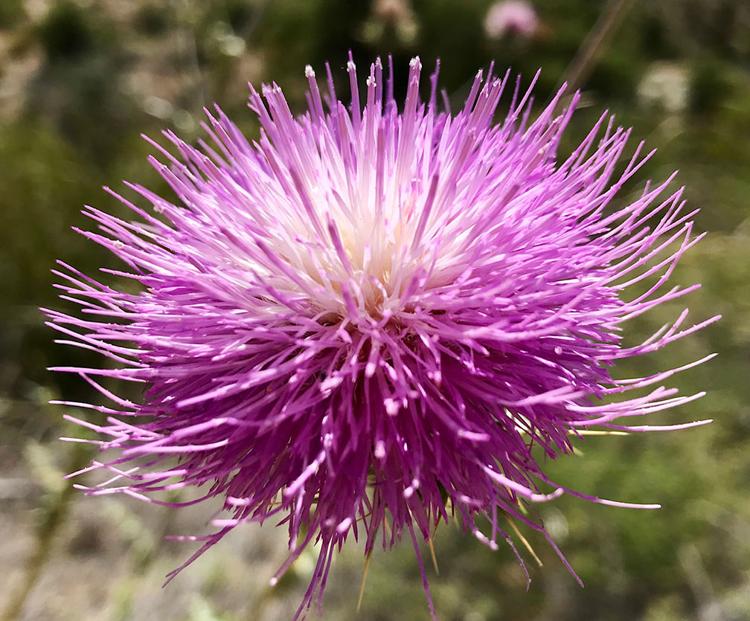 We were the only ones on this trail Thursday afternoon. It was kinda nice, but also surprising since everything I read said it was a pretty busy trail.
There's hardly any shade on the trail, so plan accordingly. Wear sunscreen and a hat. 
Difficulty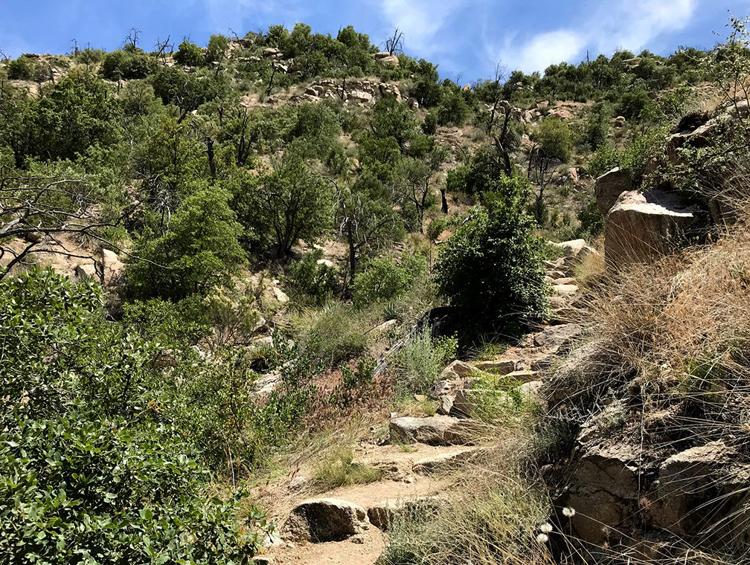 Every website I looked at said this hike is moderate. I agree with that. Some parts felt easy and others felt pretty hard. 
I was definitely sweaty and out of breath during the uphill parts, which seemed to be many.
The way back is more uphill than the way out, so make sure to save enough water for the hike back up. 
Favorite part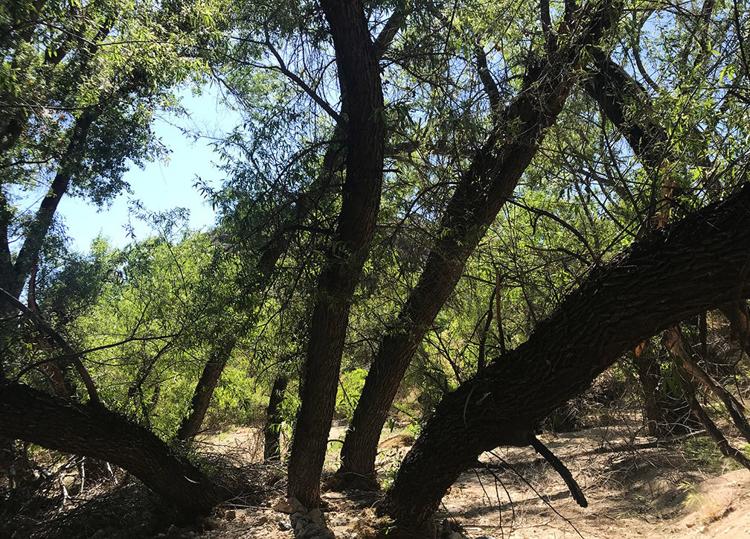 Definitely the green shady riparian area. It was such a welcome sight after walking in the sun. 
Seeing that spot from the top of the hill was amazing. I don't know how to explain it, other than enchanting and magical. 
Family call
It's kind of a long hike for little kids, in my opinion. Not that they can't do it, but there's going to be complaining, unless, of course, your kids hike a lot and love the challenge.
I'd save this one for the older kids or a sans kid hike with your partner or friends.  
I also wouldn't take aging parents or grandparents on this one unless they're hikers, especially if they have any sort of balance issues. There are a lot of rocky areas.
You can take your four-legged family members as long as you keep them on a leash. 
Does it feel safe to go alone?
I don't think I'd do this one alone. Like I said above, we were the only ones on the trail and it's remote. If you do go by yourself, make sure to tell somebody where you're going and when you think you'll be back.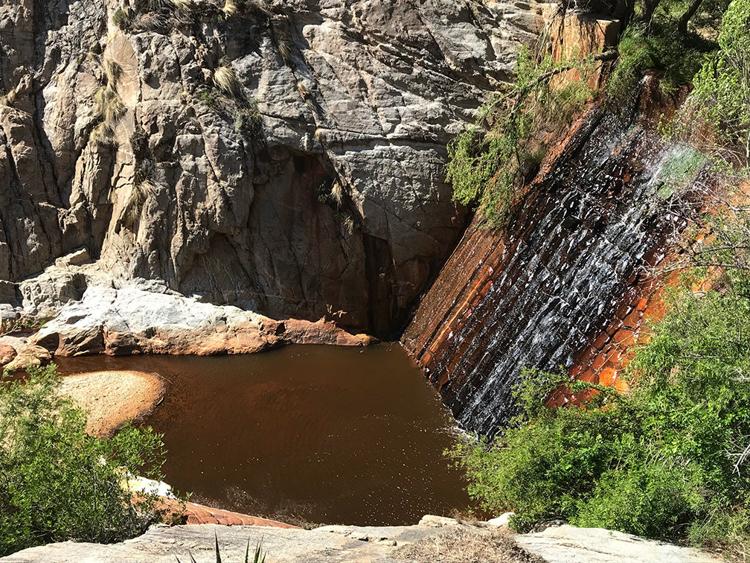 Facilities
The only bathroom is at the campsite before you get to the trail head and there are no other buildings, shops or anything, so go prepared. 
There's also no water. So, bring a lot. I had 2.5 liters with me and drank every drop. I was fine because I didn't finish the water until the end of the hike, but next time I go I think I'll bring at least three liters. 
Parking, fees, etc.
There's a small parking lot outside of the prison camp recreation area. There's also parking inside, but the gate was closed when we went. 
It's free to hike here. Yay!
Location
The Gordon Hirabayashi Campground is located just past Mile Marker 7 on Catalina Highway. You'll see a sign directing you to turn left into the area.