Tucson is home to hundreds of murals full of beauty, color and life.
But one local graphic designer is bringing life to murals in a whole new way — through augmented reality.
Jodie Lewers Chertudi's mural on the side of Seven Cups Fine Chinese Teas, located at 2510 E. Fort Lowell Road, now comes to life thanks to an AR overlay she designed.
The mural, featuring a traditional Chinese dragon, seven tea cups and plenty of clouds, was designed and completed by Chertudi last December. After experimenting with Adobe Aero, a program that lets designers blend physical art with the digital world, she decided to create an AR overlay for the mural earlier this year.
Through a QR code on the mural, visitors can access the AR experience that allows them to see a virtual teacup, parts of the historic "7 Cups" poem (which partially inspired the mural), the Chinese symbol for prosperity and plenty of clouds and raindrops that you can walk through.
"I love the clouds," Chertudi said. "They kind of move in and out and you can walk under the clouds. They're flat, but there's enough of them that it just kind of makes you feel like you're part of the mural in a way and you can walk under it and they look similar to what's actually on the wall. So I think that's my favorite part.
"And when you hold the camera up and you're trying to capture the video, it's like, 'Oh, those clouds look like they're in the sky.' It's kind of like you're in a video game or something."
Since the AR overlay was created through Adobe Aero, visitors need to download the Adobe Aero app to access the fully immersive experience. Currently, the app is only available on iOS.
Chertudi has been a graphic designer since 2010 through her company JLewers Design, but she's always had a passion for art. For her, creating murals has been more of a side hobby than a full-time occupation.
"Doing street art with mural painting was awesome because people would come up to you and they'd honk and it was just really cool," Chertudi said. "I was like, 'Oh, I love this.' So, I did that (first) one and then just like little stuff in people's backyards or wherever, because I just didn't have the time and dedication because I was a new mom and trying to run a business. So I was just doing all the digital stuff from home. And then Seven Cups pinged me and was like, 'Hey, when's the last time you've done a mural? Let's do this.'"
Chertudi has worked with Seven Cups' co-owners Austin and Zhuping Hodge on numerous occasions over the last 10 years, including designing their logo and packaging.
So, taking on the challenge of crafting a large-scale mural for the couple was a no-brainer for her.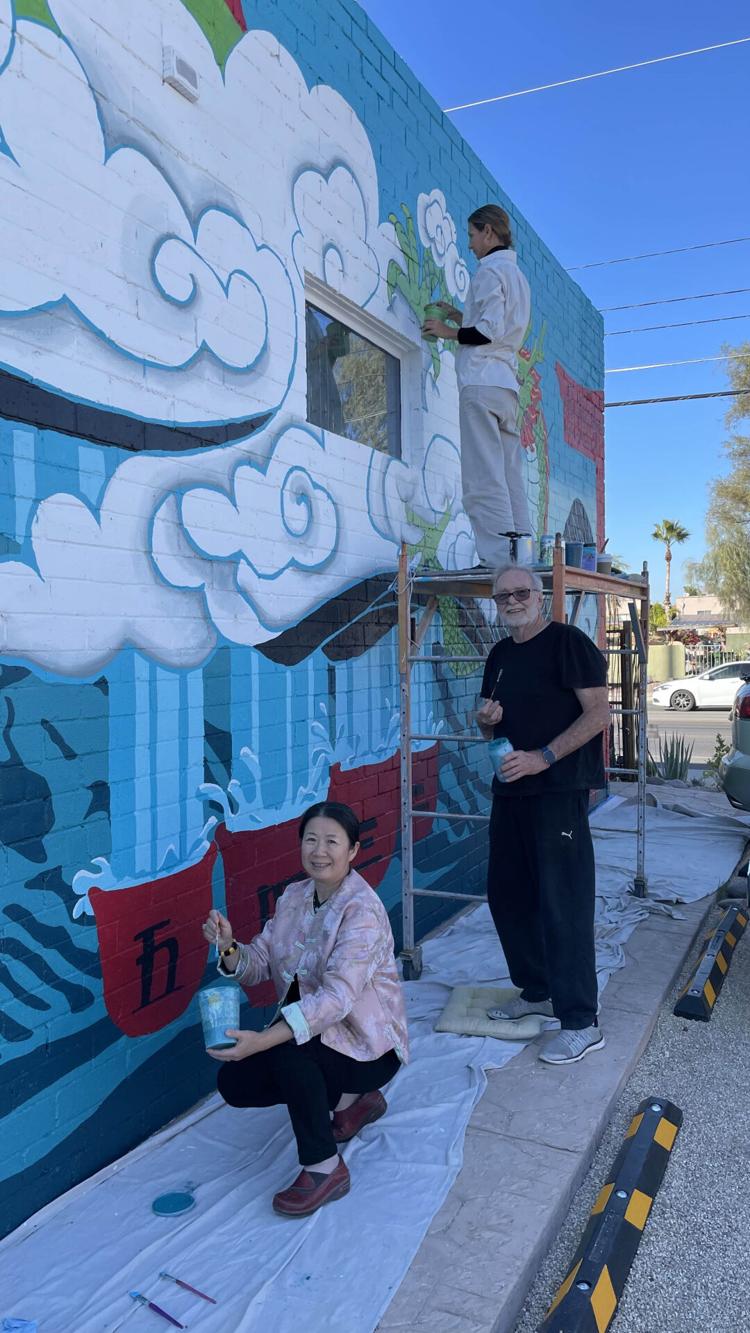 "They had total faith in me which was awesome for a creative, to just allow me (artistic freedom) and to show them a concept and mock it up and everything and they were like, 'OK, just do it,'" she said.
The Hodges even helped paint the mural, which took around 200 hours to fully complete, according to Chertudi.
Zhuping is also represented in the mural as the woman gazing at a cup of tea — an element that Chertudi felt was an absolute must-have in the mural.
"She just has such a force and a presence," Chertudi said. "I mean, she's wonderful. She's healing and just knows so much about tea, and she's just a wonderful person. So, I kind of wanted to have her energy in there. I found this cool photo of her just looking down at a cup of tea and I was like, 'I need to tie that into the mural somehow.'"
After months of working on the mural, it was completed last year just in time for Seven Cups' 20th anniversary.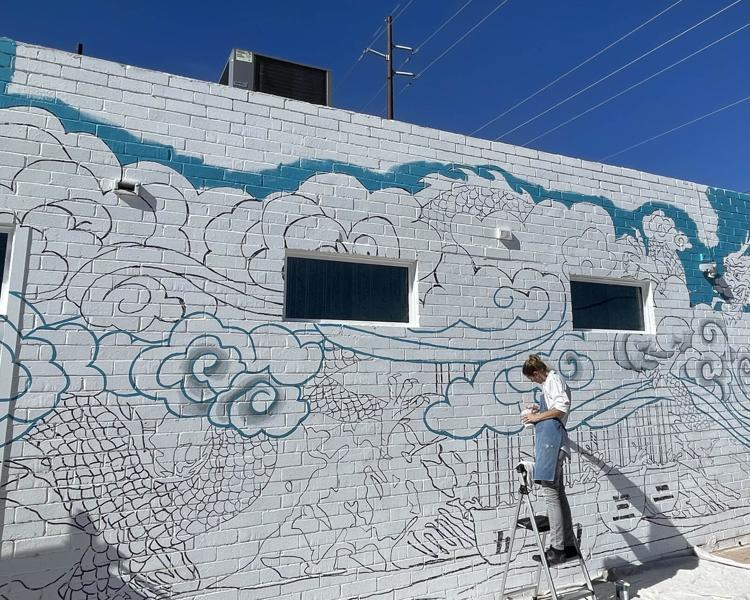 Now that Chertudi has successfully created an AR mural, she hopes to continue adding an AR element to all of her future works, including any possible murals.
"I feel like any mural that I do or any more artwork that I do, I want to add this element to it, for sure," she said. "Because it's easy enough for me and I think kind of digitally anyway, and it's an easy thing to add and just makes it kind of unique and fun for other people to check it out."