Every second Saturday of the month, Frank Powers' battle cry becomes a reality at Bookmans East. 
"Artists assemble!" — a riff off the Marvel series "Avengers Assemble" — describes much of Powers' mission statement.  
Late last year, the Tucson artist and entrepreneur, along with friend and fellow artist Natalia Lopez, began organizing an artists bazaar and makers market at Bookmans, 6230 E. Speedway. 
On the second Saturday of the month, you'll find a small tribe of local artists and makers — about seven — showcasing and selling their work. Styles and techniques range from crochet to paint. 
The bazaar is an extension of Powers' now-closed shop Constant Con, which hosted events and workshops and doubled as an art gallery. The shop created space for artists who usually only sold their work a few times a year at comic book conventions. 
Lopez — who does a lot of horror, science fiction and fantasy art — described Constant Con as a "comic-book-style art gallery — like having a comic con experience at a fixed location."
When the space closed in July, Powers, a comic book artist, decided to take the show on the road. 
"A lot of what we're doing is building this army of artists, and that's what I've been doing since Constant Con," he said. 
Together, Powers and Lopez dream of running a comic bookmobile that revives that gallery space for artists and travels to schools, supplementing arts curriculum with workshops by local artists.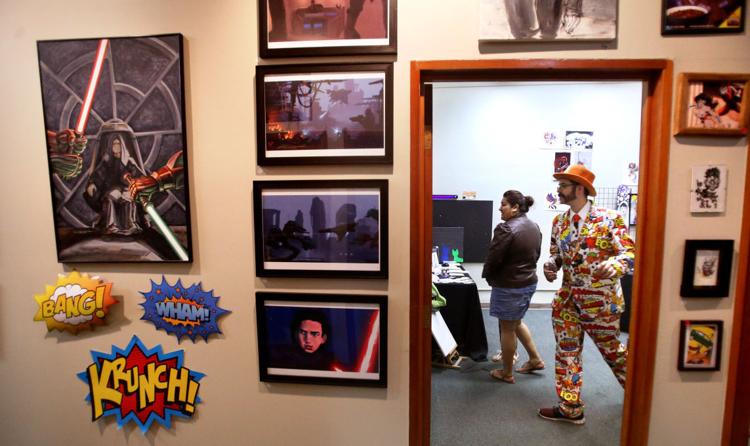 "The vision of it is us driving around to schools and hospitals, as well as fairs and art programs all over Tucson and bringing education to help kids through art and entertainment," Powers said. 
And like any hero's journey, their quest has to start somewhere. So why not Bookmans? 
The monthly bazaars not only cultivate connections with local artists, but they also give this dynamic duo a chance to promote their comic bookmobile and maybe earn a bit of cash. 
Because buying a bus is not cheap.
So far, a GoFundMe page has raised $2,000 of Powers' $8,000 goal. Victory in a Startup Tucson Thryve program gave the business a bit of a bump. 
"Much like Constant Con, I'm trying to shine a spotlight on independent artists," Powers said. 
That's why you'll find different artists at each Bookmans bazaar. 
"I like to say I collect artists like some people collect Pokémon cards," Lopez said. "Both of us really want to promote local artists." 
Lopez said she wishes she'd had something like the bazaar when she was a young artist.
"It would have made so much of a difference with me, my art and how things were going," Lopez said. "Like, you can do this. You don't have to ignore your art. It can be a passion." 
---
If you go
What: Second Saturday Local Artist Bazaar
When: Saturday, April 14, Noon to 4 p.m. (and every second Saturday)
More information: Visit the Facebook event here