There's a good chance that Carly Wilson and Victoria Martino might not have ever met. 
Martino has spent most of her life working as a florist. Wilson was on track to become an attorney. They both grew up and lived in different states; and have a 22-year-age gap between them. Wilson's strengths are in advertising and administration, and Martino has an impeccable eye for design.
"It's like a weird Venn diagram, where she's good at what I'm not good at and vice versa. But then we have overlap where we just get along," says Wilson who co-owns Thistle with Martino, a flower shop that opened over the summer in the former La Buena restaurant building on East 22nd at South Fourth Avenue. 
"I would say we're like business soul mates," says Wilson. 
And soul mates always find each other.
Their paths crossed in 2016 when Wilson took an administrative job at another local flower shop Martino was managing at the time. 
"I worked at a law firm for a while and just was so bummed out all the time because I realized there's no good reason you go to see a lawyer. It's like a divorce, or you got arrested, or personal injury or something like that," Wilson says. "So all day long nobody would be happy to see me and I tried to go a hard opposite. After I finished school I was like where could I work where people smile at me all the time and everyone's happy to see me every day?" 
That's what led her to the floral business, an industry in which Martino has built a career that spans 30 years of designing at shops in Minneapolis, Los Angeles and Tucson. 
Martino's passion for nature and florals developed pretty early in life from her childhood experiences growing up on a farm in southern Minnesota. 
"You're just outside all day," Martino says. "I had a best friend and we were always going through the woods, and the fields, and we had horses and we picked flowers. I had an interest in nature at an early age."
Her best friend's aunt ran a flower shop in Minneapolis, and the two spent summers in the city helping out there. 
"She would teach us the little things like how to make those bows that are only made at the flower shops; and flower crowns, corsages and boutonnières," Martino says. 
Then as a teen Martino got her first job working in a mall flower shop where  topping sundae glasses with carnations to look like milkshakes, or filling yellow smiley face mugs with daisies were popular design styles. 
"It was really corny back then in the 80s," Martino laughed.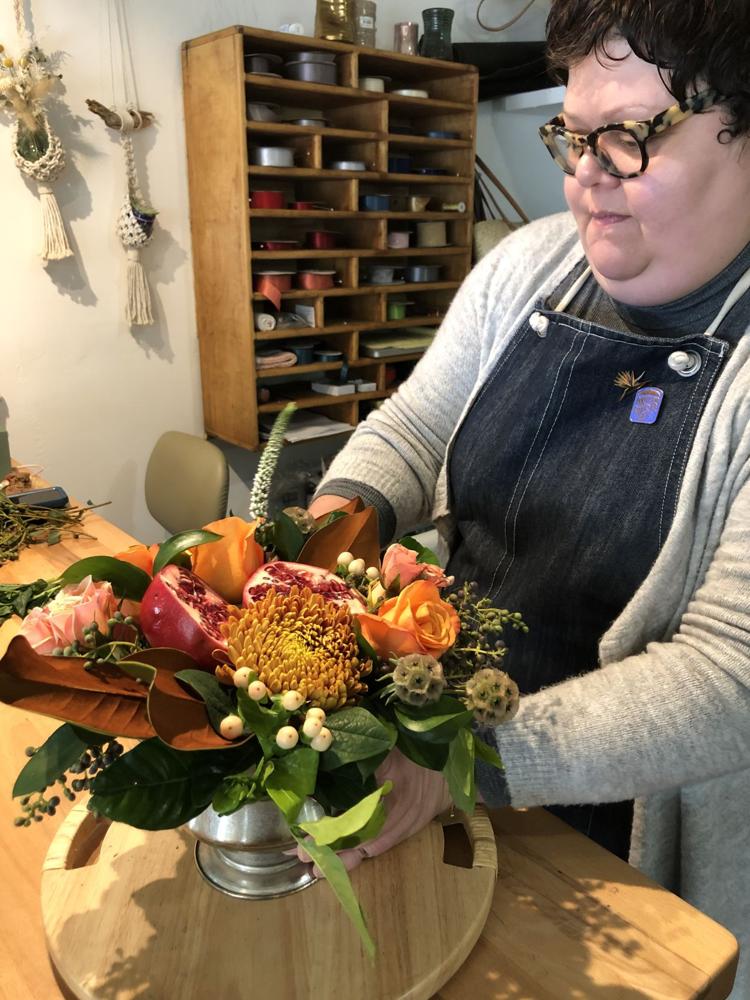 At the next shop she worked at, Martino really began to develop her own style after a talented designer took notice of Martino's eye for texture and color and helped her improve her technique. The 12 years she spent living in Los Angeles after moving from Minnesota and all her experiences in different places  have all helped Martino create a style that's all her own. 
"I feel like it has a lot of influence from growing up in the country, my childhood, the gardening, just always being around nature," she says. "But then I feel like I have the urban element from living in big cities. I guess it's kind of modern, organic and textural."
Wilson adds that Martino's designs also have architectural elements. 
"I notice that with Victoria's arrangements she does play with shape a lot," Wilson says using a recent design as an example. "You've got these flat surfaces, and the tall long guys coming out. It's not symmetrical. You've got this velvety shape. Your eye is drawn to different places like a painting. It's more of an art driven approach than a flower driven approach." 
Martino also incorporates unexpected elements into her designs like pomegranate halves, or unique color combinations. 
"It's really fun to find something that's really unusual or could be perceived as kind of an ugly color and make it really beautiful," she says. 
And it works. 
"One of the common things that people say when they come into the store is 'I would never think to do that," Wilson says about Martino's unique designs. "Yeah, that's why we're here. She thinks to do it so you don't have to."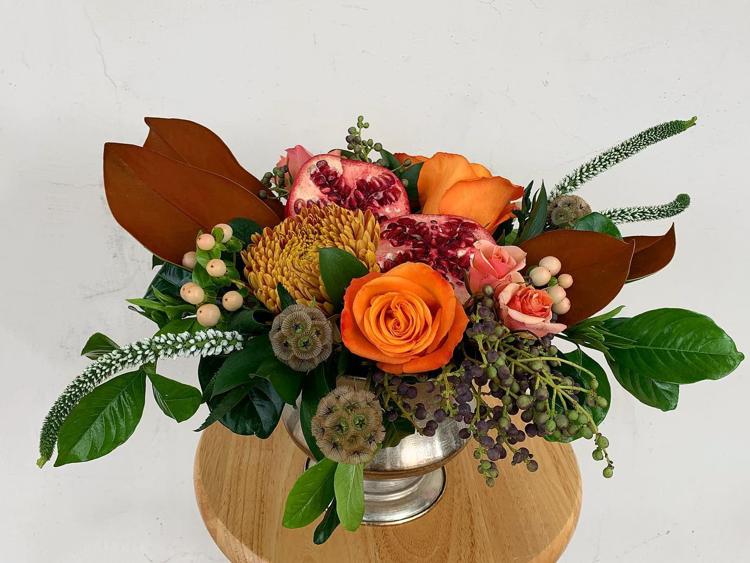 The pair started Thistle as a booth at farmer's markets in 2018 and moved into their brick-and-mortar store earlier this summer. Walk-in customers, floral deliveries and weddings keep the team busy; and the additional shop space allows room to sell other gift items like cards, candles, woven Oaxacan bags, hand-knit stuffed animals made in Peru, cosmetics and plants. 
"We looked to source local makers, all small businesses that are primarily female owned or family owned," Wilson says of the offerings. "Things that go naturally along with with flowers that are beautiful to look at, that are not junk, not a gift you'd throw away." 
The pair have big plans for the future which include immediate plans to host events and markets with the other businesses that are also housed in the old La Buena restaurant where Thistle is located including Monsoon Chocolate, Bhava Wellness and Tucson Bicycle Service, like this one happening on Dec. 8. and eventually adding another location and hiring someone to learn floral design from Martino.
But for now, they're still relishing in the simple joys of business ownership.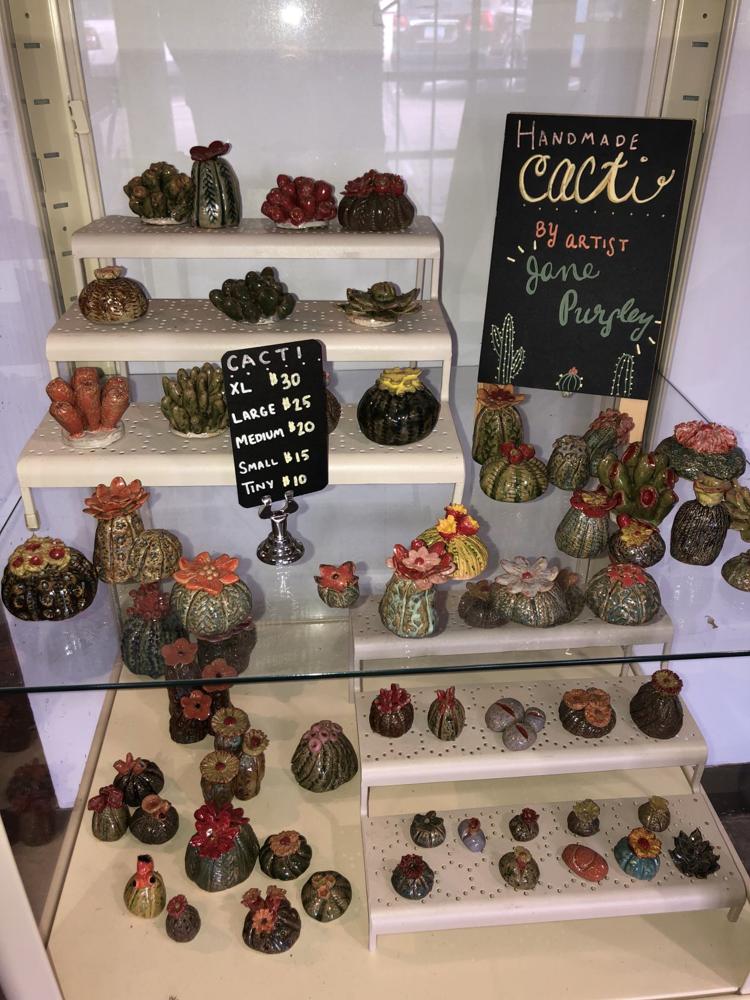 "We do this thing regularly where we'll go outside and pretend we're walking into the store for the first time, and sort of pinch each other and go 'we can't believe this is our store,'" Wilson says. "It came together in less than a year and now it's happening!" 
For more information about Thistle go here.