In Shauna Smith's midtown sewing studio, a red button-down shirt hangs on a mannequin. 
Smith gestures to the sleeves — she'll cut those off — and at the mid section — just take it in here — and voila! A breezy, red shirt-dress. 
Smith, 49, has been sewing most of her life. With a fashion design degree from the Fashion Institute of Design and Merchandising and more than 20 years of experience, she loves making patterns and bringing those designs to life. 
"My background is in fashion," Smith says. "That's what I want to do — create a space for people to sew clothes." 
In the fall, she opened Needles and Knots — or NAK — as a place to teach sewing basics and fashion design. The space, with its big windows and natural light, also doubles as an open studio. For $8 an hour, you get access to Smith's equipment, including sewing machines, sergers and an enormous cutting table. Plus, there's space to spread out — a luxury for seamstresses, Smith adds.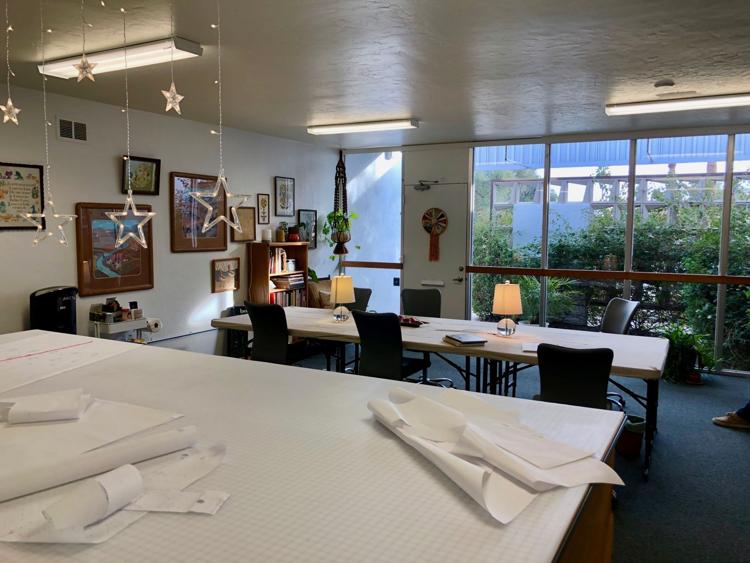 You can also sign up for private or group lessons or a range of sewing classes at NAK, 1735 E. Fort Lowell Road. Smith teaches everything from basic sewing skills to fashion design. Her basic sewing series costs $85 and includes two, 3-hour classes and one, 2-hour hand sewing workshop. She hopes to eventually bring other teachers on board, too. 
Christina White took one of Smith's sewing basics classes last fall after five years of muddling along on her own. She's learning how to make her own clothing. 
"Even though I have been sewing and watching tutorials and trying to read things, I felt like I learned more in that one class, and it just helped me click with my machine," White says. "Because I bought it off Craigslist, I thought the machine was a piece of crap. It turned out I had a great machine, I just had to properly learn how to use it." 
Despite the access to instruction that Google and YouTube provide, White points out that sometimes you don't even know why exactly you need help. You just know that the thread keeps jamming and the fabric keeps bunching and you are frustrated and can someone please help. 
"I've been sewing for five years, except I suck at it," White says with a laugh. "But I gained so much confidence just from that first class, so I'm really looking forward to taking more." 
If you made a New Year's resolution to learn to sew or tackle that pile of clothes that needs mending, Smith wants to help you do that. She's also working on meetups with a more social component. Think tea and embroidery or wine and mending. 
Renee Palting, the director of the Arizona Correspondence Society, hosts regular letter writing meetups in the cozy, NAK studio, and has also sat in on one of Smith's embroidery classes. 
"I can get on YouTube, but there is something different about having someone right in front of you who shows you how and can slow it down when you need help instead of having to rewatch the same minute over and over," Palting says. 
Smith says she always knew she wanted to go to college for fashion design. She made her own clothes as a teenager, designing the patterns herself. Even curtains were fair game for her projects. 
"As a kid at church, I would draw in the Bible really great little designs, and then I got in trouble for that, so I'd bring my own pad in..." she says. "I was just always drawing something." 
After getting her degree, Smith worked in the garment industry in New York City for a few years and eventually opened her own sewing studio and workshop in Austin, Texas in 2005. She taught people to sew out of her shop, First Samples, until it closed in 2009. About 10 years ago she moved to Tucson. She continues to design garments and products for clients around the country.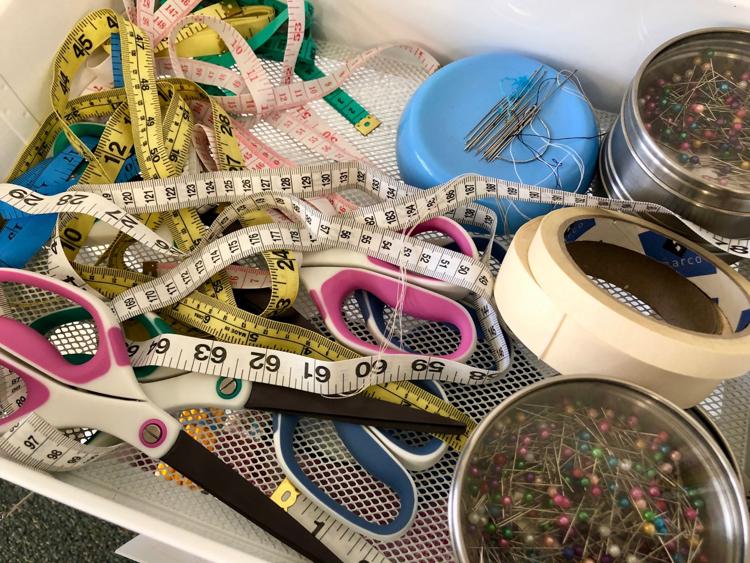 Smith's passion is fashion design ⁠—  dressmaking in particular ⁠— but it takes mastering the basics to get there. That's what she wants to give her students. 
"In my classes, I want (students) to catch my enthusiasm," Smith says. "I feel like sewing is so empowering. It gives you so many options. You can hem your own pants to the right length or you can take things in. You don't have to throw something away or give up on something. You can fix it. ... I know sewing's not for everybody, but I think knowing the basics of how to sew should be something that everybody has." 
For information about upcoming classes, social sews and more, visit naksewing.com.