Imagine sitting on the banks of the Santa Cruz, listening to the water stream by and the wind dance through the cottonwood and mesquite trees. 
Then imagine turning your observations into art. 
Woolery calls it Art-Based Perceptual Ecology — or "the intersection of art and science" in ecological research. Basically, she encourages people to explore ecological systems with all of their senses and translate their findings into something visual. People have been doing this for centuries, she says. Think of petroglyphs, for example. 
"We can come to know a place and learn to love it by exploring the language of the natural world," she says. "That language could be anything we explore through these art-making methods of listening to rippling water or the sounds of the birds or looking at the shadows and the patterns of particular trees in that region or cacti in that region. So we're really embedding ourselves in a place and learning about it through ways that include art-making." 
Earlier this week, Woolery led a workshop at Mission Garden. Kendall Kroesen, the community outreach coordinator for the garden, says he first heard of Woolery doing workshops along the Santa Cruz River south of Tucson. Because much of the river's historic floodplain in Tucson was used for agriculture, Kroesen says the workshop provided an opportunity for people to connect with the garden and the rhythms of the natural world. 
"It hearkens back to the era before photography in which naturalists were often skilled at sketching what they saw in the wild or in gardens," Kroesen writes in an email. "In addition, Lee Ann just helps people feel the soil, listen to birds and build skills in paying attention to, and experiencing first hand, what's around them." 
At two upcoming workshops at the Santa Cruz River in Tubac, participants will spend the day outdoors interacting with the natural environment and then creating art based on their observations. No art experience is necessary.
Woolery says she has been leading versions of these workshops since the early 90s and uses this method in her own field work.
For example, if she's doing a biodiversity inventory of the Sonoran Desert, she will use two 60-foot tape measures and then list every plant within 6 inches on both sides of the tape measure. That data then enables her to "extrapolate how many plants like these are in a larger plot." There's the science. 
The art comes in when she selects several of the key species in the region and then sits with them for three hours, drawing shadow images of that plant as the sun moves. There's the art.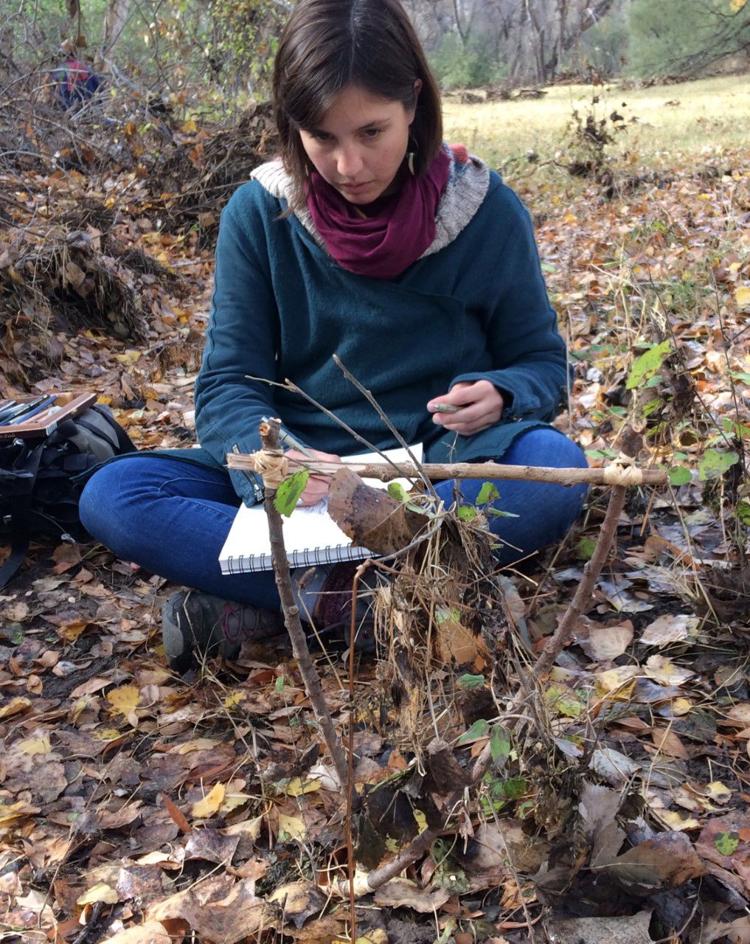 "Through the art-making, I'm able to grasp a phenomenon that I can't necessarily see with my own eyes, and that phenomenon is the earth and sun in a relationship," she says. "We're moving constantly, but you don't experience that during your day to day life, but by capturing a shadow on a page of that one plant, you can study the larger-scale changes that happen in the biosphere." 
Woolery says as a kid, she told everyone she planned to become an artist. Growing up on a farm in Missouri, she spent her days drawing outside  — "nature became my best friend," she says.
"I know now that because I didn't have a mentor as a young woman and was not good at math and organic chemistry, I took the path of least resistance, which was becoming an artist," she says. "It took me until I was 40 years old to realize I really wanted to be in the sciences." 
So she decided to merge her two passions and pursue a doctorate degree in environmental studies from Antioch University New England. She has conducted most of her field work in the Sonoran Desert and the Pacific Northwest. Southern Arizona is now her full-time home.
"I try to get people out of their heads and into their bodies," she says. 
Her workshops in the coming months are not just for artists or scientists. Anybody can attend. 
"If you spend more time in nature, you come to love the place that you live in," she says. "And by loving the place where you live, you are more likely to take action to protect that place." 
---
If you go
What: Art As a Way of Knowing the Santa Cruz River, day-long workshop
When: Friday, March 22 or April 12, 9 a.m. to 4 p.m. 
Cost: $102 for the workshop and lunch. There are limited spots so you must register in advance.