Let your self-expression take the lead this Sunday as Tucsonans dress up to celebrate the lives of departed loved ones.
The All Souls Procession is a large Tucson event where more than 150,000 people walk to remember family and friends who have died.
---
• The All Souls Procession has a new two-mile route this year that begins in Barrio Hollywood on the corner of N. Grande Avenue and W. Speedway Blvd., heads south on Grande to W. Saint Mary's Road, then a turn on Bonita Avenue to the finale site on W. Congress and Bonita. Gathering starts Sunday, Nov. 5, at 4 p.m. with the procession beginning at 6. Participants can join at any point along the route.
Find more information here.
---
With help from Tucson Thrift Shop and About Me Hair Studio, here are some looks you might find along the procession route modeled by Nolan Bade, a UA landscape architecture grad student, and cosmologist Krystal Sanders.
Here's what we did to achieve these looks:
The makeup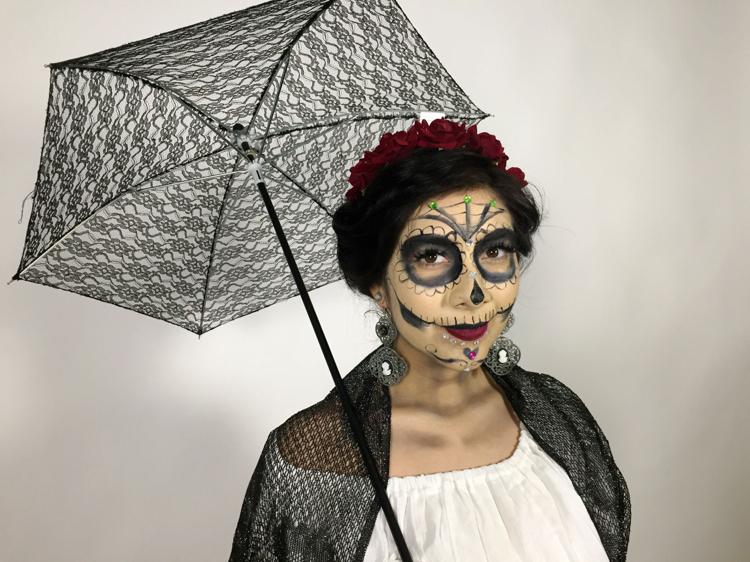 There are plenty of beautiful and amazing face-painting creations among the participants of the procession, so it's hard to choose a favorite style or look. Many parade goers will typically don skeleton makeup, which is inspired by sugar skulls from the Mexican holiday, Dia de Los Muertos.
For this take we kept it simple and used products found in our makeup bags.
Cosmologist Kaylana Verdugo swapped the white face paint for under eye concealer and black grease paint for mascara and eyeliner.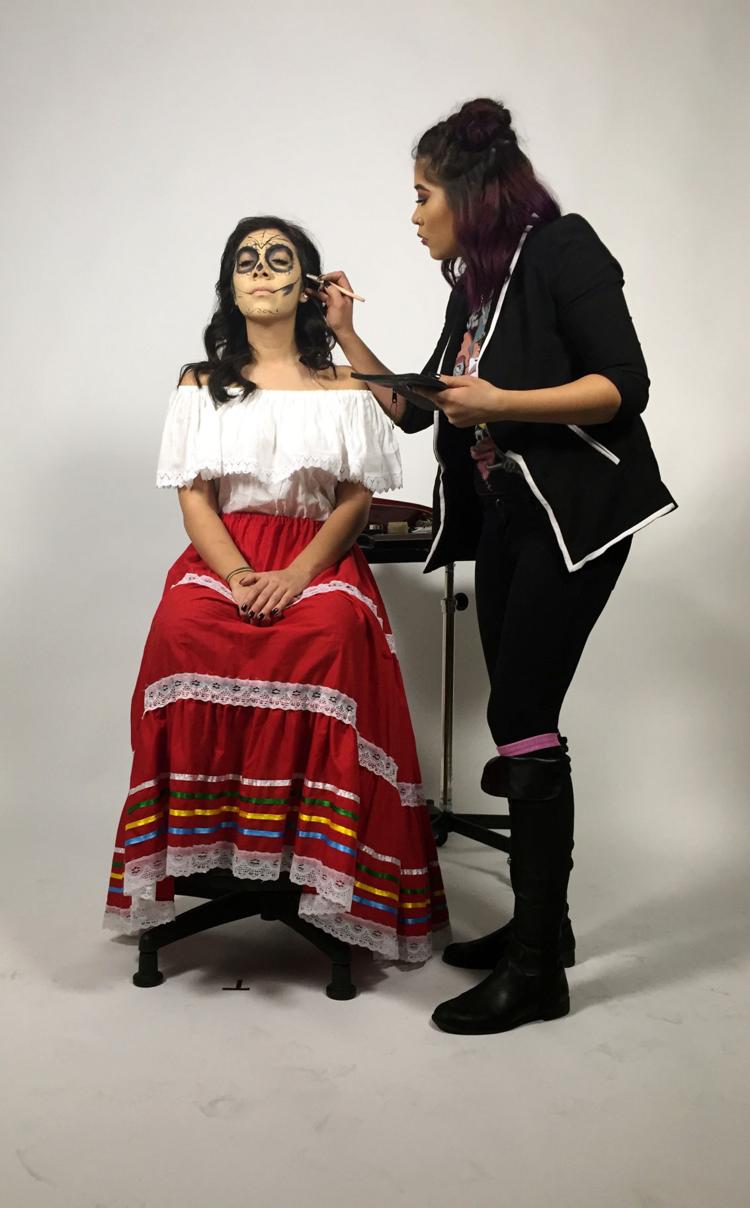 First Verdugo applied the concealer all over the face and below the jawline. Concealer typically tends to be a few shades lighter than your natural skin tone, so it makes for a perfect base. She then used black eyeliner, liquid eyeliner, eye shadow and mascara to draw and shade some sugar skull features.  
For our female skeleton, Verdugo added a splash of color by using a deep red lipstick on the bottom of the lip. For the male she applied a bold blue liquid lipstick on the nose, brows and cheekbones for a fun contrast. She also put on some self-adhesive rhinestones found at a dollar store for sparkle.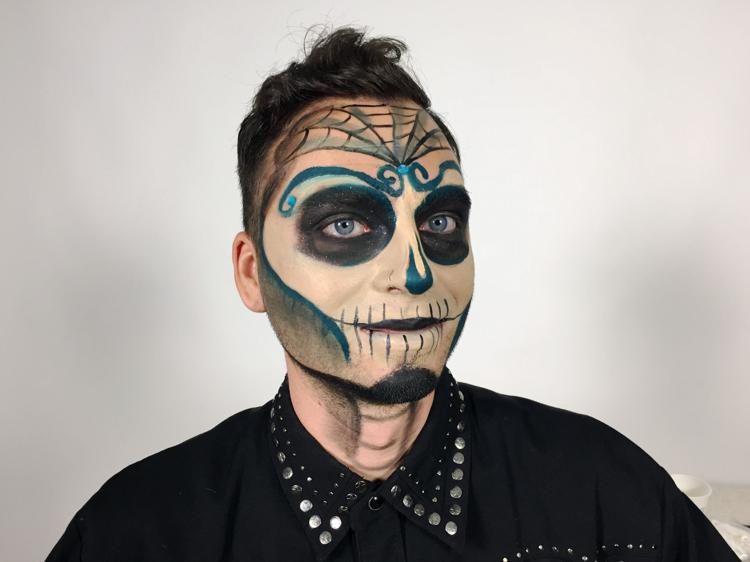 The final look is cool and effortless. You can continue the makeup by adding a few skeletal elements to your neck, collarbone and chest by shading the low points with dark eye shadow. 
---
Helpful note: If you're planning to use face paint for a male or female sugar skull we can help you with that too:
---
The hair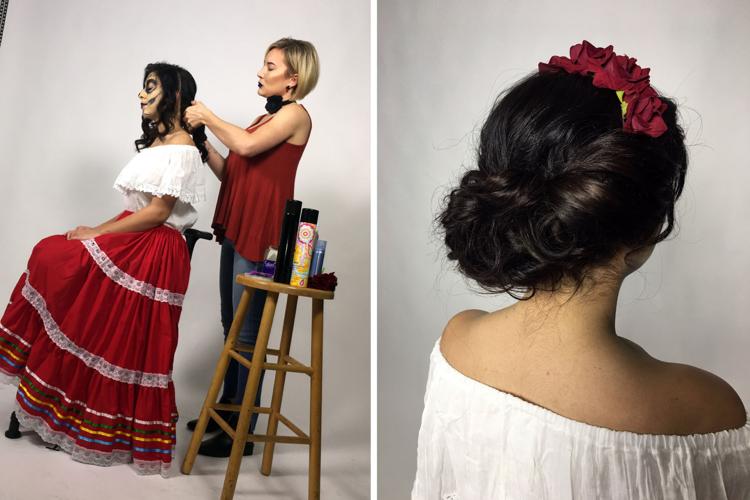 Hair can be an afterthought, but it really helps polish and elevate your sugar skull makeup.
Hairstylist Sydney Encinas created a simple up-do for Sanders using a few small hair ties, bobby pins and a flower crown headband — that celebratory headpiece we can't get enough of. 
First Encinas divided Sanders' hair in to three sections, leaving the the crown of the head alone. With a hair tie, she then secured one of the sections and began forming a bun. Instead of tucking the reaming stands into the bun, she then looped the hair through the hair tie and pulled the pieces to the fount, creating a chic messy up-do. She repeated this on the other two sections and used bobby pins to smooth and secure her work. 
Next Encinas added the flower crown and used the remaining hair at the top of the head to pull over the headband and pin into the back.
For Bade, Encinas kept to his original hairstyle because he's wearing a hat.
The clothing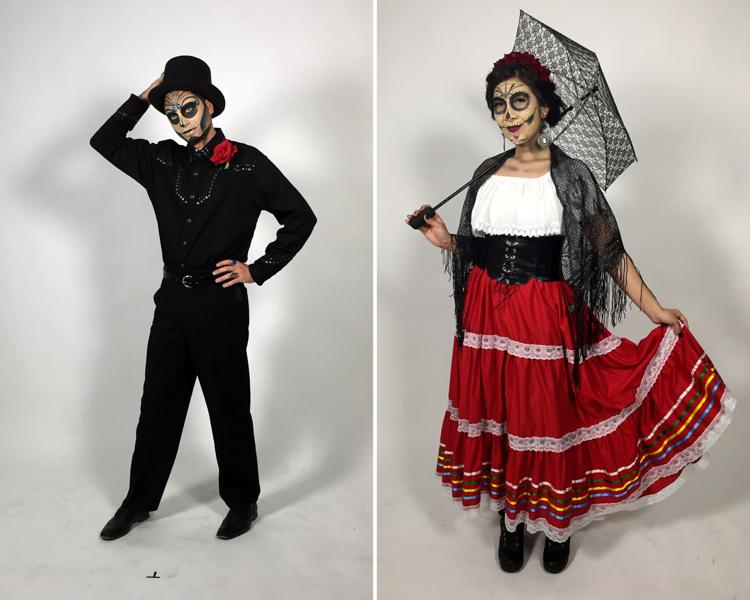 For our outfits we drew inspiration from the Southwest and Mexican cultures we felt matched the processional influences. 
A western button-up shirt, tuxedo pants and dress shoes were easy and accessible pieces we found for Bade. We completed the look with a top hat and a plastic red rose we pinned to his shirt.
For Sanders we picked out a fun folklorico skirt, flowy top and black boots. A sparkly black shawl, large metal earrings and a parasol gives a cool vintage feel to the outfit. For a little bit of an edge, we used a black pleather half corset. 
Most of these items are from the Tucson Thrift Shop, where they have a ton of costuming options, but don't be afraid to dig into your own closet for some hidden treasures. The western shirt Bade is wearing as actually something he brought from home.
Stick with something that is fun and true to how you want to celebrate All Souls.
Also, the parade route is about two miles long, so if you're walking go for something you can move and feel comfortable in.
Now have fun and enjoy the procession!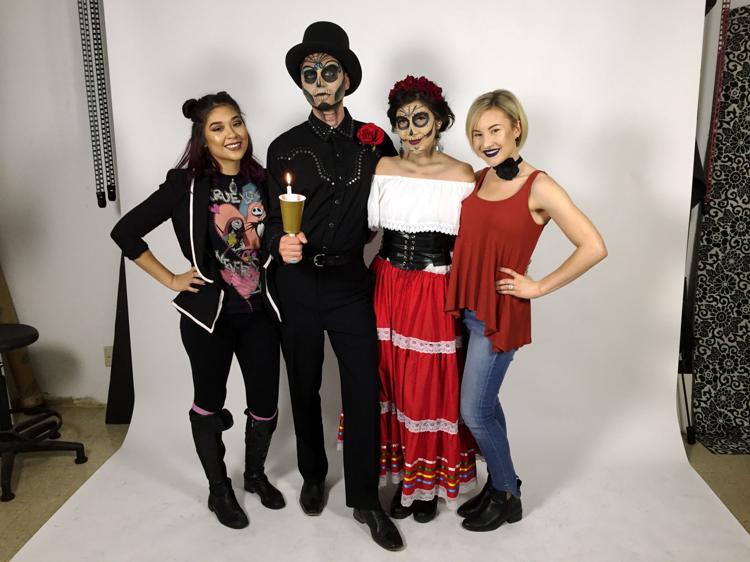 Note: This article was originally published on Nov. 1, 2016.