The ladies of Arizona's 30th Renaissance Festival are far more than princesses and peasants. 
From the glamour of the queen to the confidence of Countess Cordelia — the heroine tasked with maintaining chivalry among jousting knights — the women we encountered at the Arizona Renaissance Festival had stories to tell, swords to sell and battles to win. 
We're fangirling, just a bit. Okay, a lot.
The 30th annual Arizona Renaissance Festival is about two hours north of us, near Apache Junction, and open through April 1.
And it's really worth checking out if you haven't already (more on that later this week). 
We spent President's Day wandering among turrets and towers and made a point of chatting with several ladies who live the Renaissance life full time. 
Note: These interviews have been edited for clarity.
Lady Anastasia, noble lady at the joust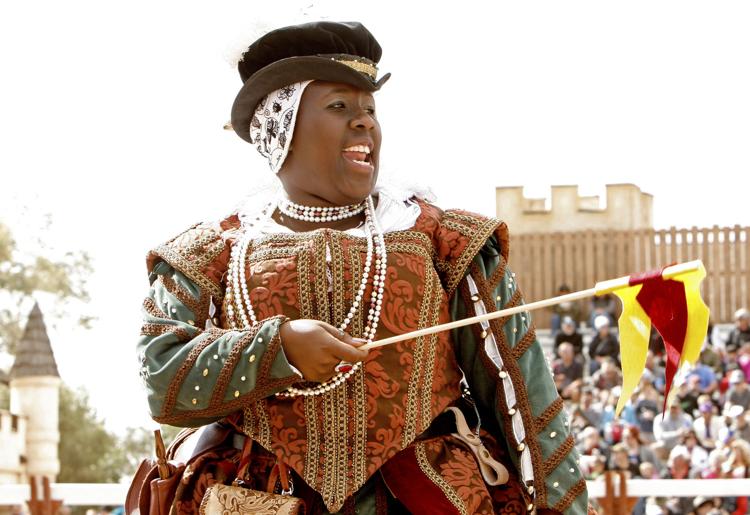 Wench or maiden? In the words of what we all say, 'I'm not wearing this couch because it's fun.' I'm a lady. I was actually sent by my father to Her Majesty's court to travel with her and hopefully find a husband. I'm really not interested in that part. It's like I'm on vacation. 
What's your job here? I don't know what that word is. I'm pretty and I show up to things. I was born into nobility, so I don't know anything else. I don't know what a job is. I don't know what work is. Money gets sent to me, and I'm like, 'OK, cool.' I spend it on clothes and food. And I get to look at handsome men on horses, and it's great. 
What's one medieval item you can't live without? Food. It's how I maintain my bum roll. One thing you can count on at the festival is you can ask the nobility where where the food is. That's what we know. And shopping. ... I like the potatoes — royal spuds — and then steak on a stake. 
Describe your look: Uncomfortable. If I'm being honest. But just as shiny as possible. No one outshines the queen, though. I'm a baroness, so on the low end, so some money but not a lot. That's why the marriage thing kind of needs to happen, but I'm not really into that. Also, I got sent away for some troublesome behavior. I like privateers — not pirates. There are differences. They have permission to take things that aren't theirs. Pirates don't. ... But as shiny as possible without outshining Her Majesty. 
Linda Demian, or the Pillow Lady, owner of Dreamstress 
Wench or maiden: I'm too old for either. ... But I think I'm pretty much considered an elder now, and that comes with a few shades of respect, which is good. But I don't have to worry about the wench and maiden stuff anymore. 
Kingdom of origin: Wickenburg, Arizona.
What's your job here: This is more like my career. This is what I've done with my entire life ... I make all of these (pillows and tapestries). ... What I do is the art of this, the art of making Renaissance hangings and pillows, but in the Renaissance style of old. There are a lot of buy-sell vendors that just open up a catalog, but when I make a piece of of art, it's going to last a lifetime. I love what I do, and I love setting it up like a museum.  ... I've been doing fairs for close to 50 years. I'm 68 years old. This is all I've ever done. And I started in California with the fair that spawned other fairs that came after. I've done a bit of everything. I've done co-ops and weekend shows, but I love this because I love the community. We're all friends here, and I love that I get to set this up and then I close my doors and I'm set up for eight weekends and get to go make stock during the weeks...
How did you get into this? I will blame my grandfather who is a tailor and my father who was kind enough to give me a sewing machine at age 11...
What's one medieval item you can't live without? It would have to be a wood fire because I do not like being cold. I need to have heat. 
Describe your look: Hot and sexy. Old doesn't mean anything. I'm proud of everything I've accomplished here. 
Shelly Mills, bookseller at Ann Chamberlin Books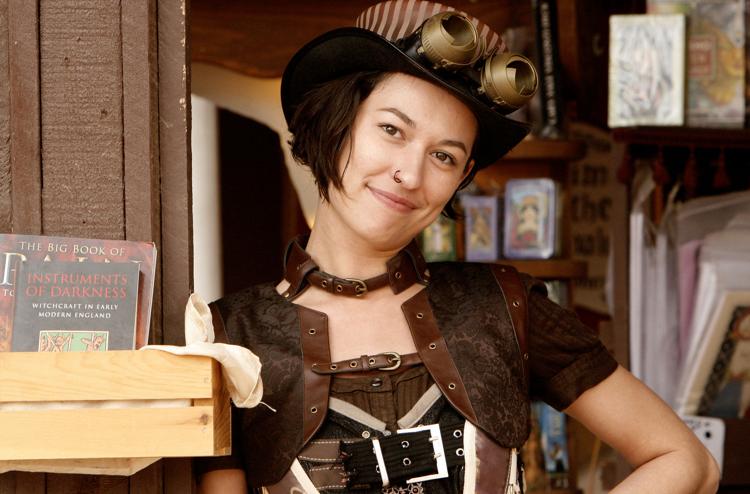 Wench or maiden: Oh, wench. 
Kingdom of origin: I'm originally from Salt Lake City ... but I'm splitting my time between (northern) California and Salt Lake City. 
What's your job here? I price books, restock, clean the floors in the morning and open the shop up. It's not a whole lot. It's wonderful.
How did you get into this? This is my first year. Ann Chamberlin is an author who owns the store and is in the same writer's group as my mom, and so she is in Paris this year ... so they had me come in and replace her for this year. It's been a whirlwind. It's been so perfect. The work isn't even work and you get to dress up in costume every single day. 
What's one medieval item you can't live without? I love my shawl and my little pocket pouch. I wear those even in the real word. 
Describe your look: Steampunk. I haven't worn the same thing twice yet. I've been blessed with a mother who sews. She sewed everything here, even the corset, and she has been sewing for her whole life, so we have a bunch of back stock costumes, and I get to go through and take them out.
Andrea Machlan, apprentice at Catskill Mountain Moccasins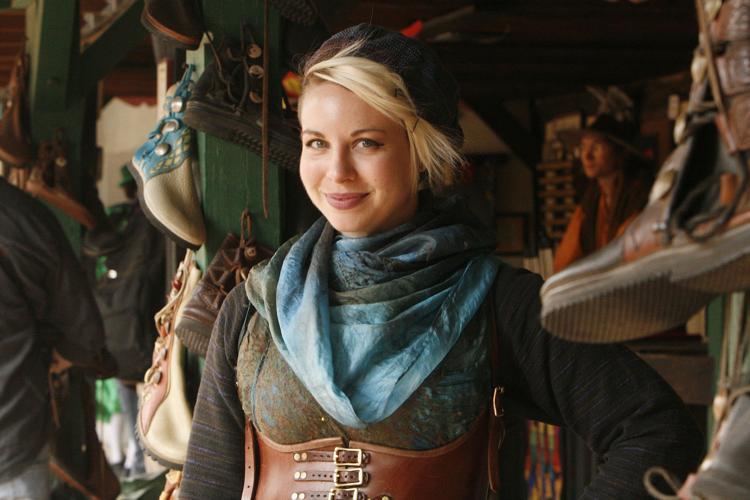 Wench or maiden: Oh that's a good one ... I'm gonna go with maiden because you know you can look classy at the beginning, but you can always shift, and it's a little harder to go from wench to maiden, but with maiden you can still be saucy on the side. 
Kingdom of origin: Fort Wayne, Indiana.
What's your job here? I'm an apprentice moccasin maker. I sell on weekends but then am also learning to make custom boots that sell here.
How did you get into this? I actually worked across the street at Greentree Weaving and I finally found a pair of boots I could wear standing on concrete all day doing sales work that would flex with my feet and all the things. And I thought, 'Gosh dang it, I'm sold.' I love the product so much and I'm a maker already, so I want to learn how to make these amazing things. ... This is my eighth year of doing Renaissance fairs.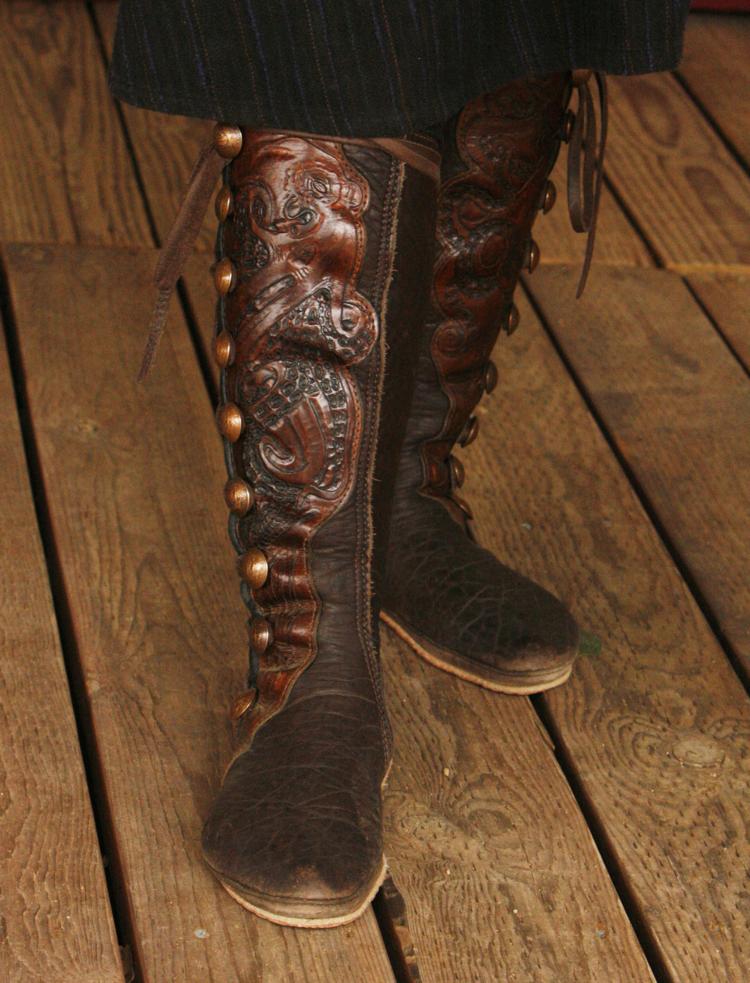 What's one medieval item you can't live without? My boots. Absolutely. Catskill Mountain Moccasins). These were the ones that sold me on coming to the dark side to making boots. ... The other piece is this underbust. I wear both of these all the times, modern world or not. 
Describe your look: I very much go for a maker. I go for an artisan-type feel so I'm going to have some art of some form, but ultimately I'm going for function and things I can work in. I have my scissor holster on the side ready to trim all the loose threads in the kingdom. And I keep warm with my scarf. 
Thyo Halorday, weapons seller at Sabersmith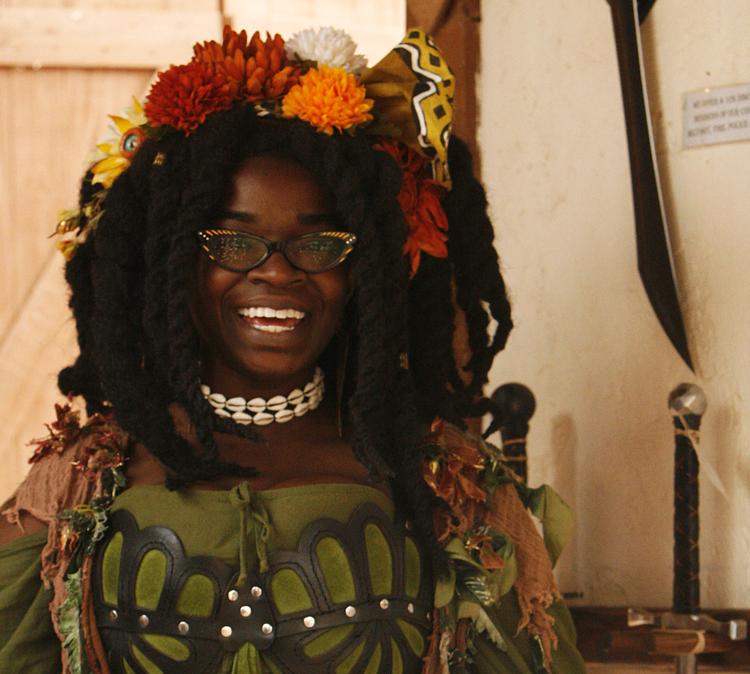 Wench or maiden: A little bit from column A and a little bit from column B. Let's keep it versatile. 
Kingdom of origin: Texas.
What's your job here? Here I sell all sorts of weapons. Swords, scythes, spears, whatever you need to arm yourself. We have a shop in Sunfield, Michigan that makes all these weapons. They're handcrafted. ... This is my second year working with this company. I'm on my fifth year with the Renaissance Festival and have worked all sorts of amazing jobs from carousel ride to llama lady. I used to be the llama lady here and would give small children rides on llamas, so working with small children and llamas is very interesting. They both have opinions. And selling swords and hair braiding. When you work for the Renaissance Festival and travel with it, you can end up working all kinds of different job and it's a lot of fun and lots of different experiences. 
How did you get into this? I use to be a playtron, where I dressed up every weekend and everyone just assumed that I worked here, and I was like, 'No actually, I don't.' And they said, 'But you should.' I applied for a job here working for the festival and got a job here on the road traveling and working different festivals. ... This is a full-time gig. I never thought I would be doing this. I'm a military veteran (Navy) and after I got out and was just playing around being super excited and loving this and got on the road. This is my retirement. 
What's one medieval item you can't live without? One of our blades for sure. I'm used to daggers. One of our new blades this year is the Goblin Dagger, which is super cool because it's more of a fantasy line.
Describe your look: It ranges. So originally I started out as a druid character. I play Dungeons and Dragons and like druids and sorceresses. That was how it originally started, but I get different influences depending on the season, maybe a voodoo character or "Black Panther" just came out so trying to build a Wakandan character ... And for time traveling weekends I'm trying to get Jedi garb together, too. 
If you go
What: Arizona Renaissance Festival
When: 10 a.m. to 6 p.m. Saturdays and Sundays through April 1 (rain or shine)
Cost: $26 adults; $16 children 5-12; free for kids under 5
More info: We'll have more about our personal experiences there and budget tips later this week. Until then, click here.