This story was originally published on Jan. 11, 2017
Cecilia Arosemena can't say enough about juice. 
In 2014, she learned about a two-pound liver tumor choking her blood flow. It wasn't cancerous, but it was inoperable. Doctors gave her maybe three weeks, maybe three months, maybe three years to live. They didn't know much, but they knew Arosemena was in trouble. 
She named the tumor Big Fred. As a single mother raising her 9-year-old son, she had to make something about this funny. 
Before the diagnosis, Arosemena had spent several years in culinary school through The Art Institute of Tucson. She was also jetting to the Chopra Center in California every other weekend to learn Ayurveda, an ancient Indian philosophy of holistic healing, managing her catering company Dish for Dosha and waitressing at Cafe Poca Cosa. 
Not to mention the trials of life as a single mom. 
"Something had to snap," says Arosemena, who turns 35 on Jan. 13. 
Instructed not to raise her blood pressure, Arosemena slowed her life. 
That's when she discovered juice. 
It was her way to get nutrients fast — an effort to nourish her body back to health. 
"I would see my son and say, 'That's bullshit. I'm not dying. In fact, I have to go make more carrot juice. I'll be back,'" she says.
And while everyone should consult their doctor about their own health needs, Arosemena thinks juicing worked for her. 
Out of that success emerged a new chapter for Dish for Dosha. Catering was out. Juicing was in. 
"She lived, right? So the level of determination that she has to share that knowledge that food and everything you put into your body can harm it or heal it, she is just super committed to that idea," says Liane Hernandez, the education and community outreach director at the YWCA Southern Arizona. 
The YWCA used Dish for Dosha as an experiment, a chance to see what it took to launch a small business, Hernandez says. 
For the last two years, Arosemena has run her juicing business out of the YWCA's commercial kitchen. She works with about 200 clients (not all at the same time) and has about 85 percent returning after trying a multi-day package for a juice cleanse. Sales have increased more than 400 percent, she says. Her dear friend Anna Warr is her first and only employee.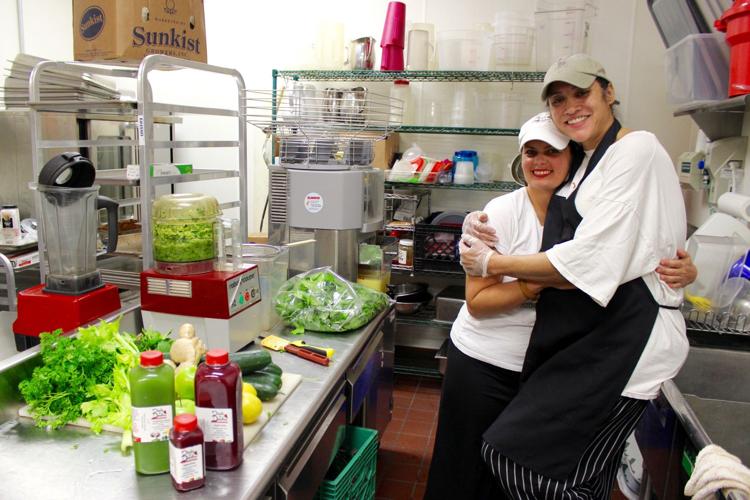 Dish for Dosha has also supplied several Tucson restaurants with juices, and Arosemena  has her eye on the resorts. 
The business is still small enough that Arosemena consults individually with clients, concocting juice blends with locally sourced ingredients meant to meet individual needs. The word "dosha" actually refers to one of three mind-and-body types. Each dosha processes food differently, she says. 
She estimates that currently Dish for Dosha makes about 140 juice blends. 
But that model will change this year when Arosemena scales the company to operate on a national level. That will mean pruning the juice offerings to eight to 18 choices and facilitating monthly group cleanses through social media. She even dreams of offering a class to teach people who she can't ship to how to make their own juice. 
"I'm so excited that I got a second chance and so grateful that I get to do something that feels to me like a deep sense of purpose — like this is what I do," she says. "This is how I serve my community. This is how I serve the depleted mother that I was at one point." 
These days, her life is fresh and sweet — just like her juice. 
Why she started juicing: 
"Something inside of me turned on (after the diagnosis), and by this time I knew enough about working with food and combining it in a way that can produce healthy benefits for the body, so I started feeding myself a lot of good and clean food. I started wanting to strengthen my body, and I found the most effective and fastest way to do it was to juice all of these fruits and vegetables."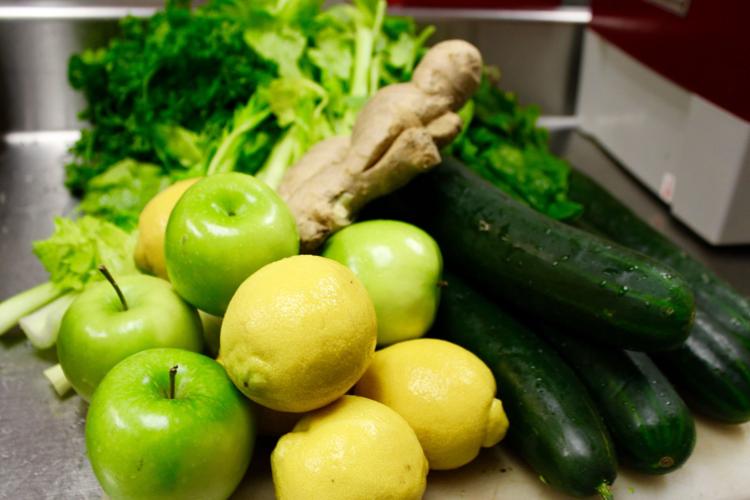 Fighting Big Fred:  
"I went from that devastating moment when they pretty much said, 'Get your insurance in line and make sure you know where your kid is going,' to a sense of I will not just listen to that. I will not. I have a fighting chance. I have the tools. I have been trained in this. I'm going to fight. And I did. I juiced and I juiced and I juiced. Like a madwoman, I juiced. ... The tumor shrank by two millimeters. Two millimeters, that's all it took... The sixth specialist we saw, he said, 'Yes, I'll operate, but we're going to do it now, and there is a very high chance you're not going to make it, but if you want to go, we'll go.' And he did the surgery (in October 2014) and there were complications, and it was like a 10-hour surgery, but I didn't die. I didn't die." 
From catering to juicing: 
 "So while I was going through the whole thing of juicing for myself and just shutting out the world and trying to fix it — I was fixated on fixing it — my friends and family would come around and say, 'This juice is great. Tomorrow, when you make more juice, can you make me some?' And at that time I was like, 'Sure, I'm making some anyways. That's easy.' But soon there were six people driving by my house before 8 a.m. every morning picking up juice. And here I was, I had created a catering company ... but my clientele were saying, 'No. We want juice.' ...
"People started driving by my house so much I said, 'You know what? I think I'm going to have to start charging for juice,' because the bag of carrots I was buying for my juice became, 'I need a 25-pound bag of carrots' to 'I need a 50-pound bag of carrots.'" 
How she ended up at the YWCA: 
"The (then) community life director at the YWCA Liane Hernandez, we were friends and she happened to be one of my teachers in culinary school, and when she saw me going through this struggle and trying to heal, she knew I was on the hunt for a commercial kitchen, and I couldn't find any I could afford ... She said to me in a loving way, basically ... 'Fight for your life, and if you don't die, we can share the kitchen with you at the YWCA. We close at 3 p.m. and after 3 p.m., you can start working. But you can't die, you see. You have to fight for your life. And if you do and you make it across to the other side, we'll be there. The YWCA will be there to catch you. So make it.'" 
Her son has always been involved: 
"I was very honest with him. I couldn't bear the thought of from one day to the next me being gone and him not having a clue about what was happening: My mom was laughing and fine yesterday, so why is she gone today? Now he is 11 and incredibly mature and very involved with the company. He does a lot of the labels and likes the labels to be straight, and I am fast and don't put them on straight, so that bothers him. He helps a lot with trying the juices — kid tested and mother approved. There are green juices that he spits out at me and says, 'That's terrible, don't do that to anyone, Ma.' ... He has been involved in everything, with the decline, the rise, the success, the exhaustion he sees Mama come home with. But I'm happy. Nobody has me slaving away in the kitchen because they need to. This fuel comes from inside, and it is a gift."
Her clients: 
"We specialize in making Ayurvedic juice blends. We deal with people who have allergies or who are recovering from surgeries and need to rebuild. We deal with people with cancer. So we help a lot of people that I was. I was that person who only wanted health. If I had my health, I could fight for my life. ... 
"I have plans in the year to start shipping nationwide. Hopefully we can keep focus and get this out to as many people as possible, because I know there are mothers out there going, 'I can't leave my kids because of this damn diagnosis,' and I'm not saying I can save them, because I can't say that, but I can say I was empowered by trying, and it had good results."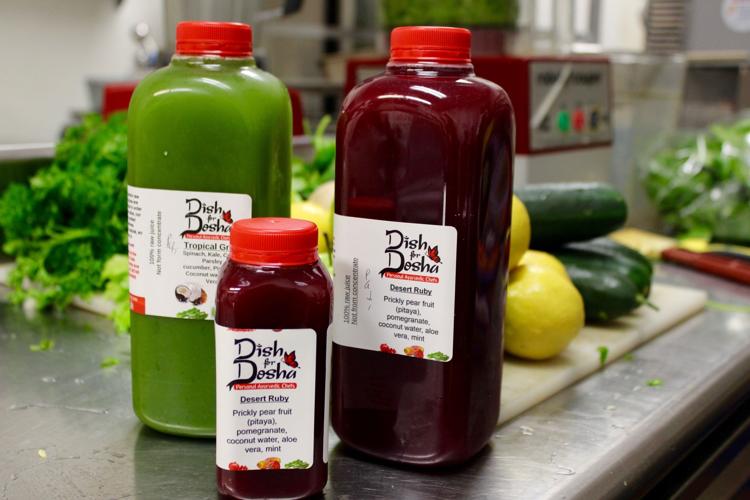 Second chances: 
"Now that I have a second chance, I'm not wasting it, and I won't do anything that doesn't bring me joy. I remember that was a huge regret of mine. When they said, 'Okay, you're done,' I was like, 'I haven't done it. I've just been working for someone else for six days out of the week and half-ass raising my son because I was so busy. I wasted it.' So the second chance comes and that's the last thing I do. If it doesn't bring me joy, I'm not doing it. I'm not, because the next visit to the doctor could bring another surprise. You never know. So this is what I have learned, and this is what I like to share, and it happens to be a business that does very well for itself." 
Editor's note: This interview has been condensed for clarity.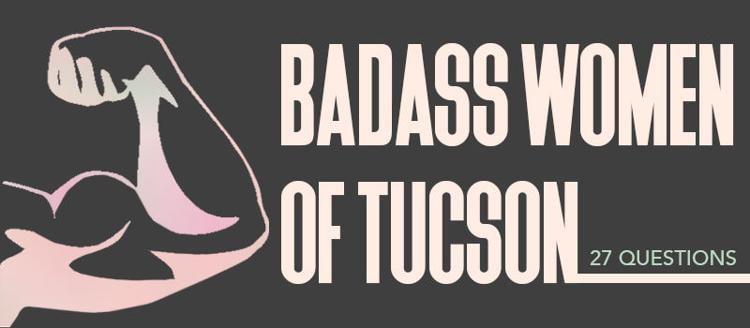 32 Questions with Cecilia Arosemena
Your name, age, occupation
Cecilia Arosemena, 35, Chef Entrepreneur
I'm on a mission to _______________________. 
Revitalize our community one raw juice at a time.
What's your astrology sign? Does it fit you? 
Capricorn. I'm very determined, focused and stubborn at times. I am also very loyal, and love to love.
Describe yourself in three words... 
Resilient, joyful, brave.
Cafe Poca Cosa, bussing tables at 17 years old.
How long have you lived in Tucson? 
Who and/or what inspires you? 
People who express themselves in a genuine, soulful level and create ripples that impact our children, communities and world by simply having the courage to be themselves, and sharing it for others to benefit. Such as Mandela, Muhammed Ali, Maya Angelou, Oprah, Lisa Nichols, and Tony Robbins to name a few.
The secret to coping with stress is ________________. 
Breathing, exercising, nutrition, and gratitude.
Your favorite Tucson spot? 
Mt. Lemmon. I crave its breeze, scent, and serenity. I love the diversity it brings to our desert.
What are your favorite three songs and why? 
I Am Superwoman by Alicia Keys: "Because even when I'm a mess, I put on a vest with an S." Beyonce: "Listen" because it reminds me of the quiet voice in my heart. "I Did it My Way" performed by opera quartet Il Divo. Because the strings open my heart like a can-opener.
Your go-to order at your favorite Tucson restaurant? 
Mei Mei's Chinese food on St. Mary's and Silverbell.
What's your favorite Tucson-only thing? 
The exquisite plethora of unique foods, gems, people, and nonprofit organizations actively working on matters that matter.
You know you're a Tucsonan when _____________. 
98 degrees feels like a cool day, great for outdoor exercise.
What constitutes your morning getting-ready routine and how long does it take? 
Tea takes 5 minutes to make. However the next hour is full of breathing and gratitude exercises, free flow writing to help me deal with my daily uncertainties, and a tall smoothie with anything I can find within 5 feet.
Favorite app at the moment? 
Pandora. Girls' gotta have jams to make juice.
Give us a two-sentence pep talk. 
In moments of paralyzation by fears, the best antidotes are Confidence and action. On moments that the stress is high (which is often in the world of entrepreneurs), when I notice my knees begin to shake upon the dawn of a risky decision, I say this to myself over and over, until my tight breathing relaxes into deep breaths and now, I share it with you :) : "As uncertain as I may be right now, Know yourself. Remember that I can live anything I choose to today. Step up, Firewalker, and do it now in the name of Love, Joy and Service." Repeat. Repeat. Repeat. This flowed from me at a Tony Robbins event recently. I live by this now.
What would you tell your teenage self? 
Ask better and more questions to those who have arrived where you want to go; you don't have to reinvent the wheel over and over just because "You can figure it out." That's the slow and painful way to reach your goals.
What's a quality you got from your mama? 
Lightness of being, courage, excellent model to follow for a loving mother.
And one you hope to pass on to the next generation? 
Find yourself, then find the joy in the dreams you house, then find a way to share the fruits of the harnessed dream with the world that you love.
The last great book you read? 
Lisa Nichols' Abundance Now.
The last great movie you watched? 
Hidden Figures. The YWCA has a Go Fund Me in order to share this movie with over 100 STEM women students this Saturday. Please support Liane Hernandez, at the YWCA putting this together. Shes short $700.
People would be surprised to hear you're actually a(n) ______________ expert. 
Is there something you've always wanted to learn, but haven't had the time? 
How to dance Tango and Afro-Brazilian music
Anything you've always wondered about Tucson? 
Why do we drive this way?
Favorite ice cream flavor? 
Rocky road with cookie dough.
Where can our readers follow you on social media? 
Is there something you REALLY nerd out about? 
Stories of the human spirit dominating its self imposed limitations.
What's your spirit animal? 
Which fictional character (from TV, movies, books, etc.) just gets you? 
What makes you feel the most confident? 
A rainbow after a storm, metaphoracally and literally.
The best piece of advice you ever received? 
"Be genuine with all." --my mother.
---
Learn more about Dish for Dosha: