It looks like a Little Free Library, but instead of books, its shelves hold a different sort of treasure: Food. 
The idea is that the pantry will be stocked and used by the community. There are no applications, no hours, no strings attached. If you need food, take it. If you have food, give it. Tucson Free Pantry is not meant to replace the work of traditional food banks. It's meant to fill in some gaps. 
"My hope is that it can be kind of a self-sustaining organism," says Chaparrelle Mogavero-Cline, the 24-year-old director of Tucson Free Pantry. "I like the idea that it can be there for anyone and everyone and just kind of brings the community together and helps those who need it." 
And while anyone can contribute food — or school supplies, hygiene goods or anything else that someone might need — Mogavero-Cline does have partners committed to keeping the pantry stocked. 
For her, the idea grew out of her membership with the Community Gardens of Tucson. With a plot of her own, she saw how fruitful seasons also created waste. She wondered how she could get that food into the hands of the hungry. 
The Community Gardens of Tucson and Tucson CSA are both partners, donating produce to the pantry, she says. Mogavero-Cline has also worked with the University of Arizona to organize food drives on campus. 
"We have been taking food that normally goes to waste and using it with the pantry as a pipeline to get it to people rather than trash it," she says.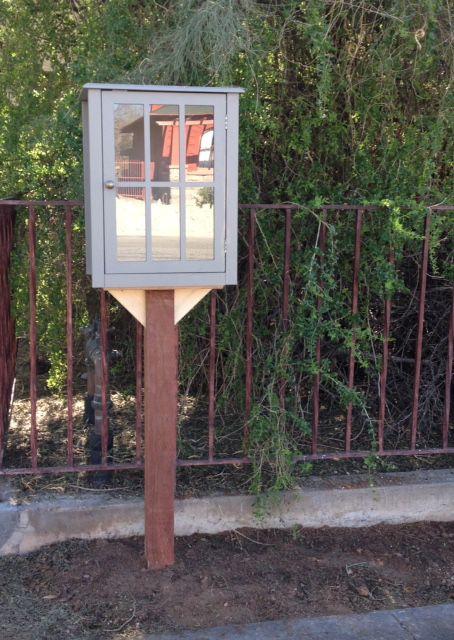 Tucson Free Pantry has been in the works at least since September with the first pantry at the Historic Y going up earlier in January. The group already has additional free pantries under construction with a planned installation at a church in the Miramonte neighborhood. 
Mogavero-Cline is an educational consultant and researcher who has lived in Tucson since December 2015. She also has a background in agriculture, she says. 
Growing up in Los Angeles and then going to school in the San Francisco Bay Area and New York, Tucson's smaller community appeals to her. 
She thinks Tucson Free Pantry can do well here. 
"People get a sense of happiness when they give to it, and people get a sense of happiness when they take from it, so it's really beautiful," she says. "I'm hoping that maybe it can be something that's scattered throughout Tucson, just to help fill the gaps." 
---
Get involved: