If you're a mama interested in making new friends and learning more about babywearing, there's a group just for you. 
It's the Tucson chapter of Babywearing International, a volunteer-run nonprofit that hosts public social events to create awareness and provide support and advice for parents and caregivers who want to make new friends and learn about wearing their baby. 
The group focuses on teaching families the best practices to keep the baby and caregiver safe and comfy while using a baby carrier. 
"Babywearing is a skill," said board member Stephanie Springer. "Our group works to educate, so families can baby wear more comfortably. And just to bring awareness because not all new parents know about babywearing as a tool. We think it makes parenting easier and has benefits as far as attachments and bonding and being hands-free and not house-bound."
The Tucson chapter has nearly 1,000 followers on its Facebook page and more than 100 chapter members. It also has a closed Facebook group called Tucson Babywearers, which has more than 2,600 members. 
Events hosted by Babywearing International of Tucson are open to the public and completely free to attend.
You can become an official member for $30 per year, which has the added perk of checking out baby carriers from the lending library, but it isn't necessary to participate in events. 
"We have over 60 different kinds of carriers available to try or check out," Springer said. "You can always come try them out at the library, but to check one out you have to be a member."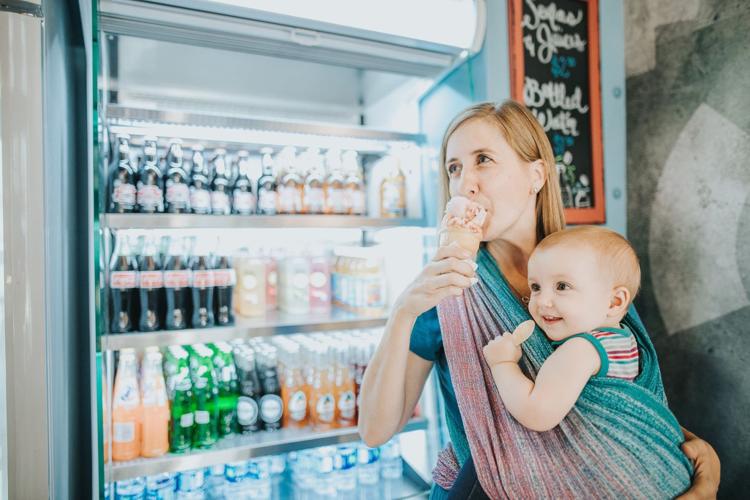 Finding the group and learning about babywearing helped 31-year-old mother Kara Trowbridge connect with her new baby. 
"It was so hard at first with my daughter. Just bonding with her," Trowbridge said. "We were living with my in-laws at that moment because we were trying to buy a house, so there were some post-partum issues going on, and it was a tool where I could really connect with her, and I could still survive and do other things like our laundry and get out of the house really easily. And with my second, I think if I didn't baby wear, I'd lose my mind chasing around a three-and-a-half-year-old, so it's been a helpful tool there."
Trowbridge got so into the group and telling people about babywearing that she is now a volunteer babywearing educator. The group is run by volunteers and is always seeking people who are passionate about babywearing to help.
Not only will moms (and other caregivers) get great advice from babywearing experts through the group, but they just might make friends along the way. 
"I've met some very dear friends," Springer said. "So, it has definitely expanded my mom circle."
Trowbridge is one of those friends. The two hit it off pretty quickly.
"She (Springer) said hi to me at one of the first libraries I went to and we became really good friends," Trowbridge said. "It's nice to find like-minded moms who parent similar to me."
Anybody can attend the group's free, family-friendly events — moms, dads, caregivers, grandparents, single parents, partnered parents, married parents, siblings. All are welcome.
"I tell everyone about it," Trowbridge said. "It's really helpful for everyone in the family. It's not just for moms, but for the whole family."
Upcoming events
International Babywearing Week: Main event
Info: Mr. Nature's Music Garden will provide family friendly entertainment. There will be a raffle with fun prizes such as Disney tickets, baby carriers and more. Click here for the event page.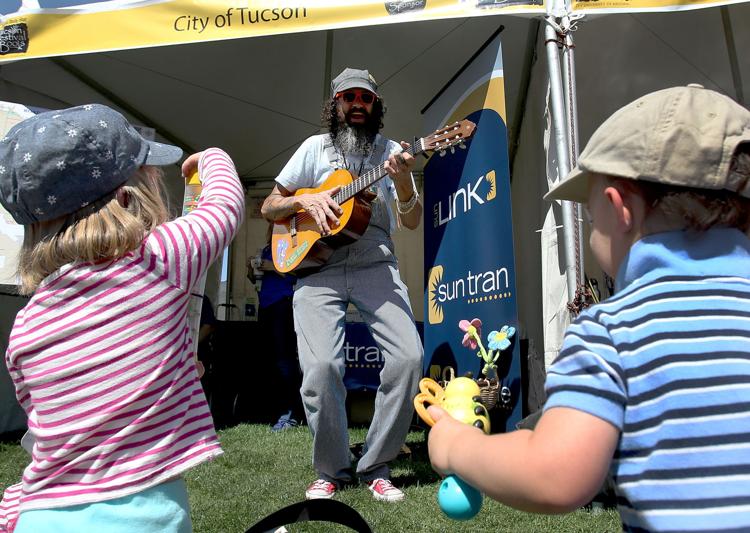 IBW: BYOC (Bring Your Own Carrier) Event
When: 5 to 6 p.m., Friday, Oct. 6
Info: Hang out at the park and get one-on-one help from a volunteer babywearing educator on fit, options and more. Click here for the event page.
---