Women make up more than half of the United States workforce, but their representation isn't distributed equally in professions like public safety.
Women comprise about 27% of all law enforcement employees, according to 2018 data from the FBI. But fewer than 13% were in leadership roles, the study showed.
There's an even bigger gender gap in fire protection.
In Pima County, however, several women have climbed the ranks to leadership roles in public safety despite of smaller numbers in the profession. Tucson Police Department has nearly two-dozen women ranked sergeant or higher, and local fire agencies have long had women in leadership positions, including former Northwest Fire Chief Cheryl Baker.
Meet five local women who shared why they chose public safety work and how their career paths and their job — and lives — have been affected by the pandemic.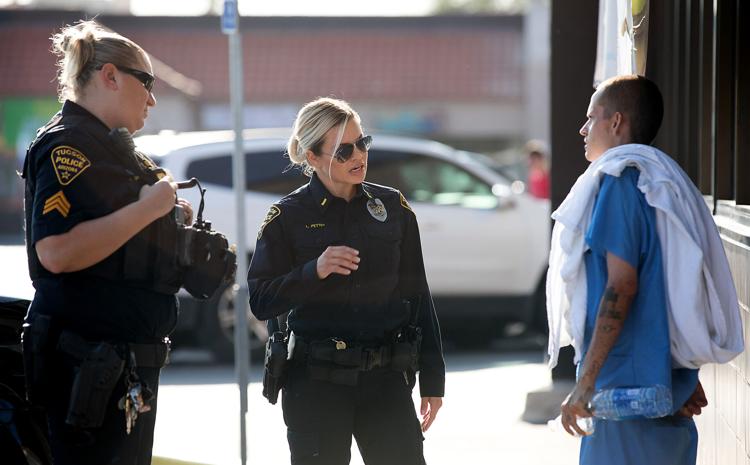 Lt. Lauren Pettey 
Last spring, when most people were doing everything they could to avoid a trip to the hospital, Lauren Pettey was walking into them on a regular basis.
It was a routine part of her job as a detective-sergeant in Tucson Police Department's child abuse unit.
"It was pretty dangerous. We're dealing with infants and young children that automatically go to the hospital, so detectives were going into the hospital with COVID patients," Pettey said. "The times when we'd respond to houses and do an investigation there, we were always wearing PPE. But (the pandemic) didn't change the types of calls we'd respond to."
Pettey was also working collateral assignments in hostage negotiation and on the mobile field force team.
Pettey started working for TPD in 2009, after graduating from the UA with a degree in public administration. In her nearly 13 years with the department, she has worked undercover with the Counter Narcotics Alliance, has been a detective in the child sexual assault unit and spent some time as a supervisor in the domestic violence unit.
After a December promotion, Pettey started working as patrol lieutenant for TPD's Operations Division West. She's responsible for several patrol squads, a neighborhood crimes unit, an undercover surveillance squad and the red tag and alarm unit. She's also a mobile field force commander.
Pettey is especially proud of the efforts TPD has taken in recent years to help address substance use or mental health disorders and find environmental solutions to community problems, saying they're "leaps and bounds ahead of other agencies."
"Helping people is why I became a police officer," she said. "I'm a huge proponent of interacting with the community. I love going out and talking to people."
Pettey also loves the support that comes with working for TPD, saying she has made friends that are more like family.
"This is a very tight-knit agency," she said. "We're extremely supportive of each other, and we want to see each other succeed."
In the past five years, Pettey has noticed an increasing number of women applying for jobs in law enforcement, which she says is great for the profession, as women have excellent verbal communication and problem-solving skills.
"A lot of women are under the impression that it's a male-dominated field, and they can't do the job. I'm 5'2" and weigh 120 pounds," Pettey said. "As long as you want to do the job and you're willing to put in the work to do it, it's a great profession."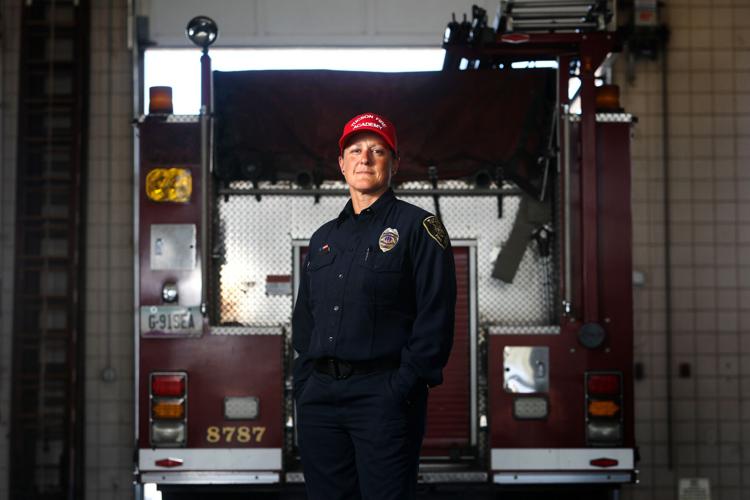 Capt. Liliana Pesqueira
After 23 years in the fire service, there wasn't much Lily Pesqueira wasn't prepared to handle, but temporarily stepping into the role of single parent was definitely a complication.
A training captain with Tucson Fire Department, Pesqueira has been married to Tucson chef Maria Mazon for more than a decade and is used to the chaotic lifestyle that can accompany restaurant ownership.
She was lucky in that TFD's latest recruit class had just graduated, but Pesqueira had a reticent student of her own living right inside her home.
"Most kids, including ours, did not like (online school) and had to have constant supervision. I think that was the greatest challenge: Online school and getting him what he needed when Maria was gone," Pesqueira said. "The people I worked with out here were great. You tell them what I needed, and they said, 'Take care of what you need to take care of. Family comes first.'"
Pesqueira had support outside TFD, too, from her brother, son's dad and grandparents. And when Mazon was home, she was all in, Pesqueira said.
While the shutdown didn't so much affect Pesqueira's job, as academy classes continued with modifications, it had a profound effect on Mazon's prior to her leaving for Portland.
Mazon's longtime restaurant Boca Tacos y Tequila never completely closed, remaining open for delivery and window-service, but the reduced capacity hurt. And just like that, Pesqueira's TFD family was there to help ease the burden.
"The fire department came through in a huge way," Pesqueira said. "We had entire stations come through and order dinner, and that kind of thing."
Pesqueira said it doesn't escape her how fortunate she and Mazon are to have both TFD and the community's support.
Pesqueira started her career with Rural Metro Fire 23 years ago, transferring to TFD a few years later. She said her current position in training has been on her bucket list for years, and nearly two years in, she couldn't be happier.
"One of the reasons I came out here was to improve as a teacher," Pesqueira said. "This part of the training division has the most pride and teamwork. Seeing how they become 40 individuals into one team at the end. They go through a lot of shared hardship and successes and the ins-and-outs of 22 weeks of going through a very rigorous academy."
Pesqueira said she has seen a "definite change" in the attitude and cultures surrounding women in fire protection since she started out, including a change in herself.
"I used to focus on the fact that I was a female on the job," she said. "Now, I see it as I'm a firefighter, and I do my job well, and it doesn't matter."
Pesqueira said she tries to take that mentality with her wherever she goes.
"Me being a fire captain and my wife being an executive chef, we both work in very male-dominated jobs," Pesqueira said. "We have our son who we're just trying to teach that: You can do anything you want."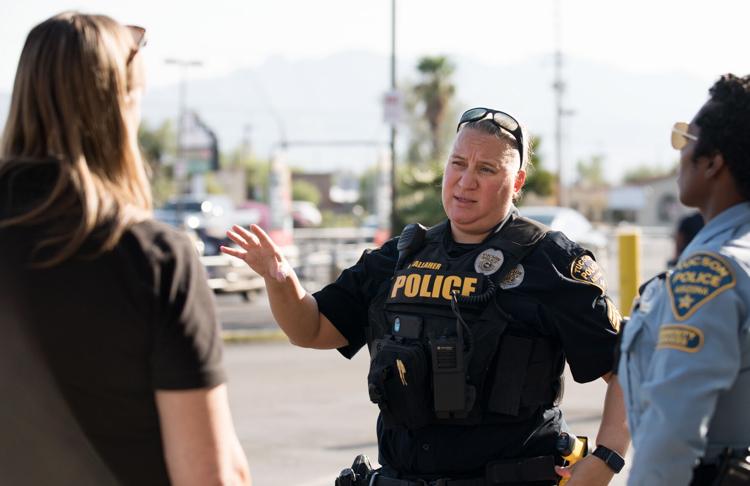 Sgt. Leslie Gallaher
Leslie Gallaher has never been one to sit still.
Throughout her 16 years with the Tucson Police Department, she has worked in the field response unit and the neighborhood crimes unit, has worked undercover in the narcotics unit and was a hostage negotiator for eight years.
Two years ago, Gallaher, 40, was promoted to sergeant for TPD's Operations Division West, also known as "Team 2," the same team with which she began her law enforcement career in 2005.
The constant change of pace prevents the job from getting boring, Gallaher said, because doing the same job for 20 to 25 years can become boring without trying something new.
"It's always something different, especially in patrol. Some days there's a fire, some days there's a shooting, some days there's nothing, you know, and it's just every single day is something new, which really helps me get through the monotony," she said.
Within the last year, Gallaher experienced a new change on the job — COVID-19 safety protocols.
"Unfortunately, being in patrol, there's not a lot of modifications you can do to work. You can't work from home, you know, you can't separate from everybody all the time," Gallaher said. "There's still emergencies that we have to go to, and there would be times when people would be positive for COVID, and we still have to respond to a call."
The pandemic also impacted Gallaher's personal life, when her wife's 92-year-old grandmother died from COVID-19. Because of strict quarantine protocols, Gallaher and her wife could not visit before she died.
Gallaher and her fellow officers tried to help prevent the spread of COVID-19 while on the job by limiting their contact with the public by responding to non-emergency calls over the phone. However, emergency calls still required an in-person police response.
In the last 45 days, TPD's Operations Division West where Gallaher works, has received nearly 14,500 calls for service, accounting for 41.5% of TPD's total emergency call requests.
Despite the large intake of emergency calls, including violent and dangerous response calls, Gallaher said that she has a great and rewarding job that any woman could be successful in.
Although law enforcement is primarily a male-dominated field, Gallaher believes that TPD is doing a good job recruiting and promoting women.
"There's just so much you can do and, you know, we have women who are on the SWAT team, we have women who work undercover, we have women who have canines, so there's nothing that TPD limits you to do based on your gender," said Gallaher, adding that women in those positions are good role models for new recruits. "You can do any job on this assignment just as well, if not better than a man. And if you're like me and you don't want to sit still, it's perfect because there's always something else you can do or move around."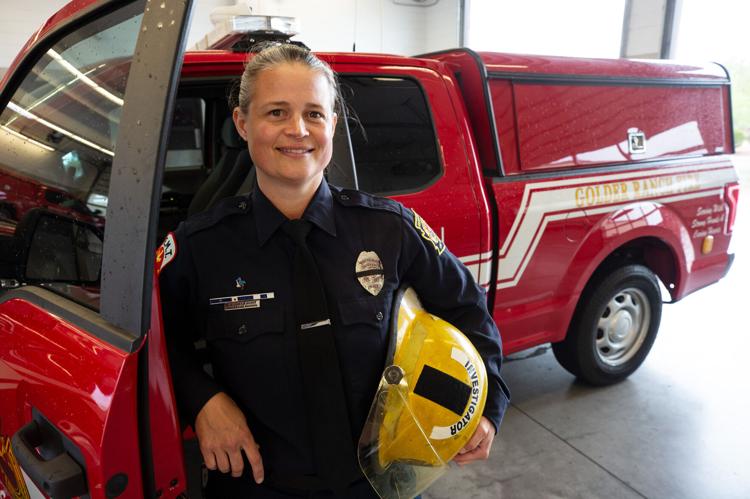 Deputy Fire Marshal Jenn Akins
Every fifth Tuesday starting at 7 a.m., Jenn Akins' world shifts, as she prepares to spend the next 168 hours ready to go on a moment's notice.
As a deputy fire marshal with Golder Ranch Fire District, Akins is part of the on-call rotation for fire investigations, which didn't change at all during the pandemic.
"If we're dispatched, it doesn't matter what time it is or where we are, we go," Akins said. "We have to stay close to the district, and we have to be able to respond in a certain amount of time."
After seven years of on-call duties, Akins says she is used to it.
"It's not the greatest thing to be on call, but it's a fun thing to do," Akins said. "It's one of the better things we do in our division."
Akins is one of two GRFD deputy fire marshals who oversee code enforcement and fire investigations for the district. They also handle investigations in Northwest Fire's jurisdiction, thanks to an automatic-aid agreement.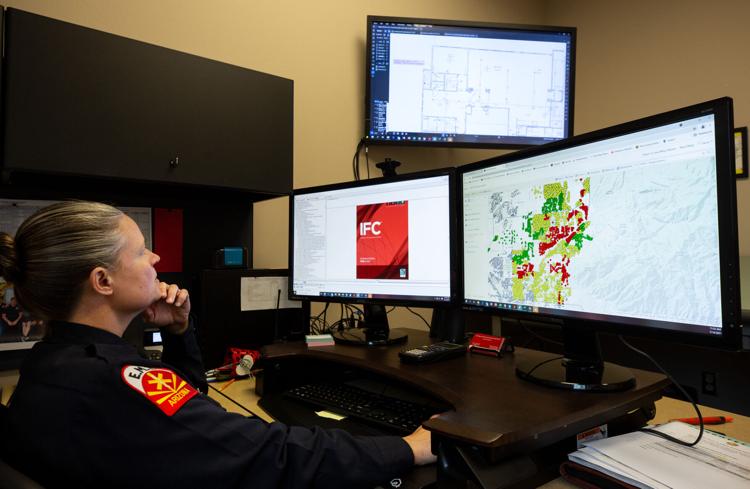 Akins was promoted to the position in 2015, after spending a little over a year as a fire inspector. Akins started with the department in 2010.
As part of Akins' position, she is in charge of reviewing construction plans for any new buildings, as well as existing buildings that are seeking modifications.
In March 2020, she reviewed more plans than she ever had in a single month, but material supply issues slowed things down a few months into the pandemic.
While commercial building has started to pick back up, recent increases in the price of wood has helped slow residential construction, Akins said.
Plan review might sound like a far stretch from firefighting, but to Akins — who graduated from Arizona State University with a degree in civil engineering — it's the perfect fit.
"My background in engineering definitely helps, because I'm reviewing plans by engineers and architects," she said. "Sometimes they look at us like we don't know what we're doing, but when they learn I'm also an engineer, their attitude changes."
Fire protection was always the plan for Akins, who wanted to be a firefighter growing up. When someone suggested she wouldn't make any money in fire services and should bank her love of math into a career in engineering, Akins switched course.
Less than two years into the workforce, Akins knew she'd made the wrong choice and returned to her original plan, even though "everyone freaked out a bit."
Akins said representation of women in GRFD has come a long way since she started, when there were only four or five women working in suppression. Since 2010, that number has doubled, but Akins said it's still too low.
"Sometimes people think it's a promotion or hiring issue," Akins said. "It's a recruitment issue. We need to spend more time, money and effort getting women to test."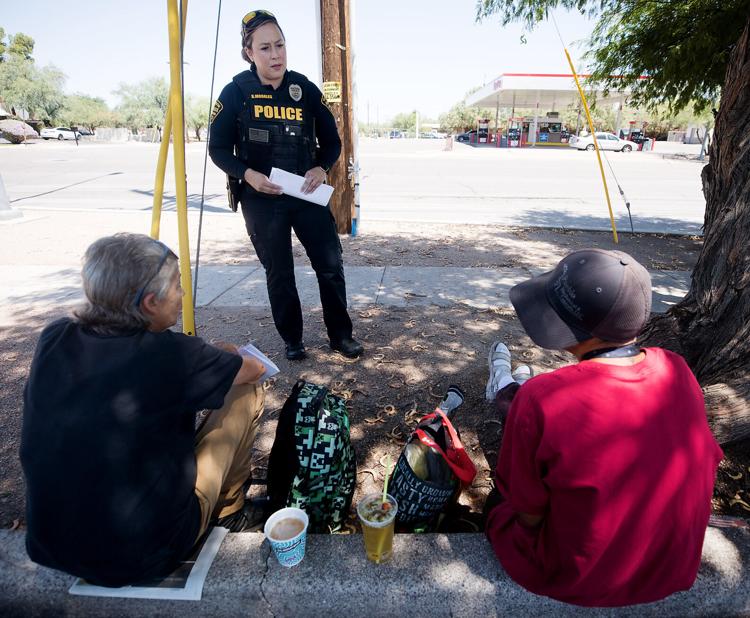 Lt. Belinda Morales
For Belinda Morales, there's nothing more important than having community representation in local law enforcement.
The native Tucsonan grew up on the city's west side, where she attended Menlo Park Elementary School as a child. Decades later, Morales and her family still reside on the west side, which she refers to as her "stomping grounds."
Now, Morales is working in her stomping grounds as a lieutenant with Tucson Police Department's Operations Division West. She works with the public and residential and commercial communities to find solutions to community problems on the west side. Working with its neighborhood associations, she said, is her favorite part of the job.
"It's important to have people who grew up in this community kind of represent this police department, right? We bring to the table, our culture, our values, our perspective, the things that are important to us," Morales said. "That's the reason I've been with TPD for 14 years."
Before her time with TPD, Morales worked for the Pima County Superior Court and then worked as a corrections officer with the Pima County Sheriff Department for six years. Altogether, she has about 23 years of experience in the criminal justice system.
With TPD, she worked in the Office of Professional Standards and helped investigate officer misconduct and community and citizen complaints. She also completed critical reviews of TPD's use of force practices and use of force incidents.
Morales was promoted from sergeant to lieutenant toward the end of 2020 during the pandemic. As a lieutenant, she supervises five sergeants and oversees about 40 officers daily.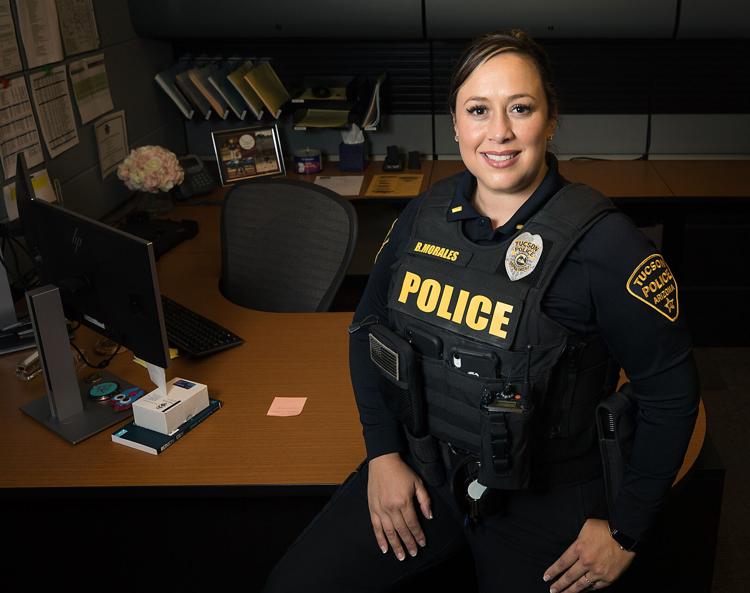 When Morales isn't overseeing her team at work, she's at home being a mom to her two young children and, most recently, a teacher to her 9-year-old son, who was being homeschooled during the pandemic.
"It was a very difficult time in my life because your relationship changes with your kid," she said. "Now, I'm a teacher from 8 to 5, and then I'm supposed to switch into mom right after school."
Some nights, after she puts her children to bed, Morales stays up until 3 a.m. working because that's the best time to get her work done in a quiet space at home.
Having flexible scheduling is the key to recruiting women in law enforcement, Morales said, especially during officer shortages.
"TPD understands what it's like to have kids and to be a mom, and they've made certain changes in order to accommodate that," she said. "When you do that for your employees, it's like they have a different level of commitment to you. So, they're doing extra work, they're doing harder work because they know they have an employer that's flexible with them. They're giving them what they need, so they're absolutely going to throw 110% into their job."
With an increase of women seeking careers in law enforcement, Morales hopes that TPD will hire part-time officers to accommodate working mothers in the future.
"I think we still have a long way to go on that. And women bring a different perspective to the profession," Morales said. "I think they bring a level of patience, a level of compassion, a level of nurturing that we need, and they do that naturally."