The Cultivate holiday market Saturday at "The Mill," 219 N. Third Ave., will be glassblower Erika Parkin's first go at selling her work in this kind of setting. 
Usually, she showcases her stuff on the gallery circuit.
Parkin will join more than 50 local vendors selling everything from jewelry, pottery and art to clothing. This is where you go for holiday shopping — and you can support local makers and a local nonprofit while doing it. A percentage of the proceeds from this pop-up market will support BorderLinks, a nonprofit that organizes educational trips to and around the U.S.-Mexico border to showcase life in the region.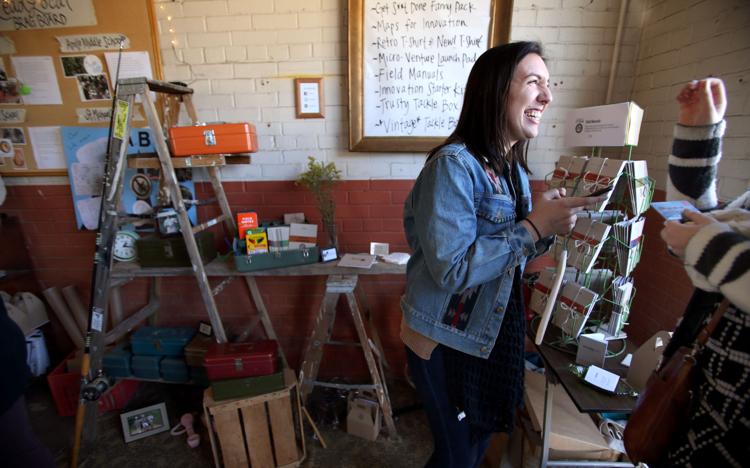 Parkin, 40, will be selling beautiful and vibrant glass pieces, including vases, bowls and ornaments through her shop Reflective Index. She makes her own art mostly on Saturdays, when she's not working her full time job making pieces for Philabaum Glass Gallery and Studio. 
She calls her style contemporary glass art and loves threading copper through the glass. 
Her art is delicate but the process is fierce. 
We sat down with Parkin before Cultivate to ask her a few questions about glassblowing and her love for the art. 
How did you get into glassblowing? 
"My father was a jeweler, and as a kid, I hung out in his studio and helped him and eventually apprenticed with him. Because I was quite young, I started working in bead stores ... and I kept seeing awesome glass beads and I thought, 'Well, I could do that.' ... By the time I was finishing high school, I was really into it. I decided to take a glassblowing class, a one-week intensive on making larger stuff like bowls and plates and platters, and I totally fell in love with the process. From there, I decided to go to college at Sheridan College ... and majored in glass and minored in designs." 
How long have you been doing this? 
"When I was about 12 or 13 (growing up in Ottawa, Canada), that was probably when he started to pay me, not much, mind you. It was $20 a week and a monthly bus pass. I thought I was doing great. It was a cool way to start, just learning about the materials. It was just a natural progression. I've be doing glass for over 20 years, professionally for probably at least 15 or 16, and I've been in Tucson since 2002." 
What about glassblowing captivates you? 
"It's liquid. It's malleable liquid ... plus, I love the fire. If you've ever watched glassblowing, it's totally mesmerizing, and I find that's still true, and there is something that can happen, and I imagine this is true with a lot of different mediums, when you're just in the right moment and you're totally one with the material. It's the most incredible feeling ... I guess it's just love, in a way." 
"You have to be focused just right and be able to put everything else in the room and the world away from you so it's just you and the material and that's it. That happens less frequently than I would like, but when it does, that's what you're always reaching for, that perfect harmony." 
How did growing up in your dad's shop impact you? 
"The possibility of what you can do with glass as a material is totally endless, and it's an incredible chameleon of sorts. You can make glass look like anything ... He taught me how to solder and stuff like that. As a teenager, I learned a healthy respect for fire and how to work with a lot of different types of equipment, so I knew I was capable. I didn't ever feel like, 'Oh. I could never do that.'" 
What is the significance of your name, 'Reflective Index?'
"It's a play on words that people mostly don't get. Refractive index is how light plays with a material, how light moves and bounces off a material, and I like that as a concept. But reflective makes it more personally reflective for me, so it's an introspection, like a history of me. It's a little bit of a play on words, but it's also a history of the things I've made. It's a collection." 
Anything else you want to say about glassblowing? 
"I would say it's not for the faint of heart. It's physically demanding. But it kind of doesn't mater. If you love it, you love it, and that's what you're going to do." 
---
If you go 
What: Cultivate's holiday pop-up market features more than 50 local artists and vendors. There will also be entertainment and food and drinks available for purchase. A part of the proceeds will support the local nonprofit BorderLinks. 
When: 10 a.m. to 5 p.m. Saturday, Dec. 2. 
Cost: Free or pay $5 in advance or $10 at the door to get in for early bird hours from 8 to 10 a.m. Those tickets are limited.