After a 100-mile journey through rain and snow, a team of hiking hotdogs emerged from the Catalina Mountains on Sunday to a hero's welcome from the Wienermobile itself.
About 20 people dressed in hotdog costumes completed the five-day charity hike around Tucson. The inaugural Hotdog Hundred raised more than $24,000 for the Community Food Bank of Southern Arizona, with donations still coming in.
"It's been really amazing to see this jokey, goofy thing I was going to do by myself turn into this very big, very real thing that brought a lot of people together," said Joe Pagac, the Tucson mural artist who dreamed up the event.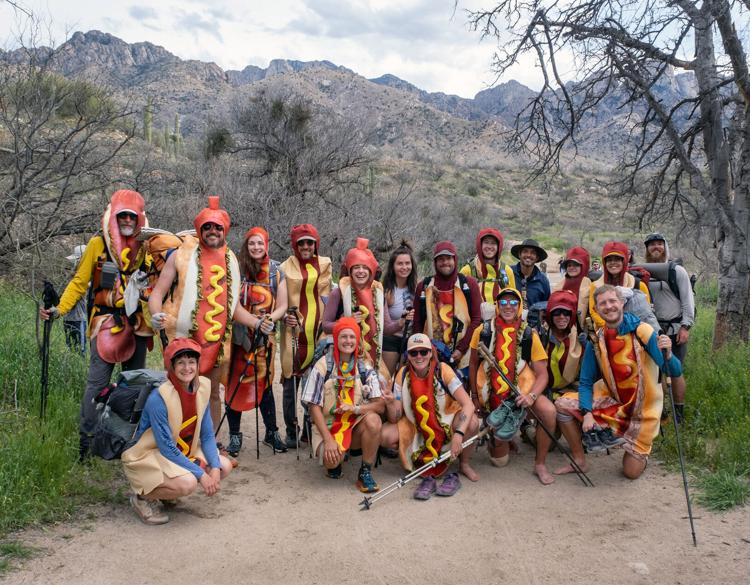 He said University Medical Center, Tucson Medical Center and Tucson Electric Power all chipped in four-digit donations, with the utility agreeing to match the first $2,500 that was raised.
The event ended up with more than 40 sponsors and a host of donated items — everything from gift cards to high-end backpacking gear — that are now being raffled off to raise even more money for the cause.
The 42-year-old whose last name rhymes with magic said organizers plan to keep accepting donations for the rest of this week, with contributors earning a raffle ticket for every $10 they give.
"We're trying to thank everybody," Pagac said.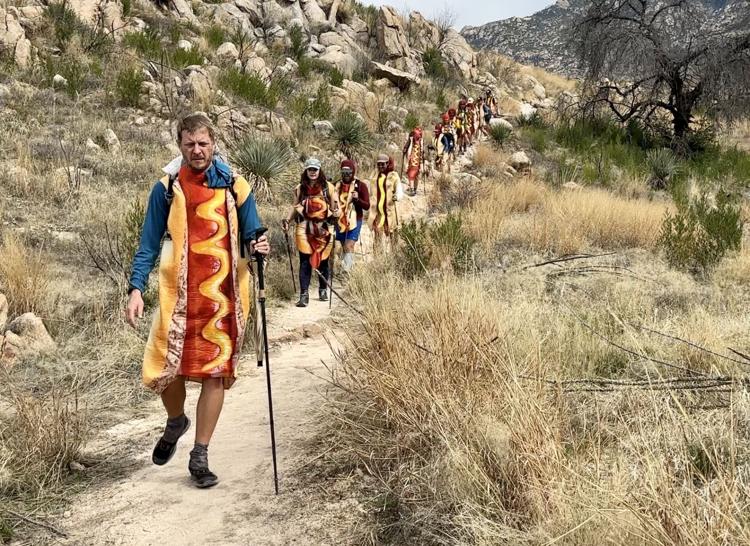 The Hotdog Hundred began March 15 in Vail and included overnight stops in the Rincons and the Catalinas. On several of the days, they hiked for more than 20 miles over terrain that rose and fell by thousands of feet.
Pagac said he planned the event for mid-March in hopes of hitting a "sweet spot" in the weather, "but we did not get that at all."
Rain poured down on them the first two days of the trek, and they hiked over waist-deep snow on Mica Mountain, high in the Rincons. Part of the group ended up sleeping in the Summerhaven post office to escape the cold, after climbing to the top of Mount Lemmon on day four.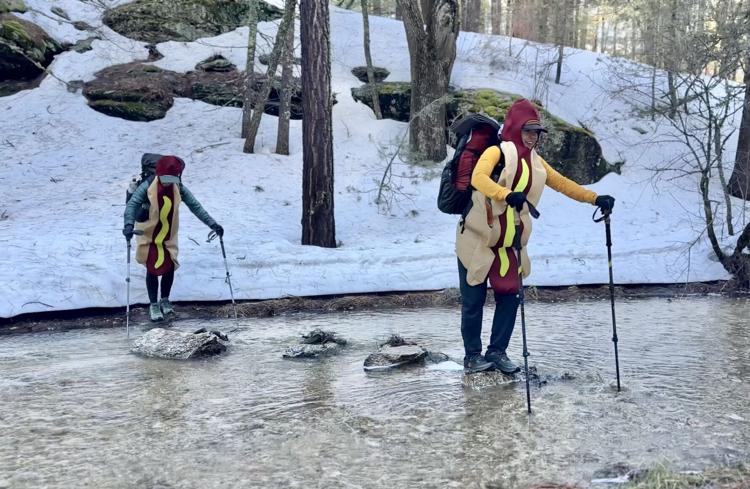 Temperatures ranged from the mid 30s at night to the high 70s during some of the lower-elevation desert stretches. That might not sound too hot, Pagac said, "but hiking in a hotdog costume in full sun can be kind of a lot."
He changed out of his costume a few times when he got too hot or cold, but other participants wore their hotdogs the whole time. "People even slept in it because it was cozy," Pagac said.
They weren't roughing it the whole time, though.
At the end of the first day, the hikers camped at Posta Quemada Ranch near Colossal Cave, where Tommy D's restaurant served Chicago-style hotdogs as DJ Hans Hutchison spun some tunes. On day three, they were greeted at the Molino Basin campground by Tucson musicians Cameron Hood and Lisa Gollenberg and food from Bear Canyon Pizza.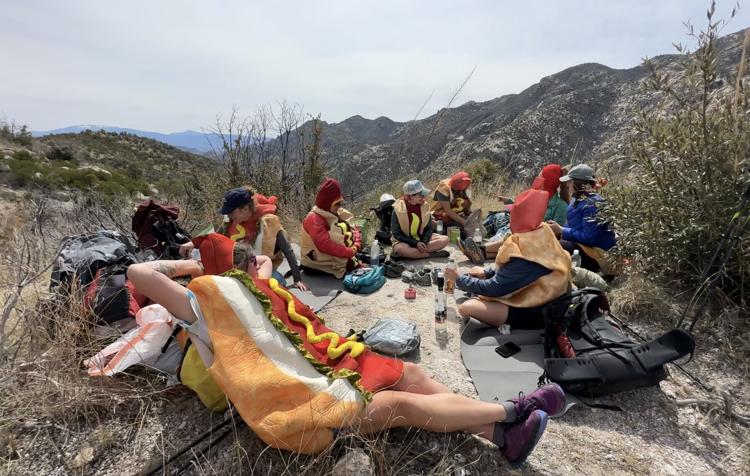 Pagac opted out of the Mount Lemmon climb, choosing instead the 12-mile "bailout" route that ended at Hutch's Pool after crossing a 7,000-foot-high pass.
On Sunday, the whole group rallied at Romero Pools and hiked out together in the early afternoon.
Oscar Mayer sent its 27-foot-long wiener-shaped truck to greet the hikers at the finish line in Catalina State Park.
"As soon as we learned about Joe's Hotdog Hundred charity hike, we knew we wanted to grab our hotdog costumes and get in on the fun," said "Corn Dog" Clara Adams, one of the processed-meat ambassadors who arrived in the Wienermobile.
They crowned Pagac as an honorary Oscar Mayer Hotdogger, with all the rights and privileges conveyed by the title.
Then Pagac handed out medals to those who completed the trek.
The group included seasoned veterans of the Pacific Crest Trail, the Appalachian Trail and other well-known through-hikes that take weeks to complete, but this trip presented a whole different kind of challenge. Over the course of a few days, they faced desert sun, pouring rain, high-mountain snow and sharp elevation changes.
"A bunch of them told me it was the hardest hike they'd ever done," Pagac said. "I wanted it to be a challenge."
Peter Paul van Kempen flew in from Amsterdam on March 10 to join the Hotdog Hundred. The 56-year-old veteran of the PCT said the route was "extremely tough" at times, but sitting around the campsite at night with a bunch of other people dressed like hotdogs was a great way to form lasting bonds.
"It was a once-in-a-lifetime experience," van Kempen said, "but I would do it again."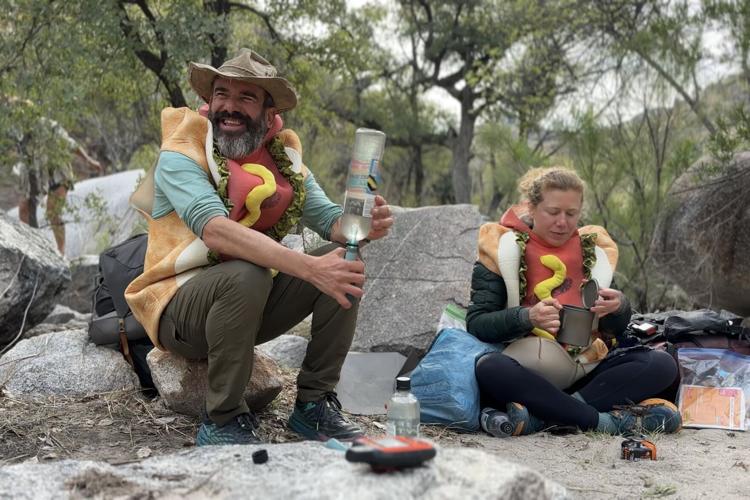 Pagac said everyone came through without any major injuries, though one man tweaked his knee in a fall and decided to skip the last two days of the trek.
A day hiker who joined the group for Sunday's final leg down through the Catalinas ended up lagging behind and getting lost in the dark. The woman, dressed in hotdog costume over layers of warm clothes, had to be guided to safety late Sunday night by the Pima County Sheriff's Department and volunteers from the Southern Arizona Rescue Association.
Pagac said any future events he puts on like this will have a tighter vetting process for participants and a longer, more specific list of do's and don'ts to make sure everyone who joins in is properly trained and equipped.
"I think we're going to do it again next year, but it might take a slightly different form," with an alternative route and some new costumes, he said. "Maybe we'll do tacos or broccoli."