As protests over the police killing of George Floyd in Minneapolis continue across the country, a group of Black Tucson artists have banded together to send a message in a big way.
Robbie Lee Harris, Adia Jamille and To-Re-Nee Wolf are gracing the walls of businesses in the Old Pueblo with their artwork as part of a Black Lives Matter mural project.
"It's a way to be part of the movement and to share my voice," Jamille said. "My focus has always been on Black culture and my experience as a Black woman, and this is a good way to do that."
The project is a collaboration between the artists and Tucson muralist Joe Pagac, who said the relentless cloud of inequality that Black people live under was just too much for him.
His instinct was to paint a Black Lives Matter mural, but he knew that wasn't his mural to paint.
"I wanted to find ways to get Black voices out there," he said.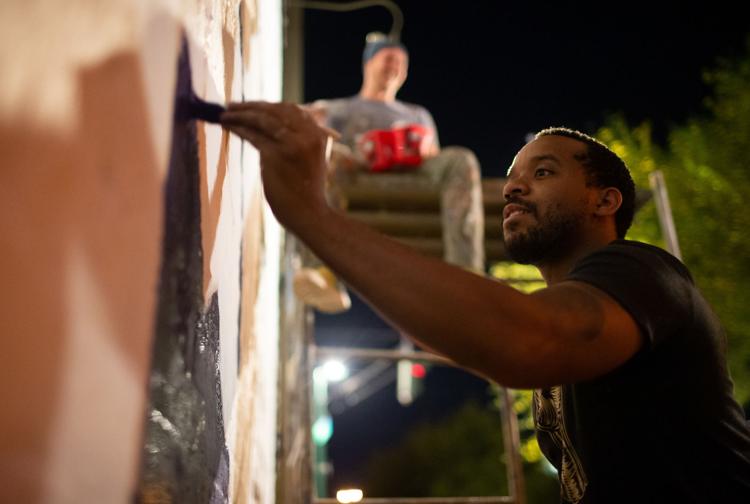 So he put a call out for local Black artists, secured the wall space, bought the paint and offered his assistance in any way he could.
But the work would be all theirs. Harris, Jamille and Wolf signed on to paint murals, and Pagac is expecting two more.
"This is not a Pagac mural project," he said. "Basically, I'm the guy in the shadows. I've told everyone, 'you can do as much or as little as you like; I'm here to assist you.'"
The murals will be temporary; Pagac says all the walls have other purposes lined up. But, he said, "It's the perfect time to get them up, to get artistic voices out there, and to keep the momentum going. It's important, and hopefully will help make change."
Harris took over a wall at Tucson's Rialto Theatre Thursday night.
He wanted to do something uplifting.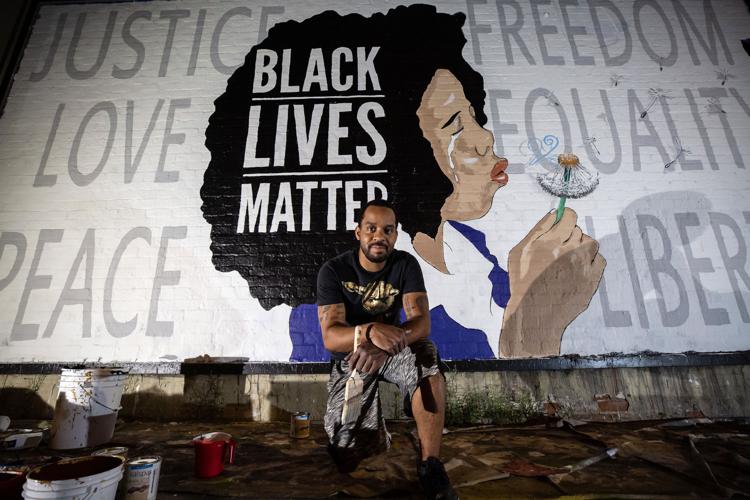 "It's a young African American lady holding and blowing on a dandelion," Harris said of his mural. "Written on the mural are the words justice, love, peace, freedom, equality and liberty."
He also wanted to do something that was hopeful and could help launch conversations about the treatment of people of color in this country.
"When you see a big art piece, you get lost in that moment," he said. "It hones you into whatever the message is. My idea is when someone turns the corner and sees the mural, they see that it portrays the innocence that the girl is wishing for. At the end of the day, I hope it triggers the conversation that needs to happen amongst everyone."
Jamille and Wolf both painted murals at the MSA Annex over the weekend.
Jamille has a baby at home and can't get out to join protests, so she jumped at the chance to do a mural.
Her design is colorful and graphic, and shows African Americans experiencing the everyday joys of life.
"I am focusing on the hope and the love I feel for Black people," she said. "It will have imagery that touches on our history while looking to the future, ready to move forward."
What it doesn't contain are the painful images so often associated with Black people — slavery, beatings, injustice.
"The Black experience is so much more than that," Jamille said. "I want to focus on the ways we are all the same. When you see the ways we are similar, it helps to break down barriers. ... When we start to see Black people as whole human beings, it will change how others interact with us."
Wolf, who already has a number of murals around town, will incorporate her calling card: ravens.
"There will be images of faces with my signature birds on them," she said. "They represent the flight of imagination that we need in order to think and dream of a different place. Ravens are symbols of wisdom, and delving into the imagination."
When Pagac first put out a call for Black artists, a number of people sent him to Wolf, and she was anxious to lend her art.
And while Pagac is known in Tucson and around the country for his murals, Wolf said his stepping aside to give center stage to Black artists is important.
"At times like this, it's an act that's appropriate," she said. "It also addresses what needs to happen — if you are going to be an ally, you sometimes have to step back and let people of color stand out front. ... Representation matters. It absolutely matters."
The Black Lives Matter Mural Project art can be seen at
• Rialto Theatre, mural by Robbie Lee Harris, 318 E. Congress St.
---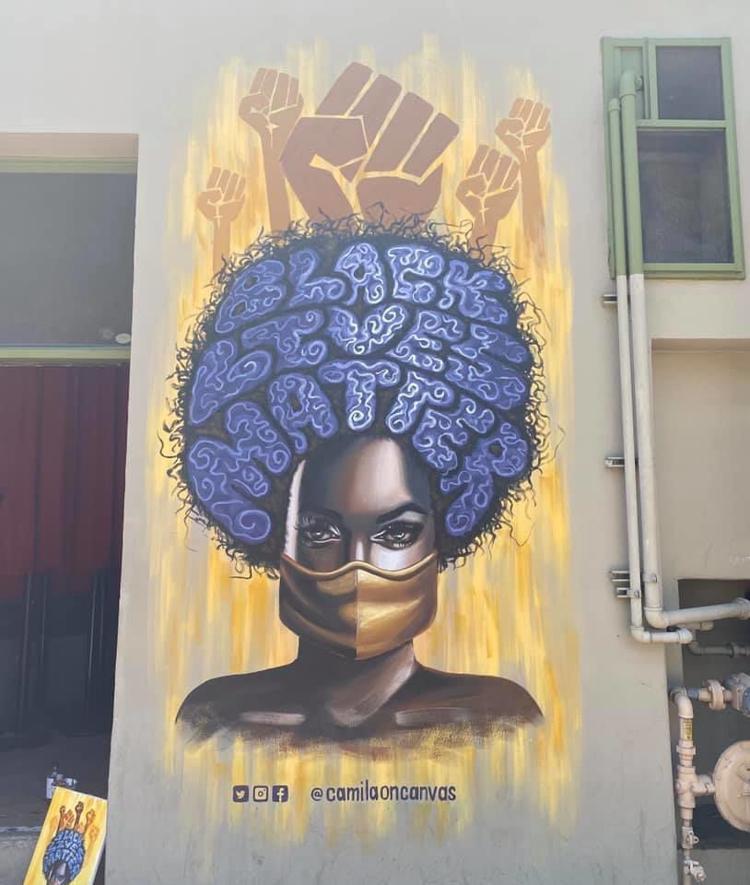 Black Lives Matter mural on Hotel Congress
Like many, Camila Ibarra was distressed about the killing of George Floyd and the oppression of African Americans.
The Arizona State University student studying civil engineering decided to use her artistic talent to create a Black Lives Matter mural.
"I really wanted to contribute to the cause and make a statement piece," the Tucsonan said.
The portrait of a Black woman with "Black Lives Matter" woven into her hair is a striking one. Hotel Congress, at 311 E. Congress, liked it and allowed her to use one of its outside walls for the mural.
"It didn't feel right to sit back knowing I could do so much more," she said. "I wanted to impact as many people as possible."