Healthy family togetherness now comes in a box, conveniently delivered to your door.
Give Garden is a new-to-Tucson subscription service that delivers recipe boxes for kids to your doorstep once a month. Recipe boxes are geared toward families with kids ages 4-14.
The goal of these boxes is to get children excited about healthy foods and to give families a fun activity to do together. 
All the ingredients needed for the recipe are included in the box as well as a recipe card with nutrition information; an ingredients list in case your family wants to make the recipe again; and instructions. Each step is labeled to indicate who should be doing that step. For example, if there's heat or sharp knives involved in a step it will be labeled for adults. 
The Give Garden's founder, Stephanie Lucas, says safety is a big goal but it's also about giving children a role in the creation of a meal; to "create as much independence we can with the child so they have a sense of 'I did that."
Another big goal is time with an adult. "Whether that's a parent, grandparent or older sibling. We think there's something pretty special about the bonding that happens," Lucas says.
Give Garden launched in Phoenix in August 2018 and currently delivers in Flagstaff, Phoenix, Tucson, Albuquerque and Santa Fe. The plan is to expand into Salt Lake City and large Texas cities next. 
Jill Germroth, a Phoenix teacher and mother, of two says she loves that Give Garden gives her family something tech-free to do together and teaches them new skills. 
"I love that my kids are learning cooking skills that they'll be able to use for years to come," Germroth says.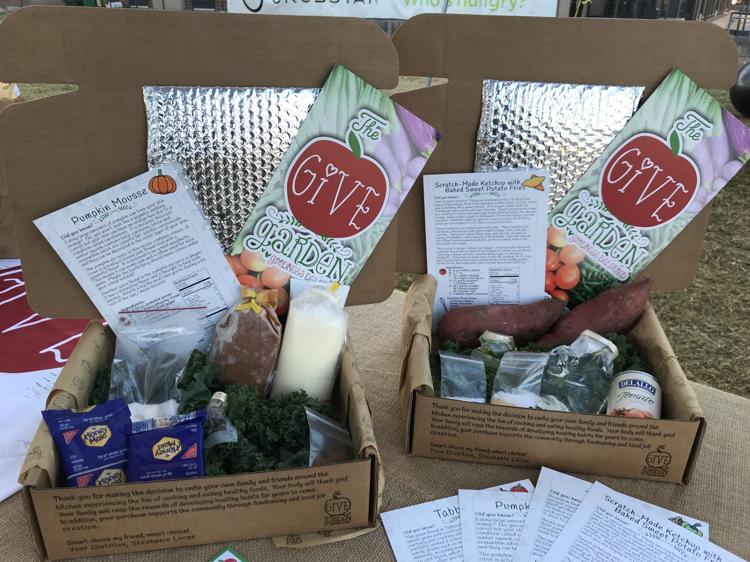 Give Garden also serves as a way to raise money for charities and school fundraisers. Fifteen percent of every box is donated to an organization you choose at checkout. 
The idea for Give Garden came to Lucas, a mother of two and registered dietitian, after working in schools and hospitals. 
"It's interesting to see the lack of knowledge kids and families have in eating healthy," Lucas says. "A lot of times parents say 'I want my family to eat healthy. I just don't know where to start.' I think that's a big obstacle."
Seeing the number of food-based fundraisers (usually junk food) schools often have inspired her to add the fundraising element. 
Lucas wondered, "why has nobody tried to find this niche market where we can support healthy habits and fundraising and bring it full circle?"  
Jen Zblyski says the boxes have helped her Phoenix family become more invested in their health and diet. 
"It's cheaper than eating out and it's a whole mealtime activity that gets us all invested in our diet and our health," Zblyski says. 
Lucas does not have a brick-and-mortar building. Instead, she has created partnerships with school districts to have food workers there prepare the foods using school kitchens. 
It's a win-win, Lucas says, because she doesn't have to get a building and she's able to give more hours to school food service workers who might not be getting enough paid work hours to sustain their lives. 
Boxes for the Tucson market are currently being prepared in Phoenix, where the business is based, but Lucas is hoping to form partnerships with Tucson districts in the future.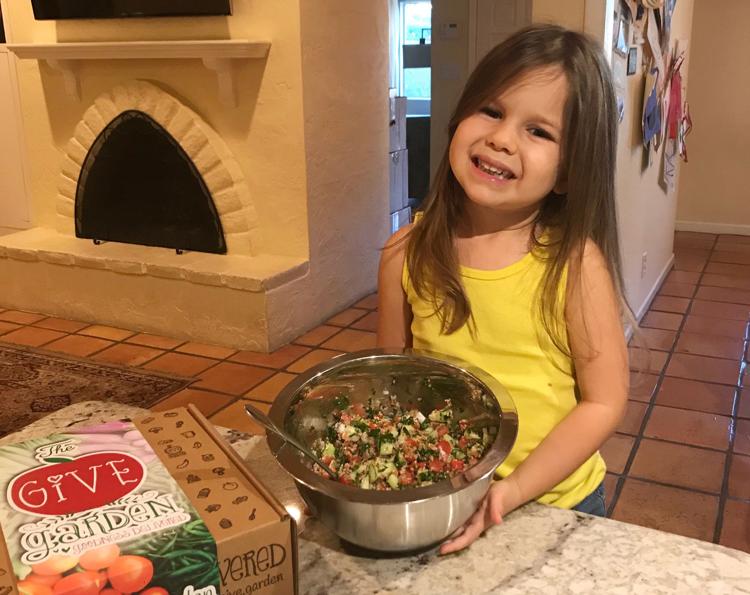 Give Garden is about "building culinary adventures," Lucas says. 
When a parent goes online to sign up they can choose from three levels. The entry level starts at about $20 a month and includes a recipe box one month and a gadget box the next month. Gadget boxes come with a commercial kitchen tool the kids can use. 
The next tier is $25 and comes with a recipe box every month, but no gadgets, and the top tier, which is $40 comes with both. There's no commitment involved. So you can try it out and quit the next month if you don't want to continue. 
Boxes rotate between entrees, sides and desserts. Typically, an entree will serve four to six people and a dessert will serve around 18. Don't worry, those desserts are made with fruits and veggies in them. 
Zbylski says it helped her "picky eater" try new foods and it's convenient. 
"It helped that she was involved in creating it," Zbylski says."I'm a single mom of a 4-year-old girl so it also helps to have everything pre-portioned and planned out. When I go shopping with Sasha I usually end up with a random assortment of groceries and not clearly planned meals."
You can also add a Party Pack to your order. For $99, you'll get recipes and ingredients for four people to make cupcakes or pizza. Gadgets for everyone to take home come with this too. So, if you order the pizza party pack, each kiddo goes home with a pizza pan, pizza cutter, apron and chef hat.
"It's kind of a cool way to have the activity be cooking related, eat what you created and you go home with this beautifully packaged baggie of goodies," Lucas says. "And our goal is: now we've planted the cooking bug in another household."
Tucson school districts interested in forming a partnership with Give Garden can email sales@give.garden. Follow @MyGiveGarden on FB and Instagram.