It all started with a big idea, a love of goats and a chance meeting between a woman on a horse and a woman in a car. 
Emily Haddon has always loved animals. So much so that she has started a business called G.O.T. Yoga (Goats of Tucson), which hosts goat yoga classes at various locations around town. 
As a person suffering from chronic illness, animals have helped Haddon get through her toughest days.
Haddon wanted to find a way to share the joy animals have brought her with others. 
So, when her friend heard about the goat yoga trend, she encouraged Haddon to start a business where she would bring goats and a yoga instructor to different venues to host goat yoga classes. 
"She kept encouraging me and I was like 'you're right. I should do it," Haddon says. "And it's the best thing I've ever done because it's like instant happiness."
About two weeks ago G.O.T. Yoga hosted its first sold-out class at Medella Vina Ranch on the east side. 
Having the goats at a yoga class makes it less serious and more fun, says yoga instructor Clara Reynolds.
"People become happier," Reynolds says. "You look around and everybody is smiling. You can almost see the tension melt away as they're hugging the goats. There's just something about those little baby goats that bring joy."
When Haddon decided to start her business, she got the goats first — 15 of them — then she got a venue figured out. All she needed was a yoga instructor.
One day, as she was riding her horse down a secluded street, an unfamiliar car approached. 
The woman driving the car pulled over and asked to pet the horse. 
They started talking and it turned out the woman driving the car was a yoga instructor who loves animals. In fact, she had a pet goat that was very ill.
"She was like 'oh my gosh you're going to teach yoga and you love animals. I need a goat yoga teacher,'" Reynolds recalls. "And I told her my goat Lulu was gonna pass and she said 'this is gonna be perfect therapy for you.' I think Lulu my goat made that happen ahead of time because that's how I met Emily and how it all happened."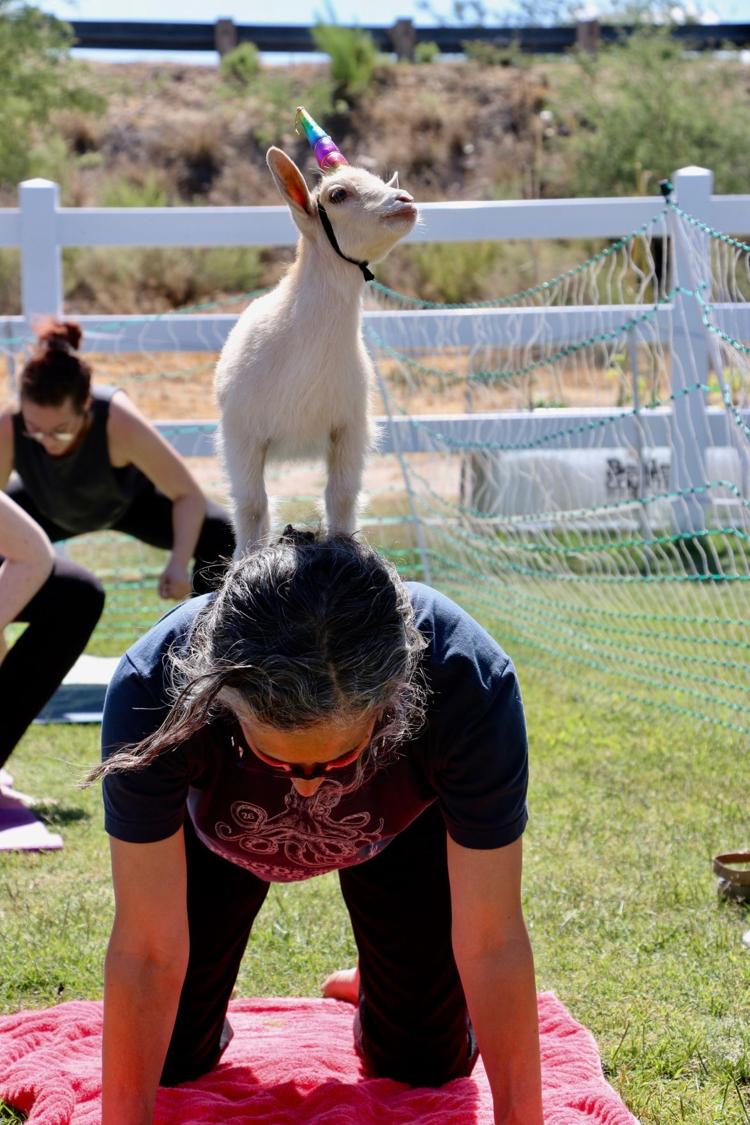 That first class was life changing for Haddon and Reynolds. 
"It was therapeutic for me," Reynolds says. "It helped me handle losing my best friend. I think that happens for a lot of people. You can see it in their face. For that whole hour of class they're not worried about anything. The whole days is gone. ... It's really fabulous."
For Haddon, a single mom, goat yoga is a way to the life she's been hoping to give her family. 
"I really think the goat yoga thing is gonna give me the independence I've been looking for," Haddon says. "It's giving me the ability to get ahead and it's so wonderful. I'm just grateful."
Haddon has since started offering two classes per week at Medella Vina Ranch and one per week at the Forty Niner Country Club on E. Tanque Verde Road. She has also hired another yoga instructor, Carla Perez. 
Midtown locations are in the works. 
Classes cost $20 and are an hour long with extra time at the end for taking pictures and goat snuggles. 
"It's so fun for everybody to feel like they're a kid again," Haddon says. "Something about it brings out that inner childhood joy."
If you go
When: Sunday, June 16, 8 a.m. (and every Sunday)
Info: There are three classes per week — Sundays and Thursdays at Medella Vina and Wednesdays at the Forty Niner Country Club, 12000 E. Tanque Verde Road. Go here to reserve your space. Classes cap out at 30. 
Follow G.O.T. Yoga on FB here.