The Parade of Lights and festival is this Saturday and you definitely don't want to miss it.
New this year is the 15 tons of snow that you and your kids can play in at the festival, which starts at 3 p.m. There will even be a hill for sledding and free discs to slide on. 
The festival also includes a health fair, live music, a bell ringing ceremony, a tree lighting ceremony, and of course, the annual Parade of Lights.
Speaking of the parade, there's a new route this year, which focuses on the downtown core and Jacome Plaza.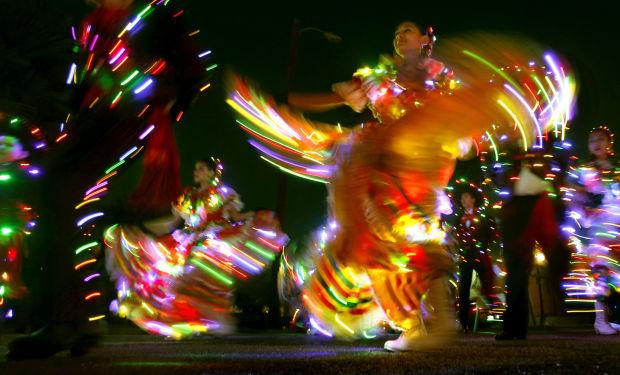 What: Parade of Lights Festival
When: 3 to 9 p.m. Dec. 16
3 to 7 p.m. Carondelet Health Network Wellness Fair
6 to 6:30 p.m. Mayor's tree lighting ceremony
6:30 to 7:30 p.m. Parade of Lights
3 to 9 p.m. Live music and entertainment
Holidays at Jacome
"Instead of just coordinating one event, we're promoting five weeks of entertainment at Jacome Plaza," said Kathleen Eriksen, CEO of the Downtown Tucson Partnership. "We are activating that public space."
More than 38 downtown buildings and 154 trees will be lit up with white lights. Thirty downtown businesses are participating in a window decorating contest and there are weekly activities planned at Jacome Plaza, 101 N. Stone Ave., all month.
"We are just super excited," Eriksen said. "This is the way it should be done."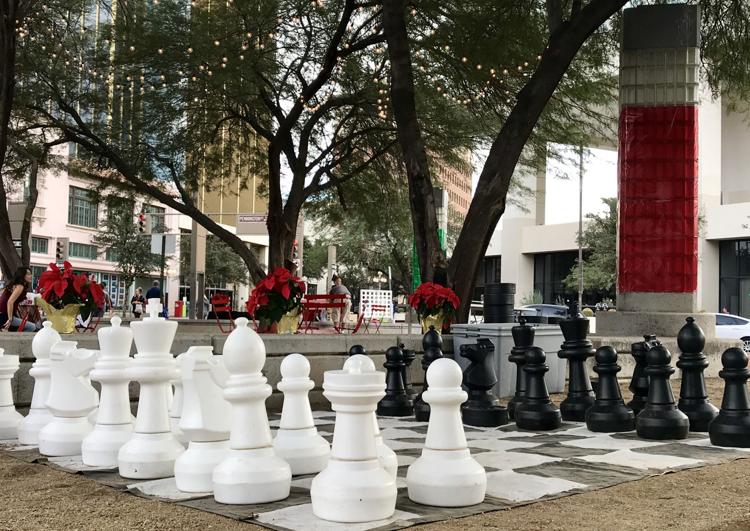 While you're downtown, get the kids' picture taken with Santa. He'll be at Jacome Plaza on weekends starting Dec. 8. Hours are 5 to 8 p.m. Fridays; 4 to 7 p.m. Saturdays and 11 a.m. to 2 p.m. Sundays.
Bring your computer and your project to the plaza and do your work in the new outdoor office space. There's free Wi-Fi and bistro tables and chairs. Hours are 9 a.m. to 5 p.m. Monday through Friday.
From 11 a.m. to 2 p.m. Monday through Friday, you can have your lunch and play lawn games and table tennis with your friends. There will also be pop-up events during these hours such as fitness classes, music, painting in the park and more. A schedule will be posted in the park daily.
Starting Dec. 8, you can grab a blanket and your family (or make it a date night) and watch movies under the stars. Pre-movie activities include table tennis, lawn games and food trucks. Movies start at sunset.
What's better than working out outside? This is a free workout series on the side lawn at Jacome Plaza throughout the month of December. You can try Boot Camp, Hatha and Vinyasa Yoga, Zumba, MMA Sweat, PiYo, Barreless Barre and Mild Salsa for free! Classes are at 12:15 p.m. Tuesdays and Thursdays and 4:15 p.m. Thursdays