The day Monica Duarte graduated from the CREATE Program in April reminded her of her high school graduation.  
Then, like now, she had the freedom to dream, to think about the future. 
Duarte, 63, says she has been homeless since 2006. After years of working for organizations such as Hughes Aircraft Company and Tucson Unified School District, Duarte says she slid into homelessness following the deaths of her parents, the onset of depression and what she calls "bad money management." 
Every January, the Tucson Pima Collaboration to End Homelessness counts how many people experiencing homelessness live in our community. Called "Point-in-Time Counts," these reports reflect the number of sheltered and unsheltered people in the area at that given moment. Those numbers fluctuate throughout the year.  
This January, the count identified a total of 1,380 people. Of those, about 450 were women. 
For Duarte, homelessness looked like years of sleeping on friends' couches, bouncing between shelters and eventually making camp with eight other women in the plaza outside the downtown library. But now she has a fresh start. A place to call home. 
A holistic approach
Duarte is one of three graduates from the first cohort to complete a new program at Sister Jose Women's Center, 1050 S. Park Ave. Called the CREATE Program for Women, the 26-week course guides women experiencing homelessness through four levels of instruction and engagement that help them regain a sense of self worth and identity while simultaneously tackling obstacles that prevent them from achieving stability. It's a holistic approach. 
"We wanted to make a program where women would be able to move forward, because what we saw was a lot of them getting trapped," says Penny Buckley, the program director at Sister Jose's. 
Buckley adds that overcoming obstacles and developing a personal identity are linked.
To move forward, women need to know "You are more than a homeless woman. You are a woman experiencing homelessness," she says. "You have had these experiences but you have these strengths.
"These are very strong women," she adds. "A lot of us would have folded."
Many of the women the center serves are older — Buckley says the average age is 47, adding that women in their 60s and 70s also use the shelter. The CREATE Program is serving women in their late 30s all the way through their 60s. They are Native, Hispanic, Caucasian and African American women. Homelessness does not discriminate. Many have lived with housing uncertainty their whole lives. 
During the program, women have guaranteed housing at Sister Jose's, along with a stipend that increases with each level. The center has 36 overnight spots for emergency shelter and runs a daytime drop-in program that serves approximately 100 women daily, says executive director Jean Fedigan. 
Women interview for a spot in the program. About three cohorts can finish the program in a year, and depending on timing, Buckley says she can start another one or two. 
Most cohorts have eight to 10 women in the beginning, but not everybody sticks it out. 
Buckley says three cohorts have completed the program so far — Duarte's was first — for a total of six graduates. 
"Some of them will limit themselves in ways where it will just not work," Buckley says of those who drop out. The program is for "women who show up, who are enthusiastic, motivated, willing to be sober and who are really serious about making a change in their life." 
Throughout the program, participants are required to attend weekly team meetings, one-on-one coaching and classes that cover everything from anger management and effective communication; to writing resumes and cover letters; to managing money and computer literacy. Participants also volunteer around the center and eventually get engaged in the broader community.
In September, women entering the fourth level of the program can do an eight-week culinary training program at the YWCA of Southern Arizona. Jon Wirtis, the director of culinary services and the executive chef for Corazón Café and Catering at the YWCA, will lead the class on cooking basics.
By the end of the class, participants will be certified through ServSafe, Wirtis says, adding that the certification makes them more employable. He might even be able to hire a few eventually.
The CREATE Program is personal, identifying each woman's strengths and challenges — and then individualized steps. 
Leona Anda, 43, just completed the first level of the program — a milestone she initially doubted she could reach. 
"It gives you the steps to become who you want to be and the support you need," she says. "It has helped me to stay clean and sober. And through the writing class, I'm becoming more self confident." 
CREATE points out next steps and partners with women who may need to work toward recovery, access benefits or develop job skills. 
"When they meet with me, we talk about their obstacles," Buckley says. "Do you have your ID or social security card? A birth certificate or a primary care physician? Have you signed up with one of the agencies?"
Many local behavioral health and healthcare providers regularly send representatives to Sister Jose's.
Buckley adds that many women arrive battling addiction, chronic health issues or mental illness. 
"The trifecta here is PTSD, anxiety and depression, all at once," Buckley says, adding that about 80 percent of the women they serve have been victims of domestic violence and about 75 percent are coping with a mental illness. 
"It's very likely that a woman who is homeless has experienced trauma in her lifetime, and then being on the street and sleeping outside, they're likely to experience it again," says Claudia Powell, the associate director of the Southwest Institute for Research on Women and chair of the executive board for the Tucson Pima Collaboration to End Homelessness. 
Rosi Andrade, an associate research professor for the Southwest Institute for Research on Women, worked with the center to conduct a community needs assessment with the goal of better understanding homelessness among Tucson women.
Based on 50 interviews with chronically homeless women, the survey found that "only a small number of women reported that ongoing substance abuse, mainly alcohol and crack cocaine, continued to be a problem." 
Women were most worried about "finding a stable place to live and sleep ... and finding work," and "almost half of the participants felt troubled by feelings of sadness, vulnerability and stress." 
That's why in addition to connecting women to the appropriate agencies, the CREATE Program also has a creative component, offering art classes, writing workshops and mindfulness sessions. Andrade leads a poetry class.
"It may sound silly to offer meditation and mindfulness, but if your brain is going a thousand miles an hour figuring out how to survive, being able to sit down, pull it in and collect yourself is wonderful," Fedigan says. 
Reclaiming identity
Reneé, 55, has been part of the CREATE Program for two months and just completed the second level. (We are withholding her last name to protect her privacy). 
The mindfulness sessions and art classes have helped her move forward mentally, leaving behind a past of abuse to "just focus on the here and now," she says. 
"I feel like a person again," she says. "I don't feel like a nobody; like a little ant you can crush. I am a person. I have feelings. And I am capable of getting back on my feet." 
The CREATE Program uses creative outlets to help the women rebuild a positive sense of self. Instructors from the community teach sewing, watercolors, jewelry making and Zentangle, a style of drawing using patterns. Many of these  classes are open to any woman at Sister Jose's. 
"It almost brings back the idea of the old sewing bee, with women sitting together and being creative and talking and having positive companionship and the pride of making something," Buckley says. "It's a really empowering activity because it builds self confidence and reinvigorates interest in things other than the immediate. Creativity is essential to growth." 
Tucson artist Gale Sherman began teaching a weekly Zentangle class there last fall. She says many of the women tell her they have seen their ability to focus increase since taking her class. 
"It's relaxing," Sherman says. "In Zentangle, we don't use an eraser. We say, 'There are no mistakes. There are only new opportunities.' ... Sometimes, someone creates a whole new pattern, and that's beautiful." 
Duarte has found healing in the writing classes. By putting pen to paper, she has found her voice. 
"I read poetry. I love poetry. But I didn't think I could write poetry," she says. "But now I've written poetry, and I'm pretty impressed about that." 
In those classes, women are encouraged to give words to their experiences and then share those with the others in the cohort, cultivating understanding and respect.
"We got to know each other through our writing, and because it was such an intimate setting, there were really no boundaries among us," says Duarte, who always wanted to write. "We wrote about our feelings and our fears and what had happened to us."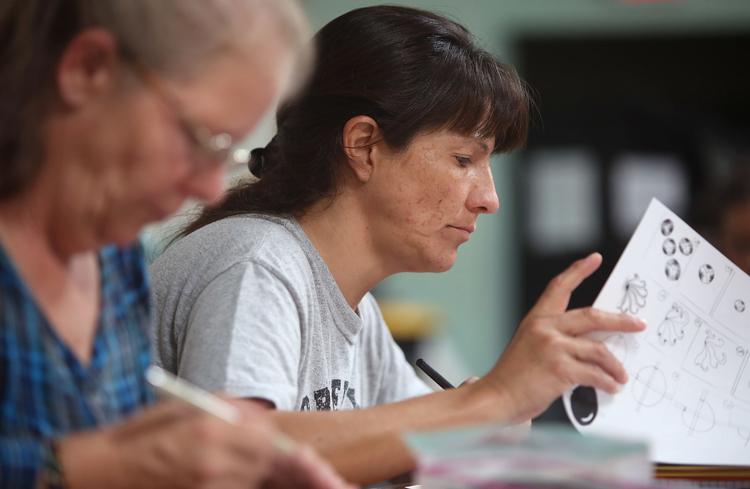 Finding community
Duarte says that in her experience, many of the women she has met are isolated from their families. 
With a distant sister and deceased parents, Duarte has found family at the center.  
"I'm not the only one," she says. "A lot of these women are suffering deeply, and we've all been through the same thing." 
Gwendolyn Hunter, 54, says she became homeless about two months ago, after a career as dialysis nurse. An injury on the job and an inability to return to work eventually drained her finances, she says. At first, she slept in her car in a Walmart parking lot. Coming to the center, she says she was "a little standoffish because I didn't know anyone." 
She never expected to find friends there.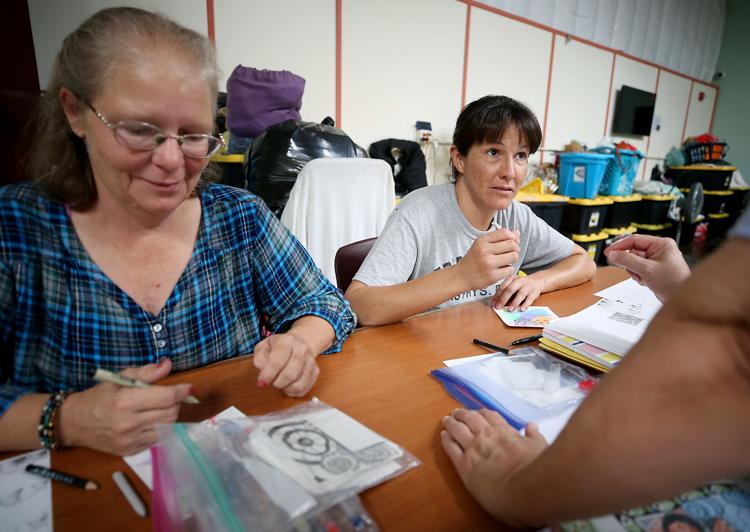 "CREATE is helping me overcome depression," says Hunter, who just completed the first level of the program. "The fact that I lack income, the fact that I am homeless, CREATE gives me something to look forward to, and it gives me a sense of camaraderie with the other women around me." 
Powell, with the Tucson Pima Collaboration to End Homelessness, says isolation perpetuates homelessness. 
"When people are experiencing homelessness, part of what is missing is connection to other people, so providing a place where there can be relationships formed, trust built and confidence built and they feel accepted and don't feel judged in that environment, that can make a really impact," she says. 
Of the 36 beds Sister Jose Women's Center has available for overnight stays, a handful go to women enrolled in CREATE. That doesn't come without its challenges, and for some it's a chance to practice the mindfulness and communication strategies discussed in classes. 
Duarte jokes that her life is fairly normal now — except for her 35 roommates. 
"This place is home," she says. "And I know it's transitional. I know that. But there are no worries here ... Jean and Penny and the volunteers, they just make it so easy ... to just walk through here and feel safe and loved and wanted. And safe." 
Moving forward
Duarte has worked part-time as a janitor for Sister Jose Women's Center since July 2017. She still lives at the center but is saving up so she can find her own place. When she moves out, she plans to return as a volunteer.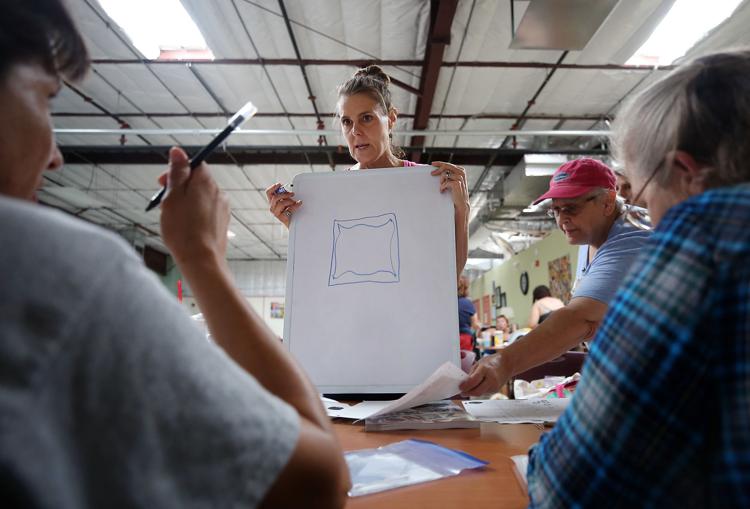 "The end goal is a sustainable life, and that would include a sustainable income and housing," Buckley says. "But it's not enough to say, 'Here's your housing or check or job. Now sustain it,' because there are setbacks. What we see are women letting things go and then they come back. (With CREATE) we're trying to cut that recidivism to have women graduate with the tools they need to really re-enter." 
Of the women who have graduated so far, one is in a two-year sober living program. Another got her social security benefits and stayed with a friend while hunting for affordable senior housing. Another woman had housing options, but chose to go back to living in her car. 
That can happen, too, Buckley says.  
"We're trying to fill the gap for women who are stuck, because you need time," she adds. "It's not like you can just go and get things all done in a week. If you don't have any ID, it's hard to get it. ... We're really trying to build steps for women. We don't have one size fits all. We know every woman is unique in strengths and risks and limitations. What I think they should have might not be what they want." 
Duarte's income now includes her janitor job and social security benefits. She's considering finding another part-time job to supplement her income. She has her driver's license again and a copy of her birth certificate. She found a primary care physician and is taking medication for her depression. 
But she remembers how she thought before — that she deserved the life she had fallen into, that she should fix it herself, that life wasn't worth living, that she should internalize everything and tell no one. 
She's not that person any more. Now she has a community. And an identity. 
"Being able to have that security of having your identity back, and not just on paper, but to finally start feeling like, 'You know what? I'm going to crawl out of this ditch' is just wonderful," she says.  "I pray (homelessness) doesn't happen to me again, and I'm going to make sure it doesn't."