There have been enough challenges during his first year as a business owner that Drew Berryhill could have given up.
But that's not who he is. 
Like the cactuses he grows that thrive despite the most challenging circumstances, resiliency is one of Berryhill's defining traits. 
At the end of 2020, less than a year after launching his plant nursery and shop called Drutopia, Berryhill was evicted from his home — where he also operated the business — after a falling out with a former adviser turned landlord. But throughout his life, Berryhill says he's always figured out ways to keep growing and moving forward.
"(My mom) showed me the value of resiliency from a young age, so if I was going to be anything I was going to be resilient," he says. "If I was going to do anything, I wasn't going to give up no matter what the situation or circumstances."
Four months after the eviction Berryhill's Drutopia is once again open for business — this time as a pop-up shop carrying a mix of cactuses, succulents, flowers, vines and other plants, set up in the corner of the parking lot of the Dunbar Pavilion.
It's a temporary setup as Berryhill works to transform the adjacent Dunbar Community Garden into a botanical garden that will also be a retail space for his plants.
"There's so much goodness and beauty that came out of it, but it was a burden, it was a trial...," Berryhill says of the hardships he faced over the last year. "But it all truly was for the best and it made way for this opportunity."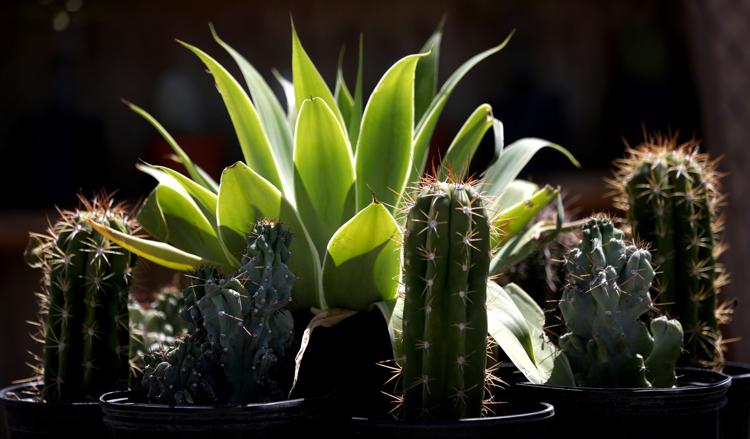 'A deep appreciation for life'
Berryhill first opened Drutopia in March 2020 in the yard of the midtown home he lived in for several years.
The business was inspired by three of Berryhill's passions: plants, animals and rocks and minerals. He envisioned bringing these things together to create an intimate and accessible oasis where anyone could relax and be surrounded by life.
After years of managing a cellphone kiosk at Costco, Berryhill says he was looking for something more fulfilling. The idea to create such a space came to him after deep soul searching.
"I was trying to figure out who I was, what I wanted to do that was impactful and to build some sort of legacy for myself, for my children," Berryhill says.
He turned to the things that brought him joy as a child.
"I grew up with multiple animals, my mom and dad always having some sort of herb garden or some sort of garden," he says. "Nature always called to me… there was always a deep love and appreciation for life."
At a time when so many aspects of life were shutting down because of the pandemic, Drutopia was just getting started and Berryhill finally felt he was fulfilling his life's purpose.
There was a lull in business shortly after Berryhill opened when stay-at-home orders were in effect, but things picked up and remained steady through the spring. 
"Once people started moving around again, plants were wildly popular," he says. "People were at home and they were wanting to create that garden they never did, or show the garden more love or get more houseplants."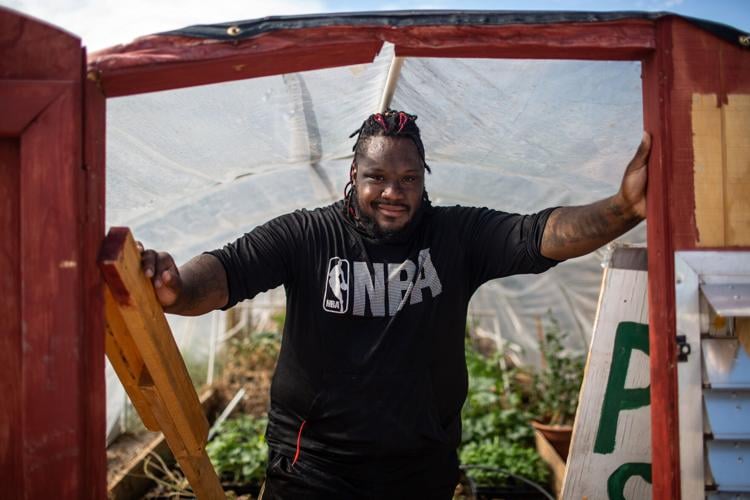 Berryhill says the biggest boost came in the summer after anti-racism protests following the death of George Floyd led to a surge of support for Black-owned businesses.
Drutopia was added to the #BlaxFriday directory, which started as a Google document and later became a website, listing Tucson's Black-owned businesses. It was quickly assembled by Black community leaders and widely circulated throughout the community. 
"Things started to really take off at that point," Berryhill says. "That was a huge turning point … it was almost like night and day."
Then things took a different turn.
In May, a businessman and horticulturist who helped advise Berryhill and had given him a loan to start Drutopia, purchased the home Berryhill lived in and became his landlord. The two had become friends over the course of the year they knew each other and Berryhill says they had a verbal agreement that the property would be sold to him in the future.  
A couple months later, the relationship soured when the landlord served Berryhill with a notice to end his month-to-month lease, giving him 30 days to vacate the property where he was also operating Drutopia. The landlord intended to use the property to start his own plant business, Berryhill says. 
Berryhill says he was completely blindsided by the action, which set off a months-long legal battle, ultimately ending with his eviction in December.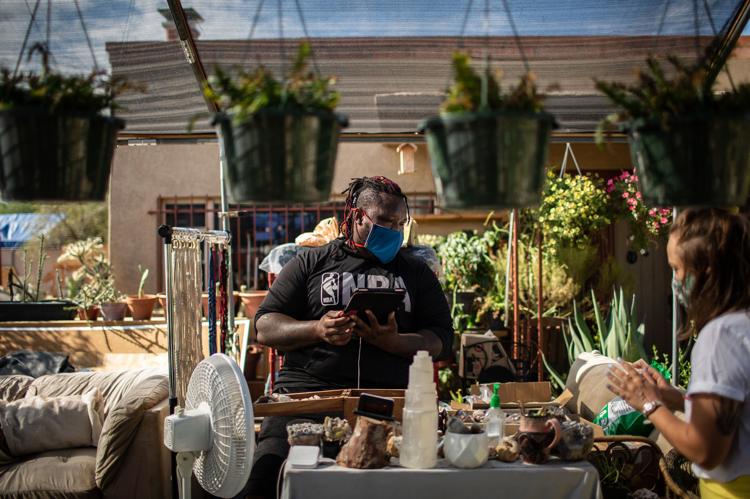 The rise of the Drutopians
Over the last year Berryhill has shared the ups and downs of Drutopia on social media and the community has rallied behind him time and time again.
The Drutopians, as Berryhill calls his supporters, have been "the biggest saving grace" during a year that's been filled with challenges.
In early July when a monsoon with heavy winds knocked down plants and destroyed the nursery, a handful of people showed up at Drutopia the next morning to help Berryhill clean up and get back up and running.
Later that summer as Berryhill was fighting the eviction, more than 350 people donated a total of $13,000 to a GoFundMe he set up to help pay legal fees and relocate the business.
The outpouring of support has kept Berryhill motivated. 
"That made all the difference in the world, in the situation and they've been fiercely loyal and present and continued caring," Berryhill says.
Gabriele D'Ippolito and his girlfriend were among the earliest Drutopia customers. A hand-painted sign on the side of the road advertising a plant sale caught their eye and prompted their first visit. Berryhill's personality made them repeat customers.
"We kind of hit it off in the beginning, he's got a good personality, generous, good sense of humor," D'Ippolito says. He recalled buying a plant or two and Berryhill giving them another for free. 
"It said a lot, it meant a lot," D'Ippolito says of the gesture. "I think that kind of brought us back, and after the second, third time we were there, we started to learn a bit about each other … so from there on it just grew into a friendship at that point." 
D'Ippolito, a jack of all trades, helped Berryhill move his belongings when he was evicted. It was that experience that cemented their friendship which has led to a working relationship. D'Ippolito has been helping Berryhill reestablish the nursery and with other business operations.
"You never know how people are going to respond when you're in your time of need. I'm not the type of person where I expect people to respond in any particular way or feel entitled to some sort of response or help, so when it comes in such a real passionate and committed way, I can't help but be thankful, appreciative" says Berryhill of all the ways the community has supported Drutopia. "It resonates, it definitely solidifies what I'm doing, why I'm doing it, so it's very motivating."
In the weeks leading up to the eviction deadline, the community showed up in a big way once again.
"I was presented with the idea of potentially taking over the garden space (at the Dunbar Pavilion) and using it as my retail space," Berryhill says. "I had heard the Dunbar mentioned throughout my time in Tucson, but I had no idea what it was, I had no idea about the history."
After meeting with the Dunbar team to learn more about what they had in mind for the garden a partnership was formed.
"There's so much historical significance but at the same time there's a need for new life, there's a need for rejuvenation of that space," he says of the project.
'A place that's full of love and activity and excitement'
The Dunbar Pavilion sits inside the Dunbar Spring Neighborhood, one of four historically black neighborhoods in the city, just north of downtown. It encompasses two buildings — with a combined 60,000 square feet, an outdoor basketball court, playground and community garden.
For more than 30 years, the main building was the Dunbar School, Tucson's only segregated school for Black students starting in 1918 until it was desegregated in 1951. The following year the newly integrated school was renamed John Spring Junior High School and served students until it closed in 1978.
Tucson Unified School District sold the vacant school to the nonprofit Dunbar Coalition in 1995 and since then the group has worked to restore and renovate the space into an arts and culture center dedicated to preserving and honoring Tucson's Black history.
"It's taking something that was a symbol of something that was so negative in one sense and turning it into something positive like a community center. So in line with that mission, the Dunbar has gone from a dilapidated space where people were doing drugs, graffiti and camping out to a place that's full of love and activity and excitement," says Sam Brown, board chair of the Dunbar Pavilion.
"What the Dunbar provides for the community is a couple of things, No. 1 it's a hub for the African-American community in Tucson which doesn't have a lot of physical spaces that represent Black life … It's a place for education, we're building a history museum on Black history in the Southwest … and really teaching folks about that history, and No. 3 is as a meeting place for large events," Brown says.
Brown acknowledges that like Tucson's other historically Black neighborhoods, the Dunbar Spring neighborhood has changed over time. 
"They've all been gentrified, student housing has gone up, Black folks have moved out to other areas in town and essentially the black community in Tucson is wherever we create it," he says. "The one thing we really stress at Dunbar is that Dunbar is a Black-owned space and always will be. It's a Black-serving space and to some extent it doesn't matter what happens with the neighborhood around us we're always going to be what we are and we're always going to serve who we serve regardless of what changes around us." 
The pavilion is home to several tenants including the Barbea Williams Performing Company which specializes in African-centered dance; the Dunbar Barber Academy where Martio Harris teaches his students not only how to properly cut hair, but also how to run a successful business; and the IDEA School, a charter school where the Dunbar's history and segregation is part of the curriculum, Brown says.
The Lander Auditorium at the Pavilion, named for Cressworth Lander, a former Dunbar student and longtime Tucson housing advocate, public servant and volunteer who was instrumental in spearheading the revitalization efforts of the Dunbar, serves as a space for community gatherings, weddings, performances and other social events.
Both Brown and Berryhill describe the Dunbar and Drutopia partnership as a "match made in heaven."
"He was looking for a home and we have a community garden. We were looking for something great and dynamic and special to do with the community garden," Brown says. "Dunbar is unapologetically a Black space in a city that doesn't have many Black spaces and having someone with Drew's perspective and outlook and he's a homeboy, he's from Tucson, it just matched."
Brown says Berryhill's vision for Drutopia aligns perfectly with the Dunbar's vision.
"It's very important to me and I know a lot of the board members too, that when we meet people and talk about Dunbar that we always bring up the history and we always bring up the ancestors and Cress Lander and the people who made this possible, because we knew we stand on their shoulders," Brown says. "And Drew's approach to the land is the same thing, like land is a holy thing and it's not just a thing to be used for whatever you need it for, you have to give to the land and the land will give back to you."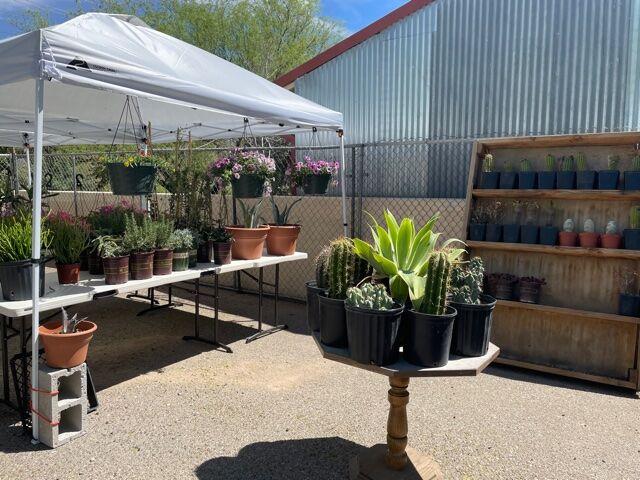 Building Eden
Berryhill took a break to regroup following the eviction and get settled again. But he hasn't slowed down much. 
Together with D'Ippolito, Berryhill has been working on setting up a nursery to grow plants on 8 acres of land on the west side, after a fellow Salpointe alumnus connected him with the property owner.
Two weeks ago he opened the Drutopia pop-up shop in a corner of the Dunbar parking lot, to continue his retail operations while the plans and work on the botanical garden start to shape up.
Over the years the space has been used on and off for community gardening. Berryhill has been working with an architect and contractor to work with the existing landscape but also give it some new life.
"The vision for the botanical garden is like a marriage of a botanical field and retail space where we're creating that oasis vibe, that Eden-like vibe where people can come hang out, appreciate, chill — and stuff be available by default if they want to buy — it won't be super sales-y" he says. "It's going to be more of a showcase, exhibits, displays stuff like that but in a way that's incorporated into the landscape," Berryhill says.
Ideas for the space include the addition of a water feature which could also be used for irrigation and an event space for workshops, classes and community gatherings. He wants to create a space where people will want to spend time and visit often.
"The space has some unique energy, it's more of a leveling up idea, not taking away anything but adding to and giving it the love and attention it deserves," Berryhill says.
Arizona Daily Star Reporter Stephanie Casanova contributed to this story. 
If you go
When: Thursday-Sunday, 10 a.m. to 5:30 p.m. Hours may vary throughout the summer. 
Where: The Dunbar Pavilion, 325 W. Second Street. Southeast corner of North 11th Avenue and West University Boulevard.