With themes that included everything from family, dating, the pandemic, loss, immigration, to school and sports, reading the poems teens submitted for the first-ever Sunnyside foundation poetry contest was like a "peek into everyone's soul," says contest judge Nicole Dahl. 
More than 50 Sunnyside district high school students submitted poems in both English and Spanish to be judged in the contest which came with a $100 prize and publication on #ThisIsTucson. 
"It was much harder to judge than we realized because we got so many excellent submissions," say Kerri Lopez-Howell executive director of the Sunnyside Unified School District Foundation, which organized the contest.
In fact there were so many great options to choose from that the judges chose four winners instead of three as originally planned and coincidentally all of the winners happen to attend Desert View High School. 
Lopez-Howell plans to showcase more of the poems throughout the summer on the foundation's Facebook and Instagram and find other ways to highlight students' work throughout the school year. 
"There is so much talent in the district and I want to find a way to keep supporting artist's voices," she says. 
Poet Nicole Dahl, who is also the creative director of Hotel McCoy, helped judge the contest and set up the scoring system the poems were judged on — a five-point rubric in categories that included language, how captivating the content is, spelling and punctuation, and subject and meaning. 
"This was such and honor and treat and welcome reprieve during these sort of darker times," Dahl says. "Poetry is therapeutic and I think younger minds tend to be more open with feelings so the poetry is just honest and open, and all of them were written from different perspectives."
She says it opened her eyes to all the things teens are dealing with during this time.
"It made me realize we need to have extra compassion and love for teenagers right now as they're navigating a pivot into the unknown," Dahl says.
Read the winning poems and learn more about each writer below. 
"a-la ru-ru Niña" by Isabella Espinoza
in a house built for four ; two immigrants raised nine kids.
in a country founded on the oppressed and diverse they settled.
America wrapped her arms around morenito children and sang lullabies in their native tongue.
She made citizens out of them.
She allowed them to sneak into her values and borrow her traditions.
America watched them grow, she let them go.
They will come back to her soon, they need to remind her of her roots.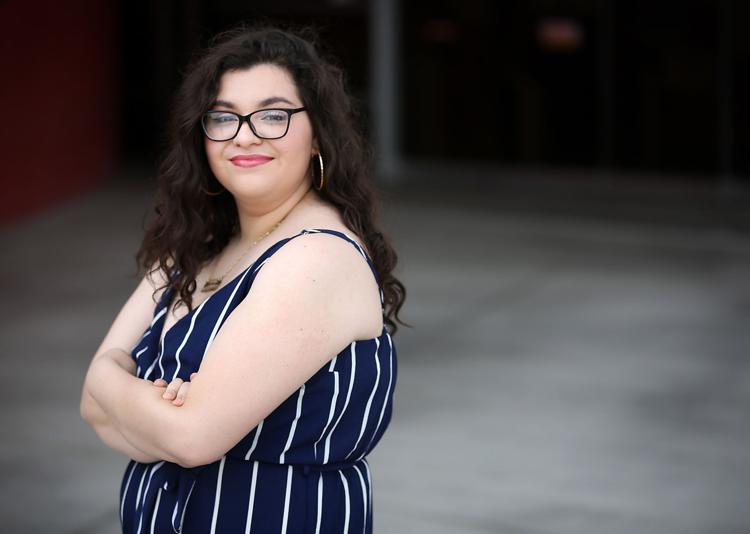 Isabella Espinoza, 18 is a senior at Desert View High School and is the class valedictorian. She started writing poetry as a sophomore and used it as a way to work out her feelings. "They weren't necessarily for anybody else to see, it was just kind of for whatever situation I was in to figure it out, almost like a third party perspective," she says. "I'd get it out of my own head to figure out what I had to do or what I was actually feeling." Her poem was inspired by her grandparents who are immigrants and was written in response to anti-immigrant rhetoric.
The theme for Espinoza's graduation speech is community. "I think what I learned this year the most was that being from Tucson and being from this community — it's a good place to come from," she says. "I'm from south side Tucson... and everyone always has these opinions about what comes from it and I think they're wrong. There's so many good people there and I really just wanted to to put that in my speech and tell people this is a good place to come from." Espinoza is the recipient of the prestigious Flinn Scholarship and she will attend the University of Arizona in the fall where she will major in biology. 
---
"I'm not what you expect me to be" by Isabel Borquez
To whom you expect me to be
I am not a straight A student
Like my teachers expect me to be.
I'm not the perfect child sometimes
Like my parents expected me to be.
But I try to make an impact
I'm not the best employee.
But I try and accomplish what my boss expects.
You expect me to bring carts in for 15 minutes
But you don't know the pain of standing in the heat
Swallowing a pool of water
And just having to stand in the 113 degrees heat
I wish i could be the best granddaughter.
Like i am expected to be.
My dogs expect me to feed them everyday
I come home with blisters on my feet
My dark circles darker than the dark skies.
But my dogs still expect me to feed them.
I feel the need to please everyone.
I know people have huge expectations of me
I feel like a failure sometimes
Because im not what people expect.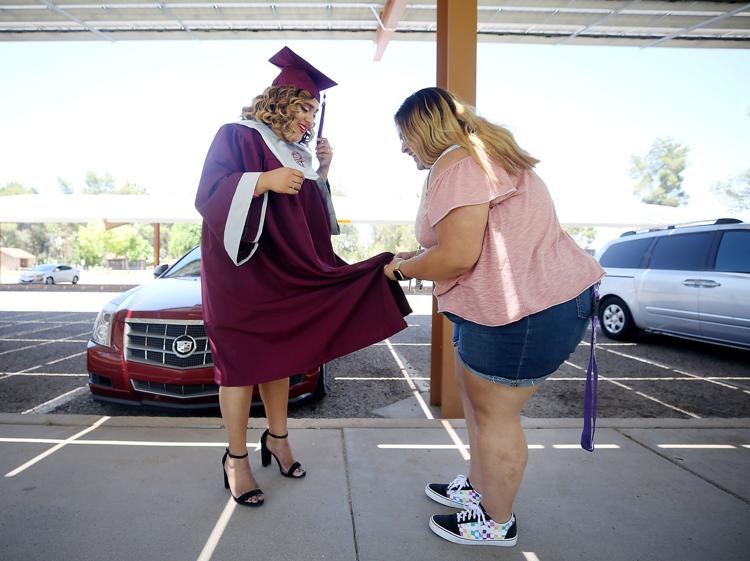 Isabel Borquez, 18, is a senior at Desert View High School. She works up to six days a week at her grocery store job, mostly evenings and then stays up late to finish her online schoolwork. "It's a struggle, but anything to get me to graduate. I'm managing it pretty well," she says.
Borquez says she never really saw herself as a writer or poet until this year when she was placed into a creative writing class and wrote her first poem about her grandmother who passed away. "It seemed to really, really open to me that poetry can help you express your feelings in a way that you never thought you could and put (your feelings) into sentences that you can never pronounce clearly when you're speaking physically," she says. After graduation she's planning to either attend Pima Community College or Western New Mexico University to study psychology or criminal justice. 
---
"Alpha Minoris" by Jing Yi Lei 
Guiding light to moving Earth
No star nor comet can compete with you
Always there to be our guidance,
Fixated firmly to the axis
Immovable to the celestial pole
Continuing on with no complaints  
Soon, I will be the light
Bright enough to keep in sight
still an incomplete alpha
For a future of bright lights
The future of what you wish
The future of what you see
Or a daring shooting star
To be anything that personifies you.
Illuminating the darkest hours
Watching the dull star showers
Constellations that perpetuate,
Nights that'll feel more luminous
Jing Yi Lei, 17, is a junior at Desert View High School. She enjoys writing short stories and prefers mystery, fantasy and fiction genres. This year, Lei has spent a lot of time learning about poetry and analyzing poems in her creative writing class and says she appreciates how free and expressive poetry can be. Her poem was written as part of a class assignment about generations. "It talks about family in a way, since there's three stanzas, it goes from my grandmother to my mom and then to me and it talks about how the times have changed." 
---
"Untitled" by Alexandra Nava
Pero eso no lo hace bueno del todo 
Pero se roba muchas vidas 
Sobre todo la de las chicas 
Pero no podrás salir de ahí
Tienes que ser buena actriz 
El dia que se canse de ti te destrozara 
Pero a ti siempre te dolerá 
Recuerda siempre respetarlo 
Si te dice que te quiere recuerda que puede actuarlo 
No le gusta que dejen de besarlo
No pienses que el enserio en ti está pensando  
Alexandra Nava, 16, is a sophomore at Desert View High School and says she uses writing and poetry as a way to express her feelings. "I have a strong interest in writing because it's a way I can communicate my feelings to others without being judged," she says. "I am a person that doesn't like to talk about how I feel but writing helps me get all of my feelings out in a creative way." She says her poem is about "all the abusive relationships in this society. How can someone play with your mind using things they can afford to make you feel loved, but at the moment you make something they dislike they throw you away like nothing."