On Mondays, in a small room bursting with brightly-colored fabrics, the clatter of 10 sewing machines underscores greetings in Arabic, Swahili, French, Farsi and English. 
Not to mention Tigrinya, a language spoken by several Eritrean women in the group. 
Refugee women from around the world have been brought together in Tucson by a sewing group. Stitch by stitch, they're creating something new.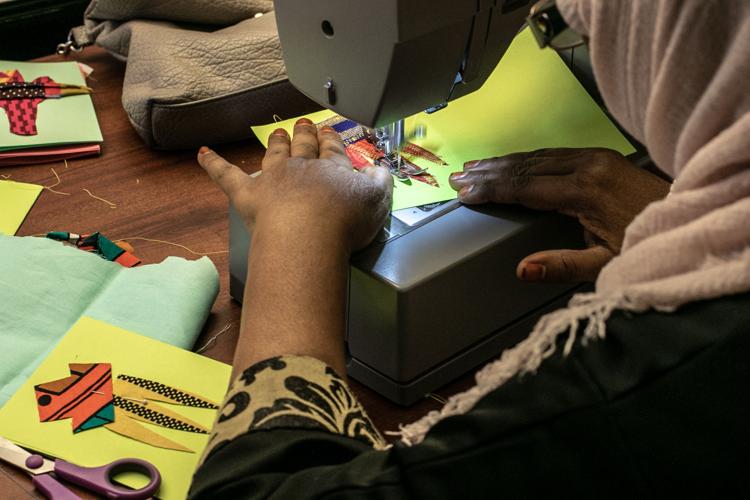 For about two years, Lutheran Social Services of the Southwest has organized a weekly sewing group for these women. The agency works with vulnerable populations across the state and is one of three agencies in Tucson that resettles refugees. Through the sewing program, women not only learn to sew but also to sell what they make at local markets throughout the year.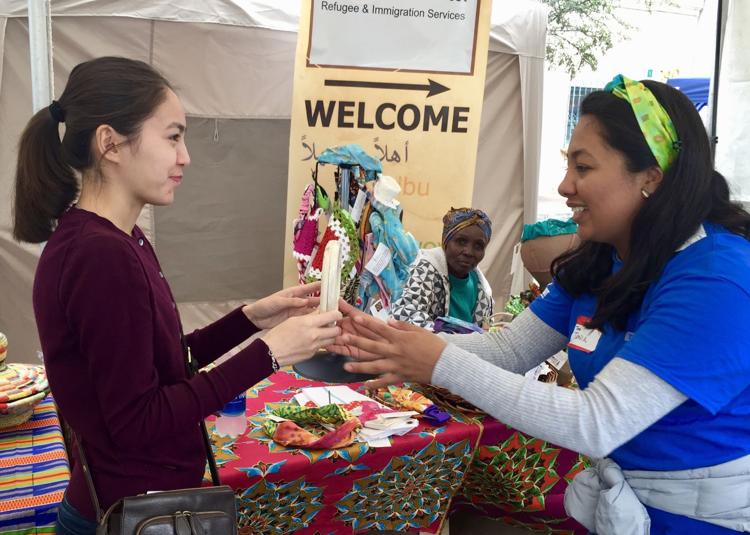 "They're making things, making friends and making money," says Dana Smith, the program's lead volunteer and a family nurse practitioner at St. Elizabeth's Health Center. Smith works with several other volunteers. She says it's a practical way to help refugees already resettled in Tucson, even as the U.S. prepares to admit no more than 30,000 refugees in the new fiscal year, compared to 45,000 allowed this year. 
The women make greeting cards; aprons; place mats; messenger and hobo bags; and head bands, with prices ranging from $10 to $35. Each item has a small card sharing some information about the woman who created it.
When an artist makes a sale at a market, she keeps 80 percent of the profit, Smith says. The rest goes back into the program to purchase supplies, repair machines and cover market entry fees, Smith says.  
"For many of them, this is their chance to get out and learn, make progress and do something for themselves," says Lorel Donaghey, the program director of Refugee and Immigration Services in Tucson at Lutheran Social Services of the Southwest.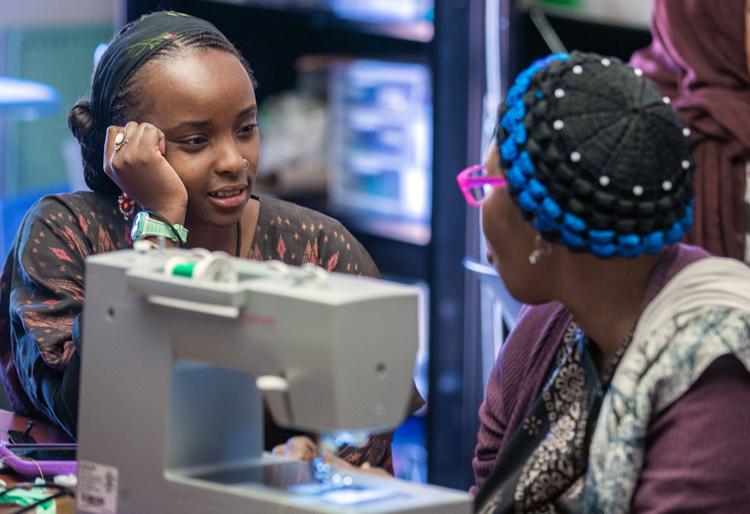 Women who have participated in the group in the last few years have come to Tucson from Afghanistan, Syria, Eritrea, Somalia and the Democratic Republic of the Congo, Smith says. 
The agency has a similar project in Phoenix. The Tucson version gained momentum when a donation of sewing machines prompted Smith, who had already been helping refugees with resumes, to turn her attention to sewing — using existing skills and YouTube tutorials to develop lesson plans.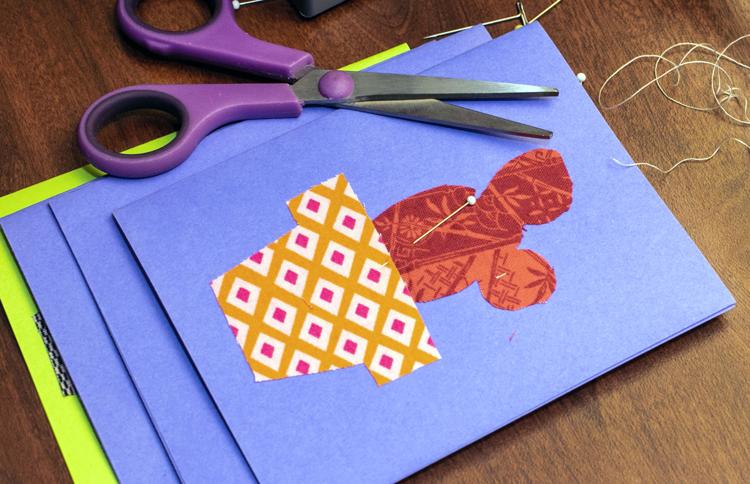 "I would have it all laid out so people could learn how to make a turban, a purse or a hobo bag," Smith says. "We had a tutorial so it didn't matter what language you spoke, because sewing is kind of a kinetic thing." 
Every week, five to 10 women show up, Smith says. A second class on Wednesdays focuses on conversational English, including vocabulary pertinent to sewing and marketing.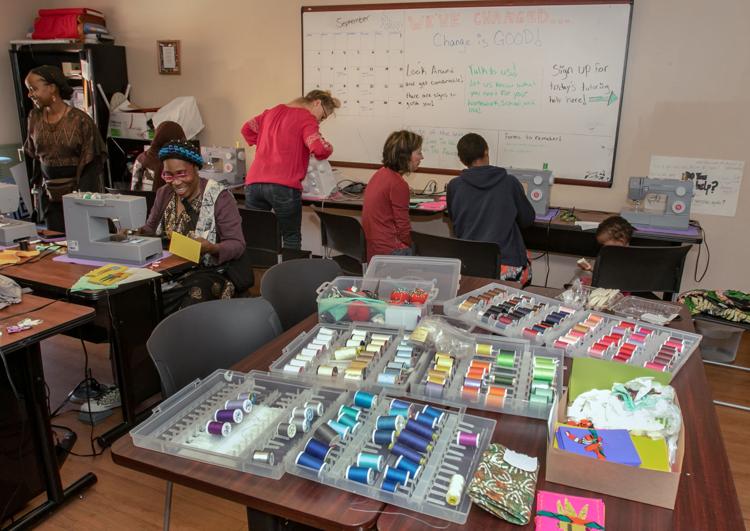 Women who attend 12 of the Monday groups can take a donated machine home. 
Samaah Hashimi, 37, has been in Tucson for about 10 years after coming from Afghanistan. Sewing is her hobby. A mother of two, she's been coming to the Monday group for about eight months. 
"It's good for me," she says of the class and its camaraderie. 
The sewing group is part of a women's empowerment program at Lutheran Social Services. Because some refugee women arrive in the U.S. without traditional work experience, the sewing project teaches marketable skills and builds confidence.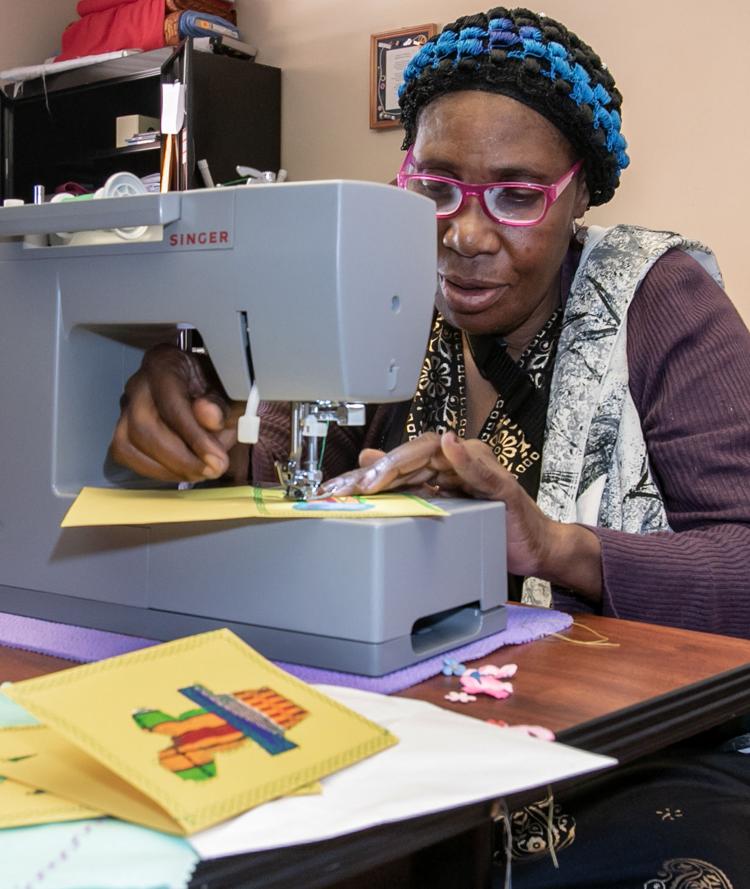 "They may not have worked in a formal job, perhaps, but what they've done is kept their families together across hostile borders and bad conditions and kept them fed and clean," Donaghey says. "These are resilient ladies who have skills to offer in the job market, but often don't have confidence immediately upon arrival."
So far, six women have received at least temporary sewing work at the local business Postcraft following their involvement with the group, Smith says. 
"They all want to be productive and contribute to their families, and sewing and tailoring is something that even in conservative cultures is seen as appropriate for women," Donaghey adds. "And a lot of them come with experience sewing. It's a natural fit."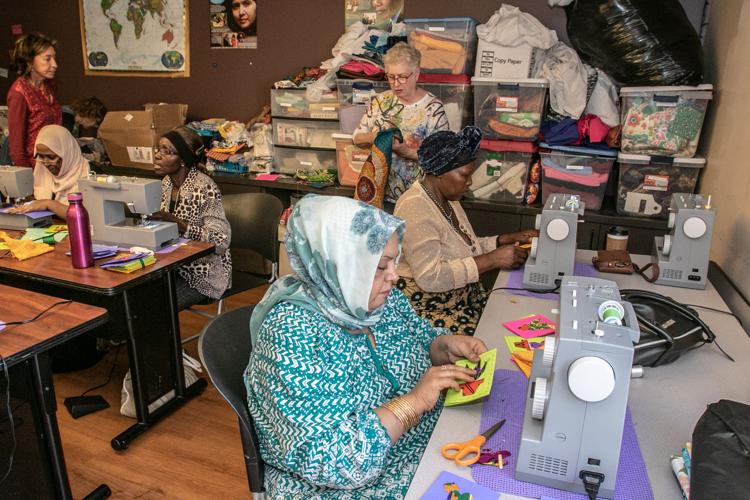 Selling at markets and festivals like the upcoming Made in Tucson Market on Fourth Avenue on Nov. 25 also allows the women to meet other Tucsonans.
Pop Cycle on Fourth Avenue also carries some of the pieces the women make. Store manager Libby Tobey says they currently have a few headbands and bags in stock. 
"It's a chance to make some money that is theirs," Smith says. "They also get to be social. Forget for half a day that you're a refugee. You're just talking with your friends and laughing and seam ripping and being creative like any other person trying to make something."  
---
How to donate
Lutheran Social Services of the Southwest takes donations of bright cotton fabrics, new sewing machines and gift cards to Jo-Ann Fabric and Crafts and SAS Fabrics for the sewing project. Bring your donations to the agency's downtown office at 120 N. Stone Avenue (behind the Wells Fargo on Stone).
For more information about Lutheran Social Services, visit lss-sw.org. 
Where you can shop
Tucson Museum of Art Holiday Artisans Market Nov. 16-18. More info here.
Made in Tucson Market on Fourth Avenue Nov. 25. More info here.