We are celebrating International Women's Day through the stories of our resilient neighbors, mothers, daughters and friends by partnering with La Estrella de Tucson for this special bilingual series, Tucson Women of the Pandemic. The stories are written by journalists Veronica M. Cruz, Stephanie Casanova, Gloria Knott, Danyelle Khmara and external contributors Paula Díaz and Maritza Felix; illustrated by Chiara Bautista; designed by María Camou; photographed by Mamta Popat and Rebecca Sasnett; and edited by Liliana López Ruelas and Irene McKisson. Read this story in Spanish.
---
While the pandemic has changed the lives of pretty much everyone over the course of the last year, perhaps no group of women have been more affected than moms.
They're the glue that holds families together, often bearing the brunt of the work to keep households running smoothly. For many moms the pandemic has meant the added responsibility of helping their kids learning from home while also managing their own work responsibilities.
Across the country, over the last year millions of working moms of school-age children took paid or unpaid leave, or left their jobs altogether, to help with remote learning or because childcare was no longer available or felt safe, according to Census data.
Five Tucson moms sharing what life has been like living, working and raising children through the coronavirus for nearly a year described their experiences as challenging, overwhelming and scary. But they've also felt resilient, creative, safe, blessed and grounded. Several of them also shared how grateful they are for other women in their lives, their moms, tias and cousins who have helped care for their children while they work. And despite all the changes to their lives, they are happy to have spent much more time with their children and seen them thrive despite the circumstances.  
Today we honor the many moms who've had their world turned upside down, are juggling work, motherhood, homeschooling, virtual instruction, being students themselves and being involved in their community.
Here five women reflect on what life has been like being a mom during the most unprecedented year of our lives.
"It was a lot of change in a short amount of time"
As an epidemiologist Anissa Taylor has been through years of training and exercises to get ready to be on the frontline of a pandemic. So a year ago, as the coronavirus was beginning to take hold in Pima County she felt ready for what lay ahead at work. But, as a first-time expectant mother who was about mid-way through her pregnancy, there was so much uncertainty. 
"It was almost conflicting," she says. "On one side I felt very motivated job wise and ready to jump in. And then being pregnant, going to be a new mom was really scary like what am I going to do? I'm not going to see family and friends, no regular baby shower, all these things I had planned were kind of … thrown off track."
For Taylor, whose daughter Aurora was born at the end of July, nearly every part of the typical pregnancy and new mom experience was upended by the pandemic. Safety precautions meant online birthing classes, a drive-thru baby shower, fewer doctor's visits and a two-week quarantine ahead of her due date to ensure she wouldn't test positive for COVID-19 when she arrived at the hospital and risk the possibility of being separated from her newborn.
Her boyfriend planned to be the one support person she was allowed at the hospital when their daughter was born. But he got COVID while stationed on a base out of state and his quarantine period didn't end in time for him to arrive for the baby's birth, instead Taylor's close friend stepped in as her support person. And when the doctor asked who Taylor wanted to cut the umbilical cord, she did it herself.
After bringing Aurora home, Taylor's friends and family called and sent messages but she had very few visitors and it was a while before anybody in her family was able to hold the baby because of COVID. Not having that social support at the beginning was hard, Taylor says. 
"In a sense that helped me build a stronger bond with her because it was just us for a while," she says. "Now as she gets older and I hardly see her because I'm working full time it's like the beautiful thing was we had that bonding time together." 
The joy of new motherhood was punctuated by tremendous loss though when Taylor lost both her mother just a couple weeks after Aurora was born, and her younger brother shortly before her maternity leave was set to end.
"It's probably been the most challenging year," Taylor says. "With the new baby, she's been a blessing, but because of everything else It was a lot … it was a lot of change in a short amount of time."
When she returned to her work in communicable disease investigation in late 2020, which consists of interviewing either people who are ill or those who have lost loved ones to a disease, Taylor says all she endured helped bring more compassion and empathy to her work.
"Being at work has made me see how I'm not the only one going through this, I interview people all the time and before I had the baby we started interviewing those first deaths that we were having from COVID back in March and April and it really gave me the perspective that there's a lot of people right now going through a lot of change, people have lost their jobs and lost family members and so in that sense I knew OK, I'm not the only one going through this," she says.
"In the midst of it I found my grounding, my center"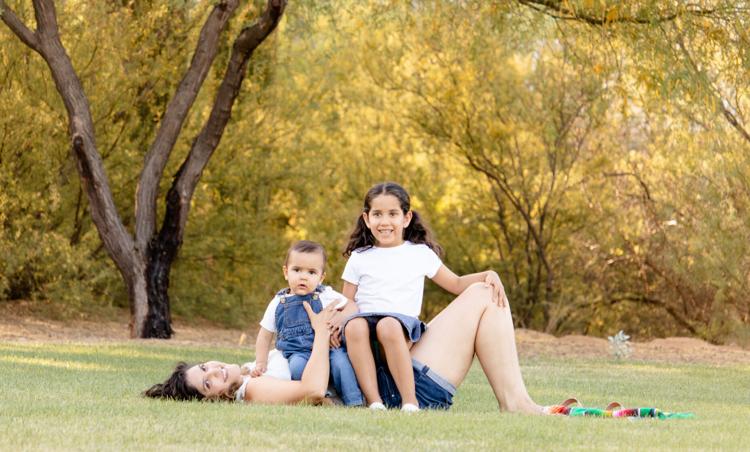 Both of Glenda Aguirre's businesses took a hit because of the pandemic.
With the cancellation of graduation ceremonies and celebrations, sales slowed down on her Etsy shop where she sells custom iron-ons for graduation caps and she hasn't been able to host a pop-up co-working event for working parents through her business Raise a Village since early 2020.
She's still "reimagining" what Raise a Village will look like, but in the meantime, on top of helping her husband with the administrative tasks for his plumbing business and being a stay-at-home mom, she's also taken on a brand new role that she was hesitant about at first: homeschool teacher.
Her 5-year-old daughter was set to start kindergarten online in the fall, but two weeks before classes started Aguirre realized virtual learning was not going to work for her family. She also also has an almost 2-year-old son who still requires lots of attention, and during an online practice session hosted by her daughter's school, it became quickly apparent she wouldn't be able to juggle both caring for her energetic younger son while helping her daughter stay focused online.
"At that point, I already had a lot of anxiety about it and I said look 'you're a stay-at-home mom you can basically homeschool' even though at that point it terrified me to be her teacher but I just knew it was going to be too much for me and if I had the opportunity to take a little bit of that anxiety away, I was gonna take the chance."
Homeschooling means Aguirre can work her daughter's lessons around the family's schedule, usually when her son is taking a nap.
Aguirre says at first the pandemic brought her a lot of anxiety and she'd spend a lot of time ruminating on all the what-ifs about how the virus would affect her family's health if they caught it.
"In the midst of it I found my grounding, my center, not that I don't worry about those things, but I have been working a lot on my emotional grounding and I think I needed that way before the pandemic," she says. "At one point I decided I need to be OK for my kids, for my husband and myself. I'd be grumpy, I'd be tearful and my kids don't see anybody all day, all they see is me and they can't live with this it's not healthy for them already on top of everything else and I started working on myself and I'm still working on myself, but the biggest blessing for me has been forcing myself into working on my emotional well-being."
"I'm the one that had to make sure we were all following protocol"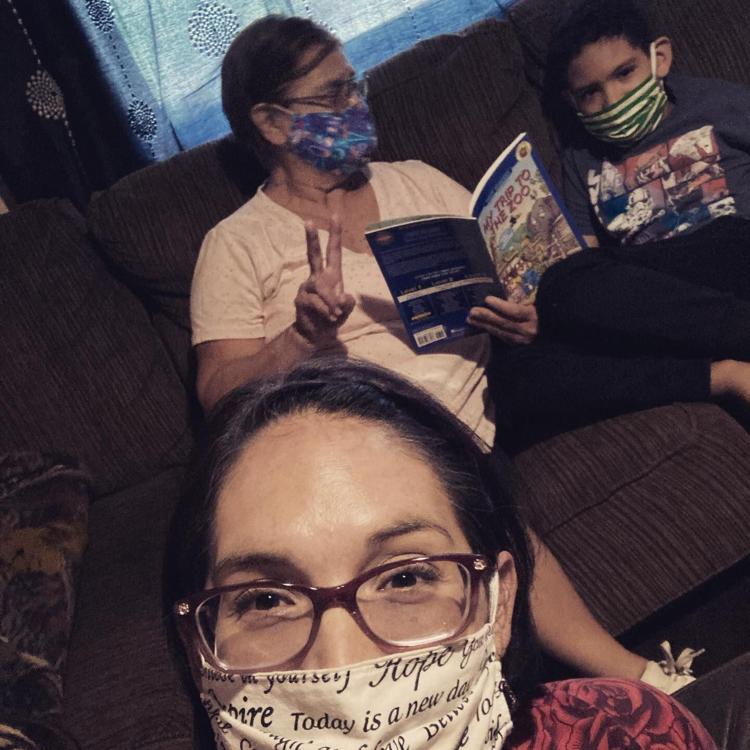 Gina Santos has had to be the boundary enforcer in her household and has had to say 'no' to a lot of things this year in the interest of protecting her family's health.
"I'm the one in the house that had to make sure we were all following protocol," says Santos who's mom to a 7-year-old son, 14-year-old daughter and a 17-year-old son.
This meant no to hangouts, no to club sports, no to carne asadas and reminding everyone, including her husband who works outside the home, to always wear their masks when out no matter what.
"When I talked about being mom and trying to figure out how to maneuver through all the decisions you have to make, my friend from work said 'you have to set the boundaries, they just have to know what the boundary is,'" Santos says.
She wanted to keep her own household safe, and when she started visiting her parents, who help watch her 7-year-old son a few days a week while she goes to work in person as a speech language pathologist for the Tucson Unified School District, she had to keep them safe too.
"It was just this little bubble that I had, I had to make sure we maintained it because around us people were dying," she says. "I still kind of feel that way even though we're all vaccinated, except my kids, I think I just feel like I really had this fear throughout this whole year that I could die, my kids have high blood pressure, like it's not out of this world that they can actually die, my husband has some issues, like he could die, I think that's where it comes from."
Working from home everything kind of "meshes together" Santos says and she had to also set some boundaries around her work and personal life, too.
"When COVID started, it was like work never ended, it was so overwhelming because you're just trying to understand how to get everything done. So the hours felt really long," she says. "But then I got into it and being really mindful of like 'nope, I'm not working anymore the computer is gone."
And because she spends so much time working on a computer all day it's hard to remain as involved as she'd like with her volunteer work in civic engagement and the Female Storytellers non-profit, because everything has shifted entirely online now.
"If I were to be as involved as I wanted to be, I would be on the computer for 12 hours a day," she says.
Santos says its not always easy being home all the time, everyone has access to her and wants to ask questions during meetings, or sit next to her while she's working and there aren't many opportunities for time alone, but she's proud of how her family has adapted to all the changes of the last years.
"I think about my kids have thrived through this … they're healthy and they're doing really well ... overall I feel like I'm really proud that we're living through a global pandemic and they're doing well," she says. "I think also my husband and I … have learned how to just be better communicators, which we weren't really before the pandemic. I think our relationship is better because of being forced to be together all the time."
"And then five the next morning here we go again"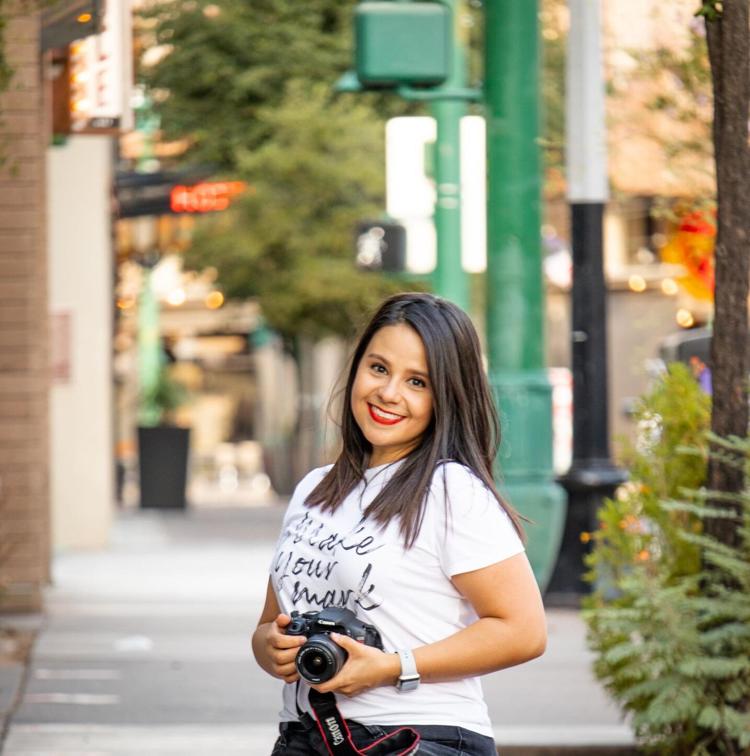 Dorely Valdez, has become pretty disciplined about how she spends her time this year. She's had to, because on any given day she's balancing her work, caring for her 2-year-old daughter until her husband gets home, her school work for her master's program and her photography business.
Valdez spends the first few hours of her workday, which begins at 5:30 a.m., in the "zone" trying to get as much done for her job at the University of Arizona, which she's been doing from home for nearly a year.
"When (my daughter) wakes up, it's not like she can stay still or I can just turn on YouTube and she'll be fine. No, I have to feed her breakfast, I have to change her, I have to be a mom too," she says. "So between 9 and 2:30 when she takes a nap, I'm a mom, and I'm a professional where I go back and forth between my computer, between her, between meetings, because my job involves a lot of Zoom meetings."
Work ends at 3:30 p.m. and from the time her daughter wakes up from her nap until the time her husband gets home from work around 6, Valdez focuses on one-on-one time with her daughter. Then she spends the rest of her evening studying, meeting online with her classmates and doing homework as an MBA student in the UA's Eller College of Management.  
"And then 5 the next morning here we go again, all over," she says.
The weekdays may be jam-packed, but Valdez considers the time she gets to be home with her daughter a blessing.
"When this pandemic hit. I was the first one at the office when they were like 'who wants to go home?' I was like "Me! Send me home!" she says. "Because in my mind I was never thinking of the pandemic, I was thinking I can be with my daughter, I can work and be a mom and that's all I wanted it was like a dream come true."
Figuring out how to make it all work did not come easily at first.
"When I started working and her being home, I couldn't concentrate, I couldn't perform the same way. I couldn't be a good mom, I wasn't being a good wife. I wanted to do everything but at the same time I was failing at everything just because I didn't know how to do everything at once," she says. "Thanks to my therapist I feel like I finally understood just take one at a time, do one thing at a time and block your time for certain things …  that was the way I was able to cope with what we are going through as a society with most of us still working from home."
Valdez also knows how important it is to prioritize her own needs in addition to meeting her family's needs. On weekends she carves out time to focus on her photography business which she started because of how much joy photography brings her.
"You have to take care of yourself, never forget about yourself, because we tend to do that all the time, we put everyone else before us," she says. "I learned that if we're not OK internally and externally we can't be a good mom, we can't be good at whatever the case may be, a wife, a student or whatever."
"If we're not making connections with them, the day is longer for them and the day is longer for us"
For Renee Quihuis, the last year has been all about being creative in how she spends time together with her two children and in how she engages with her class of third grade students.
"Before this we were traveling a lot, I took my kids to New York we would go to California a lot, Texas, New Mexico and Colorado and as soon as this all happened it was like 'uh oh, we're stuck at home," she says.
Instead, Quihuis and her 8-year-old son and 7-year-old daughter have spent time exploring places closer to home where they can socially distance like Sabino Canyon, Bisbee and Pinetop. And they've played way more Animal Crossing than she wants to think about.
While she misses traveling, and doing the things they used to do as a family, Quihuis says spending the last year mostly at home has helped the family bond and feel more connected.  
"At first I went a little crazy being stuck at home, but now I'm gonna miss them once we go back to class because I won't see them as much," she says.
Quihuis teaches at Elvira Elementary, the same school her kids attend, and for the first time ever she's been able to see them action as students while they've been learning online and she's been teaching from home.
"It's fun to hear my kids respond to their teacher sometimes, that's something you never get to hear, how they interact with other kids or how they speak in class," she says. "It's like oh my gosh they're such little grown-ups, they don't talk like that around me, so it's been nice to see different sides of them."
She's proud of how her own children have adapted to remote learning and life in general during the pandemic and she's constantly looking for new ways to liven up the long hours of online learning for her third grade class.
"We've been trying to make it fun, I play a lot of games with the kids, we read a lot of books. I've looked at TikToks for fun ideas that other teachers are doing. I'm too old for TikTok but the kids like it and I've found a few science experiments to do with them," Quihuis says. "I just try and make it engaging, if we're boring, if we're just focusing on schoolwork and not making connections with them the day is longer for them and it's longer for us."
Quihuis teaches online from 8:30 a.m. to 3:10 p.m. and she finishes her night spending two to three hours working on her schoolwork for her master's program so she knows how hard it is to spend so much time on a computer.
She knows her students have missed being seeing each other in person so she looks frequently lets them collaborate on work or have discussions in breakout rooms to maintain some of the social elements of the typical school experience. Around the holidays Quihuis and a co-worker even dressed up as Santa and an elf and spent nearly two days delivering art kits, paper and markers to every student's house so they had an opportunity to see them in person.
While some kids have thrived while learning online and her students show up to class every morning excited and happy to learn, Quihuis knows it's not always easy for her students and it's hard on her to not be able to help them in person if they're struggling to learn a concept. Some students are stressed about taking the AzMERIT test for the first time this year and her priority is to keep them from feeling overwhelmed.
"I keep telling them we're all trying our best and not to worry about the things that are out of our control," she says. "I know I have to work on that, but I tell my kids the same thing, just do what you can and if it's hard we'll try again tomorrow."