Timalee Nevels calls herself a professional Girl Scout. 
She was raised by a single mom, and even though the family's limited income meant she only spent a year or two as a Girl Scout Brownie in Tucson, it was enough to draw her back as an adult.
She volunteered in Tucson for at least 18 years before joining the staff about nine years ago. Today, Nevels, 52, is chief of staff for the Girl Scouts of Southern Arizona. 
She has done pretty much everything by this point, she says. 
"I have led Brownies through Cadettes, and I have also worked with girls on their Gold Awards. I have traveled with girls. I have been all over the world with girls..." she says. "Truly my favorite part of Girl Scouting, to be honest, is watching them discover the world around them and see that this is not the whole world." 
Even Girl Scouts is not the whole world. 
Nevels began doing some discovery of her own, a process that culminated in Beautiful You, a business she created about three years ago to help women unpack feelings of inadequacy in order to move forward.
From ages 12 to 28, Nevels let those kinds of feelings go unchecked. As a child she says she was sexually abused by her grandfather, and she long-believed revealing that hurt would destroy her family. 
"For all of those years, I battled with not-enoughness, the there-is-something-wrong-with-me stuff..." she says. "I think I would say most women battle with that also, whatever their own personal reasons are." 
Beautiful You is her way of helping other women do what she has done and continues to do: Deal with the messy for the sake of forward motion. 
Not long after launching, Nevels became a certified facilitator for Brave Girls Club, an Idaho-based organization that creates online courses and organizes retreats to help women soul search. Nevels now offers much of that material, along with her own stuff, through Beautiful You. 
Jameela Norton, 30, met Nevels while working with the Girl Scouts. The women stayed in touch as she moved on to run the ASPIRE Project at the University of Arizona. It was Nevels and her teaching of the Brave Girls Club Soul Restoration class that helped Norton get back up — even though she was initially a skeptic — after a two-week period brought both the end of her relationship with her partner and a car crash. 
"There are many wonderful things about being a badass, but one of the challenges is sometimes we expect a lot from ourselves, and when things go south or sideways, we really are hard on ourselves and kind of expect ourselves to bounce back very quickly," Norton says. "Timalee has this power of saying, 'I acknowledge you are a strong badass woman, but it's up to you to acknowledge that you can do some healing.'" 
Around Thanksgiving, Nevels moved Beautiful You into an unused storage room at the Girl Scouts' Hacienda Program Center, 3101 N. Sabino Canyon Road, with the blessing of Girl Scout management. Before the move, she was teaching her classes out of conference rooms and local shops.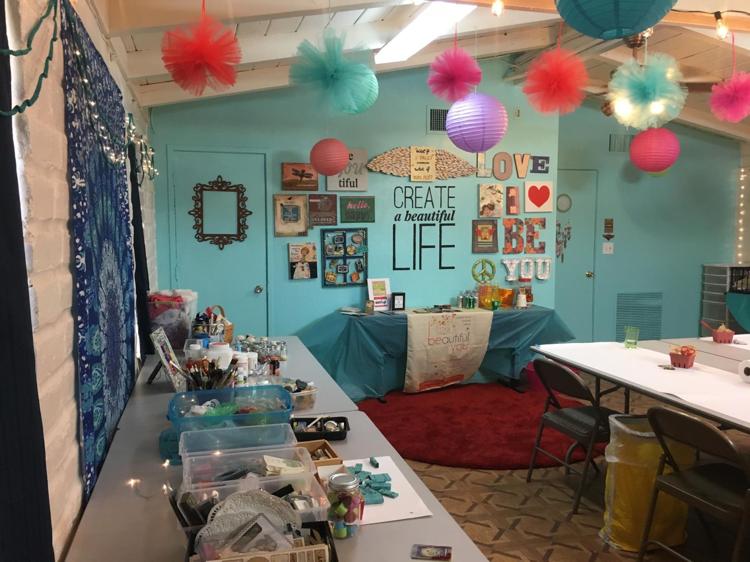 "It's hard to create a magical experience in a conference room out of a box," she says. 
With all of it, Nevels just wants to give women a chance to breathe, rest, laugh and be heard. 
"She provides a really safe place to get real and get raw and to do some heavy soul searching and some heavy work," says Julie Terrill, a 51-year-old freelance photographer who drives from Phoenix for Beautiful You events. 
Beyond Girl Scouts and Beautiful You, Nevels also serves on a Pima County Foster Care Review Board, a volunteer activity she began after children she and her husband fostered returned to live with family. On that board, she meets monthly with other volunteers to review case files for foster children, hear updates from involved parties and make recommendations to the court. 
She is also a facilitator of Stewards of Children, an online training program intended to prevent child sexual abuse. Since 2011, she has trained at least 339 people in the course and has taught at least 72 others how to be facilitators like her. These are people from organizations all over Southern Arizona now taught to identify abuse before it escalates. 
For her, all of this is about preventing hurt before it happens and healing people when it does. 
Here is more of Nevel's story. 
Editor's note: This interview has been condensed for clarity.
Why the Girls Scouts matter to her:
"I'm a sexual abuse survivor, and if I had had that community for a longer period of time as a child, that might have been different, or I might have been swooped out of that situation sooner or gotten help sooner, and I think that's a big piece of it, honestly. It's because we are — or can be — a constant in a girl's life. ...  That continuum of care is so important, and it's a place where kids trust their adult and often can open up and disclose abuse that happens. It's a place where that can happen. And in some ways I wish that had been an opportunity for me."  
 What she's doing to help other kids: 
"I loved (Stewards of Children) immediately because it puts the responsibility on keeping kids safe on the shoulders of adults. The thing that made an impact on me was one of the steps you can do to keep kids safe is to minimize the amount of one-on-one time that is unobservable and uninterruptible. One-on-one time can be good, but it should be those two things ... You can cut by 80 percent the chances of abuse, and that would have been the case in my case." 
Growing up with a strong mom: 
"She always persevered. No matter how grim the financial situation, we never went hungry, to my knowledge, ... I don't think we were ever on food stamps that I know of. She worked two jobs and put herself through Pima Community College and graduated from Pima when she was 50 and worked in the mental health field and raised three kids. ... And she raised a family that withstood the abuse that I suffered and hid for so many years, and when I did come out about it, that did not destroy our family, as the lie that I told myself said it would. We were a very close, tight-knit family and she was the matriarch of that." 
Building up women and girls: 
"I think that I came from a strong woman, my mom, and not everybody has that opportunity, and girls and women have a lot stacked against them ... When you lift one woman up, you lift all women up. And so much of what Beautiful You is about and the Soul Restoration class I teach through that is uncovering the flaws we come to believe that are true but are not, like I'm less-than because I walk around the world in a fat body, or you can't do that because you're a girl." 
 Live life for the girls watching: 
"They're soaking it all up, all the time. We're teaching them how to be and we're teaching them how it's acceptable to be treated, so when they see you fighting with a partner or saying, 'Where are my fat pants?'— big things and little things, they're seeing how to be treated and what is acceptable." 
The origins of Beautiful You: 
"We have, for a number of years, facilitated a retreat at Girl Scouts both for leaders and also for the community called 'Authoring Your Own Life.' The CEO Debbie (Rich) and I started that here, and it's an empowerment, leadership, self-discovery type of retreat, and that is so intoxicating when you sit in a circle with women and help them discover their own strengths. It's pretty darn awesome, and I began to think about what I want to do with the rest of my life. ... I would love to have a business where I have retreats five or six times a year and do that all the time." 
Working with Brave Girls Club: 
"I started to launch it as a business myself, and then not very far into that process came the opportunity to be a licensed facilitator for them, so I'm authorized to deliver a slate of content and classes from them, almost like a franchisee, except they don't like that word. But that's how the relationship feels to me."
Why she loves organizing retreats: 
"You uncover things that just aren't true. We make errors in our life. People do things to us. We make wrong turns and often we carry around beliefs that are just not true. I'm an idiot. I can never pick good men. I can't believe I did that. I'm so stupid. Whatever it is. I'll never be able to live without my husband. And we carry on our lives with those beliefs guiding us forevermore. So we spend time uncovering what those things are. It's not so much about changing as it is peeling away layers and coming back to who you really are."
This is about construction ... kind of: 
"Sistering is a real word. It's a construction term, and when you have a beam that is broken and twisted and cracked, you put another beam up next to it and join the two beams as support, so this is for anyone who is in need of a little sistering."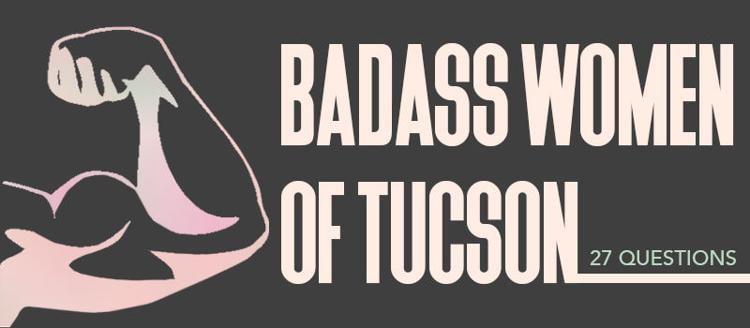 Your name, age, occupation. 
Timalee Nevels, 52, professional Girl Scout, small business owner.
I'm on a mission to _______________________. 
Raise up all women, help them know they are 'enough.' 
What's your astrology sign? Does it fit you? 
Scorpio. Yes, and sometimes I'm not proud of the traits.
Describe yourself in three words... 
And in five emojis. 
❤️️🐱😀👍😴
Gift wrap counter at Montgomery Ward, holiday help.
How long have you lived in Tucson? 
Who and/or what inspires you? 
The secret to coping with stress is ________________. 
Your favorite Tucson spot? 
On the patio at Saguaro Corners, live music playing, good food, good friends.
What are your favorite three songs and why? 
"Life Uncommon" by Jewel, "This Girl Is on Fire" and "Fight Song."
Your go-to order at your favorite Tucson restaurant? 
Easy — bean burro with cheese.
What's your favorite Tucson-only thing? 
You know you're a Tucsonan when _____________.
Taking a run up the Lemmon to see the snow is just a little drive (with big rewards).
What constitutes your morning getting-ready routine and how long does it take? 
I'm embarrassed to say reaching for my phone/Facebook is the first order of the day. 15 min.
Favorite app at the moment? 
This is Tucson! (Ed note: Ha! We didn't tell her to say this.)
Give us a two-sentence pep talk. 
Be gentle with yourself my, friend. It's time to give yourself a break.
What would you tell your teenage self? 
I know it seems like a dream now, but you will see the moon shine on the other side of the world (many times).
What's a quality you got from your mama? 
Appreciation of simple things.
And one you hope to pass on to the next generation?
The importance of taking care of one's self emotionally.
The last great book you read? 
The last great movie you watched? 
People would be surprised to hear you're actually a(n) ______________ expert. 
Hidden treasures of Disneyland.
Is there something you've always wanted to learn, but haven't had the time? 
To play the guitar (more about patience than time really).
Anything you've always wondered about Tucson? 
What's the deal with all the potholes?
Favorite ice cream flavor?
Where can our readers follow you on social media? 
Facebook, Instagram and less active on Pinterest and Twitter
Is there something you REALLY nerd out about? 
What's your spirit animal? 
Which fictional character (from TV, movies, books, etc.) just gets you? 
What makes you feel the most confident? 
A little internal pep talk.
The best piece of advice you ever received? 

Someone advised me to take a moment when about to take my wedding vows to take a breath, look around and take the moment in. I did and I'll never forget it.