For just $10, you can be the jewel of the gem show, seated inside an amethyst geode that's 9 feet tall and 6 feet across. 
Oh, and since it's 6-feet-deep, they can also shut you inside the geode. 
This is the debut of the enormous amethyst from gem show vendor Michal and Company. The geode throne (which hails from Uruguay, by the way) doubles as a fundraiser for Tucson's Therapeutic Ranch for Animals and Kids (TRAK), a local nonprofit that gives kids of all abilities opportunities to interact with animals.  
The $10 you pay for your selfie and seat in the geode goes directly to TRAK. That's why you're also likely to see baby goat Chewie hanging around the geode. Ask nicely, and you can take him inside the geode with you.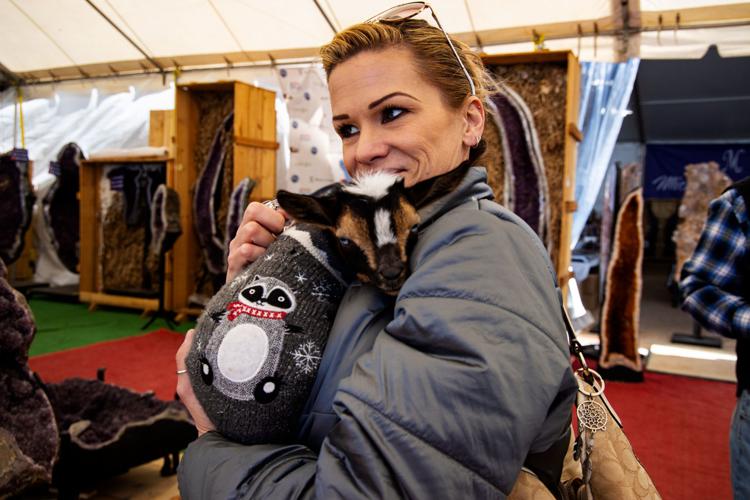 "Right now, (this fundraiser) will probably allow some less fortunate children to experience a spring break camp," says Scott Tilley, co-founder and executive director of TRAK. Tilley says they hope to raise $10,000. 
As of Tuesday morning, they had raised about $1,600.
"Both of my kids were diagnosed with autism, so I wanted to support something with animal therapy, because I just saw them light up with animals," says Michal Mael, the owner of Michal and Company. 
Mael's 5-year-old twins are spending time at TRAK while their mom works the gem show, Mael says. 
"People can get a one-of-a-kind experience and give back a small donation to a beautiful organization that helps children," Mael says. 
To meet Chewie and sit inside the geode, visit the Kino Sports Complex Gem Show, 2500 E. Ajo Way. Look for the tent with Michal and Company signage. The Kino show runs until Feb. 16. Mael says she'll begin packing that day, so you should visit by Feb. 15.