For the past four years, Rosie Crocker has been on a mission to create a lasting connection between Tucsonans and the plants of the Sonoran Desert.
Through Rosie's business, Sonoran Rosie Desert Herbal Products, locals (and non-locals who love Tucson) can take home a part of the Sonoran Desert. Rosie, who identifies as non-binary femme, creates sustainable, organic and gender-free herbal products.
Sonoran Rosie's products include hair care, skin care and other herbal products such as candles and bath bombs.
Rosie wanted to make items that people could use every day, but still incorporated plants of the Sonoran Desert.
You can find the 34-year-old hand-foraging creosote bush, prickly pear fruit and other plants and herbs from various biomes around Southern Arizona to handmake the shop's signature items. 
Some of Sonoran Rosie's bestsellers include prickly pear cactus lip balm, desert rain botanical fragrance spray and creosote and rosemary cream (which, by the way, over 15 people currently have in their Etsy carts at the time of writing this because it's just that popular).
Rosie takes an herbalist approach to making products instead of a homeopathic approach. The difference, Rosie said, is that herbalism features "actual plant medicine — real extracts from the plants that heal and help in real ways," while homeopathy is more of a spiritual medicine.
Connecting with nature can be extremely healing, Rosie said, adding that their own adventures with exploring nature have created a true sense of happiness.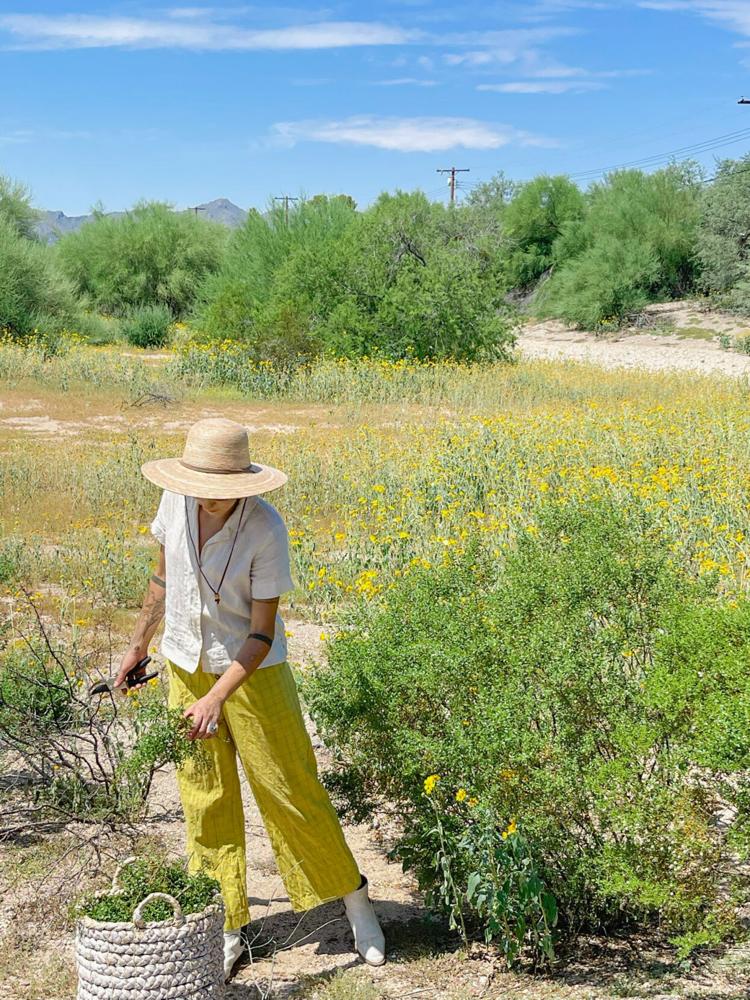 "My goal is to teach people about plants. I like that my products give me a platform to be able to talk to people about sustainability or local plants and teach them how to identify them or how to sustainably forage them," Rosie said. "I think the more we have a connection with plants, the more that humans care about the planet, and their lives become more enriched because they're experiencing fulfilling things by being out in nature."
In the desert, a Sonoran Rosie blooms
Before Rosie created Sonoran Rosie in 2017, they worked as a server at the now-closed B Line restaurant in downtown Tucson but decided they needed something different and became more involved in the local herbalism scene. 
Rosie connected with local herbalist Becki Garza of La Yerberia Botanicals and worked for 1½ years learning how to make lotions and other herbal goods. Rosie tested the handmade products with friends and the items instantly became a hit.
Rosie began creating handwritten labels and selling the product to friends "just for fun."
But the origins of Sonoran Rosie isn't the first time that Rosie has dabbled into the local small business scene. Rosie said they try to buy local as much as possible, from places such as the Food Conspiracy Co-op or different pop-up shops around town.
"It was kind of a natural fit because I was already kind of in that scene of supporting (local businesses) but then I started just doing different things like pop-ups and it's really weird how the universe kind of connects," they said.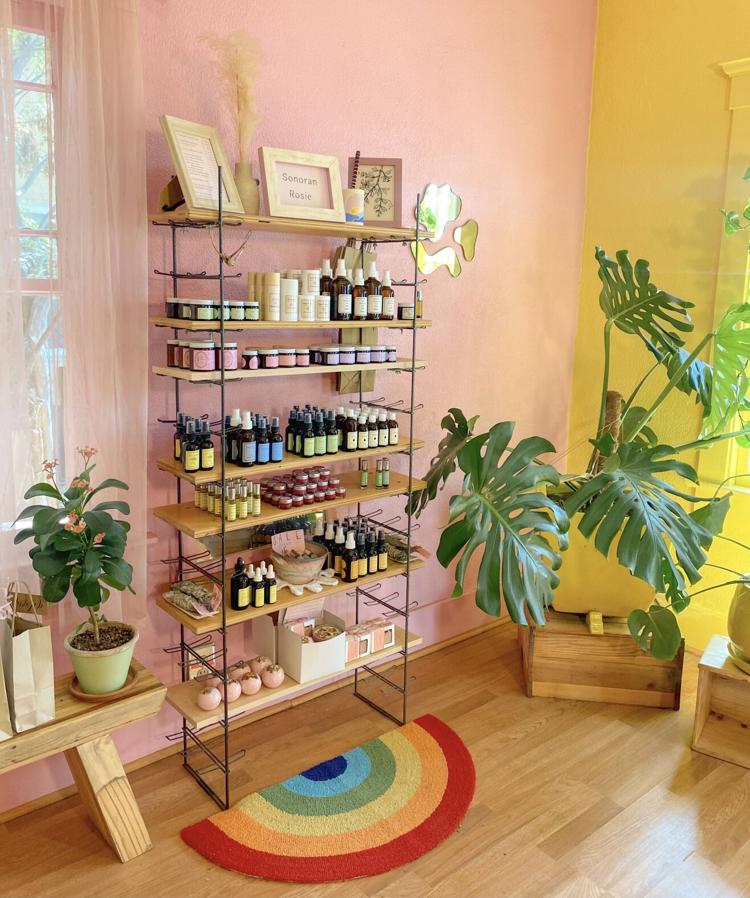 Now, Rosie operates a small boutique from their home near downtown Tucson and currently has over 700 5-star reviews on Etsy. 
They hope to spread the importance of localism, herbalism and sustainability through the shop's products while giving back to the community. Sonoran Rosie donates 5% of its profits to local wildlife rescue organizations, including the Tucson Wildlife Center and the Coalition for Sonoran Desert Protection.
"I want to show people that it's possible to run a sustainable business with sustainable and local ingredients," Rosie said, adding that when it comes to running a business they think it's important to care about the ethics behind it.
Along with creating a strong sense of localism in the community, Rosie wants to emphasize the significance of preservation in the Sonoran Desert.
Rosie primarily trims creosote bush and prickly pear fruit because the Sonoran Desert has an abundance of these plants, so it ensures that they are not taking food away from the desert's main inhabitants — wildlife.
During Rosie's harvesting seasons, they only trim 10% of a plant, such as a creosote bush, because that small trim can help it grow bushier over time.
"It's crazy that trimming that little amount helps me but it also helps the bush grow bigger and stronger, so that's been cool to see," Rosie said.
Typically, when the Tucson weather has been kind, Rosie offers prickly pear fruit harvesting and processing workshops in the Sonoran Desert. But with a dry summer and winter last year, there was not enough rain to allow enough of the desert fruit to grow in time for this past summer, which Rosie calls "discouraging."
However, with an extremely wet summer season and wishes for a wet winter, Rosie is hopeful that next summer's desert harvest will be fruitful.
Rooted in Tucson with room to grow
Since its origins, Sonoran Rosie has primarily been a one-person show consisting of brainstorming and creating handmade herbal products in the heart of Tucson. But with an influx of customers and local pop-up events, it's time to (gradually) grow.
Rosie recently hired local help to assist in sustainably harvesting fruits and putting together packages for customers.
Rosie also aspires to open a small storefront location, aside from the current boutique in their home, so Sonoran Rosie's products will be even more accessible in Tucson. They also would eventually like a warehouse or separate production area to safely and sustainably develop organic products.
Currently, you can find Rosie foraging plants in the beautiful Sonoran Desert that many of us call home, making herbal goods at the Sonoran Rosie boutique, on Etsy or at local pop-up events around town.
Despite the growing changes, Sonoran Rosie's Tucson roots are here to stay.
"The natural world is exciting. It should be cared about and we should enjoy it and be caretakers of the land and the environments that we live in," Rosie said. "And do our best to help not harm our environment, because it also, in turn, helps us. The healthier our environment is, the healthier we are, so it's all connected."
For more information about Sonoran Rosie, visit their Etsy shop or email them at sonoranrosieherbal@gmail.com.