Orange, black, purple and grey fabrics swirl around the room as each actor takes their place. 
"I am beautiful," Tyane Kuya, narrates as actor Frankie Gelb gracefully dances with a rectangle of flowing orange fabric. 
Kyua continues to narrate the story of a young girl's love for her family, going down the line — mom, dad, brother and sister.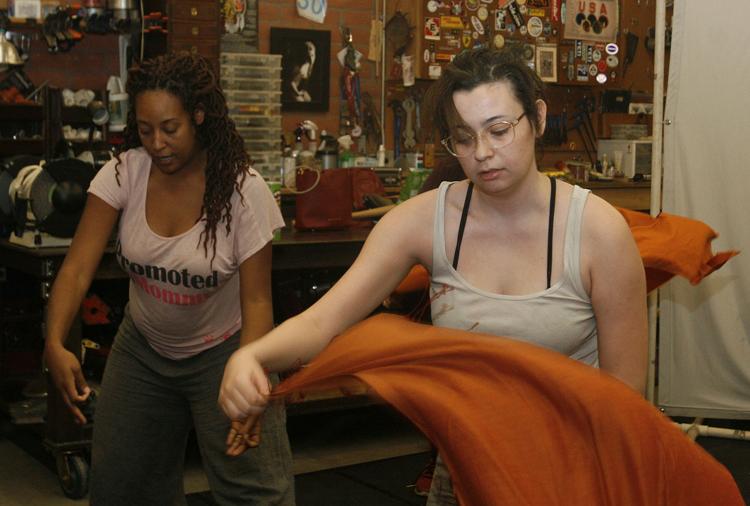 This story is one of eight that will be performed Saturday by Stories that Soar, a local organization that turns stories and poetry written by children into plays. 
The performance will be part of the Procession of Little Angels, an annual event on the day before the All Souls Procession that expresses and celebrates life and grief from the perspective of children. 
Stories that Soar has been performing at Little Angels for more than 10 years, says Sharon O'Brien, the group's artistic director.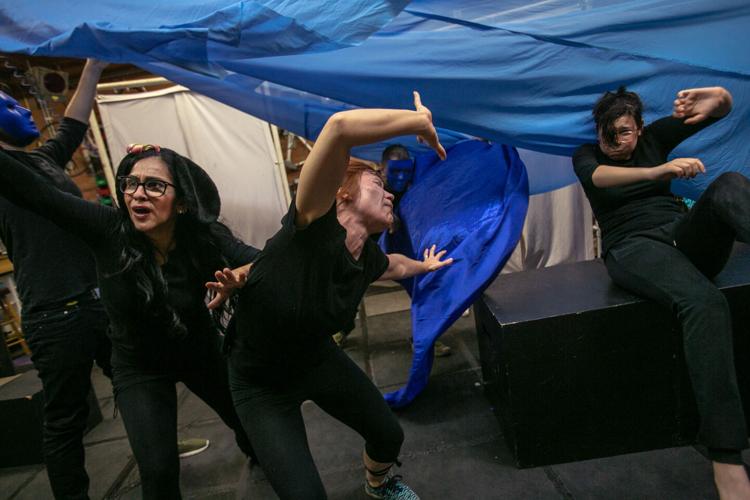 She says she is constantly amazed by what children write. There are stories about grief, friendship and family and even the peaceful moment before death. 
Last year O'Brien read more than 13,000 stories and more than half of them were about the desire to belong, which O'Brien says are basically "stories of family and friends."
"We have a story we're doing about just being in the moment and the awe of experiencing a rainbow after a storm — which kind of sums up, I feel — what we're doing," O'Brien says. "There is that storm, the turmoil of loss but it's also a reflection that the reason it hurts and the reason we are sad when we lose someone is because of how much we love."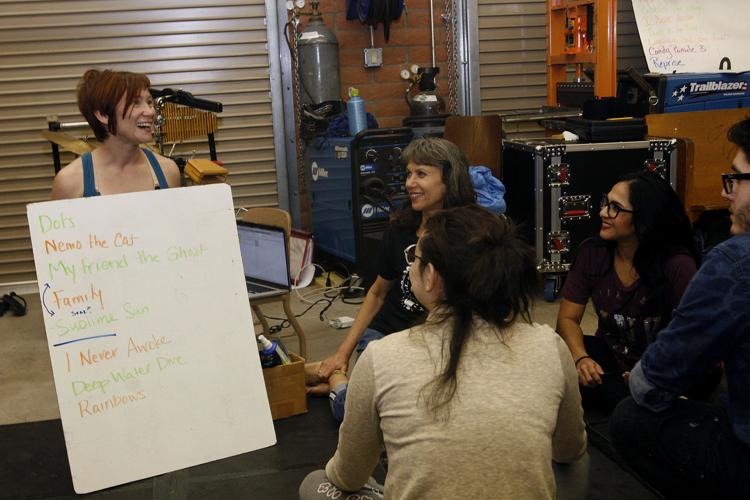 This year's performance will be dedicated to 17-year-old Tucson boy Jake Jackson, who died over the summer from diabetes, O'Brien says.
He was very involved with the Stories That Soar high school program that teaches students how to turn stories into plays and hoped to one day audition for the group's professional program.
He starred in a piece about a child who was a poet but was afraid to tell anyone. So to honor Jake, there will be a poetry station set up at Little Angels where people can write poems. Some of those will be read out loud between acts. 
"He loved telling other people's stories and making sure little kids were being heard," O'Brien says. "And we wanted to find a way to honor him this year."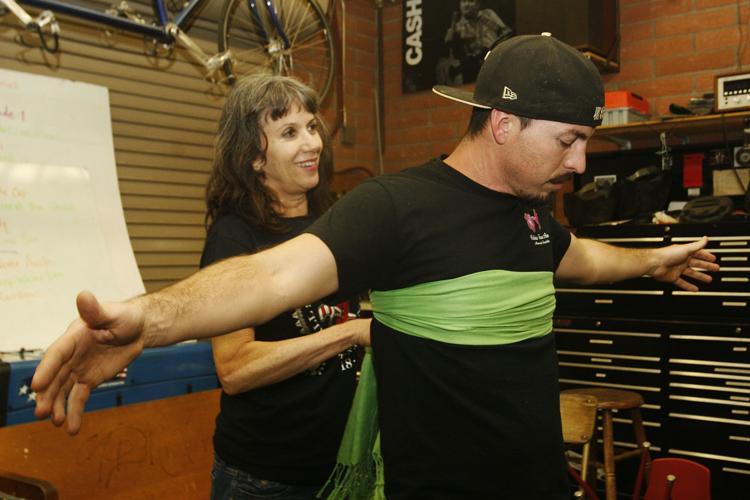 At the workshop, O'Brien sifts through a box of fabrics, pulling out two long scarves — one blue and one green.
She ties them, along with matching paper circles, onto actors Greg Colburn and Jonathan Heras, turning them into the main characters of "Dots, the Story of Friendship."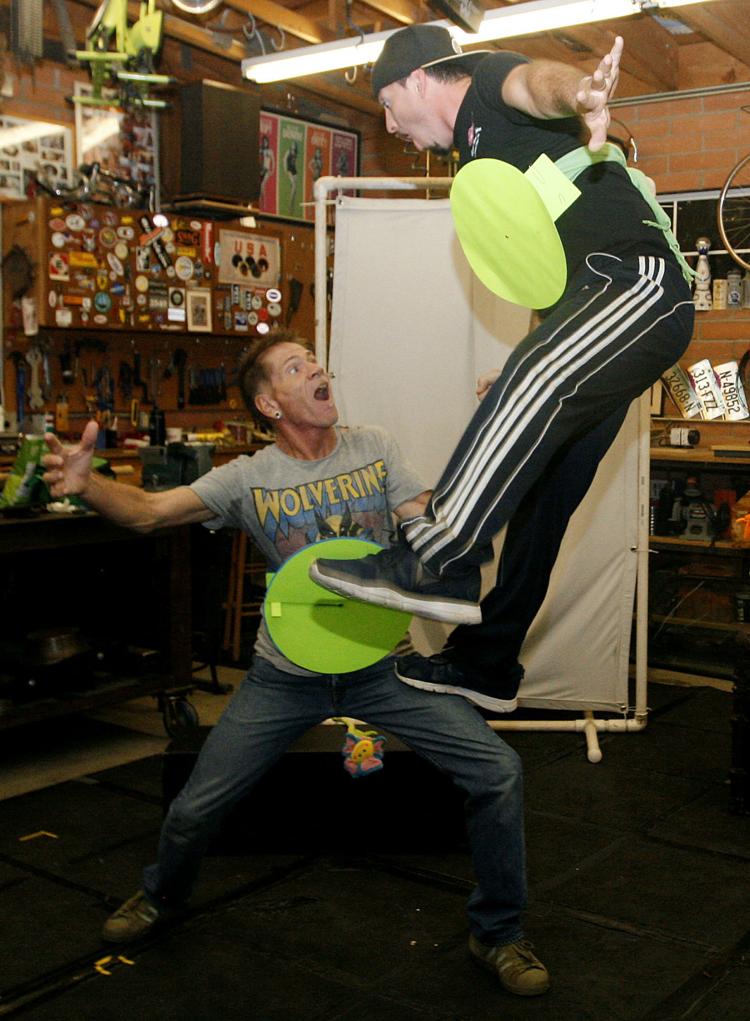 They jump around the workshop and act out a story about the happy and sad life of a friendship, as production manager Dallas Thomas narrates.
O'Brien hopes these pieces bring people together through shared experiences. 
"If we can all share what that feels like to sit with our grief, our heartache as well as our joy and do it together, then I feel like we have accomplished our goal."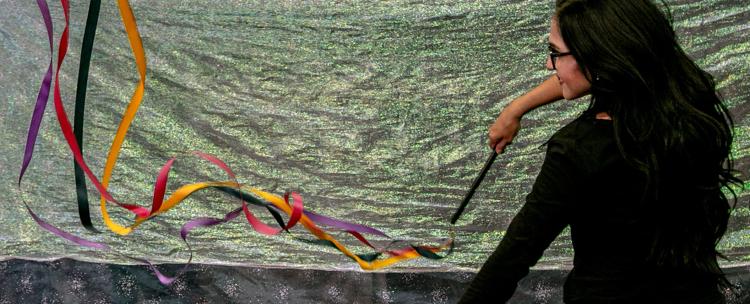 If you go
What: Procession of Little Angels
When: Saturday, Nov. 3, 3-7 p.m. 
More info: The Procession of Little Angels includes art activities like wing making, sugar skull painting and face painting, as well as a procession around Armory Park.
There will be a children's altar there for families to place remembrances and photos of children who have died. It will also be an opportunity to place prayers and remembrances in the urn that will be carried at the All Souls Procession. Go here for more.