The Children's Museum Tucson opened a new exhibit where a child's imagination can run wild.
Imagine It opened last week in the former Techtopia space. The large room is bright, colorful and spacious, inspiring kids to experiment with art, engineering, building and imagination. 
"It's about using the imagination and creativity and letting them loose," says Teresa Truelsen, marketing director of Children's Museum Tucson. 
There's a maker space with tools like screw drivers and screws, as well as a slew of recycled materials to make and create.
An expanded Lego table sits in the middle of the room next to a light table stacked high with magnetic tiles. 
A textured wall serves as a canvas for children to paint. Don't worry, it's washable and there are aprons. 
Imagine It has been a popular addition to the museum, Truelsen says.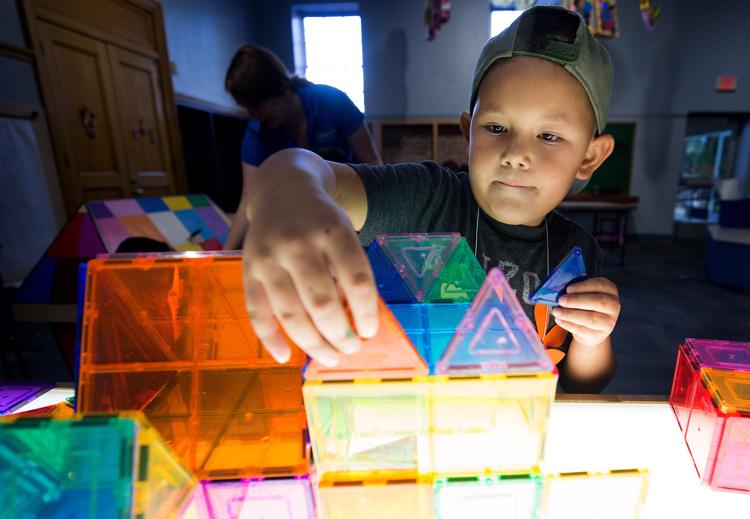 On Tuesday morning, dozens of children laughed, talked and created in the new space. 
As a young girl dug through a bin of Rigamajig parts — which Truelson says were used to make a wagon over the weekend — another group of kids painted the wall with shades of blue and green. 
The sound of magnetic blocks toppling over could be heard on the other side of the room.
A few parents even joined in the fun.
"We've noticed a lot of parent involvement and the parents having as much fun as the kids," Truelsen says. "That's really important to us, that parents are in here interacting with the kids."
In the past year, the museum has completely updated three rooms. That includes expanding Wee World for children ages 5 and younger, so it's a good time to visit, Truelsen adds. 
If you go
What: The Children's Museum Tucson
When: Monday-Friday from 9 a.m.-5 p.m. and 10 a.m.-5 p.m. Saturday and Sunday
Cost: $9 for adults and children. Infants younger than 1 get in free. Admission is $3 on Mondays.