Bright colors and bold, simplified shapes transform into Disney princesses when Monica Ahanonu puts them together. 
Her geometric pop art style was used in re-imagining and illustrating princesses Mulan, Merida, Jasmine and Tiana for Style Disney, a website dedicated to Disney fashion, lifestyle, shopping, celebrity news and beauty. 
The project was for a weekly series called Designing Disney in which artists are invited to show off their skills and love for Disney. You can watch it here. 
This wasn't just something she did for fun.
"Disney Style hired me to do that," Ahanonu said. "Someone referred me to them, so they reached out to me to see if I was interested. They came to me for that project. It was definitely exciting."
The 27-year-old Catalina Foothills High School alumnus got to choose which princesses she would illustrate from a list. She chose four. 
"Part of it was I wanted a variety of hair styles and personalities and journeys in their films," Ahanonu said. "So I could use that to kind of play with the colors and their shape language."
The style she chose to illustrate them was bold, yet simple.
"I did them this way because it's one of the styles I do — to simplify them a lot," Ahanonu said. "I wanted them to be identifiable but as simple as possible. I wanted to show the mood of the film...There's a lot more detail in Mulan's piece than in the others because of the two outfits and it was more of an intricate journey she went through. A lot of stuff I do is more of a feeling of what would represent their mood and personality."
The Disney gig was definitely exciting, but it's not the first time Ahanonu has worked in the big leagues.
After graduating from Catalina Foothills, she moved to Los Angeles to attend the University of Southern California. 
From there, she worked on the production team for Dreamworks Animation and eventually hired on with them as an artist. 
She was the youngest female artist on the team and worked on big movies like "Captain Underpants" and "Boss Baby." 
Now, she works full time as a freelance artist, doing illustrations for various publications like Nylon, InStyle Magazine and the New York Times. 
We got to chat with Ahanonu earlier this week. Here are some excerpts from that conversation.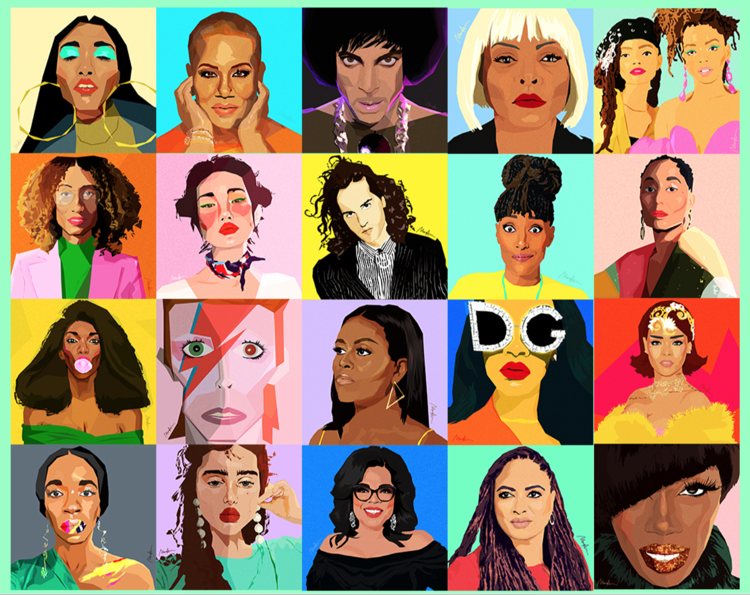 Who is your favorite Disney princess?
I really like Mulan as my favorite. I feel like I am similar to her in certain ways. There were two sides to my life as I was growing up. I had this intense gymnastics schedule and also had a side that was more relaxed and silly that came out in my artwork. The two sides of my upbringing. 
How would you describe your style as an artist?
My style is bold, geometric and it's kind of like modern pop art I guess. A lot of it kind of has a sense of fashion mixed in with it because I really like fashion as well. 
What other publications has your work been in? 
Nylon magazine, New York Times, InStyle Magazine, The Lily.
New York Times called me to do a portrait for the Thursday Style section, an Anna Wintour  portrait. It went really well. It was fun. They emailed me on a Friday and needed it by Monday to get it into print. That was really fun.
The Lily wanted a Meghan Markle and Prince Harry portrait...The concept behind it was they wanted a portrait in my style but they have specific colors they use on the website so I had to stick with those colors. It was different and fun to stick with specific colors to do the portrait in my style.
Which one were you most excited about?
I think I would say the one I was most excited about was the New York Times one because a lot of my work is just online so it was cool to have something physical in my hand.
I want to stay freelance. I like it a lot. The variety. I'm working on some merchandise with my work so that's something that's coming. Kinda like home good products.
Advice for aspiring artists
I would say to do what you like and work at it. Just because it's not what you're seeing out there doesn't mean it's not wanted or needed. And enjoy the process. Reach out to people that you're inspired by because a lot of times they do reply.
---