As I am prepping and cleaning the kitchen, just to clean it all over again in an hour or two, my mom and sister walk in with the ingredients for our family's tamales. 
With a family like ours there is no organization, especially when it comes to cooking — you just hope for the best. But to cook tamales there is a set of instructions that need to be followed, exactly, step by step. 
Making tamales has been a family tradition for generations. My mother, Christina Otañez, began learning with her mother when she was just 10 years old and I learned as a teen.
"Nowadays everything to make tamales can be bought pre-made, like the meat, but I was taught to make it all from scratch. It tastes better that way," my mom says.  
Dozens of tamales are made at one time and eaten for breakfast, lunch, or dinner for the next six months. 
"You can put the tamales in a ziplock bag and freeze them for months. They won't go bad and still keep that juicy flavor when they are eaten," my mom says. 
When making tamales you can do it by yourself, if you have the skill, like my mother, or gather family and friends to make the process fly by.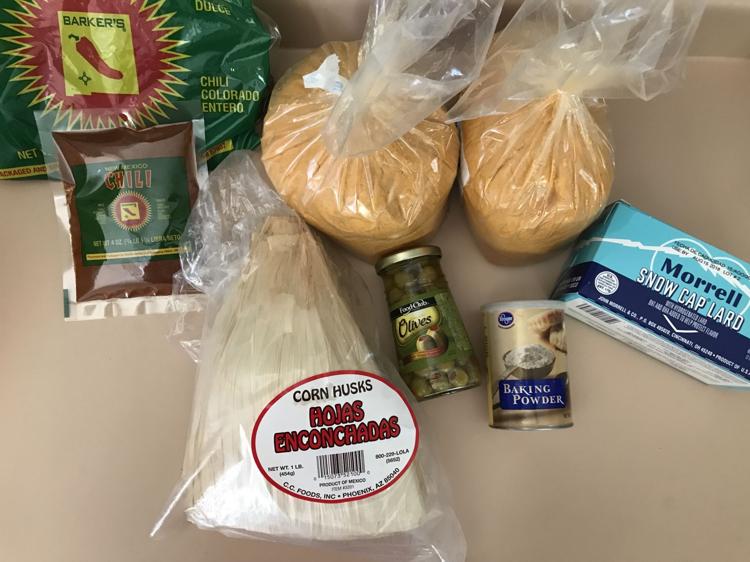 My younger sister, Erika, husband, Frankie, and I create an assembly line. My sister is first in line. Her job is to spread the masa over half the corn husk evenly.
My job is to place meat in the middle of the masa and my husband sticks an olive or two in the meat and then rolls up the corn husk. (Our family recipe is below!)
Simple but messy. Just like family traditions should be.
And what's a family tradition without family drama. 
Growing up it was always just my sister and I. Then I got married and gained eight more siblings which made family drama more dramatic then I was used to. 
The bigger the family the bigger the everything. Noise, mess, and even the arguments.  
While making tamales our only "argument" this year was about what to get each other for Christmas. Where is the best place to shop? Whose house are we spending Christmas at this year? The usual.
"It gets loud and hectic but that is just how our families are when we are all under the same roof," said Otañez. 
What this tradition means for our family is giving the holidays a special feeling of what they are all about. Family. It keeps us close even if we grow apart throughout the years. 
"This brings our families together and makes it fun to do with each other rather than by yourself," my mom says.
Now that I'm married, it feels like I have pretty big shoes to fill when it comes to cooking. For me, this tradition means that I get to pass it down to my kids and they will pass it down to their kids.
Every year I learn more and more of my mom's recipes that she learned from her mom.
And every year I am confident that our tradition of making tamales together will stay in our families for many years to come. 
This recipe makes about five dozen tamales.
2-3 packages of corn husks, soaked in warm water to soften for 30 minutes
Pitted olives for filling
10 red chile pods of your choice, dried ancho are preferred
5 dried guajillo chile pods
2 tablespoons all-purpose flour
1/2 teaspoon Mexican oregano
2-3 tablespoons powdered chicken bullion 
1 tablespoon baking powder
2 tablespoons chile powder
*2/3 cup chile sauce (see above)
10 pounds boneless rump roast
2 tablespoons ground cumin
10 cloves of garlic, mashed
Salt and pepper (to taste)
Bring water to a boil. Rinse chili pods and remove stems and seeds. Place pods in boiling water and boil for about 20 minutes or until pods are tender. Set the pot aside until it cools completely. Once cool, place chile pods in a blender with three cups of water from the pot. Blend until liquid, then place the mixture in a sieve; separate chile seeds and skin.
In a two-quart saucepan, add 3 tablespoons of olive oil, stir in 2 tablespoons of flour and whisk until slightly brown. Slowly stir in blended chile and continue to whisk to avoid lumps. Add oregano and chicken bullion and simmer 5-10 minutes until it thickens slightly. If sauce gets too thick, stir in 1 cup of the remaining cooking water until it reaches the desired thickness. Use this to flavor the meat. Set aside 2/3 cup to add to the masa.
In extra large mixing bowl add lard and mix with hand mixer until it becomes soft and fluffy. Mix in baking powder, salt and add masa and beef broth to desired consistency, as you hand mix together. Once lard, beef broth and masa are mixed, add chile powder and 2/3 cup chile sauce and incorporate well into the masa.
In a Crock-Pot or large pot, boil meat with cumin, garlic cloves, salt and pepper until tender. Then shred with two forks. Save the broth. In a Dutch oven, sauté the shredded meat, add chile sauce. Simmer for 15-20 minutes, stirring gently but frequently.
Buy dried clean corn husks, separate them and soak in warm tap water in a large container or sink for 30 minutes. Once softened, rinse, remove from water and pat dry. Keep flat in the palm of your hand or on a flat surface, spread with a thin layer of masa then fill with 1½ tablespoons of meat and an olive. Roll and fold top of corn husk. Place the seam side down on a cookie sheet or counter and continue making the rest of the tamales.
In an all-purpose 5-gallon pot with a lid and steamer insert, fill with 4-5 cups of water and place tamales, fold side down on steamer insert and stagger them around the pot, adding multiple layers of tamales to allow the steam to properly surround the tamales during the cooking process. Cover with corn husks on top to kelp keep the steam around the tamales. Cover with lid and bring to a boil. Reduce the heat to medium-low and steam for about 1½ to 2 hours. After cooking time is completed, test tamale. if masa easily comes off the corn husk they are ready to enjoy.
Tamales can also be frozen uncooked and cooked at a later time.