The first Sunday in February was the kind of weather Tucsonans boast about: 78 degrees and sunny, with barely a cloud.
Many people took advantage of their good fortune, taking to the trails and bike paths or posting up poolside. But up in the Catalina Foothills, more than 100 local teenagers spent their afternoon doing something completely different.
The teens, hailing from high schools around Tucson, came together to give back to the community, an activity they participate in four times a year.
The students belong to 100+ Teens Who Care Tucson, the brainchild of 17-year-old Gregory School junior Lily Messing.
The group has given nearly $25,000 to local nonprofits since Messing, inspired by local nonprofit 100+ Women Who Care About Tucson, started it in 2020.
"We're here, rain or shine," said Catalina Foothills High School senior Anayochukwu Edwin Uche. "Last time it was raining monsoon, but we're here every time."
Each member makes a $25 donation and then watches the impact grow. "I really love the thesis of magnifying your donations. You can donate $25 individually, but when you put 200 kids together, it's exponential," Uche said.
"It's really awesome being a part of an organization with likeminded teens who are really passionate about Southern Arizona and community and philanthropy. It's really inspiring. It pushes all of us to be better."
The group's most recent recipient, Emerge Center Against Domestic Abuse, will receive $6,000 from 100+ Teens, thanks to a donation match that boosted the group's $4,000 donation.
"My personal mission is really to show teens that age is not a factor in how much of a difference we can make," Messing said.
And her idea of amplifying the voices and power of teens by bringing them together for a collective cause is taking off beyond Tucson. In just over a year, 100+ Teens has grown to include 15 other chapters active around the United States.
'It's really special to me'
For Messing, philanthropy is a family affair.
Her parents, Claudine and Andrew Messing, are founders of the Steven M. Gootter Foundation. The mission of the foundation, named for Claudine's brother who died in 2005, is to save lives through awareness, education and research about sudden cardiac death.
Lily Messing was introduced to 100+ Women Who care in early 2020 by her mother, grandmother and aunt, all of whom are now members. She quickly realized the community and her peers needed a similar group for teens and decided to start her own chapter.
Then the pandemic hit, and Messing watched as the world around her changed.
"All these different crises were exacerbated. Not only that, but the mental health crisis among my peers. We were not able to see our friends, in or out of school," she said. "I wanted to create a way for us to not only re-form friendships, but also make real, meaningful impact on the community."
More than a year later, she was finally able to gather the group for the chapter's first meeting. "By our first meeting, we had already over 100 members," she said. "And in less than a year, we have over 200."
Wanting 100+ Teens to include more than just her peers at the Gregory School, Messing branched out.
"I thought if I could get 10 people to all sign up 10 people, that would hopefully be 100. So I met with 10 different kids in different grades who go to different high schools throughout Tucson," she said. "Their main job was really just to recruit and find as many kids as possible who are looking to give back."
The group has met six times to date, voting at each to choose a charity to receive their funds. The potential recipients come from 100+ Women's vetted list of local nonprofits, so the teens can be confident their money is going to reputable sources.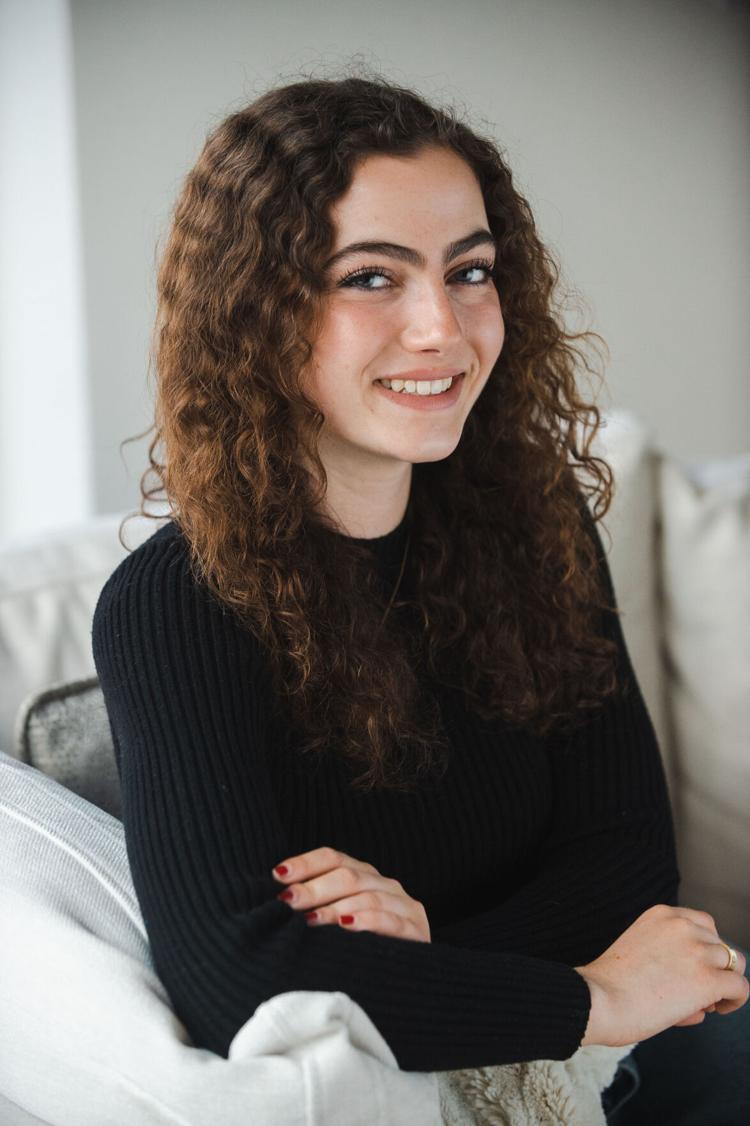 Beneficiaries of the Tucson teens' donations include Youth On Their Own, Casa de los Niños, Hermitage Cat Shelter, I Am You 360, Our Family Services and most recently, Emerge.
Donations have ranged from $2,500 to $10,000, thanks to donation matches offered to some of the nonprofits.
"Our success was noted and these two charitable giving companies reached out to me to join this coaching network of adults across the country," Messing said. She said the experience of being the only teen in that network helped when it came time to launch 100+ Teens' other chapters last spring. The efforts involved countless emails to various organizations, but paid off.
"We have chapters all across the U.S. from coast to coast. The one I'm most excited and most proud about is in Islamabad, Pakistan," Messing said. "We have one in Canada and I'm currently talking to teens in different countries like Denmark and Israel."
Overseeing 16 chapters of 100+ Teens is no easy feat. "I can't count up how many hours a week I spend on this. It's a lot," Messing said. But, "It's really special to me and I want to do as much as I can for not only my community, but all these other communities to start up these teen giving circles."
Messing is making waves in the philanthropy community. She was a speaker at last April's 100+ Women Who Care's national conference in Nashville and also recently received the National Philanthropy Day Award from the Association of Fundraising Professionals.
'One person can do that'
The group she modeled hers after, 100+ Women Who Care About Tucson, was started in 2015 by Desha Bymers-Davis. That organization has given nearly $750,000 to local charities since its start.
When Bymers-Davis met Lily Messing, she was sold. "She's just one of a kind. A go-getter," Bymers-Davis said. "I told her this was her thing. I gave her the framework, but really gave her the freedom to make it her own."
Bymers-Davis wanted the group to be relevant and exciting for teens, and said Messing has taken it further than she'd expected.
"People gravitate towards her. When she gave a speech in November, people came up to me and said, 'I have a renewed faith in young people.'"
Messing's speech at the 100+ Who Care Alliance Conference opened with the idea that her generation has been coined as lazy or as thinking they should get everything handed to them. She told the audience her hope was that after the speech, people would think differently. She received a standing ovation.
"She's a world-changer, she really is," Bymers-Davis said. "She's making change and one person can do that. If everyone could believe that they could make change, our world would be a better place."
The teen group relies on sponsorships to help ensure inclusivity, Messing said. "I started a scholarship fund where local businesses and philanthropists can cover the membership fee for students who might not be able to afford it."
"Through 100 Teens, not only are we trying to enhance the well-being of marginalized members of our community, but we're also trying to engage teens in philanthropy."
A handful of members of 100+ Women Who Care are sponsoring teens in Messing's chapter. Most of 100+ Teen's members come from five schools around the same parts of town, but Messing hopes to expand the reach.
"One of her goals is to make sure they're reaching into other schools and make sure they're giving kids the opportunity to participate," Bymers-Davis said. "Wouldn't it be cool to sponsor 25 or 30 kids? To let them know what it feels like to give? Giving is such an amazing feeling."
'Raises the quality of life'
On Sunday, Feb. 5, 100+ Teens held its first "bring-a-friend" event, handing out raffle tickets to members who brought along a friend who didn't already belong to the group.
Students from schools including Tanque Verde, Canyon del Oro, Salpointe and more exchanged names and talked about what they hoped to get out of the experience.
"We're having a strong, meaningful impact on the Tucson community," Messing told the crowd. "Contributing all of the money we raised to deserving charities empowers local organizations and as a result, raises the quality of life for our entire community."
Joshua Chavez from Our Family Services went to the microphone to praise the $4,000 donation that 100+ Teens voted to give the nonprofit in December.
"Our mission is to end homelessness. It's a very difficult goal, but we hope to achieve it," Chavez said. "Every dollar counts and getting support through the community and groups like yours is how we can do that."
Each meeting, three teens give a five-minute presentation each on a charity they've researched. Then attendees have five minutes to ask questions. On this day they heard about Felicia's Farm, Emerge Center Against Domestic Abuse and the Arizona Children's Association.
Bella Yurkanin kicked off her presentation about the children's association by asking the group to talk about their favorite childhood toy.
Answers included "a wiener dog named Chewy" and "Lammie Pajamie," with more than a dozen teens volunteering answers as they laughed at one another's answers.
After the laughter subsided, Yurkanin told the group that many kids in Arizona don't have any toys, and that their donation would help provide care packages for 75 kids, and maybe even provide a child with their most treasured childhood possession.
An hour into the meeting, the group members were ready to vote, pulling out their phones to scan QR codes posted around the venue's patio. Minutes later, to applause, Emerge was announced as the winner.
Afterwards, the teens socialize, with Messing saying the goal is to put the "fun" back in fundraising. Thanks to a sponsorship by Westward Look resort, the costs of the rooftop event space for the group's quarterly meetings are covered, and other sponsors cover the cost of food and drinks.
University High School sophomore Abby Stadheim and Gregory School sophomore Paige Blair joined 100+ Teens in fall of 2021. Blair serves on the board and both girls said they were happy to give up part of their weekend for such a good cause.
"When we get together, our money means more to the people, but it also means more to us," Stadheim said. "If I get $25 on my own, I wouldn't necessarily think to donate it, but now that I have this funnel to donate my money into, it makes a big difference."
Blair added, "I feel like teenagers one-by-one, we don't have much of an impact in our community, but when we do come together and can make this much of an impact, it's a very, very good feeling. Doing something like this — you feel so fulfilled and you feel like you're helping your wider community."
How to get involved
To learn more about 100+ Teens Who Care Tucson, visit their website.
The group's next meeting will be Friday, April 14 from 8 to 10 p.m. on the Sonoran Rooftop at Westward Look. It's open to Southern Arizona high school students, who can sign up on-site to become a group member. Membership fees are $25 per quarter for a total of $100 per year.
People interested in sponsoring a member or receiving a sponsorship are asked to email 100twctucson@gmail.com.