Although face masks are now a common sight, chances are you haven't seen any like the one-of-a-kind creations Tucson artist Racheal Rios is making. 
For the entire month of May, Rios committed to creating a new face mask assembled from items found around her house or collected over the years on her walks, bike rides and hikes throughout the Sonoran Desert. 
And judging by the comments on her Instagram feed, Rios is going to be breaking lots of hearts come May 31.
That's the day her Masks of May project is set to end. It's something that her friends and followers have been looking forward to each day, eager to see what she's come up with and amazed by her creativity.
The inspiration for the project was somewhat inspired by an article she read in April: a list of the top 10 rappers. All of them men. 
"I love rap music…and I saw this list and I just instantly became so infuriated because it's a list of 10 dudes and I'm like, 'Are you kidding me?'" she says.
For her, the list was a reminder of how femme artists are underrepresented and underappreciated in all genres of art. So she decided to channel that frustration into her own art, specifically creating a series that would last all month long.  
"It was really a project that was based on just taking up space, just being a woman artist and taking up space and not waiting to be invited to anyone's damn wall or anybody's idea of what it should look like, or any of those things," Rios says.
She wasn't quite sure what form the project would take until May 1, when she looked around her house. 
"My house is sort of filled with desert detritus," she says. "I hike a lot and I collect a lot of things and I have piles of cactus and thorns."
Plus, she had been collecting lots of other items to eventually be used for costumes and props for a performance art piece she had been working on with another woman before the stay-at-home order began in mid-March.
"So I had a hunk of prickly pear, and when prickly pear starts to decompose what you're left with is this fibrous base and it's in the shape of the prickly pear…it almost looks like a swamp cooler pad," she says. "…I was just kind of messing around, I was like, 'Wouldn't this make such a rad mask?' and then I was like, 'Oh I could do a whole month of masks and wouldn't that be a rad way to take up space?'"
She fashioned that first mask from those prickly pear fibers and red, embroidery floss and posted the photo, inviting others to create their own masks and share their work using the hashtag #masksofmay. 
Fruit. Wildflowers. Pop tabs. Cactus paddles. Bike parts. Condom wrappers. Gilded dry macaroni. June Bugs. Ice. A deconstructed Eegee's cup and cutlery. Unspooled cassette tapes.
The list of natural and man-made materials Rios has fashioned into wearable art is wide ranging. Each day's creation more impressive than the one before it.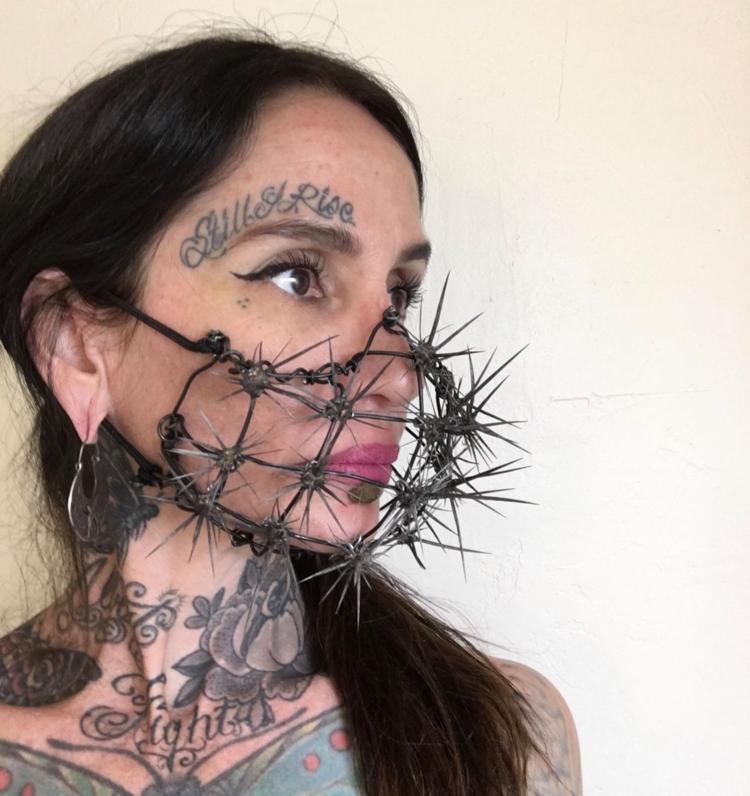 Rios say she spends so much time working on each mask, that she is attached to them all, but one of her favorites is a mask she made from more than a dozen saguaro areoles fastened together with baling wire. It's equal parts fierce and delicate, as one person noted on Instagram, and is made from areoles Rios has collected for about five years. 
"Basically, the cactus needs to fall and completely decompose to be able to get those out and it's just rare and they're hard to find," Rios says. "So that was a precious resource that I've been holding on to for a while." 
Each mask garners a similar response: Comments about how that day's creation is the best one yet, how someone can't wait for what she makes for the next day and lots of 🔥 and ❤️'s. 
"I feel sad because it's been so rad and I didn't expect it to be so exciting for people," she says about the project's upcoming end date. "…But I also just feel so exhausted."
She's been working late into the night every day to make the mask for the next day. The work starts around 4:30 p.m., an hour after she gets home from work, when she sits down at her kitchen table full of random tools and remnants from the previous night's project.
She finishes around 10:30 or 11 p.m., standing on her toilet in her bathroom, where she takes a selfie of the latest creation. The next morning, her best friend, who she also works with, helps her select the best photos and then she posts them.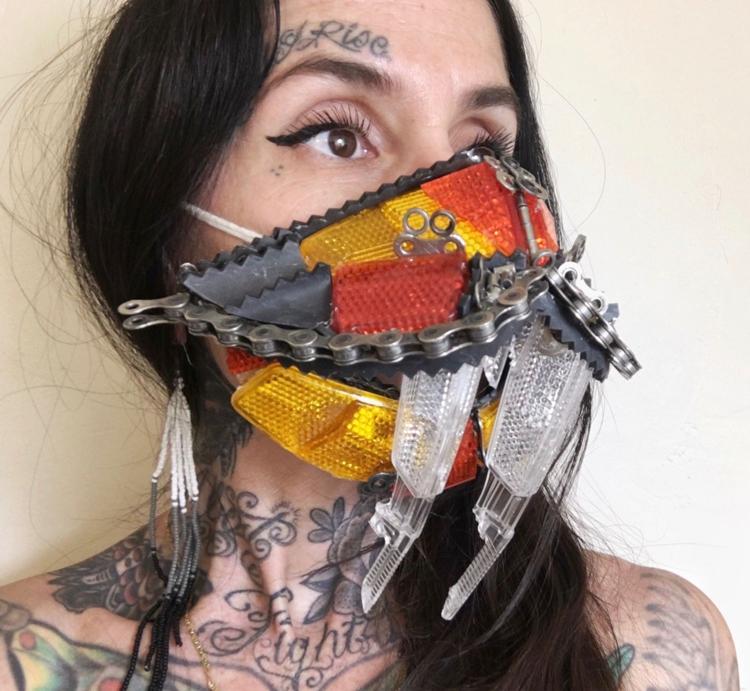 "In the beginning I was like, 'Oh these will take me an hour a day, no big deal,' and then I kept upping the ante and then I was like 'Oh my goodness I could do this and this' and it's just because that's the kind of lady I be," she says. "I just am always making it more and more difficult because my vision gets bigger and bigger and it needs to look better and cooler and I learned so much. I feel like an engineer at this point."
For Rios, a visual artist who typically works with charcoal and paint, working on three-dimensional art has increased her knowledge of what different materials can do and how they age. It's also been an exercise in flexibility. 
"The most challenging part is definitely the time restriction. I start and finish a mask every day," she says. "The slurpee cup was the beginning of the most amazing looking cicada you've ever seen and because I was using a hot glue gun, I was melting plastic and I was making the most insane mess. And, I had to finish and I had to sacrifice what I wanted it to look like."
 A few other women have joined #masksofmay, sharing their creations made from things like jeans, bottle caps and license plates.
"One woman is pretty consistent, and another lady that I've met through social media hopped in…so I've had random people that just hop in and do a couple masks," Rios says. "In my mind I was like, 'Who wouldn't want to do this?'… People are gonna want to make a mask a day because it's so much fun and why wouldn't you want to do it? But it's really not. It's a lot harder than I imagined."
And, she has the "battle wounds" to prove it.
There are the blisters on her thighs and fingers from the hot glue she uses to assemble many of the masks, cactus needles burrowed into her hands, scratches to her face from the wire mesh she uses in some of her pieces, and and she's pulled out a thorn that got lodged in her head. 
Many of the masks are strewn about her house, the natural materials are starting to shrivel up. Her dog ate one of them.
But, depending how the summer goes, there might be an opportunity to have the surviving pieces on display at a local gallery. She's looking forward to a break from creating daily art in June. 
"I might come back hard in July, who knows? I need to water my plants…my dog is like we're breaking up if you don't spend more time with me," she says.